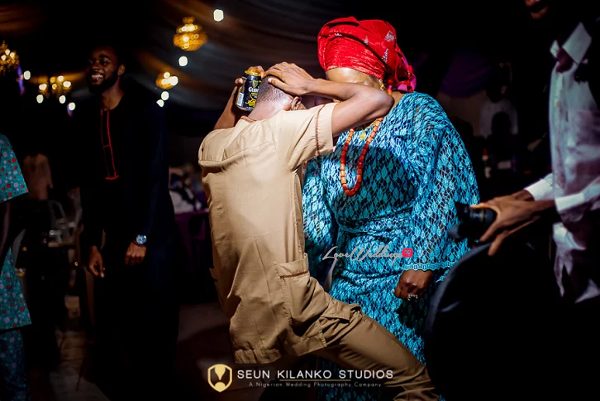 If you've ever attended a Nigerian wedding, you'll when the DJ takes over, its 'Turn Up' time. We've attended many Nigerian weddings, watched many clips and we've come to the conclusion that there are certain songs you'll always hear. We also contacted UK wedding DJ – DJ Mri who gave us inside info 🙂
Enjoy!!!
Igbeyawo – Oritsefemi: This is usually one of the first songs played at the reception usually when the bridal train dance in or when the bride and groom make their entrance. A little bit of an obvious choice.
Who you epp – Olamide: No arguments with this one; we (DJ Mri & LoveweddingsNG) both had this on our lists. Its definitely another one for the bride and groom's entrance, the DJ usually plays the first 1 minute of the song before going into another track.
Ojuelegba – Wizkid: This was first on DJ Mri's list. Who doesn't love this track, this one's for when things start to cool off a little. We've noticed a lot of DJ's play this before they switch to a different genre e.g. Naija to Yankee music.
Bobo – Olamide: Olamide has definitely had a good year with this track. Bobo has indeed been a hit 'back-to-back' – from clubs, car stereos to weddings. This is one the DJ would usually leave for when the turn up enters the next level. Just watch out for this the next time you attend an owambe and watch the dance floor scatter and next thing you hear is everyone repeating 'Wobe' (x2) 'Mation,' 'Dio', etc…
Duro – Tekno: Second on DJ Mri's list. Of course, we've heard this song at every Nigerian wedding we've attended.
Mama – Kiss Daniel: This song is definitely one of the most played songs at Nigerian weddings. It's also one of the most used soundtracks for wedding video highlight clips.
Perfect Gentleman – Sean Tizzle: Of course!! This song has been used as the soundtrack of almost every Instagram 1 minute clip video we've seen from our videographers. Definitely a popular one.
Dami Duro – Davido: On the beat its Davido!!! If your wedding guests are forming, just play this song and watch everybody migrate to the dance floor.
Shoki (Remix) – Lil Kesh: What's a Nigerian wedding without 'Shoki'
Eleko – Mayorkun: DJ Mri confirmed this is definitely one of the tracks you'll hear at every Nigerian wedding and we agree.
Special shout out to DJ Mri for his help on this one.
So what do you think? Did we miss out any hit Nigerian wedding tracks, let us know in the comment section below;
Picture Credit: Seun Kilanko Studios | Website | Instagram