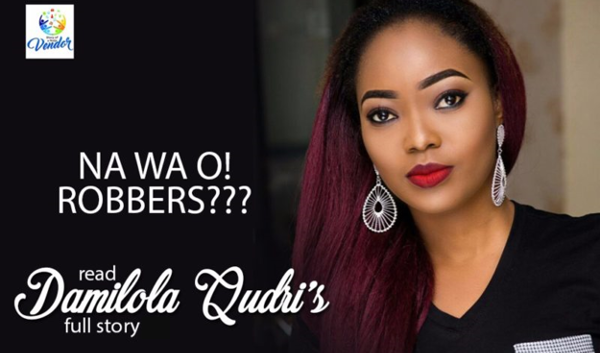 Damilola Qudri is the CEO and head makeup artist at Dee Q Looks, a bridal makeup company that specialises in makeup, gele tying, training and sales of makeup and beauty products. She recounts an experience she had with a client
I had a bride (client) who made a reservation for me at her hotel. She came to pick me at home late at night to the hotel. On our way, we decided to buy something to eat but had to use the ATM, we didn't realise we were being followed.

As soon as we stopped at the eatery, we were accosted by two men with guns. On seeing the guns, my heart froze because before that moment, I had never seen a real gun. They asked for our bags and slapped us to surrender them on time. I suddenly remembered my camera was in my bag. I quietly carried a purse I saw beside me in the car and slipped it into a big empty envelope lying beside the purse and gave it to them.

The package looked like money and they asked if it was complete. I said yes confidently but was secretly scared; praying that they don't open it to see what was inside the envelope. They told us not to shout and to bend down or else they would kill us. I said to myself "Mo se makeup daran" (my job has put me in danger!).

I thank God we were not harmed. I later found out, the purse I gave to the robbers was the bride's makeup purse.

Lesson Learnt:Do not stay out "later than late"; always be at your destination early and above all, put your trust in God and don't be a night crawler.
See you next Tuesday for another interesting feature ???
Get in touch with Dee Q Looks

Dairy of a Naija Vendor, is an outlet for vendors to share experiences, tell stories, inspire, learn from and encourage one another. If you're a wedding vendor and you have any real, fun, behind-the-scene stories to share, please send a Whatsapp message/voice note to 08083225395 and we'll get in touch with you. Visit the website and follow Diary of a Naija Vendor on Instagram and Facebook.