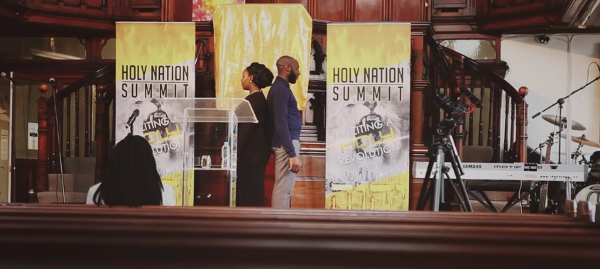 Onos and Lain were at his church's annual conference, the Holy Nation Summit when it all happened. They were in the middle of presenting a poem when he read a few more lines, went down on one knee and popped the question. Amidst screams of Hallelujah's and more, Lain said YES!!!
Watch the moment below captured by BridgeWeddings.
From the bride-to-be,
What can I say?

We started off as two teens who had enjoyed witnessing each other's existence pass through each sweet season of: blossoming, fruition, mistake and even triumph over times of drought and somehow had innocently played a part or observed with the purest and most caring of friendships.

To covenant and become one member in a love so young yet eternal, is beyond our expression and was beyond our expectations.

We were solely college mutual friends, the kind where a common smile was shared as we passed through our social weeks without ever wondering of each other.

I was a devote raver, tattoo lover with ambitions of art and fashion illustration; he was the cool "Uni socialite" people loved; we both went our ways, had relationships, even graduated and lived solo realities. The fact was Onos was not looking for me and neither was I – until the Lord came and like a puppet on a string dancing through scenes of its own biography unknowingly we met.

Now this can seem a little cliché to some, but for us it was the beginning of life as we know it and the start to the perfect us, for Him, through us.

Now again it wasn't lightning bolts, a sign and a flashing angel singing tales of how we must wed; rather it was an organic care for each other, which led to an exclusivity of intentional observations (first inspired by the Holy Spirit alongside accountability), to then the choice of pursuit and courtship.

We faced lessons of patience in faith from beginning the relationship to surrendering pride for intimacy and had exculpated our discernment as both of us spoke of confirmations, inclinations and revelations of each other over time in the secret place which has led us here.

So you can see how establishing our engagement at our meeting ground, home and place of worships convention with a poem of our gratitude and love to the Father on humbled knee in front of all the apostles, leaders and international viewers was PERFECT (even if my initial reaction was to run and hide).

We matured together through submission patterned after thee example to now me being adorned like a ruby wrapped in the finest linen of his dynasty name, I shine only because he polishes and covers me, yet he is esteemed because he covers a hidden treasure, a delicate good thing.

With permission of both heavenly and earthly Fathers, he entered the gates to this Eden with skill and beauty if I do say so myself and tended to this garden with all heed and instruction to the one who formed it. So again what can I say? We were two young wanderers who found divine purpose and have embarked as one in a story only just beginning.
Vendors