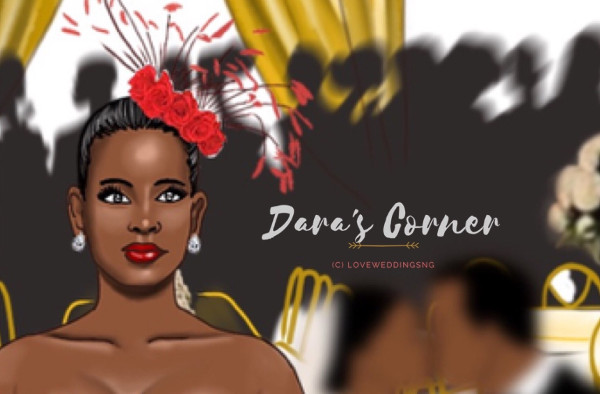 This week's episode of Dara's Corner is all about being a bridesmaid and the dance floor. In case you don't know who Dara is, let's get you acquainted.
Name: OluwadarasimiLopoLopo Mabadeje (call me 'Dara')
Age: 29 (always and forever 29 – will be 30 when married)
Status: Single
Relationship Status: Thank God for Facebook 'It's Complicated'
Searching Status: Always Searching (eyes will be single after the ring)
Complexion: Half – Lupita + Half – Toyin Tomato = Caramel
Dancing at weddings? Pass!
A self acclaimed critic like myself will rather sit, watch, laugh with my iPhone capturing memories for my Snapchat fam and Instafam. Besides not being able to compete with the dancers who show off their skills marvellously, the thought of sweating with my N15,000 makeup is a big turn off for me. I have attended a good number of weddings but I'm still the lady that sways awkwardly to the beats while others get down low.
My big break was at Emeka and Kemi's wedding ceremony (#Kemeka). I was a bridesmaid for the umpteenth time. Kemi knew I was not one to dance and I made it clear to her.
During the procession into the reception hall, Tunde and I murdered Tekno's hit song 'Pana'. I danced off beat (as usual). I tried to dance to the beat but I just couldn't. I also thought to try a few dabs and shoki moves my niece – Keno had taught me but decided against it. From my side eye, I spotted Tunde, my bridal train dance partner. When I saw him, I praised myself; Tunde was giving Michael Jackson  moves and it was hilarious! His stout body made him look really silly. He kept up the 'good work' (or at least so he thought) because he dished out his fish smile – Yes! I know fishes don't smile but if they did, it would look like the silly grin on Tunde's face.
I fought the urge to tackle Jessica when I heard her birdlike voice chirping "old woman dance!" Boy! Was I glad when it was time to finally take a seat. Jessica and I sat next to each other sipping our cocktails. I tried to concentrate on the speech the chairman's wife gave about "giving IT to your husband" but Jessica kept nudging me to either look at someone who had just walked in or sign off which selfie was good enough to reach the 'Gram.
I got stuck watching Kemi and Emeka sing along to Shania Twain's song Jealous. Kemi looked so graceful. She had me wishing and praying for "my turn". I quickly shoved the thoughts of me on my wedding day (one day) behind my head and decided to just enjoy the moment.
Besides eating (a.k.a Item number 7), turn up time was what every one looked forward to at Nigerian weddings. Immediately the DJ dropped Runtown's 'For life', it was as if the Pastor had made an altar call for everyone who wanted to get married before the end of the year – all my 'sisters' graced the dance floor. The dudes of course were not left out as everyone picked a partner and started swaying to the beats.
Jessica's feet was swollen (from her 6-inch bridesmaid heels which I had warned her about but of course she didn't listen) so she decided to sit this one out with me. We did a lot of gossiping and giggling quietly.
Jessica forgot all about me when one fine boy like that decided to sit next to her and started a conversation. Both of them ignored me so I decided to watch those vibrating with vigour on the dance floor.
Let me clarify here that I love music, especially Naija songs but I only dance when I am alone. Kemi and Emeka chose a correct DJ; every song he played had everyone going Ehhhhhhhhhh!!! (If you have ever attended a Nigerian wedding, you'll recognize this sound when the DJ plays someone's favourite song). I tapped my feet and bopped my head – it's called the chair dance.
And just like that, I sprang up like something pricked me from my seat and headed to the dance floor when the DJ played Small Doctor's Penalty.
I heard Jessica's voice over my shoulder "Dara where to?" I could tell from her voice that she was surprised but the spirit that overwhelmed me warned me not to look back.
I released every step my little head knew. Let me just say I never knew I had that much sauce!
A small circle formed around me, people hailed. I didn't care, I just danced on. This right here was my turn up moment. My black flowing bridesmaid dress (which I had earlier complained of being uncomfortable) became more than comfortable.
Mr DJ was amazing! The energy was incredible. I just could not stop dancing. Chants of "Go Dara!" rang in the air. To my surprise, everyone else in the crowd seemed to be in sync with my dance moves. I couldn't believe this was happening – me dancing and even leading my own pack. Wow!
A loud thud drew me back to reality. I found myself face down on the floor and the crowd behind me stood still. I tripped and fell!
I quickly stood up, adjusted my invisible crown, took a bow, and walked majestically to my seat while the crowd clapped for me. Hahahahah! You have to do these things with whatever grace is left
"I will definitely be doing this again", I said to myself as I made a mental note.
See you next Sunday.
Xoxo
'Dara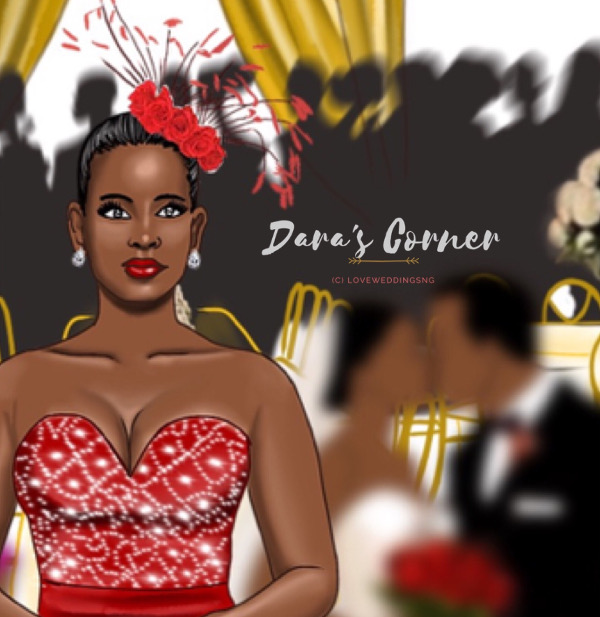 Dara is a fictitious name and character created for LoveWeddingsNG. This column is not a depiction of real-life events. Names, characters, places, and incidents and incidents are products of the author's imagination. Any resemblance to actual events or persons is entirely coincidental. 🙂