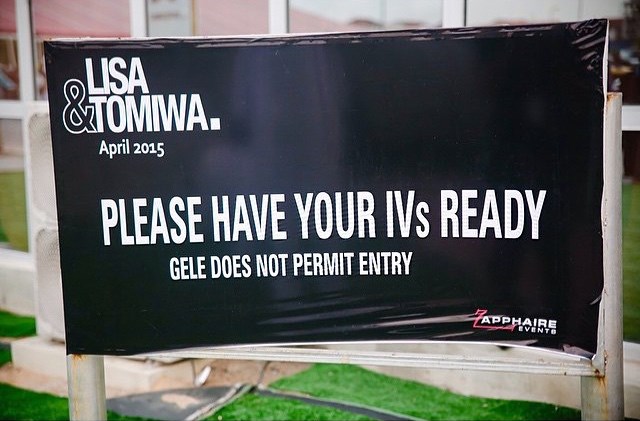 Going to a party that is strictly by invitation has not really sunk into the heads of my fellow Nigerian brothers and sisters. Except for a few who strongly believe that they must be invited before attending a party. The spirit of crashing a party runs in the blood of every most Nigerians.
I'm not usually a party crasher but I have successfully crashed a good number of parties all thanks to my bad friend Jessica. Jessica is bad influence; the type of girl that will make you forget your home training.
"Dara I have a party for us to attend" Jessica shouted from my kitchen. I quickly ran to the kitchen to stop her from finding my well hidden tub of ice cream in the freezer. And like a soothsayer, I was right. Her hands were on an ice cream tub but it was the wrong one, thank God! This was one of those moments when you thank God for your Nigerian mother who instilled the discipline of recycling ice cream bowls to store left overs.
I simply walked to the freezer and grabbed my tub of Strawberry Cheesecake ice cream before she realised that the bowl of ice cream she had was actually filled with egusi soup. I burst into laughter when her face turned from a smile to a frown. I managed to contain my laughter and asked her about the wedding she mentioned.
"Give me some scoops of ice cream first"
"Tell me first, then I will consider if it's worth my ice cream" I said clutching the bowl tightly. Jessica can be a bully but I had already decided my bowl of ice cream would not go without a fight.
"Trust me it's worth it." She smiled then shrugged "But if you are not interested, I will have to go myself"
"Okay!" I gave in "But! Just two scoops"
"Four!" Jessica said smiling. I simply nodded.
"You know my friend who owns a printing press – James" I moved my head sideways in response.
"Oh! you have not met him. Anyway, he printed the invitation cards for this big shot's wedding" She paused to get a reaction from me; there was none. I was still trying to figure out where this was going.
Jessica continued "I am talking A list celebrities; they will all be there and the wedding holds today" Jessica said smiling.
"That type of wedding; we surely cannot attend because we obviously were not invited. Besides, I do not have any plans of leaving this house today"
"We do not need an invite Dara! This is Lagos" Jessica reached for the bowl of ice cream on the kitchen counter and I grabbed it quickly.
"Is it not me and you again. We will look on fleek; no one will stop us"
"Celebrities will be there, Dara. I don't know about you but this is my year to shine and trend on Insta so I have to be at the happening events." She smiled when I shook my head trying desperately not to laugh "Who knows if your future husband will be at the party. You will miss the opportunity by staying here. Think of how interesting the story of how you met your husband will be. Don't fail to mention my name though when that time comes. I have accepted the role of the friend that dragged you to the party where you met the love of your life"
I am a firm believer of the phrase "Dress how you want to be addressed" so I always spend a good couple of hours and days, if necessary, to put together my outfits and make sure they look on point. Jessica sat as she watched me take off the tenth dress I had tried on. She exhaled in frustration every time I looked in the mirror and shook my head. At last, I found the dress and it was a burgundy dress.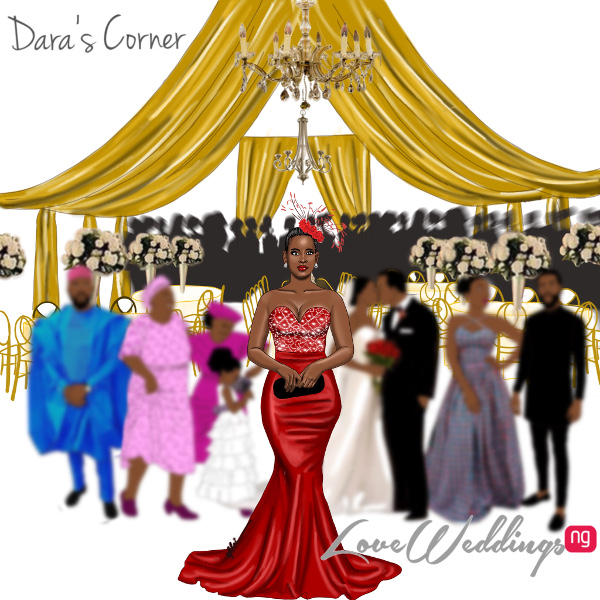 We arrived at the party and Jessica was right. The cars at the parking lot easily gave away the calibre of guests present at the event.
"Smile Dara" Jessica said as she led the way.
The security guard at the entrance was huge. Jessica and I looked up at him. "Your invitation cards please, ladies" His voice sounded like thunder.
"Geezzz! We forgot them at home" Jessica said batting her eye lashes. I nearly burst into laughter maniacally at how ridiculous Jessica looked trying to flirt with a man who would not budge.
He smiled like he had heard this before and said "It's a good thing my friend here has a guest list." He signalled to another guy, who was wearing all black and had a red leather bound book on hand. "This is how this girl wants to embarrass me." I thought to myself
"Our names are not on the list." I heard myself say before I could stop myself. Jessica shot me a sharp look and spoke quickly "But! Can you let us in please? We will pay you"
"Nah!" The big guy scoffed "I am going to have to tell you to leave right now"
"Come on! "Jessica said reading the big guy's name tag "Mr Lawal". Mr Lawal shook his head firmly.
There was a line building up fast behind us. "Jessica, lets go", I said. My cheeks became hot from feeling embarrassed.
Jessica stepped aside. "Can we go now?" I snapped. "Sure! You can run in your heels right?" I looked at Jessica like she was speaking a foreign language."Once he opens the door for that couple about to go in, we will run in" Jessica whispered.
"I am not running anywhere with you" I said firmly.
"Ok bye" Jessica said. I stepped aside to see Jessica succeed or fail in her plan.  Just in case it's not obvious, let me stress "Being well dressed does not give you an automatic pass to the party. Save yourself the embarrassment. 
Mr Lawal opened the door to allow the couple in and before I could stop her, Jessica ran into the hall. Seconds later, I heard what sounded like an alarm, which must have been triggered by the security guards. Mr Lawal followed Jessica inside and I could hear her screaming "Leave me alone!". The next minute, Mr Lawal stepped out with Jessica on his shoulder.
He dropped her carefully outside the door and Jessica walked towards me cursing and saying all sorts of things. All I caught from what she said was "That man will not make heaven"
"You want us to go and get ice cream?" I asked. Jessica nodded and said "That will cool me down"
We locked hands and walked back to Jessica's car. "We need to start acting our age" I said.
Jessica laughed "We don't have to. We will hate it"
"You are right" I said squeezing her hand playfully.
See you next Sunday.
Xoxo
'Dara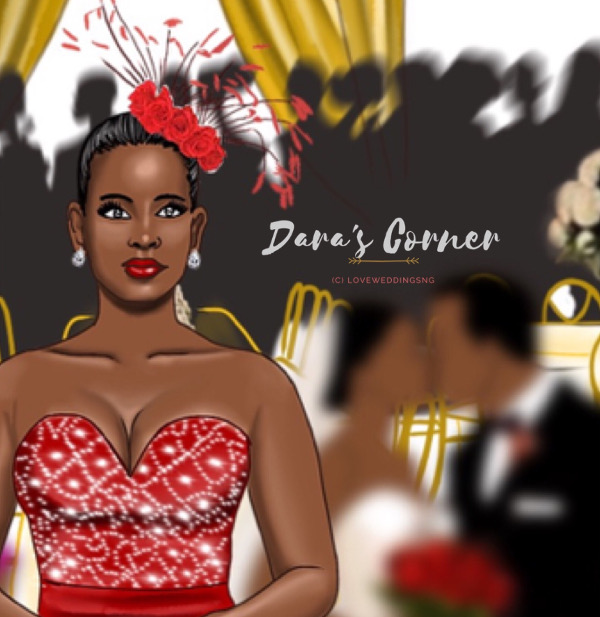 Dara is a fictitious name and character created for LoveWeddingsNG. This column is not a depiction of real life events. Names, characters, places and incidents and incidents are products of the author's imagination. Any resemblance to actual events or persons is entirely coincidental. 🙂