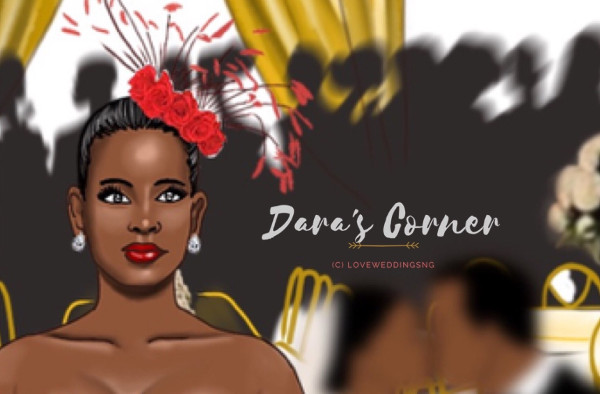 Yewande never liked the idea of having a big wedding ceremony; she just wanted her traditional marriage ceremony to hold at home (in the living room) and a church wedding ceremony with her parents and a small number of close family and friends in attendance. She also wanted both festivities to hold on the same day.
As an only child, Yewande had no siblings so she didn't have to worry about siblings inviting their own guests. She extended an invitation to Jessica and I; we were her only guests. Her groom could only invite two guests.
As I listened to Yewande describe her ideal wedding, I didn't realise when I screamed "Are you sure you are Nigerian?"
"Don't be silly Dara. Of course, I am Nigerian," she replied
I answered "You might hate it. But it's not your choice. People must attend your wedding. That plan of yours is impossible and will never fly. Have you told your parents yet?"
She answered "No"
"Exactly my point! I can't wait to hear what they say when you tell them." I told her without mincing words.
The next morning, my phone rang. It was Yewande; she called to tell me how right I was. Her parents went crazy when she shared her ideal wedding scenario. And it wasn't just her parents who screamed; Dapo's parents were not buying it.
"Dara, they said they already invited a lot of people and I have not even collected the invitation cards from the printer yet. I told them to call all the people they had invited to uninvite them", Yewande moaned.
I burst into laughter and nearly cut myself with the knife I was using to cut an apple into halves. "What are you going to do now?" I asked
"I am the one getting married, Dara. I will go ahead with my plan because it's MY WEDDING, not theirs"
Yewande carried out her plan alright. The traditional marriage rites were done with just Dara's uncle, an aunt and her parents present. From the groom's side, they just had his parents, an uncle and his friends in attendance. Immediately the traditional ceremony ended, Yewande changed to a sheath mini lace wedding dress. It was simple and beautiful. Dapo wore a black tux.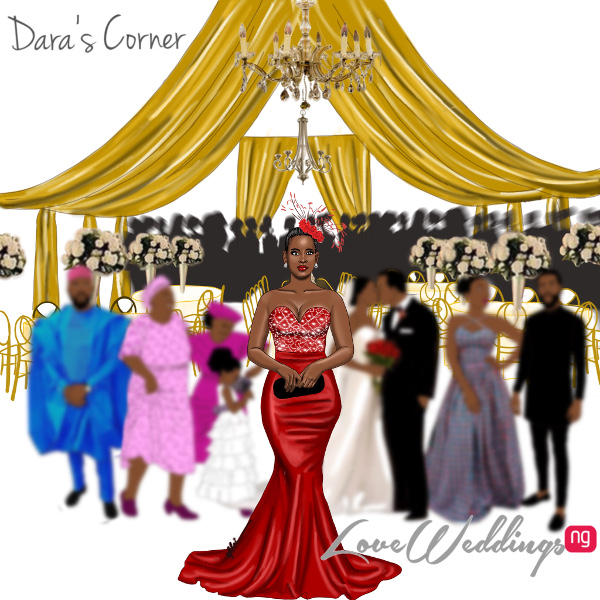 Jessica and I sat on one of the empty pews directly behind the parents. The ceremony was brief and quiet. When the ceremony was over, Jessica and I were about leaving the church when Yewande's mother drew us aside. "You see what your friend did to us. She refused to invite people to the ceremony. Marriage is a thing of Joy. It is meant to be celebrated." Jessica and I nodded in agreement.
Yewande and Dapo just robbed her parents of the joy of throwing a party. You do not do that to Nigerian Parents.
Yewande's mother shrugged. "Anyway, we (the parents) organized a small party at home; just light refreshment. You and Jessica should join us"
A completely different scene greeted our arrival at Yewande's family house. What Yewande's mother called a small party was the complete opposite of what Jessica and I witnessed. About a hundred guests were seated under canopies; women in pink aso ebi lace paraded the place. The caterer's stand had everything – from egusi, amala, jollof rice and a host of other delicacies were ready to be downed.
Yewande and Dapo's parents hosted their own wedding party without the bride and groom knowing anything of it. They even had a live band and a DJ present. This was a full fledged party. Jessica and I stood in surprise.
"Something light" We both said at the same time and burst into laughter.
And a few hours later, we spotted Yewande and Dapo having the time of their lives on the dance floor as the DJ played hit after hit. This was the same girl who said she didn't want a big wedding, I shook my head and smiled.
See you next Sunday.
Xoxo
'Dara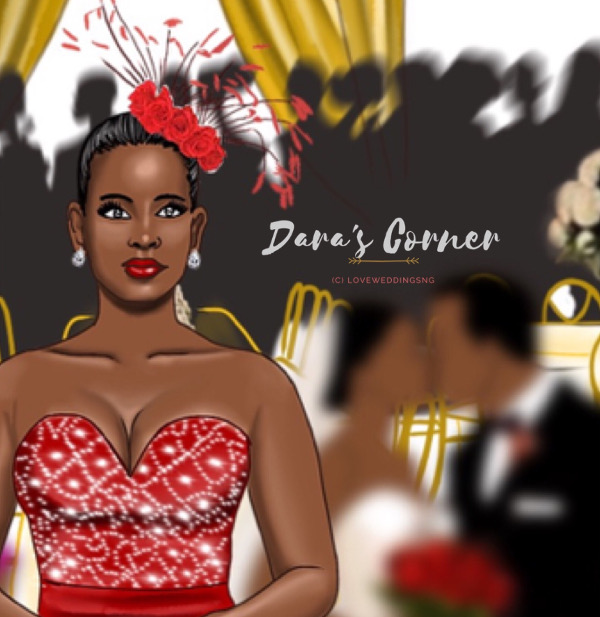 Dara is a fictitious name and character created for LoveWeddingsNG. This column is not a depiction of real life events. Names, characters, places and incidents and incidents are products of the author's imagination. Any resemblance to actual events or persons is entirely coincidental. 🙂