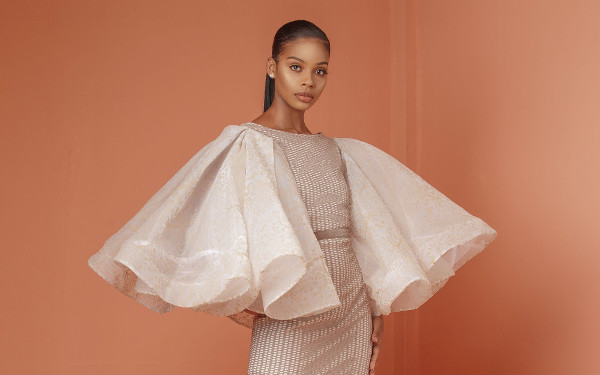 Knanfe, an indigenous womenswear brand by fashion and beauty model, Jemimah Nanfe Kefas-Oyeleke released its debut capsule collection titled "Cosmopolitan" last week. The collection features a unique utilization of up to the minute fabrics with sleek and structured minimalistic overtones; perfect for summer, spring and feel-good moments for every fashionable woman. The creative director of the brand said;
I look back to how it all started, the story of my mom a dressmaker and especially my late father, who was a photographer before he joined the Nigerian Police Force. My dad was a fashion enthusiast who loved to photograph me when I was young girl. 'Knanfe' the brand name is a fusion of my name and my dad's and the raison d'être is a testament to living out my dream inspired by my parents, encouraging achieving fashionista to find beauty in limbo but to strive to achieve their heart-set aspirations.
With this lookbook, the brand explores the idea of the Knanfe woman; a minimalistic fashion-forward goal setter who loves clean lines and subtle glam, with an overall sophistication that gives her the confidence to take on each day.
We spotted some pieces from the collection that are aisle perfect. Check it out!
This would work for a bridal robe look while the bride gets ready for her big day
This look would work for a wedding guest who's not afraid to stand out from the crowd in the exaggerated sleeves. We can also see a bride wear this look for the registry/court wedding.
We think this would work for a wedding guest who has to dash from work to a weekday wedding and wants a look that can work both at work and at the 'owambe'. Do you agree?
Pre-wedding shoot outfit
Vendors
Design Brand: Knanfe
Creative Direction: Jemimah Nanfe Kefas-Oyeleke for Knanfe
Model: Nwadiuto Rosman
Styling: The Style Infidel
Hair Styling: Ceezy Styling
Makeup: Beautified