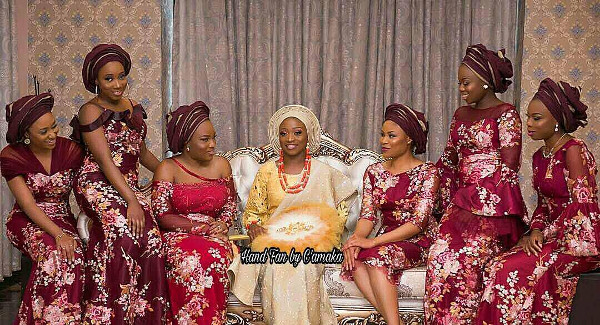 This is the final article in the three-part series focused on bridal hand fans. If you missed any of the earlier posts, catch up here and here.
A hand fan is an accessory, which is an integral part of a bride's traditional outfit. Certain factors should be considered before you settle for a choice of which bridal hand fan you want to go with. At C'amaka Bespoke Pieces, it is customary to ask certain pertinent questions, which will help facilitate the decision making process.
I'll share a few tips with you; these tips have helped my clients make the best hand fan decisions for them over the years.
1. The colour flow of the entire ensemble. Well, as far as fashionistas are concerned. I might be wrong but I refuse to give in to defeat. Lol! This is one factor I am very strict about. Colour mismatch in this context is never pretty. Sometimes, the shade of the fabric differs from the shade of feathers or some other materials used for hand fans. In this kind of situation, I recommend going for neutral colours such as gold, ivory, champagne, white. Ensure you settle for the neutral colour that best suits the rest of your outfit.
I must mention that a neutral coloured hand fan, such as white makes certain colours pop beautifully. Some other colours are great for monochrome looks while others are not, so make sure you choose wisely, ask questions and listen to professional advice.
The colour of the embellishments on your hand fan should match the colour of your accessories as well as the tones of your fabric. You cannot have silver accessories on and wear an outfit with gold tones/embellishments; then have contradicting colour of embellishments on your hand fan. Additionally, check the colour (s) you need to highlight and which one(s) you need to tone down.
2. Settle for a hand fan pattern that is suitable for your body size. If you're a plus sized bride, settle for a medium sized hand fan. If you're moderate-sized, feel free to choose whatever suits and if you're petite, stay away from the large-sized hand fans.
Photo: Klala Photography

The Ombré Effect Hand Fan | Photo:

Photo: Klala Photography
3. The volume of your outfit could also be another important factor to consider: How comfortable will it be to drag a massive outfit alongside a large hand fan? Answer this question sincerely.
4. What is the primary objective of your hand fan? Do you want to be able to reuse it or is it just important it only works for the particular occasion? Answer this question sincerely and check that the objective you have does justice to your ensemble. If not, please grab a clutch purse.
5. What pattern and combo best suits the ensemble? It is awkward to combine certain kinds of materials or feather types on a singular hand fan.
This needs visual aid for better understanding but believe me when I say less is more. Stay on the fabulous lane.
6. It is very important that hand fan suits the user's personality, as long as elegance and all other important factors are not sidelined.
Above all, choose a neat and creative hand fan maker to slay your piece.
There are hand fans and there are hand fans. Your forever memory is at stake; value for money spent too so choose wisely and stay fabulous. 
About C'amaka Bespoke Pieces
C'amaka Bespoke Pieces is a Lagos based company that supplies bespoke bridal bouquets, hand fans, boutonnières, corsages, hair fascinators all handmade from scratch to finish and available to post within and outside Nigeria.
Picture credits: Klala Photography |