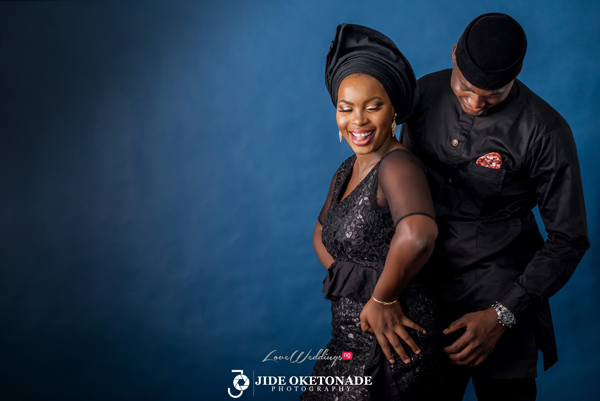 Monilola and Deolu are getting married this weekend and their wedding is being planned by Nigerian wedding planner, PurpleDazzle Events. The couple shared their love story and photos from their lovely pre-wedding shoot with photographer, Jide Oketonade with us. 
Enjoy #BlendofDMT love story!
We met back in 2012 through a mutual friend. I had attended a wedding with my other friend and we admired this guy, who we thought was really cute and good looking. After the wedding, I returned home and was going through my BBM update and noticed this same cute guy (or someone that looked so much like him) I saw at the wedding on this mutual friend's Display Picture and I thought to myself, God is good! Lol..
I sent her (the mutual friend) a message immediately and asked her some questions to verify if he was the same cute guy I had seen earlier in the day. After too many similar responses, it turned out he had attended a wedding on that day but at a different location. God being so good, he collected my BBM pin from her and sent me an invite on BBM.
I delayed for a while as per "girl rule" as I didn't want it to seem like I was desperate but eventually, I accepted his request. A couple of chats later, I found myself liking him already. After so many cancelled attempts, we eventually agreed to meet at a restaurant in GRA, Ikeja and I made sure I looked fancy.
Our first meeting (I wouldn't really call it a date ??… lol) went so good; we got along instantly like we'd known each other for years and this gave birth to several other hangouts. As time went by, he made his intentions known. Although my feelings for him grew stronger and I found myself connecting with him more, texting, calling him regularly; I wasn't sure I was ready to commit so I asked a few of my friends to vet him and i also prayed about it.

As a traditional girl, I put him through so many tests just to be convinced he was sincere. I remember this particular day when he came to visit me at my house and I stylishly told him we should hang out outside under the sun. He thought I was punishing him by leaving the comfort of my house and "drying" him under the sun; but to me, I wasn't ready to let him in completely into my world. Till tomorrow, his friends still tease me on how mean I was…lol!). During this period, we got out of touch with each other but when we got back, it seemed like a decade had passed and this trend went on for a while that he got tired and almost gave up.
On the 1st of October, 2014; I remember calling him out of the blues that morning just to check on him and as usual, we gisted like we hadn't spoken in years. He invited me to attend his friend's mum's 50th birthday party and offered to pick me up from my house and also drop me off, which I accepted. On our drive back home, we caught up on life and everything else and it was at that point we kissed and he told me I was his girlfriend just like that. I thought to myself; hmmmm! ok! let's give this a try! Just like that. We became best friends and our friendship grew steady and genuinely that we became very comfortable around each other and we would look forward to being in each other's company.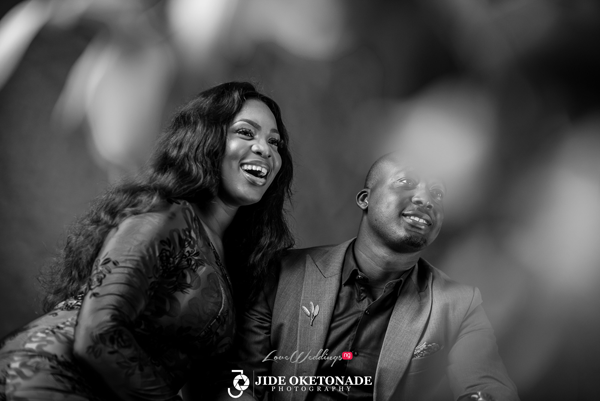 The Proposal
On our 3rd year anniversary, which was in 2017; I was almost certain he was going to propose but to my biggest surprise, I got nothing. A little bit disappointed, but I made sure not to show it. I kept calm and just watched. Lool!
As spontaneous as he is, the weekend after which was the 7th of October, he called me and told me to get dressed; he said he was coming to pick me up to watch a game at our favorite location and have drinks. Little did I know he had something up his sleeves. After so many nervous exhibitions and panic, he got down on his knees and asked that I marry him in front of friends and family.
I thought it was a joke! Tears rolled down my cheeks and that was when it sunk in, THIS IS REAL! I nodded and said YES. We went to get dinner elsewhere at a restaurant and when I thought I had seen all of the surprises for the night; I was welcomed yet again by about 30 friends and family members. I thought "how was he able to pull this off without me suspecting a thing?" I cried a bucket and half (lol) again just seeing people close to me share in this special moment with me. The night ended so beautifully.
It's been a fun ride, one I'm eager to explore with him and I'm so excited and can't wait to literally marry my best friend, my G for life!
Vendors