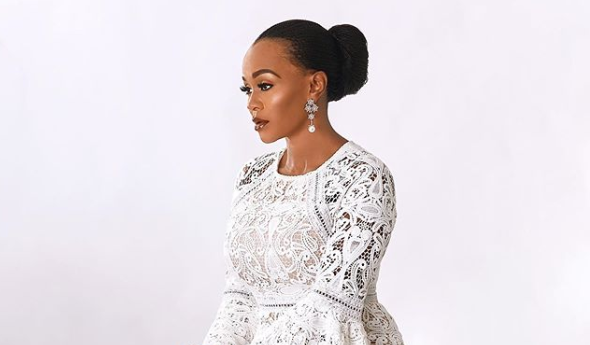 This month, we got bridal inspiration from some of our favourite celebs. From Kim Kardashian West, Temilady of Kwamuhle, Elizabeth Hurley and more, here's our top 10 for May 2019.
Kim Kardashian West announced on Instagram that she'll be launching her latest collection of makeup products tagged Mrs West. In the post, Kim is pictured wearing a white dress with bouquet stems covering the top half of her body against a floral backdrop.
For any brides or bridesmaids planning a bridal shower, time to pin this photo. We think you'll nail the popular 'design a wedding gown' bridal shower game with this design.
Actress, Elizabeth Hurley attended the premiere of Rocketman, the movie about Elton John. She wore an all white Versace jumpsuit, which we think would look amazing for a bride's court/registry wedding
Traditional fabric supplier, Temi lady of Kwamuhle turned 39 this month and to celebrate, she shared photos from her birthday shoot. She wore a number of outfits but our favourite look was this all-white pleated dress, which featured lacey details and pleats around the sleeves and bottom of the dress a
Gretchen Rossi, formerly of the Real Housewives of Orange County show had a beautiful baby shower in anticipation of the arrival of her baby girl, Skylar Gray. Everything about this baby shower gave us bridal goals. From her high waisted lace gown with bell sleeves and floral patterns to the gorgeous flower wall, the cake, blush pink tones and more, we loved everything!
Singer, Simi's Personal Assistant (PA), fashion model and influencer, Iyanuoluwa became a bride for a styled shoot put together by makeup artist, ML Pro Beauty. She looked beautiful in the traditional bridal look and also rocked her dreads for the white wedding look. Check it out!
Beauty influencer, Jaclyn Hill launched her line of lipsticks on the 30th of May 2019 and shared this blinging picture of her in a bath tub. This is bridal inspo just for the love of all that bling