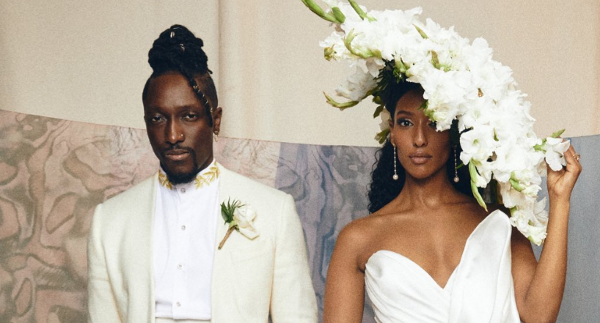 Last week, Nigerian PR guru, Bidemi Zakariyau got married to her fiance, Adebeyuu Akande. We saw Joshua Kissi and Mekdes Mersha's #LoveAtFirstLike wedding, Victoria Beckham launched a bridal collection, JMartins & Ernest Obi celebrated their wedding anniversaries and more. Catch all the wedding news you missed last week on LoveWeddingsNG.
#LoveatFirstLike: Joshua Kissi and Mekdes Mersha met on Instagram in 2014. Five years later, the couple got married at their wedding, which featured their Ethiopian and Ghanaian heritage.
This weekend I married girl I met on Instagram back in 2014. MR & MRS KISSI ???? ❤️— #loveatfirstlike by @micaiahcarter ???? pic.twitter.com/42mV7led63

— Joshua Kissi (@JoshuaKissi) May 27, 2019
PR guru and founder of LSFPR, Bidemi Zakariyau got married to 
Adebeyuu Akande on Sunday, the 2nd of June, 2019. The bride looked stunning in her dress by Krikor Jabotian. Stylist and influencer, Denola Grey who is a close friend to the bride, also served as a bridesman.
Victoria Beckham has released a bridal edit of her designer collection with pieces starting from £650. The collection features dresses, trousers, a cami top and more alternatives for modern brides. Victoria shared the news on Instagram with the caption;
Fluid dresses and tuxes are the cool alternative to bridal style from my #VBPreAW19 collection x."
Singer, Katy Perry revealed how actor, Orlando Bloom proposed to her on Valentine's Day on the 14th of February, 2019. In an interview on Capital Breakfast with Ronan Kemp, she shared; 
It was Valentine's Day, and I had to work that day and I just remember meeting him at dinner in this place… this Italian restaurant… So I get there and he's like clean-shaven, not wearing tennis shoes. I'm like 'Ah, sh*t, something is going down. 

We were ordering everything and he must have been so nervous, actually, he was. I thought he was going somewhere and he wasn't and then I get on a helicopter and he asked me to marry him. And then we landed on top of this building and then I went downstairs and all my family and friends were there with the most flowers you've ever seen.
Razak & Sade Okoya celebrated their 20th wedding anniversary as they graced the cover of ThisDay Style on Sunday, the 2nd of June 2019. 
Nollywood actor, Ernest Obi and his wife, Evi celebrated their 9th wedding anniversary last week. The actor shared a series of posts with the captions celebrating his wife, who also celebrated her birthday on the same day.
Does The Thorn on The ROSE Take From It's Beauty .

It's our 9th year Anniversary And Our 18th Year Of weathering the Consistent Storm In Every Relationship. I Pledge my commitment Again To You. My love. My Life

I Asked The Creator For A Woman To Call Wife…He Gave Me A Friend. A Companion. A Lover. A Mother. A Believer. My Soulmate
Every day I Celebrate You.

Happy birthday
Happy wedding anniversary
Still on anniversaries, singer, Martins Okechukwu Joshua (popularly known as J Martins) celebrated his 6th wedding anniversary. He shared a post on Instagram with the caption:
I remember telling this amazing woman right here to help me toast another girl I was eying that time oh? more then 10years ago & she did exactly that but few years down the line I noticed that my interest was where she is even though she never took me serious [sic] & she blocked me at a time, well as God may have it, having known each other for 11years it's been 6 wonderful years since we got married …
What do you do when your football teams are playing a match on your wedding day. Liverpool fan, Abby Norman and Tottenham fan, James Alexander from Plymouth get married on the day both teams play in the Champions League finals. So they have made arrangements to allow every one watch the game live as they tie the knot.
Abby Norman, a Liverpool fan, and Jamie Alexander, a Tottenham Hotspur supporter, both from Plymouth, are getting married on Saturday. The couple tell @allyrudd_times how the Champions League has affected their wedding #THFC #LFC https://t.co/uoBzXbwxsE

— Times Sport (@TimesSport) May 30, 2019