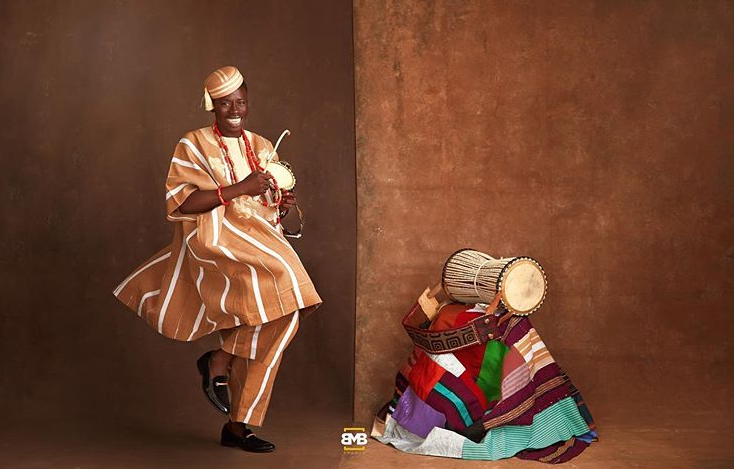 It's fair to say no Nigerian wedding is complete without gele's so we caught up with Taiwo Adebiyi, the CEO of gele artistry company, Taiwo's Touch. Taiwo's Touch is the preferred gele stylist for a number of Nigerian elites such as Bola Shagaya, Olori Sekinat Elegushi, Toke Makinwa and many others.
He shared why he decided to venture into the world of gele's, his favourite food, his thoughts on social media and more. Watch below;
Let's meet you? I'm Taiwo Adebiyi Emmanuel and I'm the CEO of Taiwo's Touch
Why gele artistry? What actually inspired me to go into the gele industry was getting the opportunity to beautify women. When I see women at parties and I see them looking fly and glamorous, all I think about is how to make them look even more beautiful and glamourous. So that was what inspired my journey
Tell us a fun fact about you… I only started styling gele's two years ago.
3 tips you need to succeed as a wedding vendor… You have to be very creative; some of my clients wake up with styles I've never heard of before and because they've called Taiwo's Touch, the king of gele's, they expect more so I have to bring up new styles.
The next thing is you have to be on time even though there are times when you can get to your client's house or the venue and they are not ready yet even when you have other appointments but you have to be patient. When your clients notice you're always on time, they usually end up working to stick to time too.
Small chops or jollof rice? Small chops… spring rolls, puff puff, samosas… small chops is bae
Jeans or trad? Trad… I have to tie gele. How will I make money?
Cook or be cooked for? This is a problem because I don't know how to cook so I'll rather hire somebody to cook
Pando yam or amala? Amala with ewedu and gbegiri plus shaki
Thoughts on social media… Social media is a really big platform that has really helped my business and that of a lot of others if you really know how to use it. For example, you can't just be there (online) and not replying your messages or not checking your inbox… these things are compulsory so you have to do them. But it has really helped my business