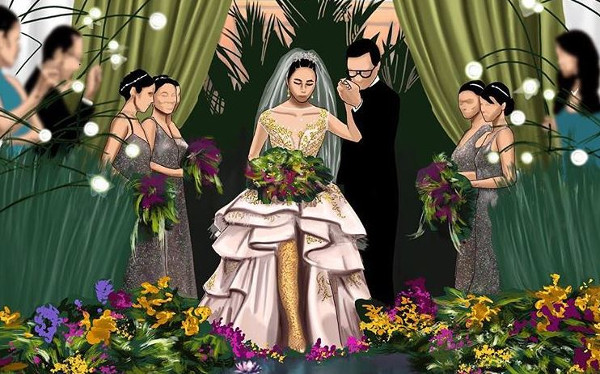 This illustration by Lean Kid from the movie 'Crazy Rich Asians' got us thinking about all the movie wedding scenes we'll never forget. From The Vow, Madea's Family Reunion to The Wedding Party 1; here are some movie wedding scenes we love.
Enjoy!
Crazy Rich Asians: Definitely No. 1 on our list. Everything about this scene made us fall in love; from Kina Grannis' beautiful performance of "Can't Help Falling in Love", the bride's dress, her grand entrance, the fashionable wedding guests. Just everything!
The Wedding Party 1: Of course, our very own 'The Wedding Party 1' made the list. If you've ever wondered what Nigerian weddings are like; this movie gives a very good idea of the drama that happens at most Nigerian weddings. From in-law rivalry, event planner drama, the association of Mo gbo mo branch guests, dramatic prayer points and more.
The Twilight Saga Breaking Dawn Part 1: This wedding scene from this movie is easily one of the most beautiful wedding scenes we've ever seen. The stunning outdoor wedding decor, the greenery… just watch the video below if you don't know what we're on about.
The Vow: Just like the movie title, this movie features some of the best wedding vows we've ever heard. We believe wedding vows that are personal and come straight from the heart are the best. If you ever need inspiration for writing your own wedding vows, watch this movie and we think you'll be good.
Madea's Family Reunion: The wedding production in Madea's Family Reunion deserves a standing ovation. It doesn't matter how many times we watch this movie, this scene always gets us. From the floating humans, the all white themed decor, Maya Angelou's rendition of 'In and out of time', to Johnny Gill's perfect walking down the aisle song – 'You for me'. Enjoy!
Tell us your favourite wedding movie scene in the comments section. We'll love to know.