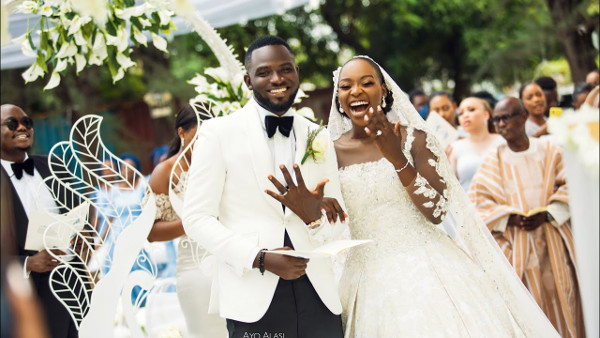 TV presenter and actress, Tomike Adeoye marked her first wedding anniversary on Monday, the 13th of April 2020. She shared throwback photo from her #TheTTAffair white wedding and a wedding vlog on her YouTube channel. On Instagram, she shared in her caption;
365 days after, you're still the best companion I could ever ask for!
Can't believe it's a year already!
Feels like just yesterday you came to "beg" for my hand in marriage (even though I don't remember the begging part?)
Thank you for making life so easy with your easy-going attitude
Thank you for making me understand we're just best buddies living together and it's really not big deal?

Unconsciously I've realized I'm not under any pressure to "be a wife" because of this attitude of yours! I'm just me, your babe, your bestie!
Thank you for all the times you've saved my laptop from falling & breaking in the middle of the night. For all those times you wake up, shut it down & take it off my lap, I say thank you. I for don buy almost 50 laptops by now??

I cherish every moment with you! Arguments, Playtime, Work time, Prayer time, I wouldn't trade it for anything!

Most importantly, thank you for your love! I'm blessed to be a partaker??
I'm honestly looking forward to forever! Cheers to many more years as glorious and happy as this!
Happy Wedding Anniversary bobo?
See the vlog below
Vendors
Photography: Adetola Adeleke Studios | OPhotography Works
Makeup: TMT by Layinka
Hair: Charis Hair
Wedding dress: Elizabeth R Couture