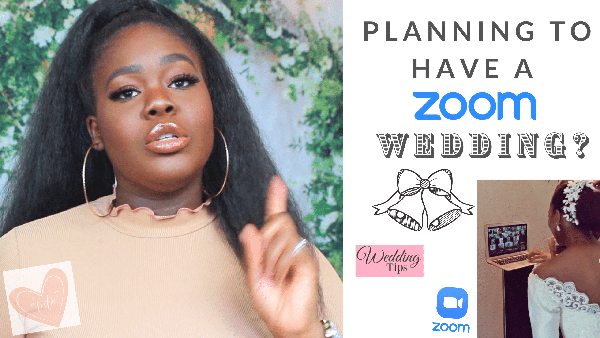 Wedding vlogger, Wura Manola is back with a new wedding vlog and she's talking all about planning Zoom weddings. In this video, she shares tips on planning a small wedding (a.k.a. micro wedding) and how to broadcast it online on platforms like Zoom. Wura shared;
We are seeing a few weddings happen in smaller numbers and being put on Zoom for family and friends that cannot attend in person due restrictions put in place because of COVID-19.
1. Make a decision: You need to sit down with your family and make a decision about having this wedding, especially if plans have been in motion for a big wedding
2. Inform your guests: You need to let your guests know what your plans are as they would still be wondering what is going on with your wedding
3. Decide on the format of the wedding: Decide what the format of the wedding is going to be – indoor vs outdoor, how long is the ceremony going to last for and all the other elements that go into it
4. Put together a budget: Put together a budget so you have a clear picture of how much will be spent on the wedding. It would also help inform what your wedding day might look like and what format will suit you.
5. Get a wedding planner: You need a professional who can plan a safe wedding within government guidelines
6. Decide on the venue for the wedding: Do you want to have the wedding in your living room or in your back garden? This would help you decide what decor would work.
7. Send out invitations: Once you have all the details, send invitations to your guests; one for those attending in person and a different one for those attending online via platforms like Zoom
8. Choose your vendors: Choose the vendors you need for the wedding; you don't need an extensive list. Choose essential vendors like photographers, planners, decor, makeup, and hair, etc
9. Get your outfits: You can decide to get an actual wedding dress or an alternate wedding dress
10. Get the necessary tech gear: Get all the tech you need in advance like a laptop, wi-fi, tripods, lights, etc
Bonus: Get a host: Get someone to man the Zoom meeting in case anyone has questions or for any technical assistance needed
Do you have any more tips for couples planning a micro wedding or a Zoom wedding? Share your tips in the comments section.
About Wura Manola