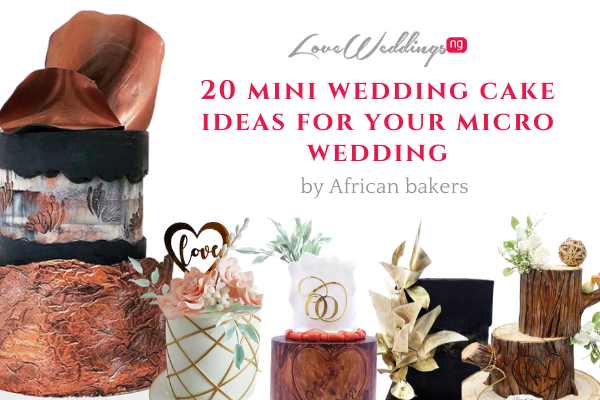 Julia Child's once said; "a party without cake, is just a meeting" and we agree. As the wedding industry continues to adapt to changes due to the COVID-19 pandemic, we're seeing a huge spike in micro-weddings for those who choose to continue with their wedding plans during the pandemic. We believe cakes are an essential part of any wedding regardless of the size of your event and shouldn't be excluded.
At LoveWeddingsNG, we encourage couples and vendors to take practical measures to ensure all government guidelines are adhered to. To help you navigate through these uncertain times and still have the wedding of your dreams, you can count on us to share wedding ideas and inspiration that'll help you ensure your wedding is celebrated with the health and safety of guests in mind.
Here are 20 creative and beautiful simple cake ideas from Nigerian bakers like Helado Delicia Cakes, Honey Frosting, Salt Lagos, Kemlah Cakes that will be the perfect addition to your intimate/micro wedding. Check them out!
1. This white lace cake by Salt Lagos is different, delicate, and simple. We love it!
2. This black and gold cake by Honey Frosting will be perfect for a themed wedding
3. This abstract wafer paper cake with flowers by Honey Frosting was created for a birthday but will be perfect for a wedding.
4. This one-tier white & gold cake with sugar flowers by Helado Delicia Cakes was made for a Nikkai ceremony. This cake proves that less is indeed more.
5. This two-tier wooden effect cake by Lizzie's Cakes N Crafts reminds us of a post we shared earlier this year. This cake will fit in perfectly with a rustic themed wedding.
6. This pillow & Bible cake by Kemlah Cakes was created for a traditional wedding but would work for a white wedding too.
7. This brown textured buttercream cake by Edible Spices is ART! Period
8. Purple, pink and lavender cake by Honeyfrosting
9. A 3-tier white cake by Cakes And Cream NG
10. 2 tier marble effect cake by Livvy's Twist Cake
11. Traditional wedding cake by Cakes And Cream NG
12. This two–tier pink and bronze wooden effect cake by Sweet Indulgence by Ola will be perfect for couples who want a touch of rustic at their wedding.
13. Square blue textured buttercream with rice paper bow by Edible Spices
14. Grey lace and bass relief cake by Lizzie's Cakes N Crafts
15. 2 tier white cake
Which of these stunning cakes is your favourite? Share in the comments section.
Find more wedding ideas for your Nigerian & African wedding here