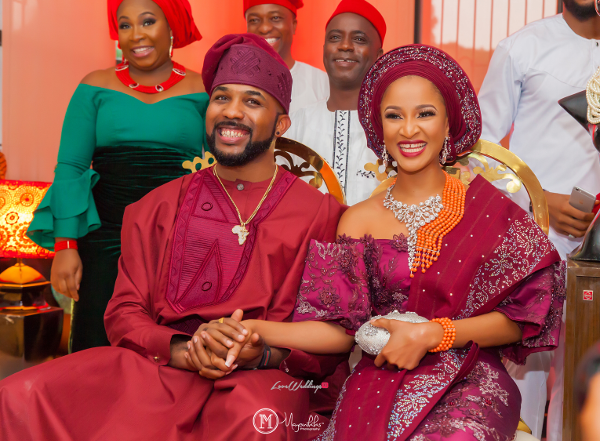 Hello, welcome to our monthly wedding news round up! A new series where we review everything that happened in the wedding space in the last month.
May 2020 featured a lot of online (Zoom) weddings and micro weddings as countries start to slowly relax restrictions on social gatherings after weeks of lockdown due to the COVID-19 pandemic. We also witnessed an epic 3D fashion show and wedding anniversaries from Kim Kardashian & Kanye West, Adesua Etomi & Banky Wellington and more! Check out our wedding news round up from May 2020.
Women's clothing brand Hanifa launched a new collection, Pink Label Congo with a 3D fashion show, which streamed online. The collection was innovative, fresh, and a reminder of how brands are evolving the way they operate in these rapidly changing times. We spotted a couple of wedding-worthy looks from the collection.
Nollywood sweethearts, Adesua Etomi and Banky Wellington marked their 3rd 'introversary'. (We know! New word alert). The couple shared lovely messages on Instagram to celebrate. Banky shared "Grateful for the journey, every step has been worth it. Grateful for all the lessons learned, and the blessings still to come. Grateful for what we are building, and grateful most of all for our foundation. Thank you Mrs. W. Thank you for loving me and thank you for building with me. I love you."
Adesua shared "So much to say but you know my love, you know. 3 years ago, we had our introduction and 3 years later, you are still one of the best decisions I have ever made. I Love you to Life."
Still on anniversaries! Serena Williams took us back 5 or 6 years when she met her husband and Reddit founder, Alexis Ohanian in Roma. She shared on Instagram; "This trip started in Roma 5 or 6 years ago lol I'm the worst with time lines. He sat at my table. I asked him to leave. He refused. I found that hot. I asked him if he liked truffles. He said yes. Eventually, I said yes. And here we are. 5 or 6 years later @alexisohanian"
On to micro weddings! Elaine Welteroth (author of More than Enough) and Jonathan Singletary had a micro wedding ceremony on the 10th of May, 2020. The couple shared photos from their #LoveLockdown wedding and the internet could not stop retweeting, commenting and reposting. Elaine shared "5.10.20 ❤️? Some things only come around once in a lifetime. This love. That day. Our moment. Too divinely aligned to let it pass us by. Let this be remembered as the day LOVE. COULD. NOT. BE. CANCELLED."
In Nigeria, TV host and former Big Brother Africa housemate, Vimbai Mutinhiri, and Dru Ekpenyong had their #ForeverYong2020 zoom wedding in Calabar. The bride shared "If only tears could speak, these ones would tell such a powerful story of how no matter what – God has a plan! Only He knows how a girl from Harare, ended up in the loving arms of a Prince in Calabar. The journey has been colorful and eventful, but by His grace we are ushered into a new chapter. What a testimony – that in every story – JEHOVAH has the final say ? ."
Their wedding photos are stunning!
The Office cast reunited for an online wedding officiated by John Krasinski on his Youtube show, 'Some Good News'. The cast recreated the famous scene where characters, Pam and Jim got married.
6 years ago, Kim Kardashian and Kanye West said 'I Do' in Italy. Kim shared a picture on Instagram with the caption; "6 years down, forever to go until the end".
It was also Kelly Rowland and Tim Weatherspoon's 6th wedding anniversary. Kelly shared a video on Instagram with the caption; "#US I LOVE YOU UNTIL………The end of time! ❤️❤️HAPPY ANNIVERSAY MY 1❤️❤️ "
Former #BBNaija housemate Mike Edwards and his wife, Perri Shakes Drayton celebrated their 1st wedding anniversary.
On the 12th of May, 2020, Ghanaian actor, John Dumelo and his wife Gifty marked their first wedding anniversary. Mrs Dumelo shared throwback videos of the couple exchanging their wedding vows.
Tara Durotoye and Fela Durotoye celebrated their 19th wedding anniversary! We love their love – almost 20 years of love, partnership, and doing life together.
Nigerian Youtubers, Toluope and Gbemiga Adejumo celebrated their third wedding anniversary.
Rapper Ill Bliss (Oga Boss) shared throwback pictures sharing the journey he and his wife had been on as they celebrated their 11th wedding anniversary.
Makeup artist, Lola Maja, and her husband celebrated their 10th wedding anniversary.
Royal couple, Oba Elegushi of Ikate Kingdom and his Olori, Queen Sekinat Elegushi marked their 17th wedding anniversary. Oba Elegushi shared; "17 years ago, when we started this journey, it was with mixed feelings; one, there was love, true love that existed between us; secondly, the anxiety that comes with two young minds deciding to live as one. From our humble and modest beginning, we've come this far and gotten better and proven to the world that ours is an inimitable choice."
Ever wondered what happens when someone catches the bouquet at a wedding! Well, this tweet by Malibu Darby went viral. She shared how she met her husband 5 years ago at a wedding where she caught the bouquet and he caught the garter.
5 years ago today some stranger caught the garter and I caught the bouquet. Now he's my husbanddddd. 5/23/2015 pic.twitter.com/GlL1h9EJX5

— Youtube: MalibuDarby (@MalibuDarby) May 23, 2020
That's all for the month of May. Catch up on more wedding news