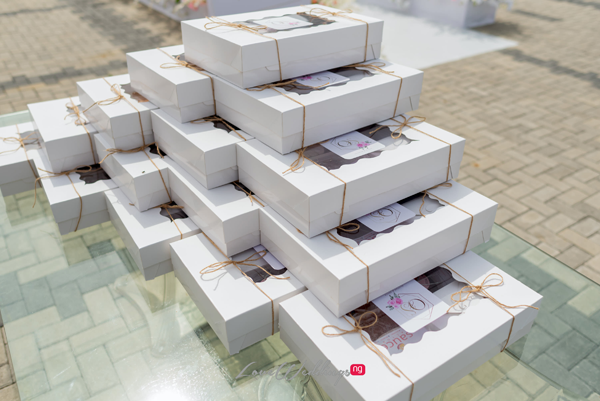 Celebration boxes are a must-have at weddings these days; mostly due to health and safety reasons. However, we think this trend is here to stay even post the COVID-19 pandemic. In this post, we share some advantages of having celebration boxes at your wedding and 5 must-have items regardless of how many guests are in attendance.
First, what is a celebration box? Celebration boxes within the Nigerian/African wedding context are boxes distributed to wedding guests after the ceremony. These boxes can be generic or personalized and you can put in anything and everything – as long as it fits. They can be handed out physically to guests or sent in the post to your virtual wedding guests.
This post will help give you some ideas of what needs to go into your celebration boxes. As unique as they are and as trendy as they are, we definitely prefer our celebration boxes filled with functional items that'll enhance the wedding guest experience.
Now that we understand what celebration boxes are and what they look like, here are 5 must-have items that we think you should have in each box.
1. A Welcome Note: The experience begins as soon as the box is opened! A welcome note or a heartfelt letter to your guests is the perfect way to kick off their discovery journey into what else is in the box. You can thank them for honouring your invitation virtually or physically and the note can also include the wedding itinerary and any further instructions such as keep the wine bottle for the toast at 5pm
2. Party Props: Wedding props will get your guests in the mood especially if its a themed wedding. Tiaras, sashes, sunglasses, etc will be great props to get your guests dressed up and ready for any wedding games and activities after the ceremony.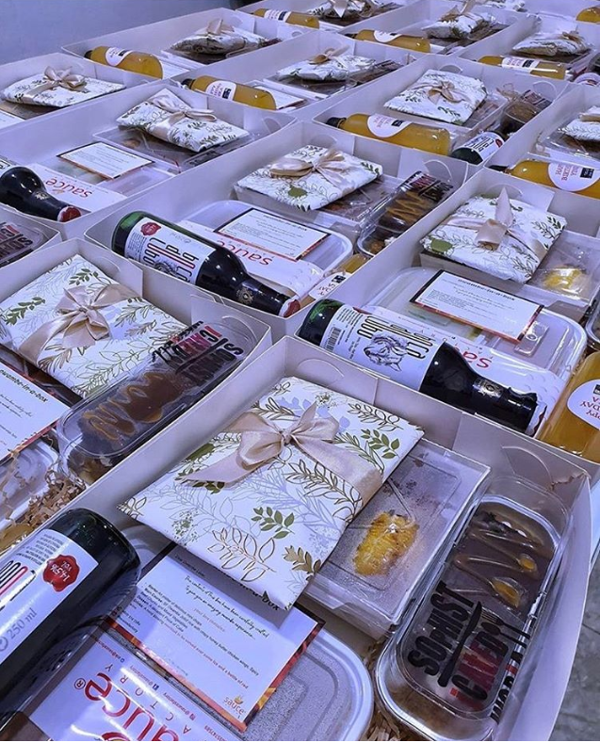 3. Food: There is no Nigerian or African wedding reception without food – Period! From appetizers to desserts, you can include all sorts in your celebration boxes. For a Nigerian wedding, small chops (puff puff, spring rolls, etc), pastries, chocolates, grills, salad, mini cakes and even jollof rice are favourites.
One key factor to consider when including food in your celebration boxes is how perishable the items are. Thanks to innovative catering solutions, some food items can be sent through the post if pre-packed under very specific conditions such as using vacuum bags and if delivery is guaranteed within a very short window. Ensure you speak to your caterer to ensure the appropriate care is taken especially if the boxes are being sent by post to virtual wedding guests.
4. Drinks: After food, your guests would appreciate a drink. With drinks, there are a lot of options that'll be suitable even if the boxes have to be posted to guests. Mini champagne, cocktail, wine, juice bottles would be perfect in your celebration boxes.
5. Gifts/Souvenirs: The ideas for this category are endless. We recommend small custom and personalized gifts that always remind guests of your special wedding celebration.
There you go, those are our tips and must-have items you need to consider if you're thinking of having celebration boxes at your wedding. Let us know if there are any other must-have items that we missed in the comments section. And remember to work with a reliable courier, delivery operator who can ensure the celebration boxes are sent out and delivered on time.