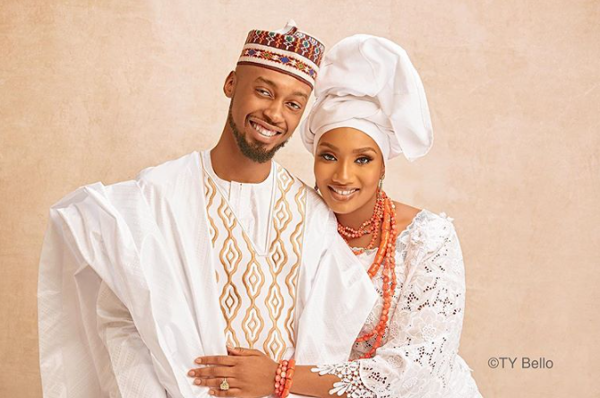 Last week, Fatima Nuhu Ribadu and Aliyu Atiku Abubakar tied the knot, Nigerian rapper, Erigga had his traditional wedding, Laila Johnson-Salami announced her engagement, Michelle and Barack Obama celebrated their 28th wedding anniversary and it was Justin and Hailey Bieber's 1st wedding anniversary. Here's all the wedding news you missed.
The Abubakar – Ribadu Wedding: Fatima Ribadu & Aliyu Abubakar got married in Abuja, Nigeria. The bride, Fatima Ribahu is the daughter of the former Chairman of the Petroleum Revenue Task Force and a former Nigerian government anti-corruption official – Mallam Nuhu Ribadu, while the groom, Aliyu Abubakar is the son of former Vice President of Nigeria, Atiku Abubakar.
#NIGGA2020: Nigerian rapper, Erhiga Agarivbie (popularly known as Erigga) is married. The artist and his longtime girlfriend, Morenike had their traditional wedding in Delta state. The groom shared; '@fabsnikki You are the most rare and beautiful flower on this planet and I'm the luckiest man who have you in my arms. My love for you, my wife, will always shine bright! Getting Married to you is the only right thing I have ever done in my life. I've never been so happy in my entire life. I would be dead without you. I love you Mrs Nikki Erhiga ???❤️??'
Laila Johnson-Salami is engaged! Nigerian TV presenter, Laila Johnson-Salami and Abasam Basky Onyia are engaged. The bride-to-be, who said Yes in Maldives, shared the news on Instagram; "The fact that you engraved my mummy's name into my engagement ring shows just a small percentage of how thoughtful, kind and in tune you are. I am so sure that she brought you in to my life and you remind me of her in so many ways. When she passed away almost two years ago, I didn't think it would be possible to feel happiness ever again. But you changed that and to spend the rest of my life with you is the greatest blessing. I love you more than words can ever explain and I know how much my mummy loves you too @abasamonyia – my everything ???"
A Country Love story! American country singers, Sarah Allison Turner and Jameson Rodgers are getting married. Jameson announced their engagement on social media last week; 'I met @sarahallisonturner at the Bluebird 9 years ago. Took a few years for me to finally ask her out. Last night I surprised her there and asked her if she'd marry me. She said YES!!'
The Obamas are 28 and they have a request! Former American President, Barack Obama and his wife Michelle Obama celebrated their 28th wedding anniversary last week. Michelle shared; '28 years with this one. ? I love @BarackObama for his smile, his character, and his compassion. So grateful to have him as a partner through everything life throws at us. And this year, we have a request for you — pick one person in your life who might not vote and make sure they do. Tell us about it in the comments! That's an anniversary message of the best kind. Love you, Barack. ❤️?'.
Barack shared; 'Even with everything going on, I wanted to take a moment to say happy anniversary to the love of my life. Every day with @MichelleObama makes me a better husband, a better father, and a better human. This year, while we appreciate all your well-wishes, what we'd really love is for each of you to reach out to one person in your life who might not vote. Help them get registered. Help them make a plan to cast their ballot. Send them to iwillvote.com to get started. Happy anniversary, Miche. Love you'. The couple said 'I Do' on the 3rd of October, 1992 at the Trinity United Church of Christ in Chicago, Illinois.
The Biebers are 1! Hailey and Justin Bieber celebrated the first wedding anniversary. Hailey shared; '1 year ago, we had the best wedding. Wish I could live this day over and over'.
The Obi-Uchendu's are 5! #BBNaija's host, Ebuka Obi-Uchendu and his wife, Cynthia marked their 5th traditional wedding anniversary. Ebuka shared; 'Five years today since I slurped your tasty palm wine and you ate up my kolanut ?. Happy tradiversary baby ?
#Todo19: Makeup artist, Dodos Uvieghara and her husband Tolu Itegboje celebrated their first wedding anniversary with photos from a stunning shoot at home. The couple had a beautiful destination wedding in Marrakesh, Morocco last year. Tolu shared; 'How time flies when you are having fun. +1 with the one who lights up my life @iamdodos_style and prayers for grace and unlimited favour for the journey ahead'.
The Osakioduwa's are 12! Nigerian media personality, IK Osakioduwa and his wife, Olohije Osakioduwa celebrated their 12th wedding anniversary. IK shared a photo and captioned it, 'We've been through hell together and we've also had great times. All in all we're enjoying the ride #12YearsABoo #12yearsOfHanging #Anniversary #GirlfriendForLife #RideOrDie'.
Artist manager & publicist, Vanessa Amadi-Ogbonna also celebrated her 7th wedding anniversary by sharing this throwback picture from her wedding at Syon Park.