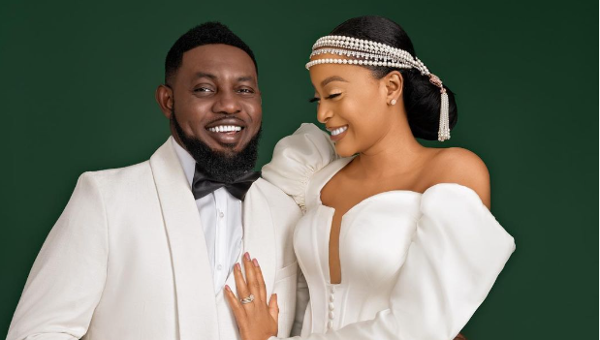 Last week featured so many proposals! Nigerian media entrepreneur, Adebola Williams (Adebola Lagos) got engaged, actor and singer, Ikechukwu Onunaku also announced his engagement, American actress – Amber Patrice Riley got engaged, Gabourey Sidibe also got engaged and Matthew Perry and Molly Hurwitz got engaged. Singer, Timi Dakolo crashed and performed at 8 weddings in Abuja and Nollywood actors, Adesua Etomi-Wellington and Banky W celebrated their 3rd wedding anniversary. Here's all the wedding news you missed last week.
Debola Lagos popped the question! The co-founder of The Future Awards Africa and CEO of Red Media Africa, Adebola Williams (a.k.a. Debola Lagos) is getting married. The media entrepreneur proposed to his girlfriend, Kehinde on Sunday, the 29th of November, 2020 during a romantic boat dinner in Lagos, Nigeria. Congratulations to the couple!
Ikechukwu Onunaku is engaged! The actor and rapper, who played the role of Sola Akinyemi in The Wedding Party, is set to wed. Ikechukwu announced his engagement with a video on Instagram.
Amber Patrice Riley is getting married! The Glee actress announced her engagement to her boyfriend, Desean Black on social media. She shared a picture on Twitter announcing "I'm marrying my best friend @DeseanBlack #engaged"
Gabourey Sidibe is engaged! The American actress and Empire actress is getting married to entrepreneur, Brandon Frankel. Gabourey shared a post on Instagram describing Brandon as "The funniest man I've ever met. The sweetest human to exist… My partner, my best friend, my cats' daddy, my mans, my heart, my fiancé!!! ❤️❤️❤️❤️"
Friends star, Matthew Perry is getting married! The actor is set to wed his longtime girlfriend, Molly Hurwitz. In an exclusive interview with People, he shared; 'I decided to get engaged. Luckily, I happened to be dating the greatest woman on the face of the planet at this time'.
#TheTNMiracle: In October, Nigerian Twitter user, Nanpon shared a How it started vs How it's going post. He tweeted; 'When her mum was pregnant for her, I told her that she was going to give birth to a girl and that the girl will be my wife. Look at us now'. Last week, he shared the full story on a Twitter thread and it went viral. Check it out.
Timi Dakolo crashed 8 weddings in Abuja! Nigerian singer, Timi Dakolo gave surprise performances at 8 weddings in Abuja on Saturday, the 28th of November 2020. The performances occurred after he asked fans to share their wedding reception venues. He asked on Instagram; 'Abuja people I'm ready. Please, direct me to where your reception has started'. The singer entertained the newlyweds and their guests by performing his hit songs; The Vow and Iyawo Mi.
#BAADForever: Nollywood actors, Adesua Etomi–Wellington and her husband, Olubankole 'Banky W' Wellington celebrated their 3rd wedding anniversary last week. The couple had their #BAAD2017 white wedding in Cape Town, South Africa 3 years ago and it was beautiful indeed.
The Adeyina's are 4! Last week, gospel singer, Benita Okojie and her husband, Olawale Adeyina celebrated their 4th wedding anniversary. Benita shared how their love story started; read it below
The Makun's are 12! Nigerian comedian and actor, Ayo 'AY' Makun and his wife Mabel Makun celebrated their 12th wedding anniversary. Mabel shared a post on Instagram wishing her husband a happy anniversary.