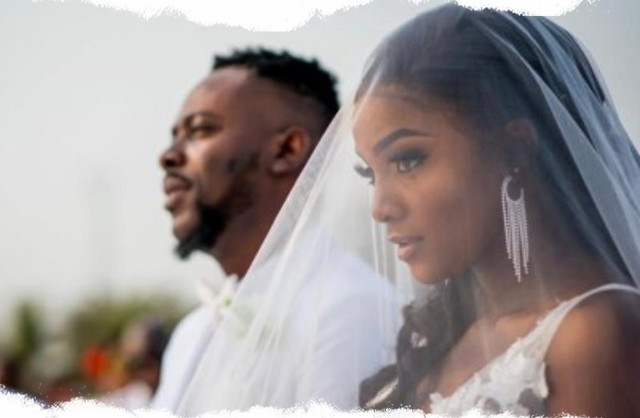 Last week, Nigerian singers, Simi and Adekunle Gold celebrated their 2nd wedding anniversary, London Bridal Fashion Week 2021 was cancelled and the former Speaker of the House of Representatives, Dimeji Bankole and Aisha Shinkafi Saidu got married. Here's all the wedding news from last week.
Dimeji Bankole weds Aisha Shinkafi Saidu: According to Linda Ikeji Blog, Dimeji Bankole, the former speaker of the House of Representatives, and Aisha Shinkafi Saidu tied the knot in Abuja on Friday, the 15th of January 2021. Aisha is the daughter of Kebbi Governor, Atiku Bagudu.
#LBFW2021 cancelled. The 2021 edition of London Bridal Fashion Week incorporating White Gallery originally scheduled for April has been cancelled. In a statement, the Director of Bridal, Wendy Adams shared;
The health and safety of our visitors, exhibitors and staff is our priority. While we would have loved to see our community come together again for three days of fashion, buying and bubbly, we believe that April is too soon for this to happen, despite the start of the worldwide vaccination programme. The cancellation of London will allow the team to start preparations for The Harrogate Bridal Show which is due to take place in September, when we hope the situation has vastly improved.
The Kosokos are 2!: Nigerian celebrity couple and singers, Simi and Adekunle Gold celebrated their 2nd wedding anniversary last week. To mark their anniversary, Simi shared photos from their intimate beach wedding on Instagram. She shared; '2 years. Well, 2 years on government paper and 7 years since I gree for you, you lucky man. Through a pregnancy. With a baby we're both unashamedly obsessed with. Through a pandemic. And it's still you. I've never had to wonder if you're in my corner. You're still the best man I know. You should have been your own best man (don't leave me). One of my favorite things about you is that you're a really, really good person. I like you a lot. I'm so proud to know you and be your wife. I pray that God continues to be the foundation of our marriage and home. I love you Kunle Kosoko. Now, forever and one extra day, and then another, and then another, and then another, ati bębę lo… Happy Anniversary Baby 🎉.'
Adekunle Gold shared a throwback photo from the first day he met Simi. He shared; 'I look back to the first day I met you. I had just left the office, so excited that you had finally given me the audience to see you. This local boy put on a white byc vest and a pair of new lilac pants bought specially for the occasion; I even made sure I was there earlier so I had front row seats. I watched you talk, sing, laugh and dance and Omo I knew that very day that I wanted to be in your life. I knew that day that I wanted my forever to be you. Here we are, all three of us, talking, dancing, singing, laughing and doing this this called life together. With you, I have been blessed with so much, so much, it's too much to count. I love you Simi. Forever your steward'.
Pantora Bridal in Kleinfield. You can now shop for Pantora Bridal dresses at Kleinfield Bridal! The bridal designer shared the news on Instagram last week. 'SCREAMS!!! @kleinfeldbridal has welcomed all of @pantorabridal #blackgirlmagic! You can now shop a selection of Pantora Bridal gowns at the largest bridal store in the country.'
#TOY18: Nigerian singer, Omawumi and her husband, Tosin Yusuf celebrated their traditional wedding anniversary last week. The singer shared; 'Happy Tradiversary Babe! Thank you for never laughing at or questioning my choices, because you are one of them 😁… I love you forever @d_seventeenth.'
The Njoku's: Serial entrepreneur, Jason Njoku shared a throwback picture on Twitter from the first day he met his wife, Mary Remmy Njoku. We love this 'How it started vs How its going'
That's it for this week. See you next week for more news weekly updates.