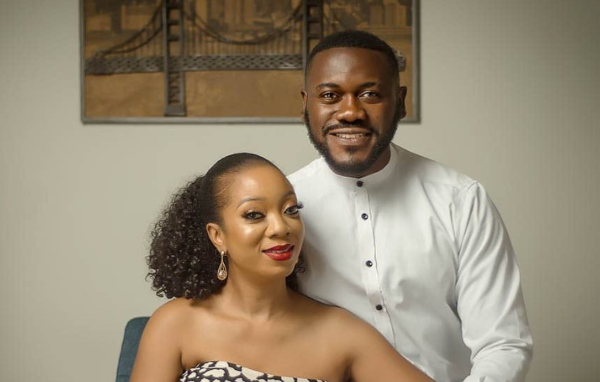 Last week, Timi Dakolo surprised a bride on the morning of her wedding day, actor – Lateef Adedimeji announced his engagement, Nollywood actor, Pastor Adeolu Adefarasin and his wife had their traditional wedding. Here's all the wedding news you missed last week.
A double proposal! According to Linda Ikeji Blog (LIB), twin sisters, Dahun and Dara got proposed to at the same time. The daughters of the current Minister of State for Health, Olorunnimbe Mamora were surprised by their boyfriends, Bayo and Lanre, who pulled off the surprise Zoom proposal with the help of their family and friends.
Adetola Adedimeji Lateef is engaged! The Nigerian actor announced his engagement during an interview on TVC's Your View show. When asked if he was married, Lateef said, 'I'm not married but I'm engaged'.
Nollywood actor, Emeka Okoye is married! Last week, the actor shared a photo from his traditional wedding on Instagram with the caption; 'Glory be to God for his kindness. Officially Mr and Mrs Emeka Okoye'.
#AAGodStory: Nigerian actor and pastor, Adeolu Adefarasin shared photos from his traditional wedding last week. The actor shared; 'Can't thank God enough for the joy that was our traditional engagement yesterday. The feeling of love and family was overwhelming. And please see my wife looking like a SPECtacular spec! #AAGodStory @miss_cia'. The couple had their white wedding last year.
The Idakula's are 7! Nigerian singer, Bez Idakula and his wife, Bolatito celebrated their 7th wedding anniversary last week. The couple said 'I Do' on the 4th of January 2014 in Lagos, Nigeria. To mark their anniversary, the singer shared; 'Officially 7 years with @titoidakula today! Whoa!! This is to us and many more years to come in uncommon love, bliss, peace and many crazy exploits! Love you babe'.
The Ilori's are 1: TV host, fashion stylist, and content creator, Bukunmi Adeaga-Ilori, popularly known as Kie Kie, celebrated her first wedding anniversary last week. She shared; "I choose January 4 as our wedding date, because I was too certain you'll forever be a good way to start every single year we spend together! 🥰💕💕"
Ling And Lamb: Nigerian musician, Yinka 'Lamboginny' Lawanson and his wife, Taccara Rae celebrated their second wedding anniversary. Lamboginny shared; 'Forever my beautiful BRIDE 😍😍🥰 Happy 2nd year wedding anniversary to us!!! Two beautiful years growing stronger together. I LOVE YOU SO MUCH AND ALL OF OUR BEAUTIFUL FOOLISHNESS @theblogery 😍👑👑 🎆🎊🍾.' The YouTube couple got married in 2019.
The Okanlawon's are 8! Nollywood actor, Deyemi Okanlawon and his wife, Damilola have been married for 8 years. Last week, the actor shared a lovely message on Instagram; '05:01:13… 8 years later and I'm still wondering where you found the love, strength and patience to help groom me into the man I am today. I thank God every day (ok ok most days) for you in my life and I pray that His Wisdom and Grace continues with us till He calls us home. I love you ❤️'
#OlaphyForever: Nigerian photographer, Olowolafe of Laphy Photography and his wife, Olubukola celebrated their first wedding anniversary last week. See pictures from their wedding last year.
Another Timi Dakolo wedding surprise! The singer surprised a bride on the morning of her wedding. He shared on Instagram; "So I got a call for a wedding in Abuja for a lady that just wanted me as her only wedding gift. Unfortunately I had committed to some other gig and the husband and other people kept calling. At some point, we had to come to an agreement, because they refuse to give up. I mean the calls kept coming with the line have you changed your mind?. So we had to come up with a plan. Let's wake her up and make her wish come true. Thanks to her colleagues (Planning committee ). Happy married life to OGECHI AND NWACHUKWU EKE."
Tosho Woods Bling! Finally, fashion brand, Tosho Woods announced last week via Instagram that they had secured a partnership with a jeweler and will be releasing their line of "handmade 18k Gold and Sterling Silver earrings adorned with Swarovski crystals and other precious metal gemstones."