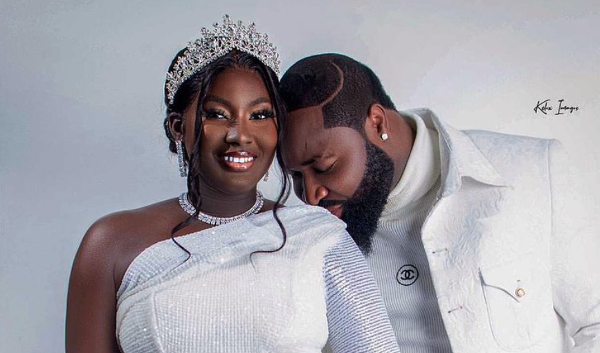 Last week, Nigerian singer, Harry Song shared his wedding date, the CEO of the Nigerian Stock Exchange (NSE), Oscar Onyema got married, Bella Naija Weddings and Union Bank of Nigeria shared details of #AFreeUnion and more. Here's all the wedding news you missed last week.
#Tarex2021: Nigerian singer and songwriter, Harrison Tare Okiri popularly known as Harry Song is getting married on the 27th of March, 2021 in Warri, Delta State. He shared the news on Instagram with a picture from their pre-wedding photo with the caption, "ALL SHADES 🌺 I got it perfect this time. March 27th at the KFT event center Warri delta state. 🍷. Photo by @kolexor #tarex2021."
Hauwa'u Bala Muhammad weds Muhammadu Lawal Adamu: The daughter of Bauchi State Governor, Senator Bala Muhammad Abdulkadir got married recently. The couple had an intimate wedding ceremony at the Government House in Bauchi State. According to the Nigerian Tribune, Governor Bala Muhammad Abdulkadir apologized to those who may feel offended for the inability to invite them and congratulated them for witnessing their marriage urging them to be patient and tolerant in building their matrimonial home.
Win #AFreeUnion: Union Bank and Bella Naija Weddings announced a collaboration where a lucky couple will be gifted an all-expense paid wedding or proposal. Intending couples are required to submit a 60-second video on social media stating why they deserve the gift. If you're interested, apply here.
Oscar Onyema weds: According to The Cable, the Chief Executive Officer of the Nigerian Stock Exchange and his fiancee Annette had a private wedding ceremony with selected family members and friends in attendance. Congrats to the couple.
An Atafo Bridal Weekend: Nigerian fashion brand, Atafo hosted a bridal week from Friday, the 5th to Sunday, the 7th of February 2021. The 3-day virtual event featured a runway showcase, a bridal charity sale, IG live sessions with Oluwatosin Agboola from The Wardrobe Manager, and Seun Olopade of Styled by Seun.
How Ikechukwu popped the question: The Nigerian actor and rapper got engaged last year, in what he described as the happiest moment of his life. He shared a video of the moment when he asked his girlfriend to be his wife in London with a view of Tower Bridge.
#AdeKani: Davido's brother, Adewale Adeleke and his wife, Kani celebrated their 1st wedding anniversary. Adewale shared on social media, "Happy Anniversary @kani41 ❤️❤️❤️! Today makes it one year since I got married to my best friend. While this past year has been a crazy one for everyone, God saw us through it, and gave us the best gift anyone could ask for 👼. I pray this is the first of many happy anniversary we spend happily together raising our beautiful family. Thank you for loving me despite my flaws❤️❤️❤️ you deserve the world & I promise that's the least you will get! #AdeKani."
#OBI2016: Media personality, Ebuka Obi-Uchendu and his wife, Cynthia celebrated their 5th wedding anniversary. The #BBNaija host shared on Instagram; "Beyond thankful that we both survived Covid together months ago because our beautiful journey is only just beginning… Happy wooden anniversary Onyeka'm ❤."
Lavish Bridal is 4! The Nigerian bridal styling company founded by Temi Awoyinfa launched 4 years ago in Lagos, Nigeria. They shared a statement via Instagram thanking everyone who has supported the brand through the years. The statement read; "4 years ago today Lavish Bridal launched in Lagos, Nigeria. It has been a journey but we would not have it any other way. We would like to thank everyone who has supported us through the years! Family, friends, wedding industry/beauty professionals, designers, and 'The Lavish Team'. We love you all! To our brides, thank you for bringing us into your lives and making us a part of your love stories. When you look at your portraits 25 years from now, please know it was an honor to get you dressed for your big days."
A viral bling moment! Kimya Jackson & Nate Gamble's proposal, which took place in Las Vegas, on the 9th of January 2021 went viral last week. Everyone couldn't stop talking about the couple's photo session, which turned into a surprise proposal. Check it out below;
That's it for this week. See you next week for more news weekly updates.