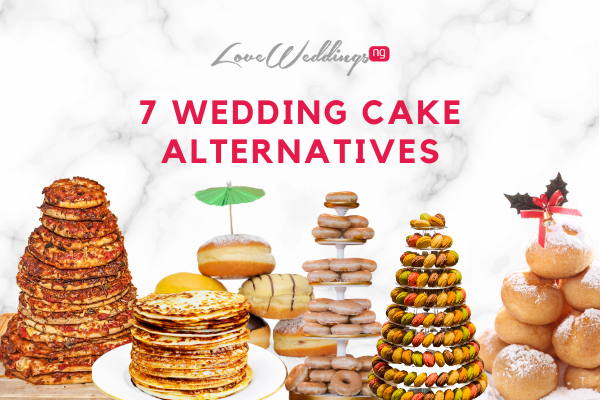 Wedding cakes are wonderful, but not everyone enjoys them. We've seen a number of couples try alternatives such as pizzas, doughnuts, macaroons, brownies, pancakes, and more to the long-standing tradition of having wedding cakes. This post was inspired by National Pizza Day, which we celebrated on the 9th of February 2021. To mark the day, we shared a picture of a couple who chose pizza instead of a wedding cake on Instagram and we realized how much of a rare occurrence this was at Nigerian weddings so we decided to share some ideas.
Check them out!
Pizza: This savory dish of Italian origin would be a great alternative to having a wedding cake especially if you have a lot of pizza lovers as wedding guests.
Doughnut stack: Doughnuts are not just for walls, as we've seen at a lot of Nigerian and African weddings. A doughnut stack may be a great twist if you're looking for an alternative to a wedding cake.
Macaroon towers: Macaroons are not only great for the dessert table, but they can also take the place of a wedding cake if you stack them up in a tower.
Croquembouche (Cream puff tower): At your wedding reception, a massive croquembouche would be a show-stopper. You should consider these French high cone-shaped desserts made of cream puffs and covered in caramelized sugar.
Pancake stacks are perfect for wedding brunches, civil wedding ceremonies, and other wedding-related activities like bridal showers. Many couples who choose pancakes over wedding cakes pour honey or syrup on their pancakes as a symbol of support and longevity, which is similar to the act of cutting their wedding cake together.
Waffle stacks: Very similar to pancakes; they're a great alternative to wedding cakes.
Brownies are a chocolate dessert that is very similar to cakes but has slightly different ingredients and is served in squares.
What are your thoughts? Will you take any of our recommendations into consideration? Share in the comments section.