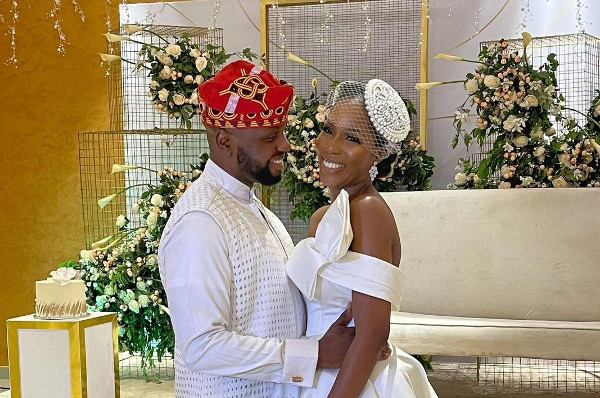 Last week, Nigerian entrepreneur, Adebola Williams (Debola Lagos) and Kehinde Daniel had their registry wedding, Lagos based MC and hype man, Kunle Oshodi-Glover (Shody) got married, bridal fashion brand Marchesa Bridal released their designs for Pronovias and American actor, Nicolas Cage announced his marriage to Riko Shibata. Here's all the wedding news from last week.
#OluwaKade: Adebola Williams (Debola Lagos), co-founder of The Future Awards Africa and CEO of Red Media Africa, and Kehinde Daniel had their registry wedding on Saturday, the 6th of March, 2021 at the Ebony Life Place in Lagos, Nigeria. The couple got engaged on Sunday, the 29th of November and had their traditional wedding in December 2020. Congratulations #KDLagos2021
The Oshodi-Glover's: Lagos based MC and hype man, Kunle Oshodi-Glover (Shody) and Lade, founder of the Àkánkè brand said 'I Do' last week. Shody shared on Instagram; 'We are The Oshodi-Glovers!!! We did it Babe and we did it on our terms!!! Exactly how we wanted it to be!! For years we wanted a special classy ceremony and I am grateful to my amazing family and friends who would ride for us anyway!!! Thank you all for your wishes and prayers and gifts. We are indeed very grateful. #ThegLOVERS #ToForever #Shombo #Nopressure #Eko4Show #MrShody #MarryYourGuy.'
Nicolas Cage is married! According to E!, the American actor got married on the 16th of February 2021 in Las Vegas, exchanging traditional Catholic and Shinto vows. His bride, Riko Shibata wore a handmade Japanese bridal kimono and the groom was dressed in a Tom Ford tux. Nicolas Cage proposed to Riko over FaceTime with a black diamond ring and mailed it to Japan. 
#MarchesaForPronovias: Bridal fashion brand, Marchesa Bridal released its Marchesa for Pronovias collaboration. The 21-dress collection was inspired by the Spanish city of Seville, and was designed by Georgina Chapman, the co-founder and creative director of Marchesa, in partnership with Alessandra Rinaudo, the Chief Artistic Director of Pronovias. The debut collection was released last week and the dresses will be available in stores in April.