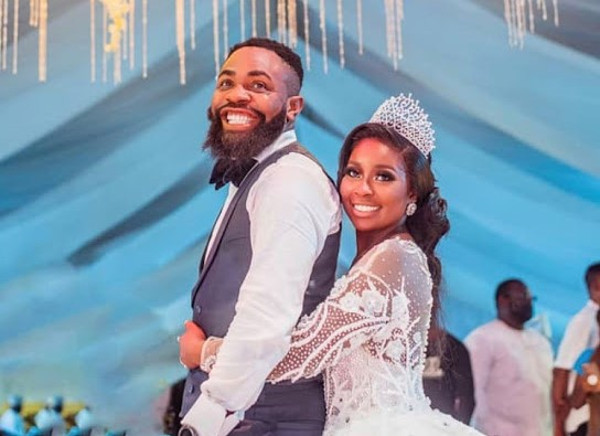 Last week, Nigerian actor and comedian, Woli Arole got married to Yemi Adeola, Tomike Adeoye celebrated her traditional wedding anniversary with a special announcement, actress, Ufuoma McDermott celebrated her 11th wedding anniversary and Elie Saab shared their stunning Bridal Spring Summer 2022 collection. Here's all the wedding news from last week in detail.
#BecomingTheBayeguns: Actor and comedian, Toyin Bayegun (popularly known as Woli Arole) got married to Yemi Adeola. We love all the first photos we've seen so far from their #BecomingtheBayeguns civil, traditional and white wedding, which all held last week.
The couple also got a surprise wedding gift, which was presented to the couple by The Pertinent Group and Homify.
#SheSaidYas2021: Damilola Odufuwa, one of the co-founders of Feminist.Co got married last week and we can't tell you how much we loved her white wedding look – so effortless!
A Special Vow delivery. This bride went INNNNN for a freestyle rap as she shared her wedding vows to her groom, Ayokanmi. Check out the rhymes and the vibe in the video below
Part 2 pic.twitter.com/ftsgVJ1pmr

— Naija (@Naija_PR) April 7, 2021
#NYLBFW: Last week saw incredible designers show off their stunning bridal pieces at the New York Luxury Bridal Fashion Week from the 6th to the 8th of April.
Nigerian-British designer, Kosibah also premiered his Kosibah Asheyori Eji SS22 collection at the event, check out the stunning pieces
Poised in Elie Saab. Bridal fashion designer, Elie Saab unveiled its Bridal Spring/Summer 2022 collection at the New York Bridal Fashion show. The brand shared via Instagram that the collection "embraces the unique feminine expressions of all brides with a radiant collection that embodies glamour, grace and allure."
#AkahAndClaire: YouTube couple, Akah Nnani and Claire Idera celebrated their wedding anniversary last week, which gave us all the excuse in the world to revisit their stunning wedding pictures by Bedge. The couple also spoke to BBC News Pidgin about their journey, being parents and more in pidgin.
#TheTTAffair! It's been 2 years since Tomike and Tosin Adeoye's traditional wedding and the couple marked their anniversary with a very special announcement on Tomike's YouTube channel.
Year 11! Nollywood actress, Ufuoma McDermott and her husband, Steve celebrated their 11th wedding anniversary last week. The couple wore their original wedding outfits for their anniversary shoot; Ufuoma shared "Yes, I wore a metallic dress for my wedding. Yes, I can still fit into it."
57 Years in love! HRH Alabo Prof. Dagogo Fubara and his wife, HRH Alabota Dr. Vinolia Fubara celebrated their 57th wedding anniversary last week. Their daughter, Kalanne shared photos and a video of the couple on Instagram.
The Drumming Bride. This video of a bride playing the drums as the band sang at her wedding went viral last week We love it!
Observe COVID guidelines or… According to the BBC, Rwandan police made some brides, grooms, and their families sit in the stadium overnight on their wedding day for breaching COVID-19 protocols.
Your engagement ring fully paid for… NBA legend, Shaquille O'Neal saw a man buying an engagement ring in a jewellery store and decided to pay for it in full.