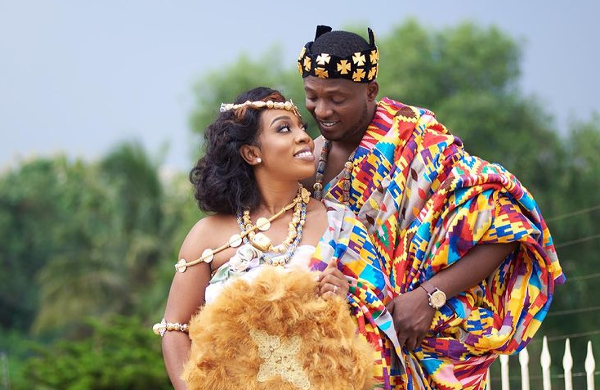 Ghanaian couple, Stephen and Sarah got married recently and they shared their beautiful love story with us via their wedding videographer, Shot by Focus. They started dating in 2014, saw each other in January 2016 and didn't see each other again until a week before their wedding. Read their #YouHadMeAtCobbinah love story.
Love story
So both families were friends before I was born, his aunt taught me in primary school and my mum used to drop my siblings and I at their house for play dates but for some reason, I just didn't like the guy probably cos he called me Maame l33, I still don't like the name. Also, we attend the same church.

Ok back to my story, so we stopped going over to their house when his auntie (my best friend) left for the States, I used to see him in church but we never spoke to each other. The only time he actually spoke to me was when he was sent over to bring some stuff over to my dad or we happened to be at the same place at the same time and I hated those meetings because I was just too shy of him and I just couldn't look at the guy in the face.

Fast forward to 2013 when we both travelled. I left for the UK and he left to join his auntie (my best friend) in the States. His auntie and I spoke every day on Skype and his name always came up in our conversation somehow. At this point, we were still not friends but once in a while, he would say hi while I was talking to his auntie. I used to let his auntie get me stuff and ship it to me in the UK. In 2014, I remember his auntie got me a dress that came in two colors and I had to pick one. Her phone was not Android so she asked him to send it to me and not only did he do that, he decided to start chatting me up. Honestly, I was not up for any relationship.

I just couldn't handle my heart being broken a third time,  so when he asked me to his girlfriend I said let's be friends and get to know each other better but he was not having it. I told him I needed time to think about it but this boy wouldn't give me the space to think or breathe lol. Eventually, I said let see how it goes, 3 or 4 months later he joined the American Airforce, which was difficult for both of us. He paid me a visit in London in December 2015 when he got back from camp.

He gave me a promise ring when he was leaving but life happened and it really put a strain on our relationship, it got really frustrating, I honestly gave it up. I didn't think it would happen for us, I just told God, he knows who he has picked out to be my husband; if he is the one, it will work out. I didn't know when or how, I just left it in his hands but one thing he did was he was always there for me. I moved back home in 2019 and in 2020, God finally came through and we decided it was time to make it official and we set our wedding date. Bear in mind the last time we both saw each other was January 2016 and our second meeting was going to be a week prior to our wedding.
Credits & Vendors

—
CEO,
0557808305