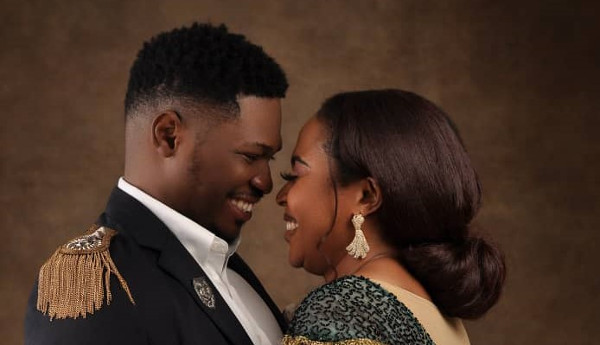 Last week, Nigerian footballer, Peter Olayinka Oladeji and actress, Yetunde Barnabas got married, 2012 Gulder Ultimate Search contestants, Ayo and Nuhu also got married and we witnessed a beautiful military wedding. Nigerian TV presenter and iHeart media reporter, Yinka Oladiran got married and Esther Andrews shared on TikTok how she knitted her wedding dress for 9 months.
Ayo weds Nuhu: 2012 Gulder Ultimate Search (Season 9) contestants, Ayo and Nuhu are married. The bride's brother, Olamide Omoregha shared the news on Twitter; 'Today is my sister's wedding! (Ayo × Nuhu) They met at the jungle in 2012 on a reality show hosted by Nigeria Breweries (Guilder Ultimate Search Season 9). After 10years of friendship, growth, and commitment, Today is that special day for her. God bless their union!'
According to The Sun, Dave Scott and Pamela got married after 48 years after their engagement. 78-year old Dave from Dagenham, East London met 72-year old, Pamela at their local hub in 1969; they got engaged in 1973 and finally decided to get married in 2021 after their 32-year-old son, Dean set an October wedding date with his fiancee, Tayla. Dave revealed that challenges in the past had disrupted their wedding plans. He shared; 'Then we struggled. I was out of work on and off, my parents got ill, and lo and behold in 1989 we found out Pam was pregnant with Dean. We were shocked because she was 40 and I was 46. The wedding got put on the backburner'.
Female military officer, Zinat tied the knot recently, and her makeup artist @khafilmalikbeauty moments from the event.
#YOursForever. Nigerian professional footballer, Peter Olayinka Oladeji, who plays for Slavia Prague and actress, Yetunde Barnabas got married last week in Lagos, Nigeria
#TheBrunoBond: Nigerian TV presenter and iHeart Media reporter, Yinka Oladiran is married. The Nigerian media personality and her Haitian fiancé had their Yoruba traditional wedding in Abeokuta on Saturday, the 19th of June 2021.
Esther Andrew's wedding dress. The Tik Tok user and bridal dressmaker's video went viral. She revealed that she hand-knitted her wedding gown in a New York Subway for 9 months. The inspiration for the outfit was a space pirate meets tomato patch made with mohair lace yard.
Zac Posen x Blue Nile: American fashion designer, Zac Posen and jewellery company, Blue Nile released a new collection of modern wedding rings for all type of couples. The collection tagged, ZAC was created to celebrate love, unity and marriage for all.
#BnGUnion. Queen Bosa Bosa's wedding entrance video went viral last week. The dance instructor made an entrance at her #BnGUnion wedding. Check it out.
32 years of marriage: Ghanaian singer and UK based artist, Stephanie Benson celebrated her 32nd wedding anniversary. She shared on Instagram; 'It was today 32 years ago, at 3pm, actually I was 1 hr 45 mins late 💁🏾‍♀️ but I married my Prince Charming. Jon loves the simple life, no Airs, no Graces just a patient, hardworking man who gave his family the Best of Everything, more than a normal father of 5 would. He Married an annoying pampered woman from Kumasi, Ghana whom he treated like a Queen. Only Now he has to deal with Me and 5 other pampered children. 🥰 32 years later neither of us have changed. Only Love is stronger. ❤️ #happyanniversary'
Nigerian finance coach and entrepreneur, Omilola Oshikoya celebrated her 15th wedding anniversary last week. She wore her 15 yr old wedding dress for their anniversary shoot.