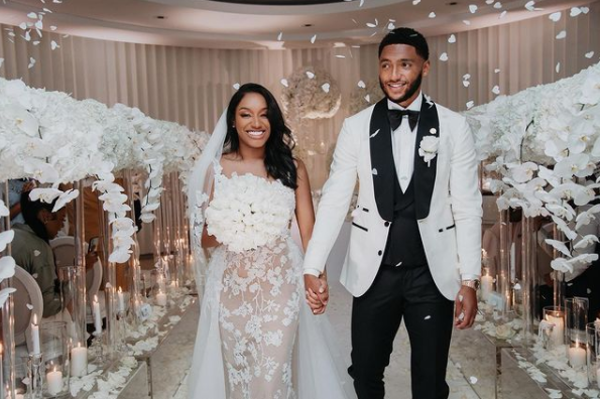 Last week, Liverpool FC's Joe Gomez and his longtime girlfriend, Tamara Tia got married, WWE superstars, Seth Rollins and Becky Lynch also got married. English actor, Douglas Booth got engaged to Bel Powley and Matopeda Atelier released their 2021 bridal collection. Kanu Nwankwo and his wife, Amarachi Kanu celebrated their 17th wedding anniversary and more. Here's all the wedding news from last week.
Joe Gomez is married! The English footballer and Liverpool FC player got married to his longtime girlfriend, Tamara Tia. They shared photos from their wedding ceremony, which held on the 29th of June 2021 on Instagram.
Seth Rollins & Becky Lynch's wedding. The WWE superstars, who got engaged in August 2019, tied the knot on Tuesday, the 29th of June 2021.
Douglas Booth is engaged. The 28-year-old English actor proposed to his girlfriend, Bel Powley while they were having a picnic. The couple announced their engagement on Instagram.
Parker McCollum is getting married: The American singer and songwriter got engaged to Hallie Ray Light. She shared a picture on Instagram.
Matopeda Atelier's 2021 Bridal Collection. The Nigerian fashion brand previously known as Tope FnR released its 2021 bridal collection. The brand figuratively described the 'woman's frame as a Puzzle and Wonderland in her "Puzzles of Wonderland'
The Kanu's are 17: Nigerian footballer, Nwankwo Kanu and his wife, Amarachi Kanu celebrated their 17th wedding anniversary. Amarachi shared a picture from their wedding on Instagram saying; 'I hope we get to celebrate for many years to come. Happy anniversary my love @kingkanu4'. Her husband shared the same picture with the message; 'Always and forever❤️. Happy Anniversary my love @amarakanu ❤️ God bless you and our smiles will be forever.'
7 is perfect! Nigerian Gospel singer, Sinach and her husband, Joe Egbu celebrated their 7th wedding anniversary last week. She shared; '7 is perfect!! I love you always my King, love. Best friend. You make it so easy to serve the Lord! I love you endlessly'.
Victoria Beckham's parents, Jackie and Anthony Adams celebrated their 50th wedding anniversary last week. The fashion designer shared on Instagram; 'Such a special day yesterday celebrating my parents 50th wedding anniversary! So inspiring, 50 years, wow!! We love you so much and so happy we finally got to celebrate as a family'
Sophie Turner & Joe Jonas' wedding anniversary. The couple celebrated their 2nd wedding anniversary last week. The couple shared never-been-seen photos from their destination wedding in the South of France on Instagram.
The Okposo's are 11. Gospel singer, Sammie Okposo and his wife, Ozioma Okposo celebrated their 11th wedding anniversary.