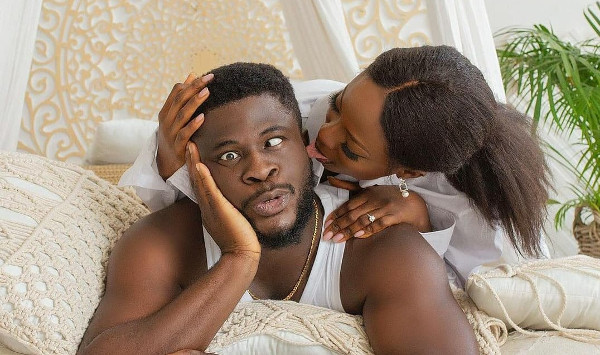 Nigerian comedian, Craze Clown is married, Nigerian rapper, Skales had his white wedding and Abdulrahman Badaru, the son of Governor Mohammed Badaru Abubakar of Jigawa State tied the knot. American basketball player, Anthony Davis also tied the knot and Ghanaian actress and TV presenter, Sika Osei announced her engagement. Nigerian actor, Yemi Solade and his wife, Hannah Marsh Solade celebrated their 15th wedding anniversary. Catch up on all the wedding news you missed last week.
---
#Emjo2021. Nigerian comedian, Emmanuel Ogonna Iwueke popularly known as Craze Clown, and his fiancee, Jojo had their traditional wedding on Saturday, the 25th September 2021. The couple got engaged in 2019 after dating for 8 years and welcomed their first child in 2020.
---
Skales' White Wedding: The Nigerian rapper and model, Hasanity had their white wedding on Saturday, the 25th of September 2021. The couple had their traditional wedding in May 2021.
---
#TheBeautifulBegining2021. Jigawa State Governor, Mohammed Badaru Abubakar's son, Abdulrahman Badaru, and Affy Sadiq tied the knot recently in Kano. Last week, the wedding photographer, Atilary shared the story of how the couple met and their wedding photos on Instagram. He shared; 'who says social media relationship is a lie? It all started with Abdul going crazy after seeing her post on Snapchat. He replied with "cutie😻😻" . and that same day he said he as found his wife and today it's true ❤️❤️❤️'
---
Anthony Davis is married. The American professional basketball player and his long-time partner, Marlen P said 'I do' in front of their family and friends.
---
Sika Osei is engaged. The Ghanaian media personality shared a black and white photo of herself and her fiance on Instagram with the caption; '💍 #ISaidYes ❤️'
---
Ayesha and Stephen Curry's vow renewal. American basketball player, Wardell Stephen "Steph" Curry and his wife, Ayesha Curry marked their 10th wedding anniversary on the 30th of July 2021 by renewing their vows. The ceremony was officiated by their first child, Riley. Ayesha shared the details on Instagram; 'A couple of weeks ago, @stephencurry30 surprised me with the most beautiful vow renewal ceremony. He even picked out my dress for me and had it waiting 😭. Our big girl Riley officiated and Ryan and Canon walked me through the grass of our backyard. It's everything I've always dreamed of but didn't know could be possible in this way. A moment I will never forget. I love you @stephencurry30.'
---
#Àṣéwẹ́rẹ́niṣẹ́olúwa. Nollywood actress, Kemi Lala Akindoju and her husband, Gbubemi Fregene (Chef Fregz) celebrated their third wedding anniversary last week.
---
#TheBanjokos17. Nigerian saxophonist, David Abolaji Banjoko (aka Beejay Sax) and his wife celebrated their 4th wedding anniversary.
---
Nigerian actor, Yemi Solade and his wife, Hannah Marsh Solade celebrated their 15th wedding anniversary: The veteran actor shared on Instagram; 'Another 365 days of marital bliss with my partner in exclusive progress, understanding, and divine peace. my JLO has my heart and it's a sealed arrangement from God almighty. May God continue to pilot the affairs of our home in all ramifications and grant us longevity in sound health. Amen!'