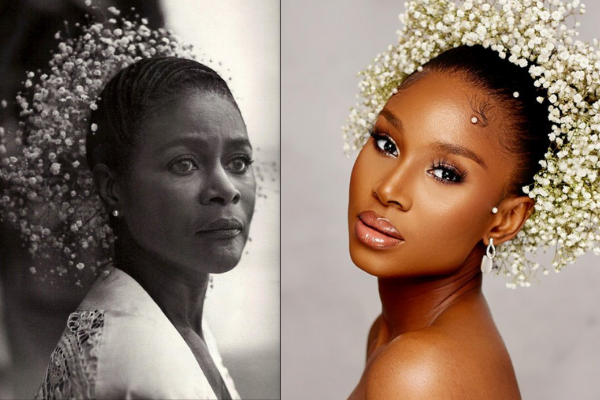 Cicely Tyson's natural hairstyle from the 1900s might become the most popular wedding hairstyle for brides in 2022 and we are very excited about this. Over the years, brides have searched for distinctive inspiration for everything, from their looks to the style of their wedding venue and It is typical to draw inspiration from prior brides and classic aesthetics.
Earlier this year, we saw celebrity bride, Ariana Grande, whose bridal style was influenced by a film character; Jo Stockton's (played by Audrey Hepburn) wedding look from the 1957 film – Funny Face. Supermodel Jasmine Tookes' bridal look was also inspired by Hollywood actress, Grace Kelly's wedding look when she got married to Prince Rainier III of Monaco in 1956.
Cicely Tyson was photographed in c. 1986-1987 by Brian Lanker and in the black and white portrait, the African American actress' natural hair was styled and adorned with baby's breath flowers. This simple yet elegant bridal hairstyle is perfect for the modern bride and we have receipts.
In June 2021, Twitter user – Shantel Taylor shared how she recreated Cicely Tyson's hairstyle with the help of her bridesmaids. She tweeted; '… this isn't a headpiece 🤍 I literally bought a $4 bouquet at Publix, and my bridesmaids stuck them around my bun, with just a few Bobby pins. None of them fell out after a whole night of dancing!'
Nigerian beauty artist, Jaeoh Beauty also recreated the look in September 2021.
Here's a DIY tutorial video on YouTube. Enjoy!
Find more wedding ideas for your Nigerian & African wedding here