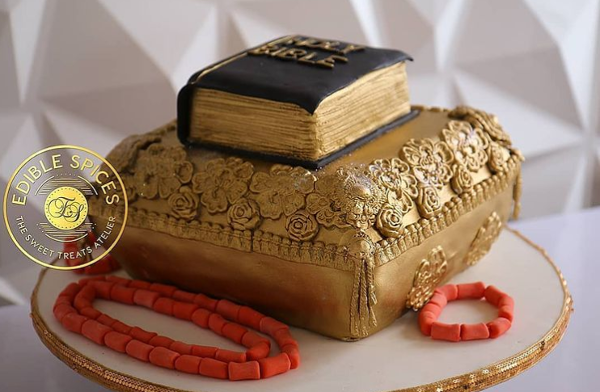 Wedding cakes have always been an exciting feature at weddings. Earlier this year, we shared some treasure chest-themed wedding cakes that'll be perfect for your Nigerian & African traditional wedding. Today, we're casting our spotlight on pillow wedding cakes, another popular trend at both traditional and white wedding ceremonies. Whether it's a single layer or a stacked pillow cake with multiple layers, with or without tassels, we're sure this trend is here to stay forever. Here are a few you should bookmark if you're considering this for your Nigerian & African wedding.
This 7 layered pillow cake by Lomash Confectionery features everything we love about pillow wedding cakes – a white base with intricate gold designs and tassels.
Kemlah Cakes kept this one simple white a white base, gold designs with 3 layers, and a ring + box topper
Another 3-layered pillow wedding cake by Dainty Affairs but this time, we have green and white with a very different look. We love this!
Kemlah Cakes with a 2 layered gold pillow cake and a Holy Bible topper with coral bead details.
This grand pillow wedding cake by Heladodelicia for #JODE18 features 5 layers with very intricate designs. We love that this cake is so simple but yet so grand all at the same time.
Edible Spices showed us how to stand out with just one layer. This gold-themed pillow cake features a Holy Bible as a toper with coral beads details; perfect for a traditional wedding ceremony.
More pillow wedding cakes by Kemlah Cakes
Find more wedding ideas for your Nigerian & African wedding here