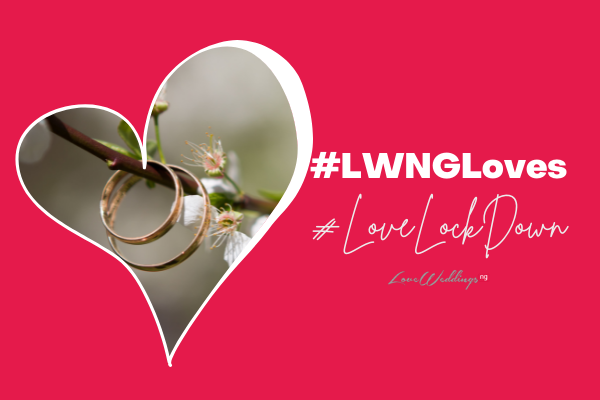 This month on #LWNGLoves, we're throwing it back to a special wedding; one of our favourites from 2020 – #LoveLockdown. Elaine Welteroth, the author of More Than Enough and former Teen Vogue editor-in-chief, and musician Jonathan Singletary tied the knot on the 10th of May, 2020 in front of their home in Brooklyn, New York. They also had a lockdown compliant block party with their friends and neighbours. The couple spoke to Vogue about how they met and planned their wedding. In this post, we'll share everything we loved about Elaine & Jonathan's wedding and we are sure you will be inspired especially if you're planning a wedding this season.
Enjoy!
Sticking to their original wedding date: Elaine and Jonathan wanted a wedding elevated by the hills of Mount Diablo, a Sunday-Gospel brunch with elegantly plated soul food and festive black-tie dress code planned by Mindy Weiss but the COVID-19 pandemic meant they had to make changes. One thing they didn't change was their wedding date – they stuck with their original date. Elaine explained in her interview with Vogue that "there was so much symbolism in this sequence of numbers [5-10-20] that only come together once in a lifetime."
All white dress code: The dress code was all-white and even the 200 guests who joined virtually via Zoom were not left out. The couple wore outfits from their closets which turned out to be amazing. Jonathan wore a pair of white trousers, a blazer, and sneakers while Elaine wore a sleeveless white gown, which she hadn't worn in 3 years and her mum's wedding veil. She did her makeup herself and styled her hair by watching a live tutorial from a friend.
Venue & Floral Decoration: Elaine's vision was to transform their stoop into an altar with gorgeous florals and Lewis Miller Design nailed the creative brief with a colourful floral arch framed to the doors with lights across.
Block Party: Dancing six feet apart! You can see the couple, Lupita Nyong'o and other guests dancing in the streets while their neighbours cheered from their roofs, windows and stoops. The couple's friend, Adeline Bolden, a Brooklyn-based singer and musician, DJ'ed. They definitely had fun at the party.
Watch their wedding film below;
Credits: Vogue