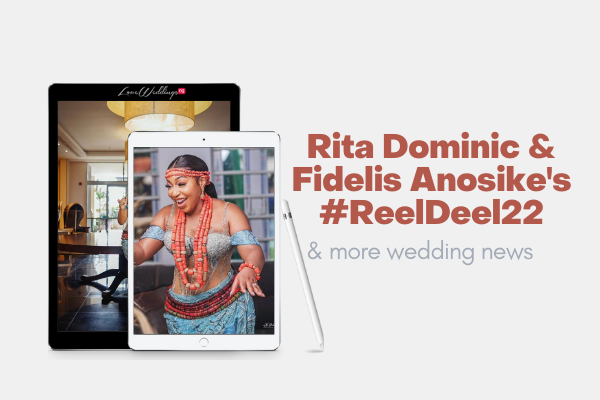 Last week, Nollywood Actress, Rita Dominic & Fidelis Anosike had their traditional wedding, and filmmaker, Kemi Adetiba & Oscar Heman-Ackah kicked off their wedding celebrations. Stephanie Linus & her husband, Linus Idahosa marked their 10th wedding anniversary. Catch up on all the wedding news you may have missed last week.
Rita Dominic & Fidelis Anosike are the #ReelDeel22
Nollywood actress, Rita Dominic, and Fidelis Anosike, the publisher of Daily Times and founder of Folio Media Group, had their traditional wedding on the 19th of April 2022 in Owerri, Imo State. Their star-studded wedding had a number of Nollywood actors in attendance including Ini Edo, Chioma Akpotha, and others.
Kemi Adetiba & Oscar Heman-Ackah's #UndeniablyYours22
The festivities for Nigerian filmmaker, Kemi Adetiba and Oscar Heman-Ackah's #UndeniablyYours22 wedding kicked off last week with an introduction, civil ceremony, a Nigerian traditional wedding, and Kemi's hen night. Kemi Adetiba and Oscar Heman-Ackah announced their engagement on the 9th of February 2022.
Tim Godfrey is married
The Nigerian gospel singer and his fianceé, Erica Katrina walked down the aisle last week on Saturday, the 23rd of April 2022. Tim Godfrey shared the news on his Instagram page.
Neyo & Crystal Smith's vow renewal
Over the weekend, Neyo (Shaffer Chimere Smith) and his wife, Crystal Renay Smith, rekindled their vows. The couple got married in February 2016 and separated briefly before reconciling.
Sofia Richie's engagement
Lionel Richie's youngest daughter, Sofia Richie and her boyfriend, Elliott Grainge announced their engagement on social media last week. The bride-to-be shared photos of the proposal with the caption; "Forever isn't long enough @elliot"
A beautiful Ghanaian wedding
Bridal makeup artist, Valerie Lawson had her Ghanaian traditional wedding last week. She shared "I said yes to the funniest, smartest most amazing human being, my best friend, foodie partner and now life and purpose partner – MY HUSBAND 🥰 @kojosteveaustin"
10 years strong
Nigerian actress, Stephanie Okereke Linus and her husband, Linus Idahosa celebrated their 10th wedding anniversary last week. The couple said 'I Do' at a beautiful destination wedding ceremony in Paris; watch highlights below
Kiara Brokenbrough's $500 Wedding
An American bride made the news last week after she shared that her wedding cost only $500. Kiara and her partner, Joel tied the knot on the 12th of February 2022 in Los Angeles County. Speaking to Los Angeles Times, she shared;
I just seen how, culturally, how we've gotten so far away from how weddings were something so simple as bride and groom coming together, bowing to God to stay together and vowing to each other to stay together and in front of witnesses. I'm not going to go into debt over this. I'm not going to spend a whole bunch of money or stress, and get in people's pockets over such an event that's going to last one day.