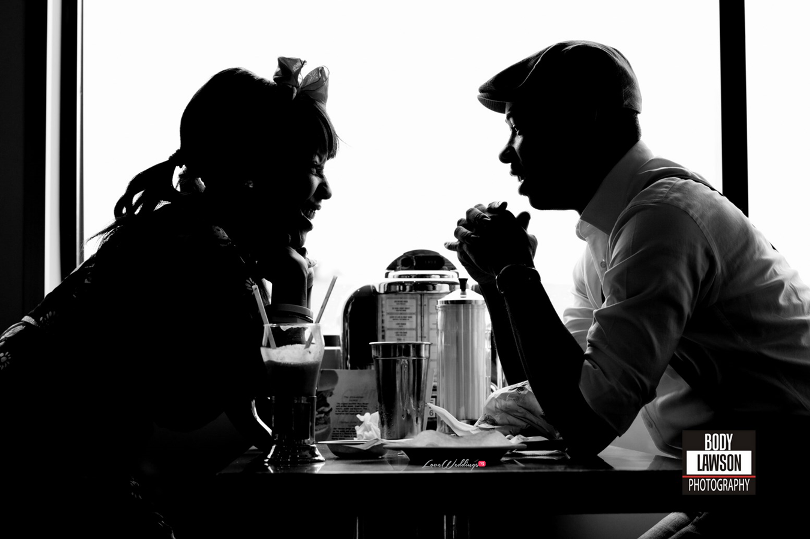 I saw pictures from Motilayo and Banji's prewedding's shoot by Body Lawson Studios on Instagram and I was like 'This needs to be on LoveweddingsNG' so I got in touch. Motilayo and Banji's traditional wedding will hold on July 31, 2014 and their church/white wedding on August 2, 2014. Their chosen colors are coral, gold and wine for their traditional wedding and turquoise and fuchsia for their church/white wedding. 
Their story is so relevant to 21st century couples, … the power of Social Media should never be under estimated. Read their lovely story and view their prewedding pictures below.
How we met – Motilayo
I was in Abuja working in 2011, and was single at the time. A few years earlier, I'd made a friend on Facebook- Lola, which is another story on its own, but Lola and I became friends and kept in touch via phone calls and Blackberry messenger (BBM) since she worked in Lagos and I in Abuja. So while in Abuja, I'd had several unsuccessful relationships and was quite put off with men in general. Seeing what I believe was my frustration with relationships, Lola asked me several times "Shay you don't want to marry ni? Why do you hate guys so much?" and proceeded to introduce me to several 'eligible' bachelors. The first few were a disaster, and one was actually her younger brother in law! When I didn't seem to be interested in any, she finally, she asked me if I'd be interested in chatting with one of her colleagues at work in Lagos, a particular Mr. Oyebanji Adurogboye.
I wasn't sure I'd be interested but I liked the fact that he had a stable job and that he was Yoruba, because my parents would turn hell over if I ever brought home someone from another tribe or culture. I'd gone down that path and it was all but pleasant. Still, I was not interested in dating but I agreed to be introduced. Lola asked for numerous pictures of me for this Banji fellow but unfortunately, he had far less pictures for me to see and the few he did have were not at all flattering! After a while of picture sending back and forth and asking Lola different questions regarding him, I think she got tired and gave Banji my bbm pin and told me to "ask him myself".
I can't remember if we started chatting on bbm first, or talked over the phone first, but either way he got in touch with me and we started talking soon after. It took a while to warm up to him because I wasn't particularly interested in dating anyone, but his gentle manner and patient attitude really won me over and I began to warm up to him. I am generally a very chatty person and tend to be very 'hyper' as people close to me always tell me, so I found Banji's calmness very soothing. I could talk forever and he would just listen and never get tired. Sometimes, I even felt bad because it seemed as if I wasn't letting him chime in 2 cents but he kept assuring me that he loved hearing me talk, because he wasn't much of a talker himself. We would talk for hours and eventually, he made me see that not all men were terrible and helped me get over my insecurities as well.
The Proposal
I started coming to Lagos to see Banji every now and then, and Lola was always happy that she was now "hook up Nigeria", in her words. One day, after about a year of dating, Banji proposed to me at Cold Stone Creamery in Lekki Phase 1. I was stunned when it happened. I never even suspected that he was trying to propose, so for me to see him get down on one knee in front of a small crowd of ice-cream lovers was such a surprise to me. My very close and dear friend Ronke Abejide was in on the proposal plan all along and had been asking me for my ring size off and on for weeks. I could be a very clueless person sometimes, because Banji had also at one time, tied a string of rope around my ring finger in order to guess my ring size, but I never guessed what he was trying to do!
Ronke told me she was in a shop and wanted to buy me a ring like hers and Banji was just well, being Banji. Even my brother, Tobi, had apparently been snooping in my room in Lagos looking for one of my rings for Banji! I just didn't expect a thing! So, after Banji gave a romantic speech about how he wanted to spend the rest of his life with me, I said yes, and he slipped the beautiful ring on my ringer and it was a perfect fit! I was honestly numb and didn't know what to do or say until people started cheering and shouting "say yes! say yes!!". So I said yes. He got up, kissed me and all the way home, I kept staring at the ring thinking "is this really happening…? I had never even given marriage a serious thought, I had been so focused on jobs and schools, so now that Banji had proposed, I was officially on my way to being a wife.
A few months later, I left my job in Abuja to pursue an MBA in the UK because I knew once I was married, it would be difficult to be in school, and getting a postgrauate degree had always been a goal of mine. So I went for my Masters, and after 15months of being even further away from each other, we began planning our wedding for August 2014.
I love Banji and I thank God constantly that he made our paths cross. I thank Him for Facebook that linked me with Lola, and for her constant harassment of my love life. But mostly, I thank God that I'm getting married to Mr. Oyebanji Adurogboye of Isua Akoko.
How we met – Banji
I was working in Lagos, and single at the time and my good friend and colleague, Lola, who had always been on my case to settle down and she told me she had a friend in Abuja she was sure I would like. One day, Lola was more adamant than usual about introducing me to her friend, so to get Lola off my back, I agreed to be introduced to this friend over the telephone. I wasn't really keen on meeting anyone because I wasn't looking for a serious relationship just yet, so I had no plans to take this friend seriously. Lola told me her name was Motilayo and then gave me her phone number and after only a few minutes of speaking with her, I realised Motilayo was quite an unusual girl; her way of thinking was unlike most girls I'd met and she had no airs about her. She was completely down to earth and was very very chatty. I found this interesting because I don't talk much and Motilayo could talk for Africa. After our first conversation, we exchanged BBM pins and began chatting on a regular basis for about 3 months while I was in Lagos and she was in Abuja. We could talk and chat for hours, and it felt like we had known each other forever. Unfortunately, Motilayo was just getting out of a bad relationship and wasn't in a state of mind to meet anyone but after a while, she began to warm up to me and we got closer.
We finally met after 3 months of phone calls and chatting on bbm, and I remember that day vividly. She flew in from Abuja to meet me, and I went to pick her up from the airport. I was nervous about meeting her and for the first time, I knew what it felt like to have butterflies in one's tummy. I wasn't sure what she would think of me, or if I'd live up to her expectations. I was looking out for her, expecting her to walk towards me from the baggage claim area, but she was her usual mischievous self, and actually snuck up behind me from God knows where and poked me at my back saying, "hello". I was stunned because for one, she was gorgeous! She looked more beautiful than the pictures she'd sent me! For another, she was quite short (lol). She had looked taller in her pictures. But nevertheless, at that point, I made up my mind that this would be the person I would spend the rest of my life with. Seeing her was just the final confirmation I needed.
Fast forward to a year later; I knew now without any doubt that Motilayo was everything I would want in a wife and so I prayed about it and decided to ask her to marry me. It honestly took me about 3 months to just get the nerve to ask her because we had never discussed proposals, or the kind of ring she'd want. I took a gamble and decided to surprise her but I was lost as to how to even go about it. As they say, "Google is your friend", so I went online and looked for tips on how to go about proposing to a woman. The most difficult part about the whole thing was getting Moti's ring size. I asked her brother, Tobi to help check her room for any of her fashion rings, but he didn't find any because most of her things were in Abuja. I also asked her friend Ronke to stylishly ask her about her ring size, but still no luck because Moti didn't own any rings that were sized. She was leaving for her Masters in the UK in January, so I knew I had to pop the question fast, so on one my trips to Abuja to see her, I decided to be creative and made a ring shape out of a string of rope. I put this string on her ring finger without making it look like I was doing anything serious so she had no clue what I was up to. She thought I was just being silly. I took the string off her finger and later put it on my smallest finger and from that, got a rough idea of what her ring size would be. Finally, in December 2012, on a faithful Wednesday evening on one of our countless trips to Coldstone with her friend Ronke, I went down on my knee, made a speech and popped the question of life. Moti was so shocked, she didn't even know what to do or say (I had never seen her in such state of confusion). I asked her to marry me, put the ring on her finer and thankfully, it fit! She said yes and 16months after, here we are preparing for our wedding ceremony in August.
One word that best describes my 'Omoge' is everything, because that's what she means to me. Her net worth is far above rubies and pearls (Prov 31:10).
PreWedding
Our Wedding tips
There are so many!
Please, please, and please, plan your wedding six months in advance at the least.
Don't kill yourselves over the details, there are way too many details, it'll drive you crazy!
Find out how much it will cost to be your bride's maid or grooms man before asking anyone to be on your train. Find out how much the clothes, bouquets, shoes, accessories will cost and then let them know the price while asking them to be on your train so they can budget it in advance or decline if they can't. Also make sure the people you ask to be on your train are in the same city as you, or there might be logistics issues and they might not be able to be a part of your wedding.
Hire a wedding planner before you make any plans. Let he or she take care of most of the work for you. We highly recommend Bisola of Trendybee Events. She's awesome.
Let your planner handle Aso-ebi. It's the devil's work! lol. Or get someone to. Just don't take on the task yourself.
Vendors
Photographer- Seyi Body Lawson  Instagram
Location: Johnny Rockets, V.I, Bride's Home, and Mercedes Benz Center, Lekki.
Wedding Website developed by Tope Adegbenro Email: topeadegbenro@yahoo.com
Wedding Planner: Bisola Borha of Trendybee Events
We love weddings, do you?
Get in touch today Loveweddingsng| Website | Instagram | Twitter | Facebook | Tumblr | Google+