Zoe Saldana is on the August 2014 cover of Canada's Fashion magazine in a gorgeously embellished Julien Macdonald plunging dress. The Dominican beauty's career is at all-time high right now, as she's preparing to star in multiple roles – such as the second installments of Star Trek and Avatar, along with the controversial role of Nina Simone in Nina, and Guardians of The Galaxy.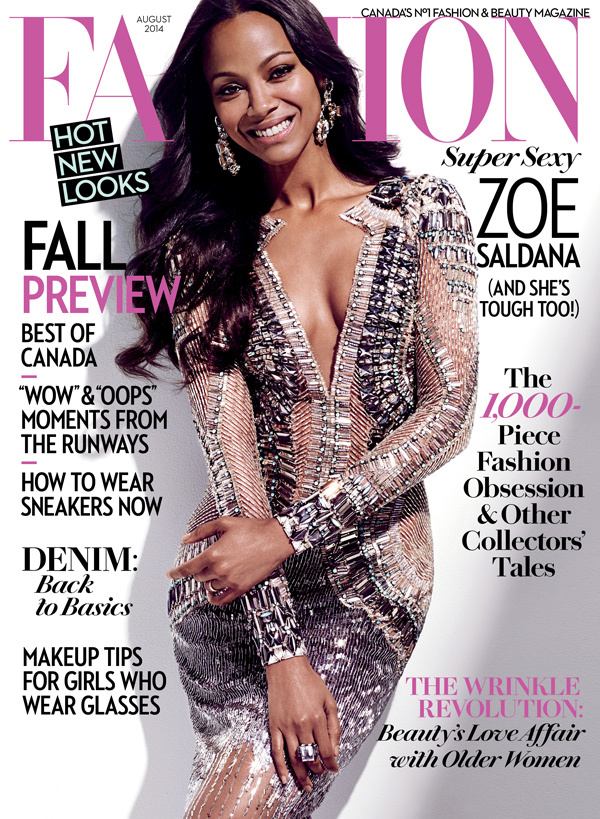 Zoe Saldana has revealed why she married her husband, Italian artist Marco Perago, months after her breakup from Bradley Cooper. In an interview with Canadian magazine – Fashion, she said;

"I was finally able to spend time without being in a relationship and even though, it was a short period of time, it was beautiful," she told Fashion magazine's August issue. "Where I lost that fear of being alone. It was bliss."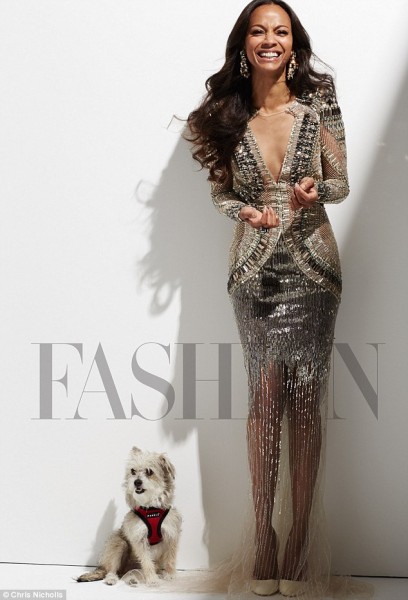 The "Avatar" star, 36, split with former fiancé entrepreneur Keith Britton after 11 years at the end of 2011. Soon after, she was linked to her "The Words" co-star, Cooper. Though Saldana never confirmed nor denied their relationship, the pair was spotted off and on through 2012. Then, in May 2013, Saldana was seen kissing Perego at a "Star Trek Into Darkness" after party. It didn't take long for her to realize she'd found her soul mate.

"I met my partner when I was in really a beautiful place in my life. It was like I found all my answers with him not in him. I was finding my answers on my own."

Zoe Saldana also had some advice for younger women who think they already have all the answers.
"Whenever these young women come and they just want to take everything all at once, just because they're younger and their a**es are harder and plumper, you kind of go, 'Child, sit down. Yes, you're beautiful but listen to these 1, 2, 3s. 1. Don't hike up your skirt too much. 2. I'm pretty sure you're intelligent so act like it. 3. Read a book,'"