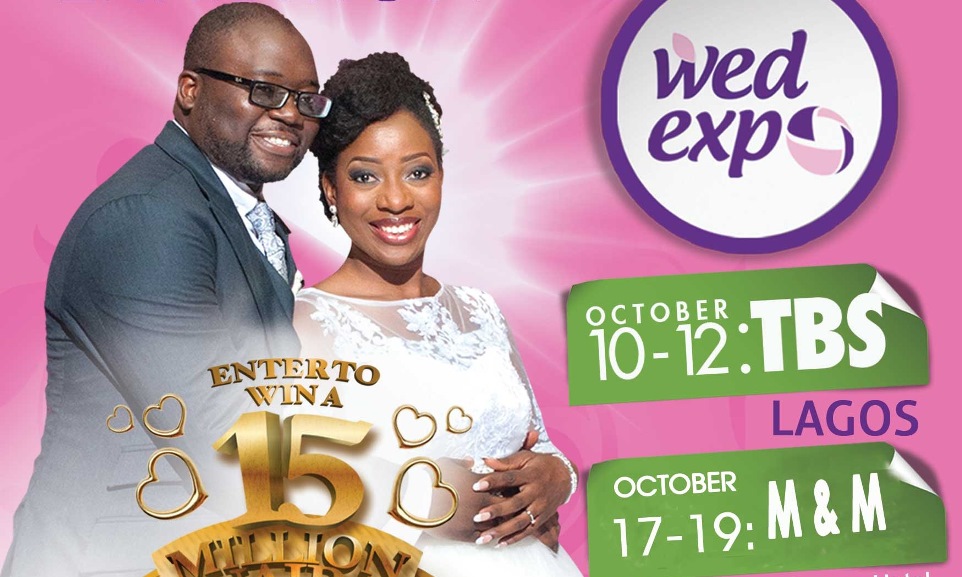 Enter To WIN A N15 Million Wedding in the My Big Nigerian Wedding Contest at WED Expo (TBS) Starting this Friday to Sunday!
My Big Nigerian Wedding Season 2 starts at WED Expo!
The exciting Season 1 saw winners Yemisi & Yomi have a grand wedding of their dreams and a spectacular honeymoon a Dubai. See pictures from their wedding HERE
Registration forms for My Big Nigerian Wedding Season 2 is FREE and can only be obtained at WED Expo – Nigeria's Largest Wedding Exhibition from Friday October 10th to Sunday 12th! Over 100 exhibitors are waiting to give you the best deals and also WOW you. Your wedding planning doesn't get easier than this.
There would be two weddings for two lucky couples this time around in Lagos & Abuja. Are you engaged or planning to get married by mid 2015? If yes, you can be the lucky winner of a N15Million Wedding. Either the bride or groom should be physically present to register. Please come along with a passport photograph.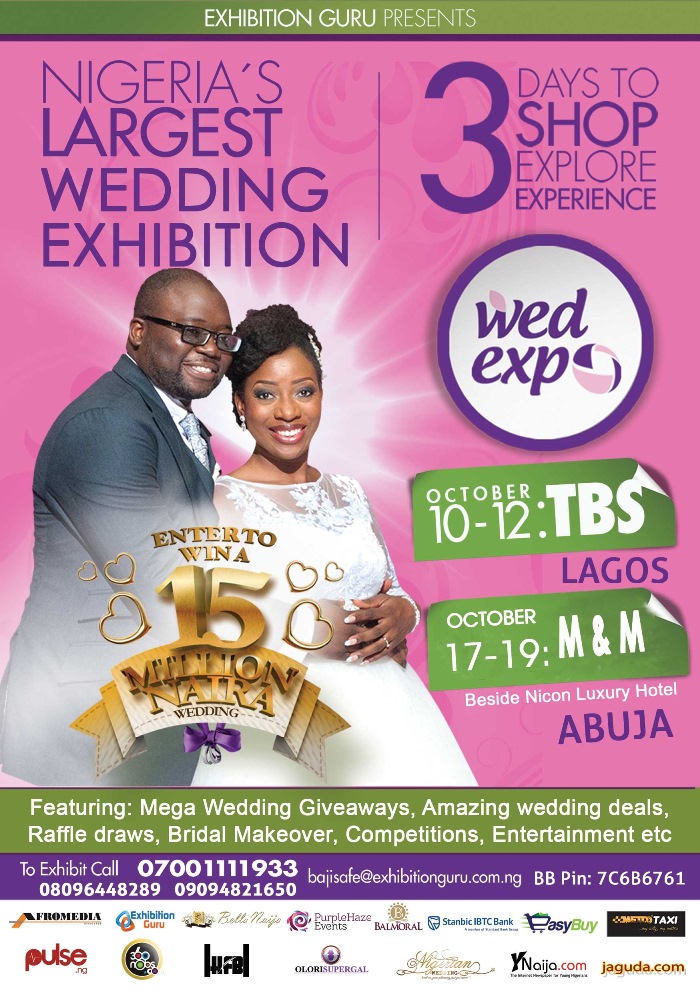 Registration will be done at WED Expo Lagos & Abuja.
Lagos: October 10th -12th at Tafawa Balewa Square (TBS)
Abuja: October 17th – 19th at M and M Event Center, Beside Nicon Luxury Hotel, Garki
Time: 10AM to 6PM Daily
Shuga of Shuga Band will be entertaining guests as well as many DJ's we have lined up to make you have a great time at the Expo. This is different from all other Expos.
Get on the FastTrack lane to the Expo
Skip the long queues. Send SMS: EXPO (leave space) Name (leave space) Email ( leave space) City ( Leave space) to 20822. Example: EXPO Akin Eso akineso@wedgroup.com.ng Lagos to20822.
Send this today and stand a chance to WIN lots of fabulous prizes!
Below is a list of exhibitors that will be showcasing at WED Expo
Just Fabulous Fabrics
Super Brides
All Thingz Girlie
Zealand Accessories
The Henna Place
V2V Collections!
Liri Tent
Superb Tent
DR Skillz
Designer's Arcade
Kirton Ventures
Xenora
Klala Films/Photography
BM Sparkle Jewels
Swalek
Butterfly Jewellery
Quevents Plus
Reis & Possente
Xtreme Cr8tivity
Waffle Factory
Cake Factory
Rings & Bands
Almonds 'n' Vanilla Cakes and Confectionery
Michi Gabbi Concepts
True Blings Home of Jewelry
Reveal Jewellery and Accessories
Jason Davids
On and On Digital Studios
L'Caliente Wedding Services
Bejewelled by Tosyne
MM's and Luxury
Kowry.com
Events by Ozworld
HRM Signature Beads
EventsAccess, Darlo House of Beauty
The Beauty Place by Damakins
Lush Jewels
First Gracious Gems
Molbaks Alaso Oke
Purple Haze Events
Nwando's Signature
D'Compere Events
Vogue Aso Oke
Riella Brands
Rhema
SterlingsCollections
TrendyBEE Elite Events
Odun
Quickkpromo.com
Amber & Ruby Concepts
Sliquors
5D Imagery
Bobo's Clothing
The Elect Aso-Oke
Rings et al Jewellers
Bubbles and Scents
Kingserve Drinks
Made for Me
Summer Hues
Hair Reyara
Sewa Artistry
Baking Brazillian Jewelry
Faajihub.com
Shuphoria
Gleetterz Events
Jidalights Events Limited
Shuga Entertainment
Saint Tracy
ShoesInBulk
Kasamyrrh
E'lim Events & Decoration
Weddingshoes.ng
Jewelry by It pro Okon
Merry Makers Event Centre
M & M Event Centre
Akoko Mali Touch
Jonina
Gemcy Cakes
TL Cake Boulevard
Rehoboth Events
Beyond Fabric
Malinne Luxe Robe Nupitale
Bk's Creationz
Kyanel's Cakes
Classic Golden Pot
Cheryl Events
Cakes n Drapes Confectionery
The Quail Events
Zaron
Beautiful Hands Events
Bellezza Faces Makeup Studio
Aso Ebi Guru
Anike Beads
Zara & Co Jewellers
Moments and Seasons
Gift Place
Just Wrappers
Ferns and Blooms
Ivy Lil'Beth
Blooming Bud Concept
Beadkraft Int'l
Reenzi & Pleroma Concept
Studio 24
Mall for Africa
There is still room for more! For your last minute booth purchase Call 07001111933, 08096448289, 08147217096, 09094821650 or Add BB Pin – 7C6B6761 or Email: expo@wedgroup.com.ng
Stanbic IBTC Bank is the official Banker of WED Expo 2014. Metro Taxi is the Official Taxi Partner.
For a Taxi Ride, call Metro Taxi on 0700 9000 000. Looking at taking a bus? You can get a BRT bus from the following bus-stops directly to TBS (Oshodi, Ojota, Maryland, Yaba, Mile 2, Tradefair, Ojo, Ajah, Lekki Etc.