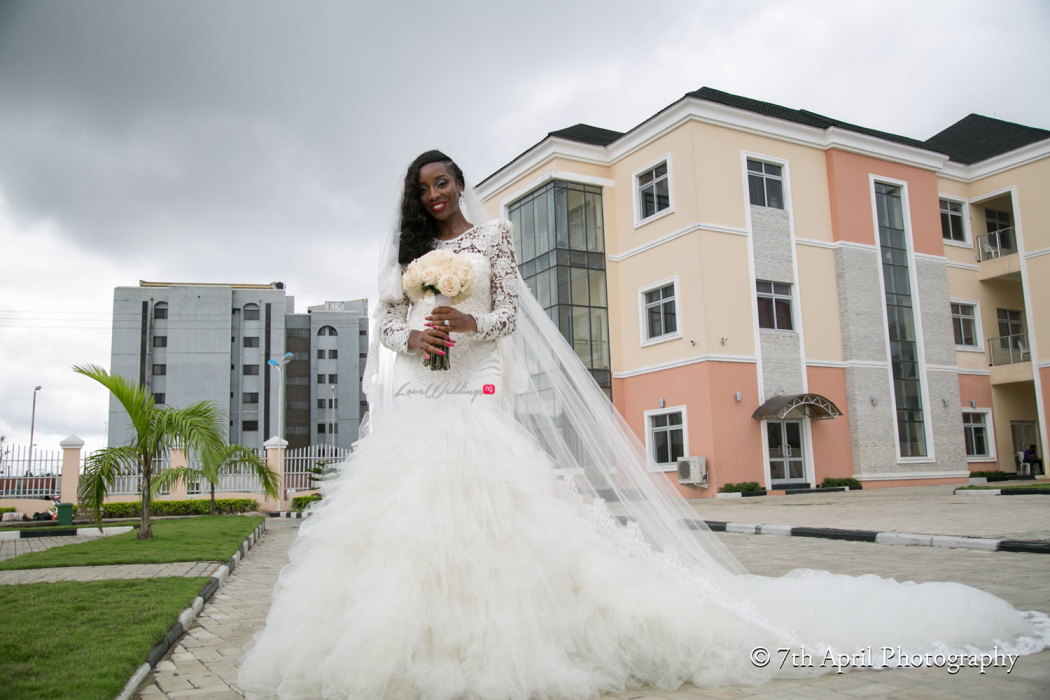 Another wedding feature for y'all… Amazing…
I saw pictures from Yvonne (Sommy) & Ivan (Ugo's) wedding on Instagram and what struck me was her dress… and guess what!!! Her mum designed her dress. How cool is that!!! The couple got married recently and 7th April Photography captured their special day. Read their story and see pictures from their wedding below. Enjoy!!!
Pre Wedding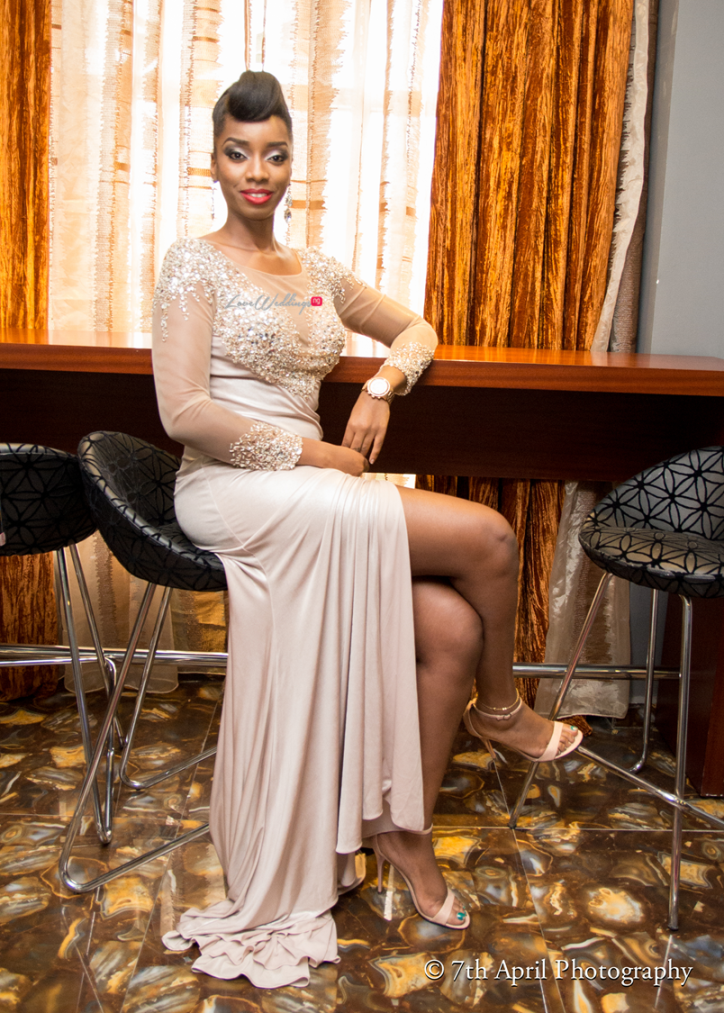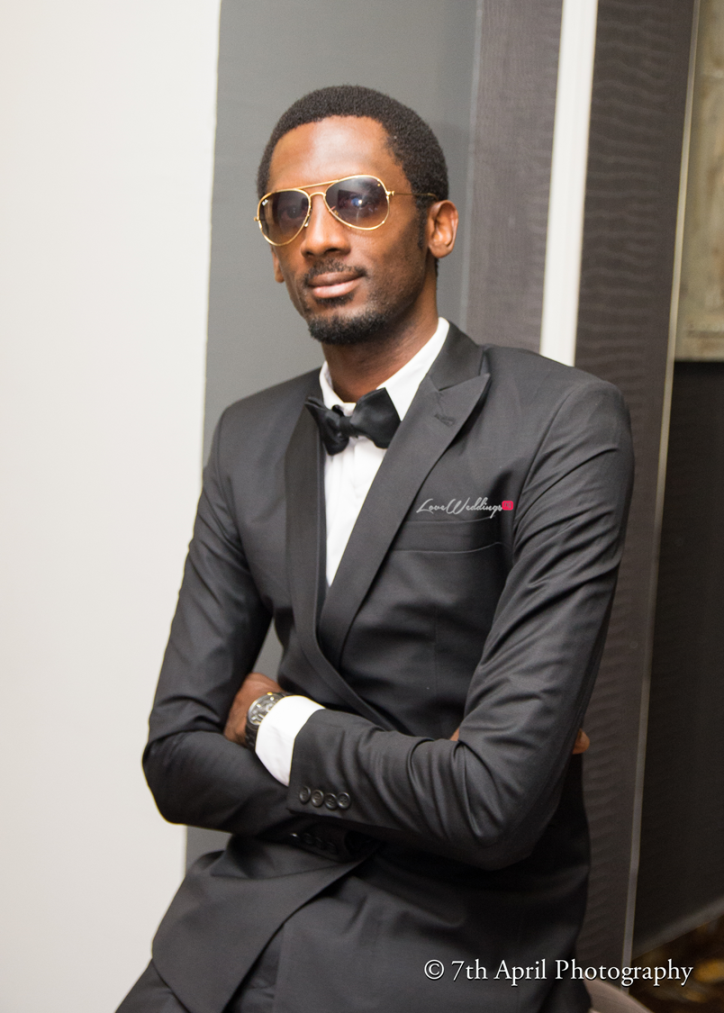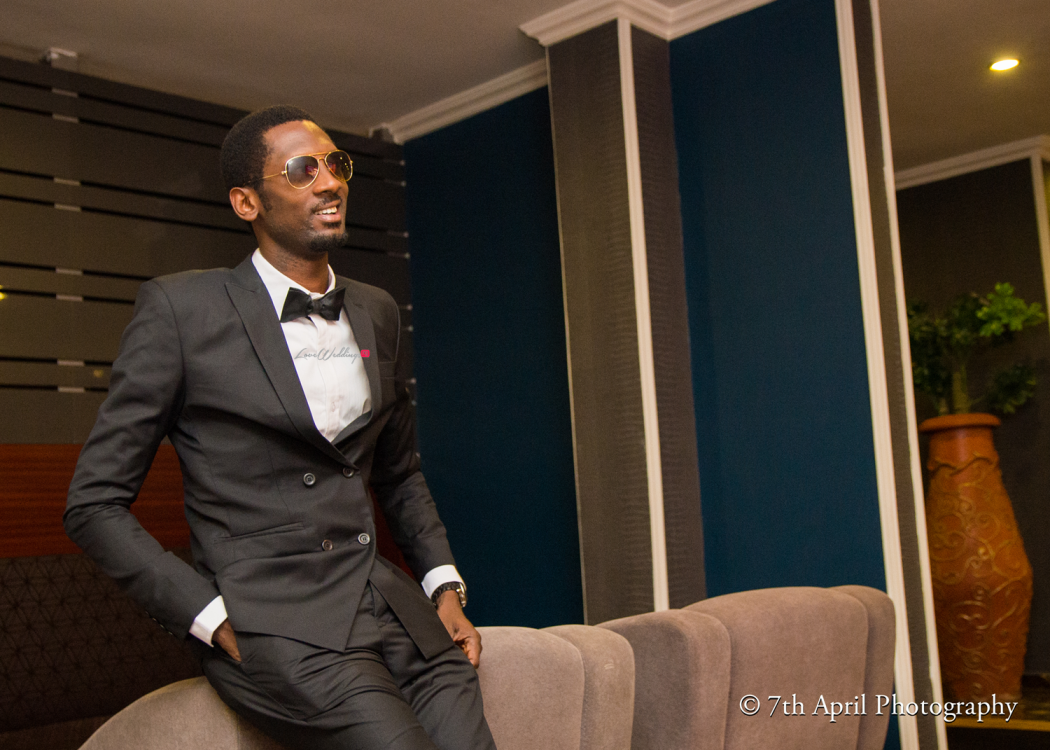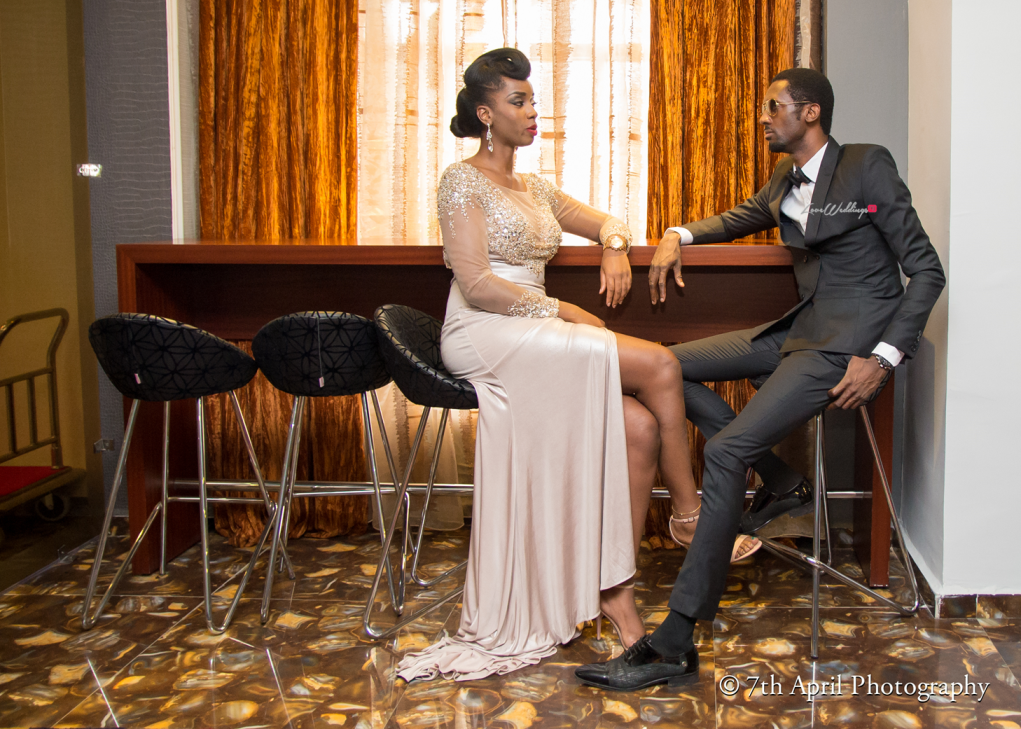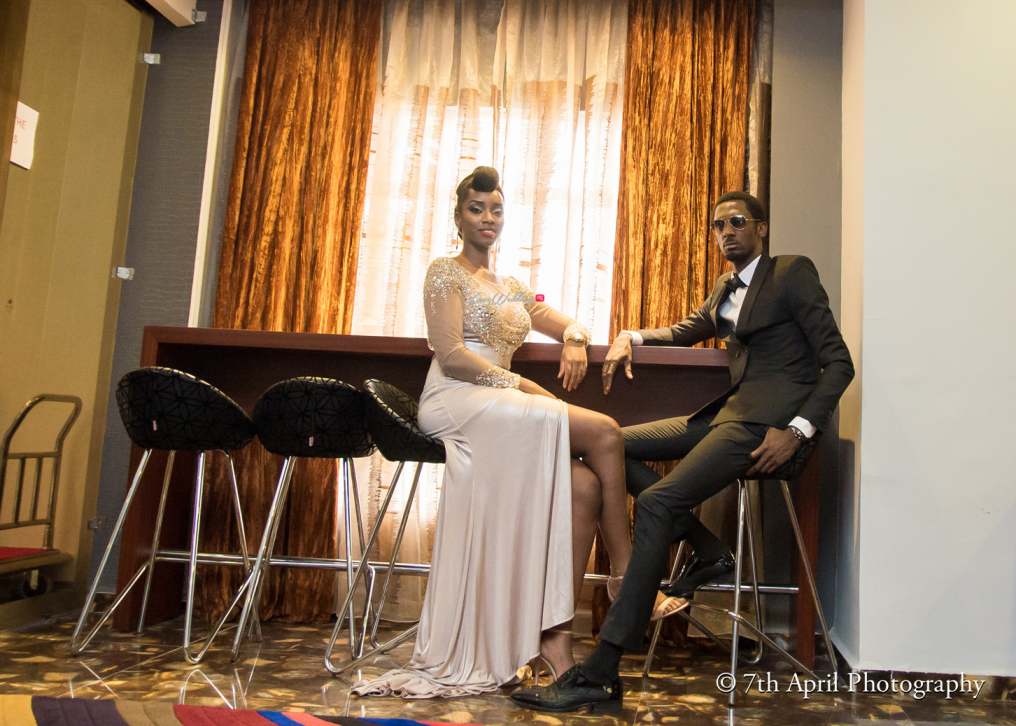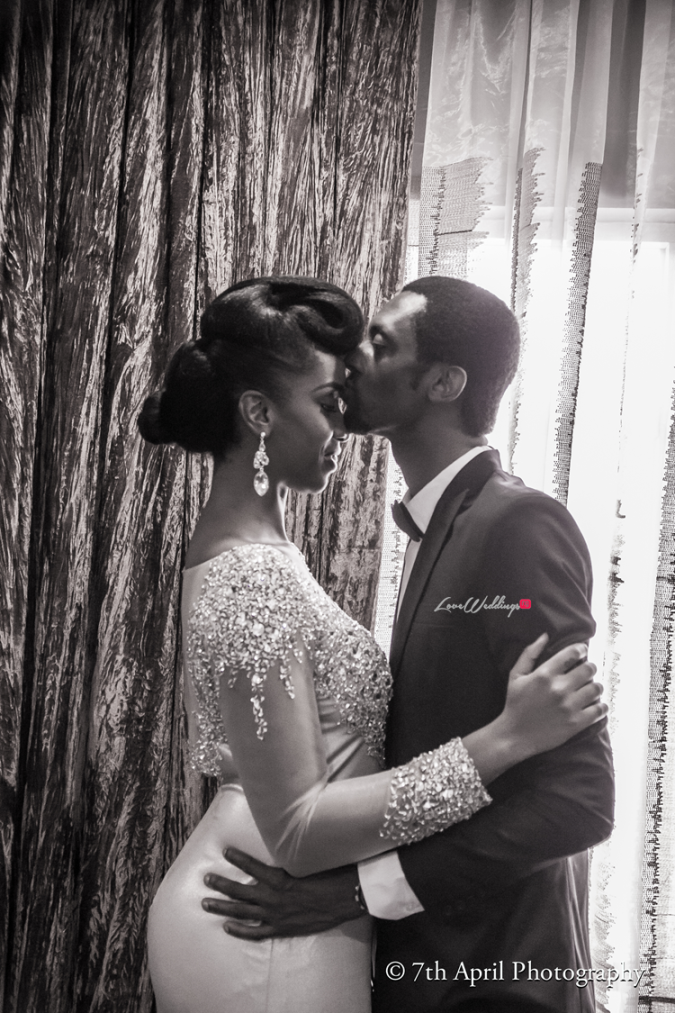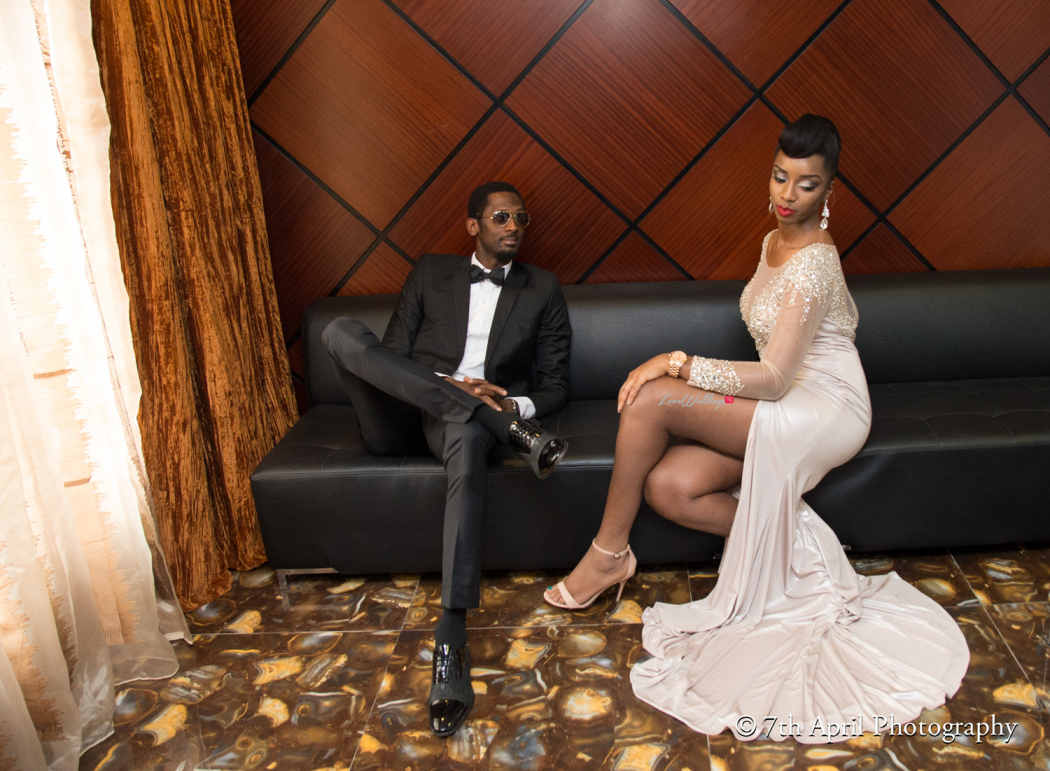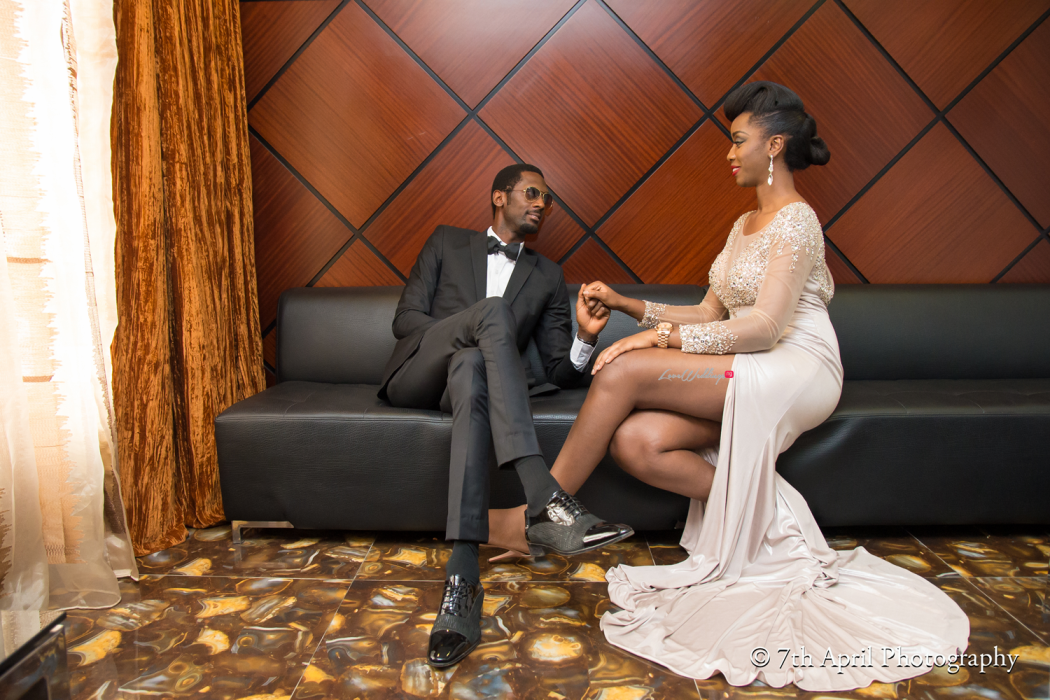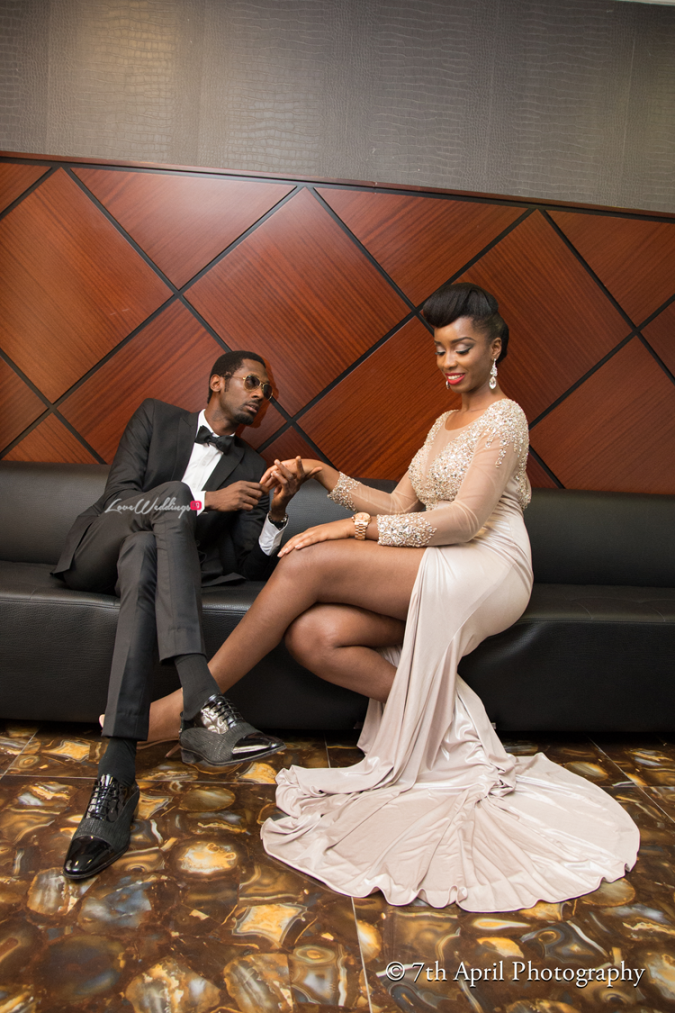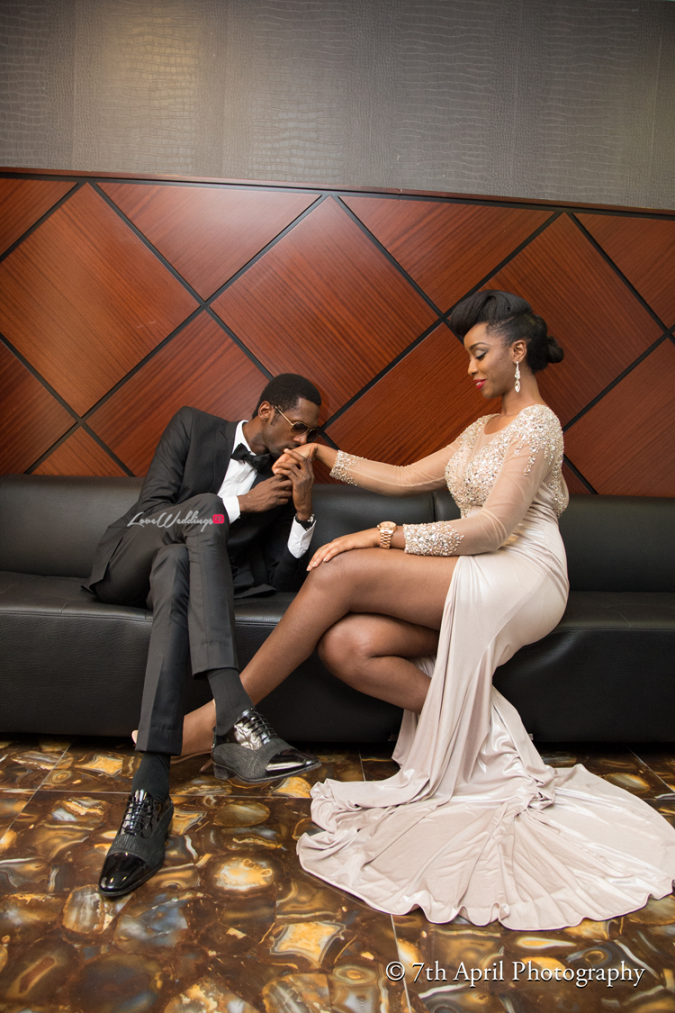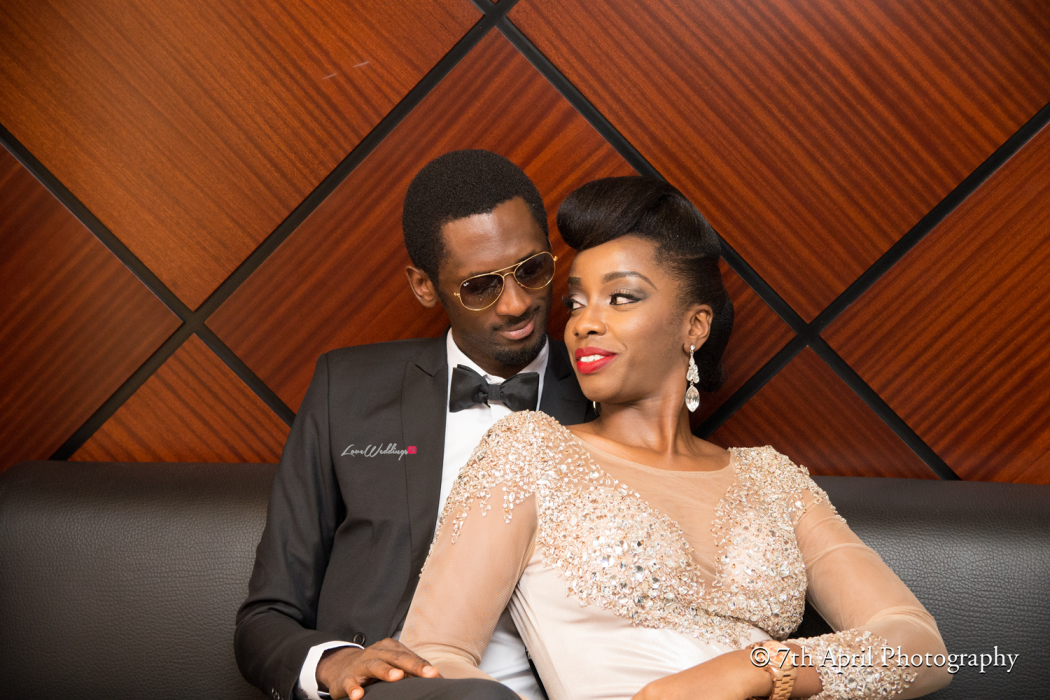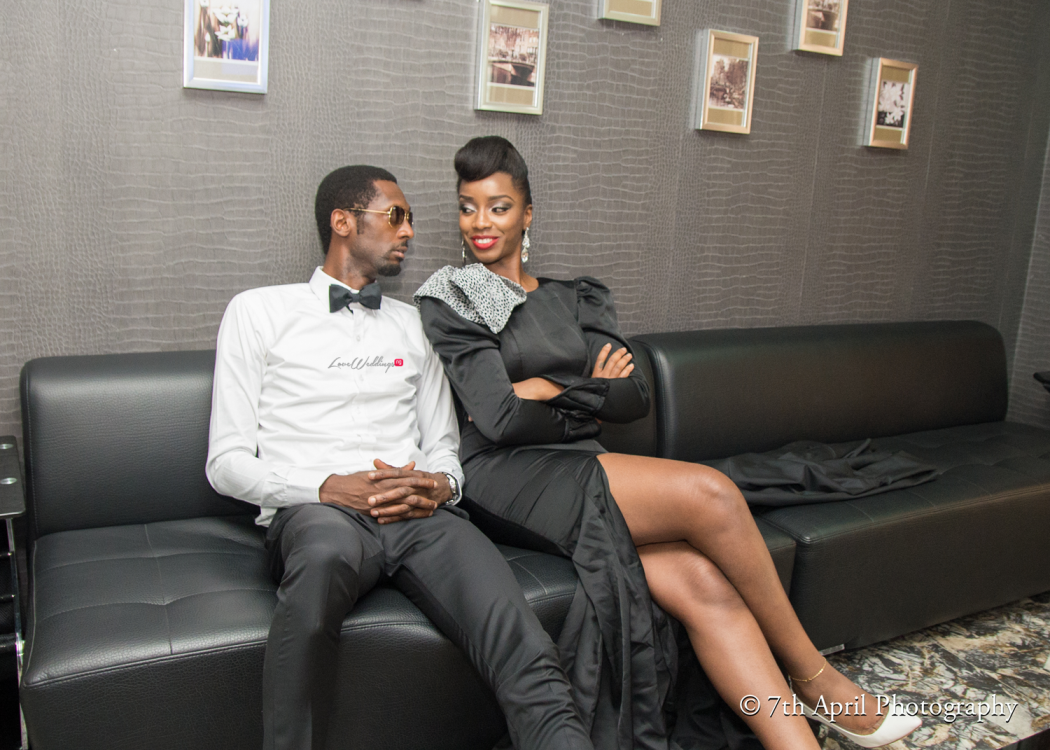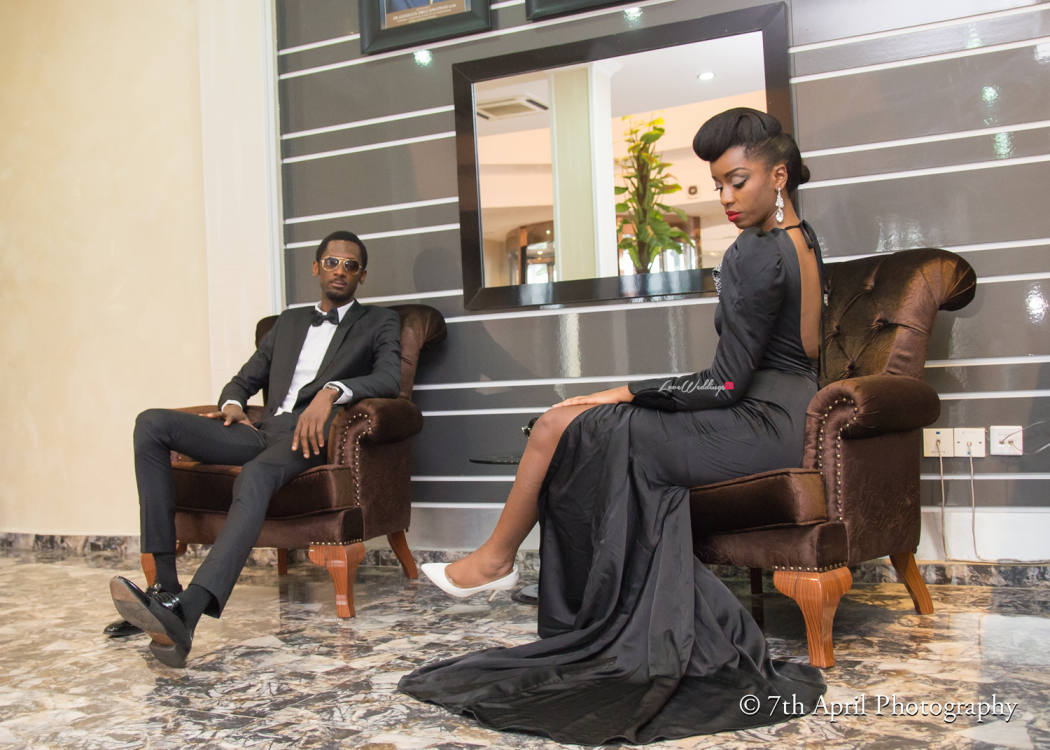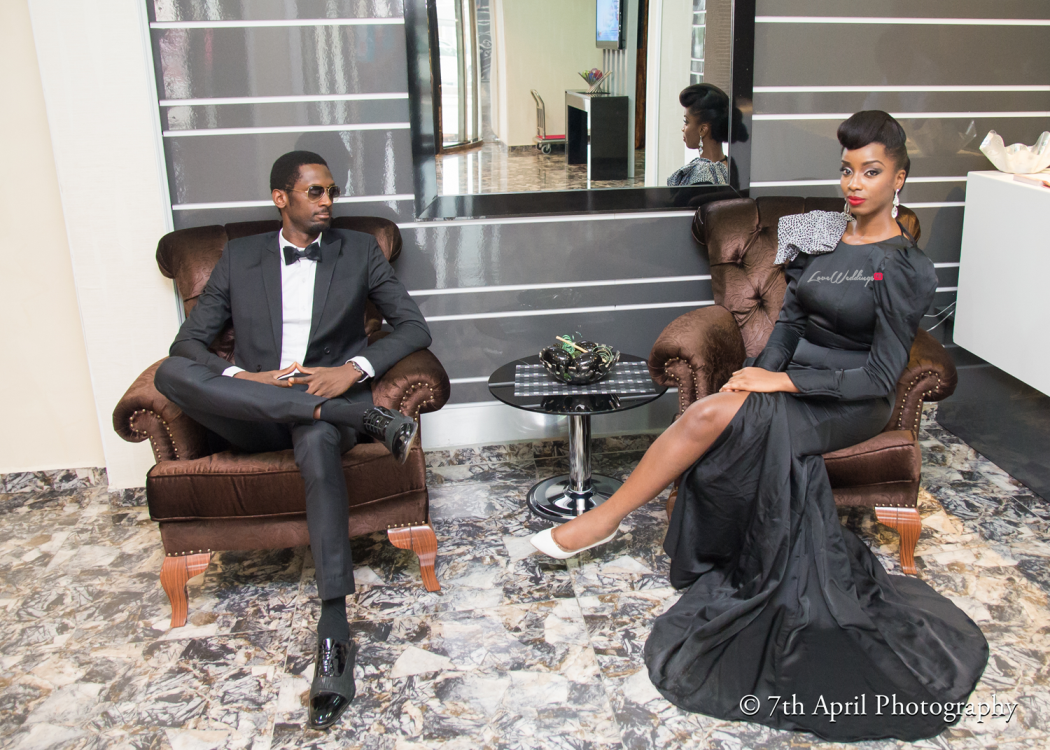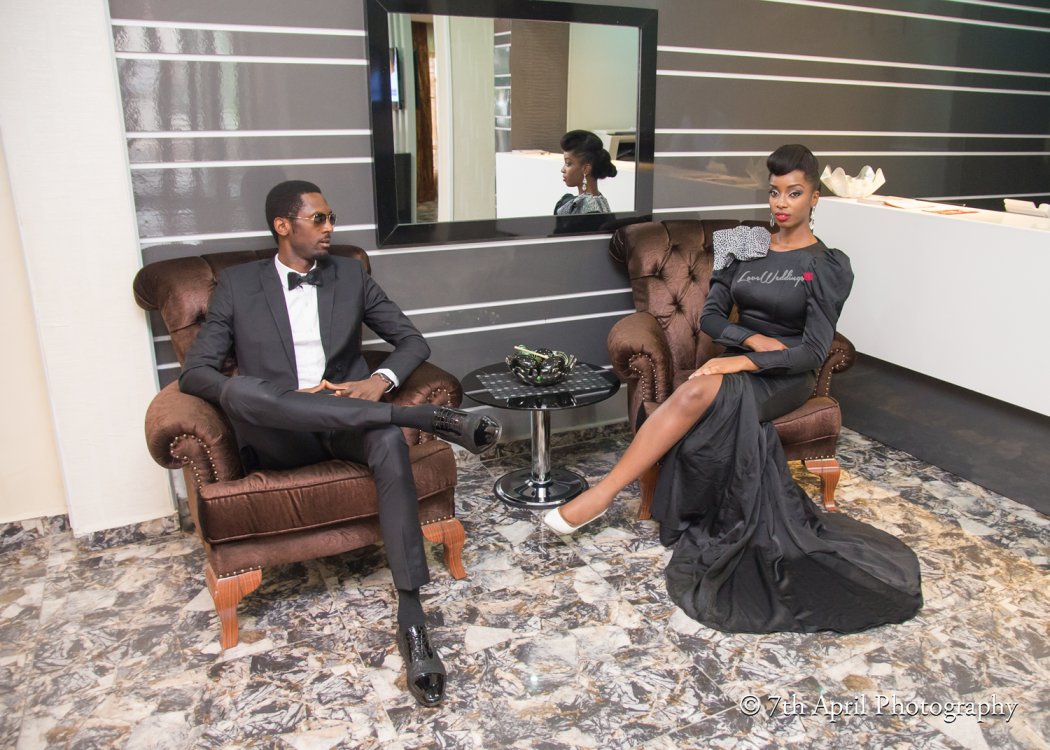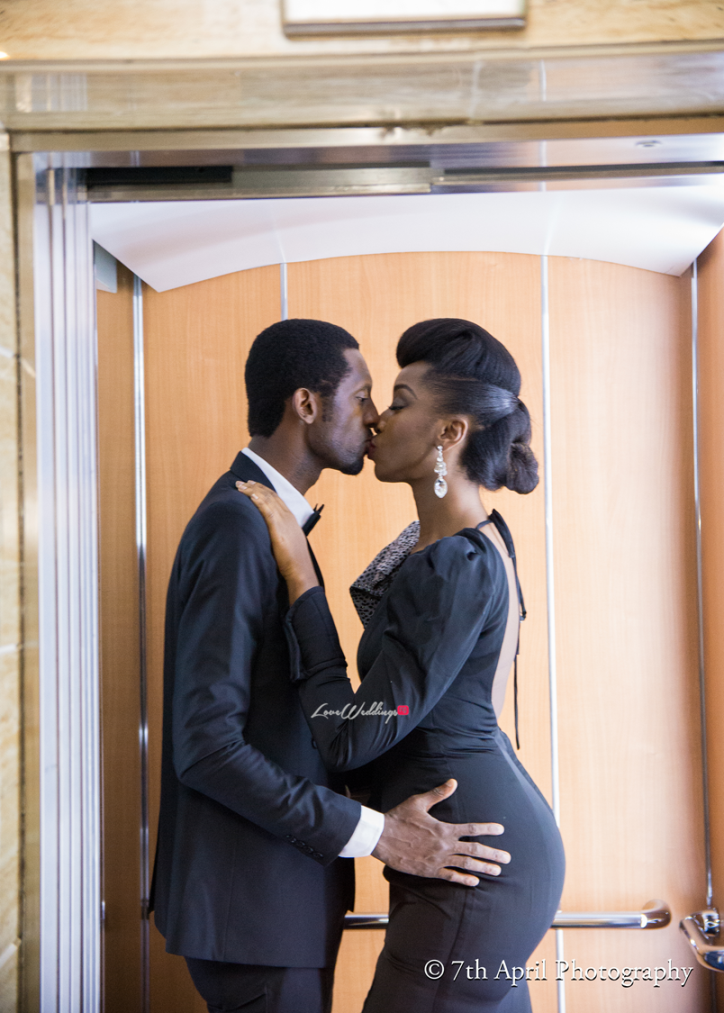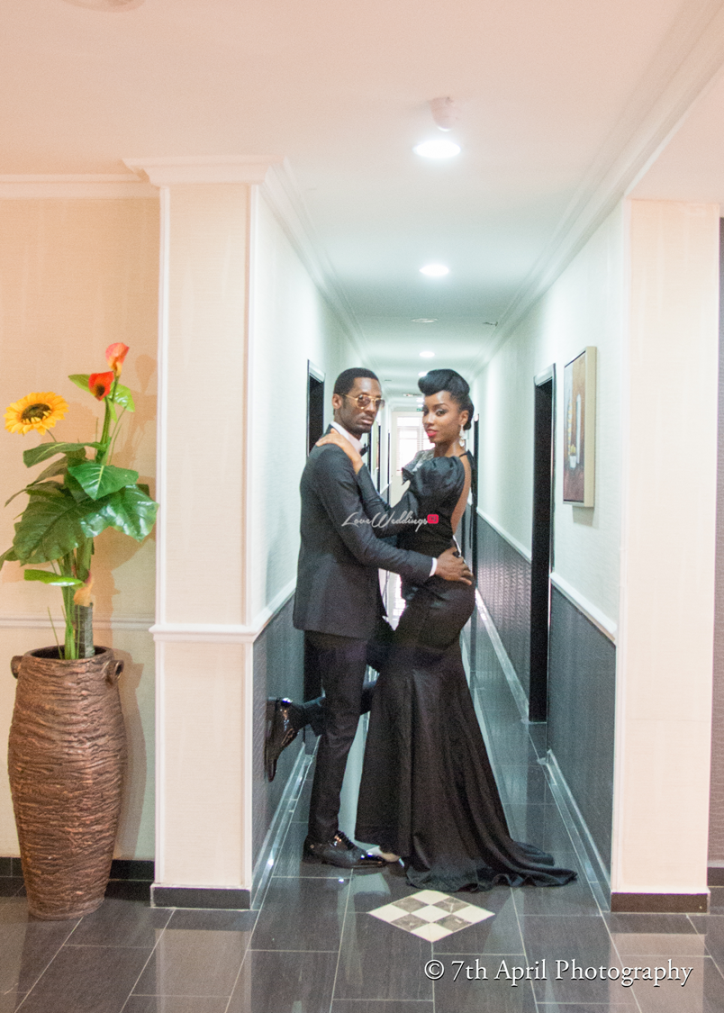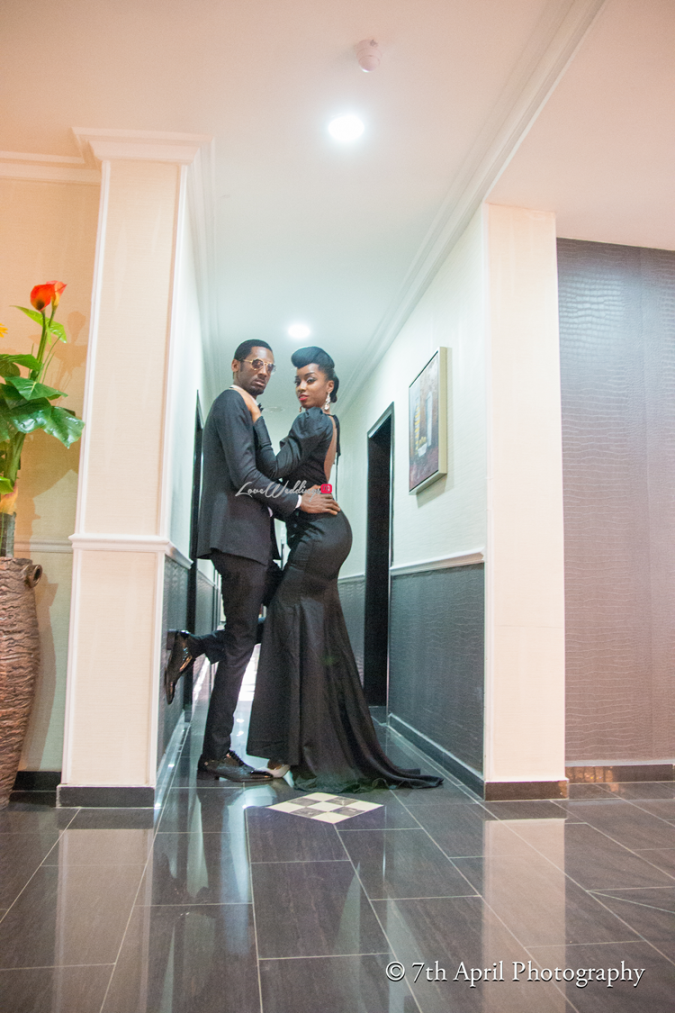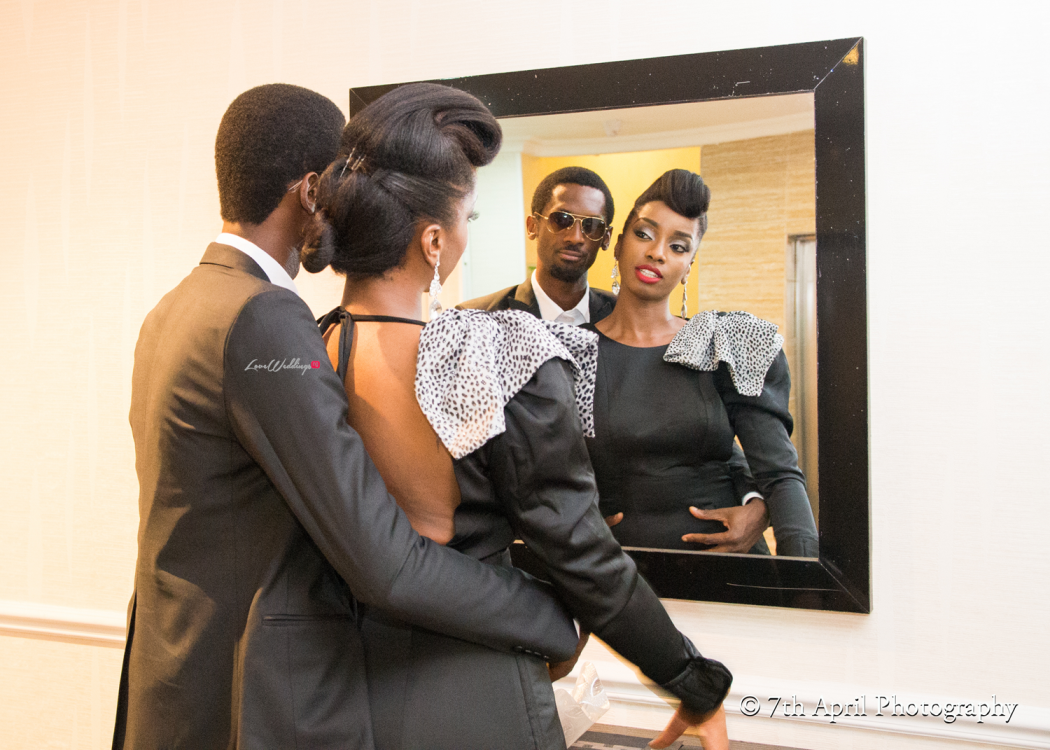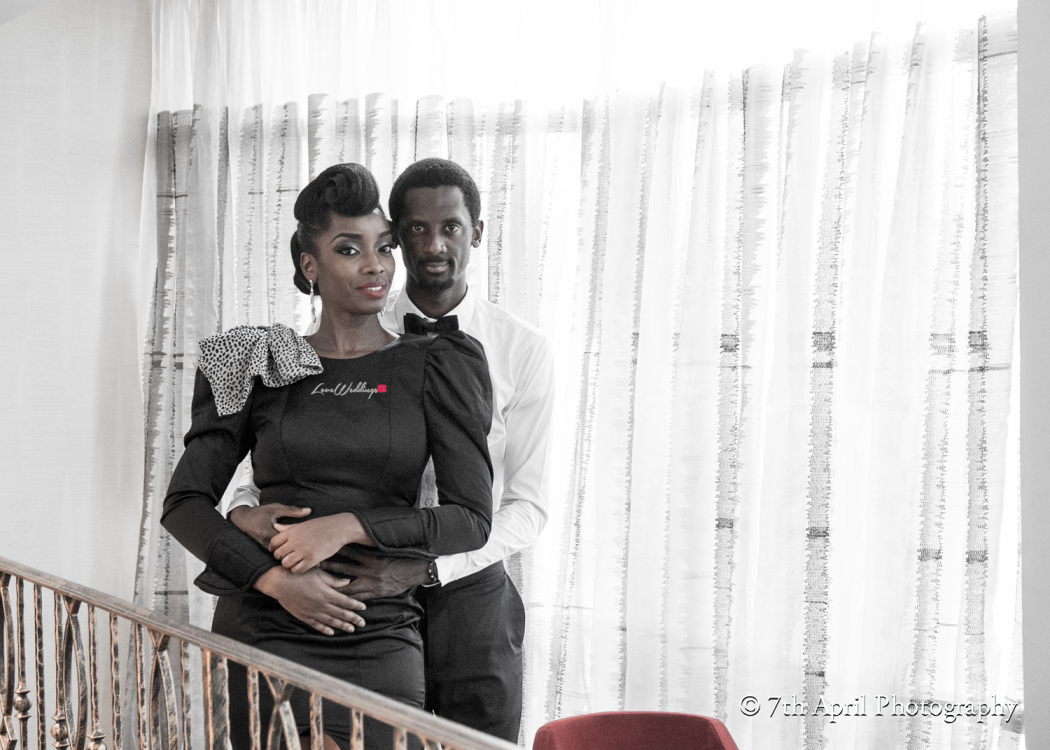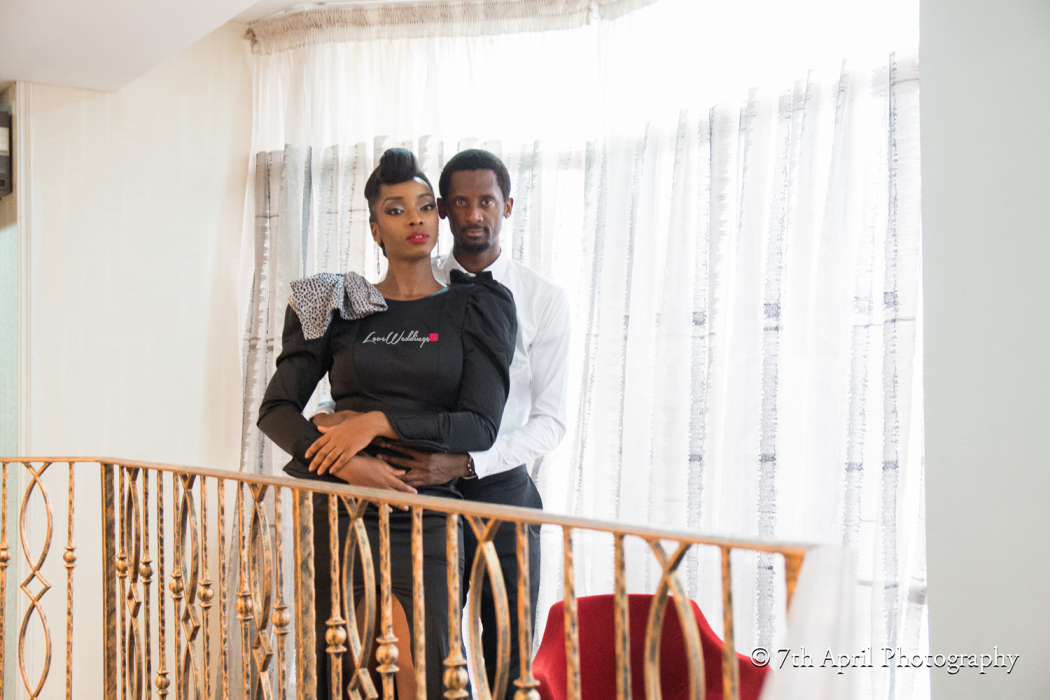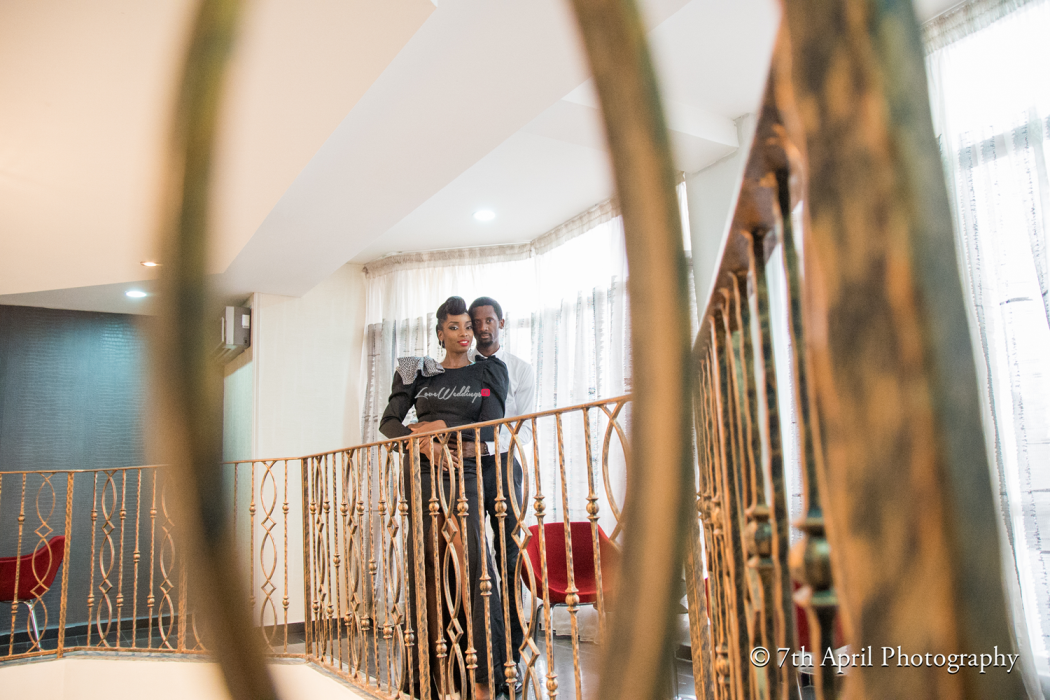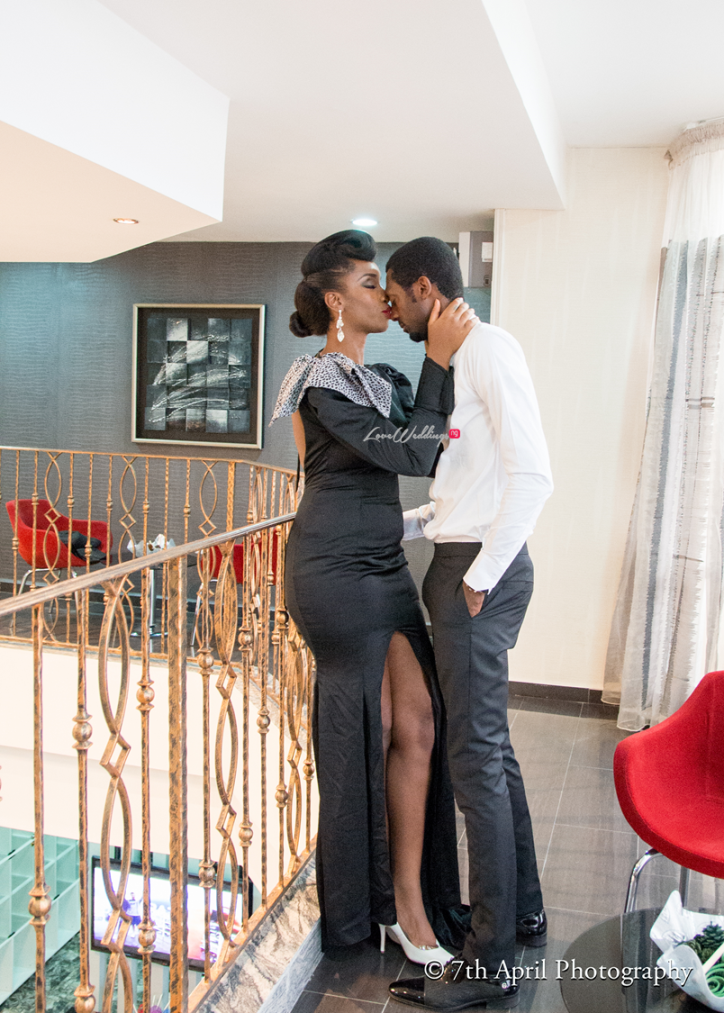 Someday you would stop falling in love with someone new every month. Someday love will last for weeks and stretch on into years. When that lasting love comes a love "as strong as death, a love many waters cannot quench" then you will know you''ve found the right one.

Then love will lead you to the commitment of marriage. You''ll want to be with that one person for the rest of your life. Don''t get "being in love" mixed up with "lasting love". It's so tempting to think the guy you met last week is "the one".But you can''t tell until being "in love" has stood the test of time and become "lasting love".

God's greatest commandment is for us to love one another as we love ourselves and the way he loves us too but I always told myself if love is everything, why does it break your heart? Little did I know my "lasting love" was around the corner……

This is how it all began……

One day like every other day in my life and every other tomorrow I wished and prayed something different would happen the next day. I laid in bed in the dark soaking my pillow sheet with tears of pain like darts shooting straight at my heart… lol!

Yes I know you would love to think it's from a broken heart but nah!! Not this time, this time it was different I was tired of the madness I had become used to. I was tired of being around the same kind of people and friends that led me nowhere but in hideous merry go rounds. I was tired of the place I lived and the people I saw, I was tired of the idea of a boyfriend figure and the "love" that meant nothing. I was tired of being me, most importantly I was tired of being broke and jobless, yes! We all had our moments and this was mine. I needed a change of environment perhaps an alter ego as well to suit a new life I looked forward to having.

As usual I picked up the phone and rang my best friend & only sister I have – my mother. I told her everything and lo and behold she came up with the usual mother to daughter speech "Nne who did you say your boyfriend is"? Not like she didn't know at that time because I always kept her up to date but I guess this time, she needed more assurance that a commitment was coming soon. I laughed it off because in as much as I'm a love freak and anyone close to me or on my BBM would know so because I always speak on love and relationships to a point I thought to myself "I would want to be a Dr Phil and help people… despite all this." I was a silent advocate of love because I always felt the way I loved no one could ever love me back the same way or more.

So my mother said to me ""Nne, I want to introduce you to some guy, he comes from a very good family, a wonderful Christian home, I made clothes for them when they were younger. I also made his sister''s wedding gown long ago, etc". As usual, she gave me the full gist and gossip. His mother had come by her office some days ago. She saw my picture on my mother''s "wall of fame" (as I''d put it), generations of pictures of family et al and his mum was like " is that your daughter"?

After much oohs, ahhs, compliments and praises because I must confess my mother is a beauty to behold. I am a "chip of the old block" because I am her look alike. Lol! His mum urged my mum to take my number and give one of her sons that was single. Apparently after much persuasion, conversation, gathering all necessary info's and perhaps cajoling of both fathers, both mums jumped at it not even minding whether I had a boyfriend or not at that time.

According to my mum, she saw a bright future and good family, well I would say at that point I wasn''t seeing anyone serious because I had streamlined my life to fit just me and my family, kapish! lol. I really didn't take her seriously, I was laughing out loud like the BBM smiley rolling on the floor laughter*. I was like mum we are not even Indians and this is the modern day, I would choose who I want to be with when its time.

She knew in my head, heart and mind that I was slowly grooming myself to be a career woman, make all the money and eventually join her in the fashion business which has always been my lifelong dream and just maybe have a surrogate to get a baby  – that was my ridiculous idea. Apparently, she wanted to burst my tiny bubble of that kind of life.

Well after the long speech, I decided to take his number and tossed it aside. She said "Sommy just give him a chance don''t push him away just listen to him" to let the matter rest. I agreed!!!

My phone rang and I jumped at it because at that moment – 'a girl' really needed a job to foot her own bills. Lol! I was expecting a call from a company I had applied to but it wasn''t the company that called. He called… well we didn''t say much – just casual talk…, nothing much and God knows I tried so hard not to be rude or apt so as to cut him short but I''m not a pretender, so he knew I wasn''t "feeling the boy" then.

However, we later exchanged BBM Pins and chatted sparingly. He wasn''t the chatty kind at all and he called once in a blue moon that most times I forgot about him. We exchanged pictures and then to my surprise I realized he was super tall!!! Way taller than me that usually intimidates many men. I must confess I was tripped. I quickly searched for my best picture in the best dress I and my mother had designed for my birthday and sent this to him and he was astonished as well.

I'm a very blunt person so I kept telling him I really don''t like this idea of how our parents hooked us up and I always taught he could be faking it for all I cared just to please his mum because he is super close to his mother. That part got me scared as well because I didn''t want a mummy''s boy. Lol!

I also played this game unknowingly to him which I did In secondary school called FLAMES –(Friends, Lovers, Admirers, Marriage, Enemies & Sweethearts) where you write out each other's name and cross out the similar letters in each name and count the remaining left and for both our traditional names and English names we were Sweethearts & Lovers! Childish but true.

I also believed in Zodiac signs, I read about our stars (He's a Sagittarius and I'm a Scorpio…). Well, all these made sense and more so I believed in signs not just mythic scientific ones but from God – the ultimate creator of our destiny. We hadn''t talked much and he started saying he wants to marry me and I was like whooaaa! Slow Down Man… – you barely even know me and you haven't seen me at all. I had my walls so guarded up that the walls of China had nothing on my wall.

I cautioned him abruptly to stop trying to deceive me because this time I knew the game or so I taught. Lol. He kept calling me his wife all the time and kept persuading me to come visit him…. Although I had an aunt there, I refused to go, I just felt I was not ready to let go or to love at all and if at all love existed then, he would have had to show me a lot of love or I keep walking alone. He told me he didn''t want me as a girlfriend at all but a wife for life. He seemed serious but I still hardened my heart like Pharaoh.

Every week, my mum called me asking how I was responding… she was his official cheerleader. At some point, I became jealous because my mum was getting really close to him and believe me, he is very loving and cheerful but I didn't know this then. My mum had a strong penchant for Ugo. Their bond was growing like a little blip when I hadn''t even accepted him yet. But he kept growing on me – slowly getting rid of all my fears but not wining my heart yet.

At that moment, I wasn''t really looking for love even though I was praying God would be merciful enough to give me my heart desires of my dream man, which was a long list of demands of this and that despite the hearts I had broken and the ones that broke my own heart. Sometimes, it didn''t just break, it vanished. Lol!

I was thinking more of making money as an Igbo girl and loving later.

On the 6th of November 2012, just a day before my 24th birthday, I got a call from my dream company OMG!!!! To begin work on Dec 3rd 2012. I was ecstatic at that moment, I knew this time there was no contemplating if God loved me or not or cared. I was super happy and you know what – funny enough Ugo worked in that same company but in a different city. Hehe! I was like "God what are you planning here oh?" Anyways I'd go where ever you lead me because I always trust your plans; they are never to harm me but to give me a bright hope and future. My favorite verse is Jeremiah 29:11.

Then I didn''t know exactly what branch he was working at, all I cared about was calculating my money looking at the figures each day reviewing it day by day and thinking of how much to save for my fashion business, etc. It was then I actually agreed to see him but he would come to me not the other way round. He told me he was travelling to the US for a training program so we didn''t see. I still hadn''t told him I got a job in his company; I wanted to surprise him somehow.

One day I woke up to prepare for work the next day, I logged into Skype and he was online. I then told him and funny enough he told me we were working in the same city so this time we had to see. He came back January the following year and he rushed to see me……. That day was the most uncomfortable day of my life… The way he stared at me… straight into my big eyes and his own big eyes I felt he was looking and piercing through my soul. He watched me very carefully and closely, my every move. everything was under scrutiny that day. He was also so close to me I kept warning him not to kiss me at least not on the first day, let me have some dignity of womanhood. Lol!

But my Lord at that moment I felt somewhere in my heart just maybe, he could be the one for me, he was way taller than I had imagined and this time I smiled in my head thinking of how comfortable it would be when I kiss him, he was also good looking, nice fingers etc. The way he spoke with so much confidence… so much… everything was so convincing and honest and he never blinked nor stuttered at every word but held my gaze so much that I couldn''t break free. I could tell from everything and his body language that he really wanted me to be his but I fought it because to me I had not even started my normal investigations. Lol!

When he left, the first person I called was my mother, I was explaining everything to her and she laughed I told her I liked what I saw and don''t mind seeing him but she shouldn''t have high hopes yet but fingers crossed. Unknowingly to me, he had also called his own parents too to tell them he had finally met the woman he wants and they were just coming back from church praying for both of us that same day – the first time we met. His parents are huge lovers of me … they called me often and adored me, I felt I was in the right place … honestly but I was still careful not to give my heart yet…

On the 14th of February 2013, of course, as every other girl was, I was expecting a mega gift from him, I decided to be very nice to him the day before, spoke softly and kindly just so that my gift would be bigger. I went to work excited on Valentine's Day waiting for close of work, I had told my best buddies about him too… hehe! I was super eager… and to my greatest surprise he didn''t show up that day.

That day!!! God forgive me I rained insults on him in my head, I was so mad at myself for letting myself fall a bit for him. I had a gift from some other admirer but I warned him not to dare come close to my house that day because I had set my mind on Ugo whom I preferred and I set it very high indeed. I called my mum that night bitter telling her how hurt I was and that his love was fake! That he didn't show it by getting me something even if it was a pencil just to mark that day…. My mum and I talked for over two hours and she explained how I should be patient and that God is planning something bigger. Oh well I got over that and realized well, I''d move on and see how it goes.

I realized I was getting so attracted to him so much that any day he didn''t come by my house I''d be mad or sad, he somehow became my anchor and hope of love again. I was more attracted to the way his family were closely knit and Christians too and to him what attracted him to me was a Bible I have had for 13 years now were I had underlined so many meaningful bible verses which reminded him of his mum.

On the 16th of February, I decided to officially date him but to him. he took it to mean me accepting to be his wife and on that day he cried. He kept crying and hugging me and thanking me and he was praying and thanking God all at the same time. That day I knew in my heart, this was my husband because I was so moved that we both started crying. He went away for about three months because he's an engineer but our love waxed stronger. Don''t get it twisted, our relationship wasn''t all rosy, we had our quarrels, fights, misunderstandings, which were all engineered by me. Lol!

Because Ugo is such a calm being, he would never ever fight nor shout at me. I did all this in the bid of trying to know the man that wants to spend the rest of his life with me.

On the 4th of June, 2013 while I was preparing for my exams, he suddenly came by my house and forced us to go out by all means, I just threw on my usual everyday shirt and wore my bathroom slippers because I thought we were probably going to seat out or buy fuel for the generator. lol!

He then took me to a very grand hotel and I was like "babe am not even well dressed at all but he cared less and said 'It doesn''t matter. All that matters is I love you the way you are.' We got to the entrance and the security guards made him empty his pockets. He then asked me to turn around because he didn''t want me to see. I obeyed,  laughed and I was thinking to myself what could he be hiding. We got to the restaurant and placed an order and he kept talking about how much he loved me while I kept blushing till my cheeks were hurting. When the food came just as I was about to take the first bite I saw the ring. Immediately, he got on his knees and proposed while the waiter hurriedly came and took pictures and passer-by's screamed Congrats!!!

Of course, I didn''t hesitate to say yes I will and I began crying as he held me close….

I know he loves me because…

He's very proud of me. Though I'm not perfect, he doesn''t demand a 100% but is willing to make my imperfections perfect.

He never puts me down in front of his friends. He brings me into his family.

When I struggle with words to express how I feel he doesn't jump into conclusions or assumptions

…He's quick to listen, slow to speak and never gets angry with me ever

…He's very patient with me

The way he smiles at me

He never ever shouts at me

He never uses insultive language on me

He shows it .…..whenever I feel like giving up he holds on

H…e listens to me

D…despite my flaws, he still loves me

I don''t ever have to impress him

H…e worries deeply about me

He curbs all my excesses

He always keeps it a 100% with me and is real with me

He won''t lie to my face and laugh at my back

He loves and respects his mum and my mum very very much

Faithfulness & loyalty are key to him

He respects God and respects me a lot

We settle our differences in style

We are best buddies

He leads me right

He always explains things I don't understand to me

He inspires me

He values me greatly

He gets upset when I won''t listen

He never judges me or reminds me of my past

When the going gets tough, he gets on his knees with me in prayers

He always helps me

He doesn''t demand my respect.. he simply earns it

He reaches for my hand and touches my soul

Today I do not have to fall in love with someone new each month rather for each new month I fall deeper in love with you because you give and show me a new meaning of love. I am, like you always say, the female version of you – hilarious, magnificent, your all, your world…. Because you make me a happier woman than I thought I''d ever be. You complete me babe and I love you.

– Yvonne
White Wedding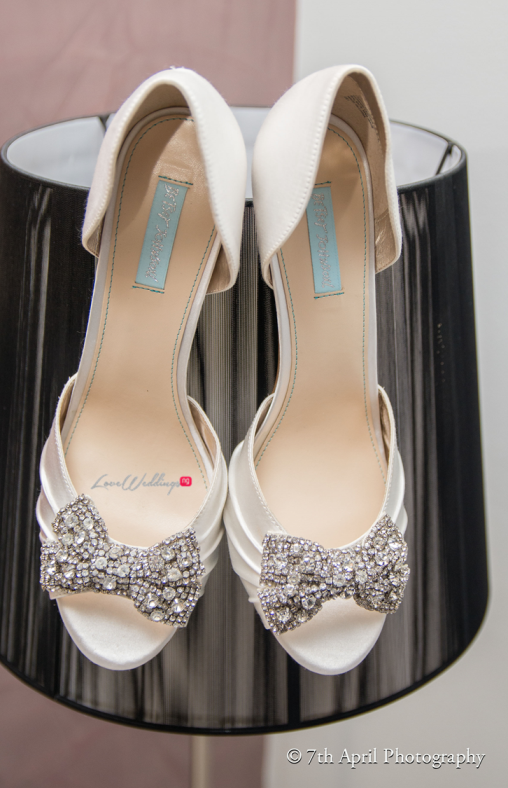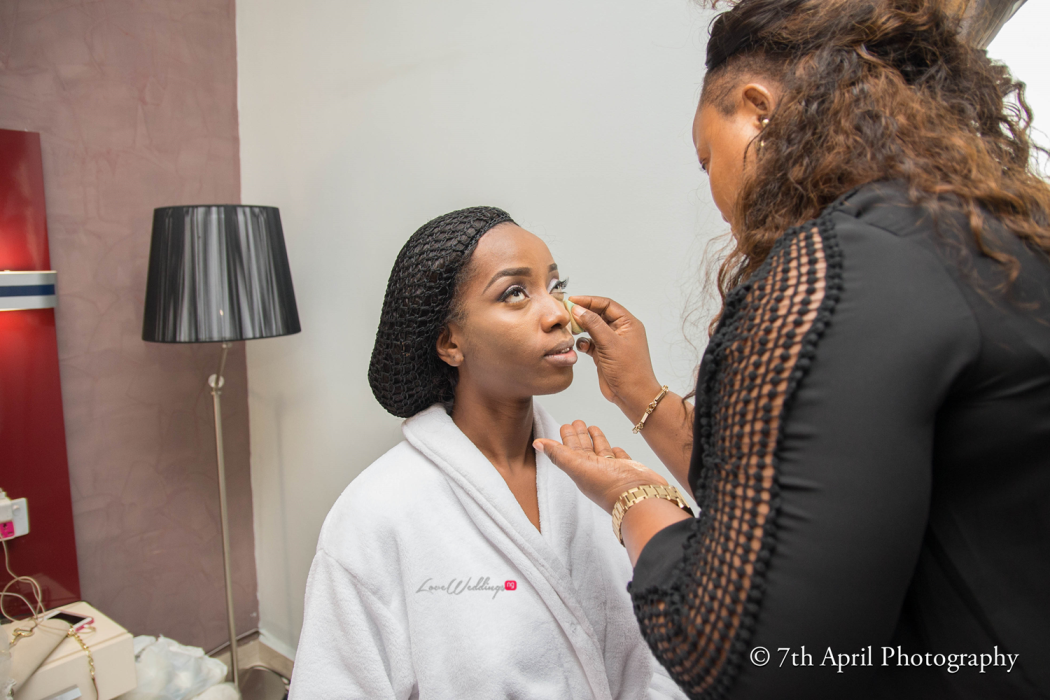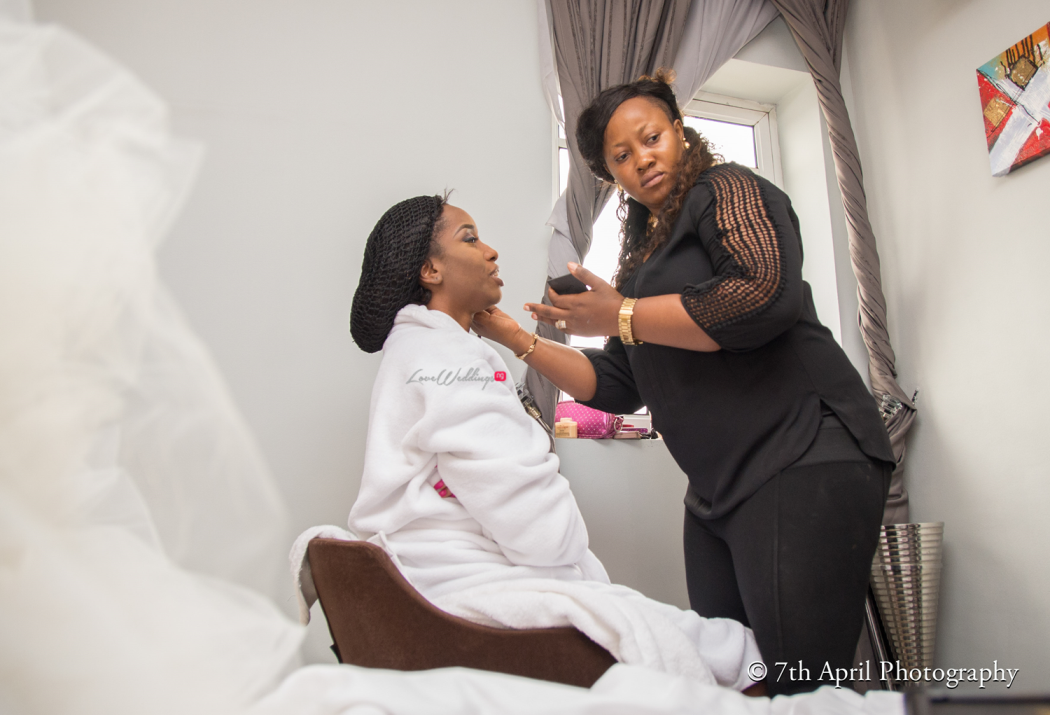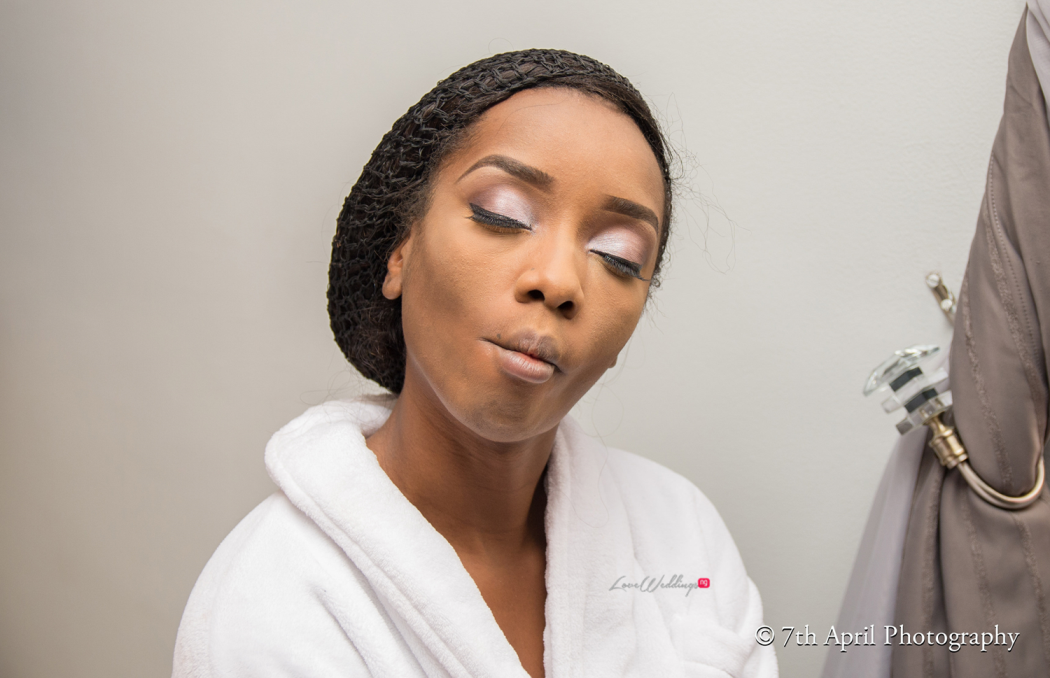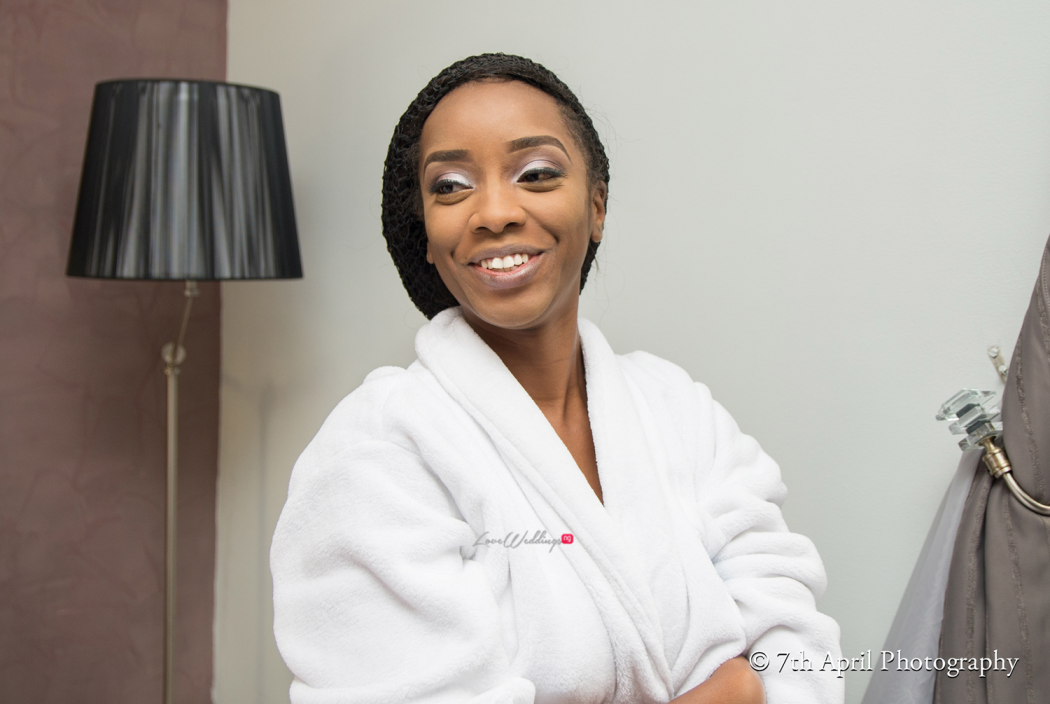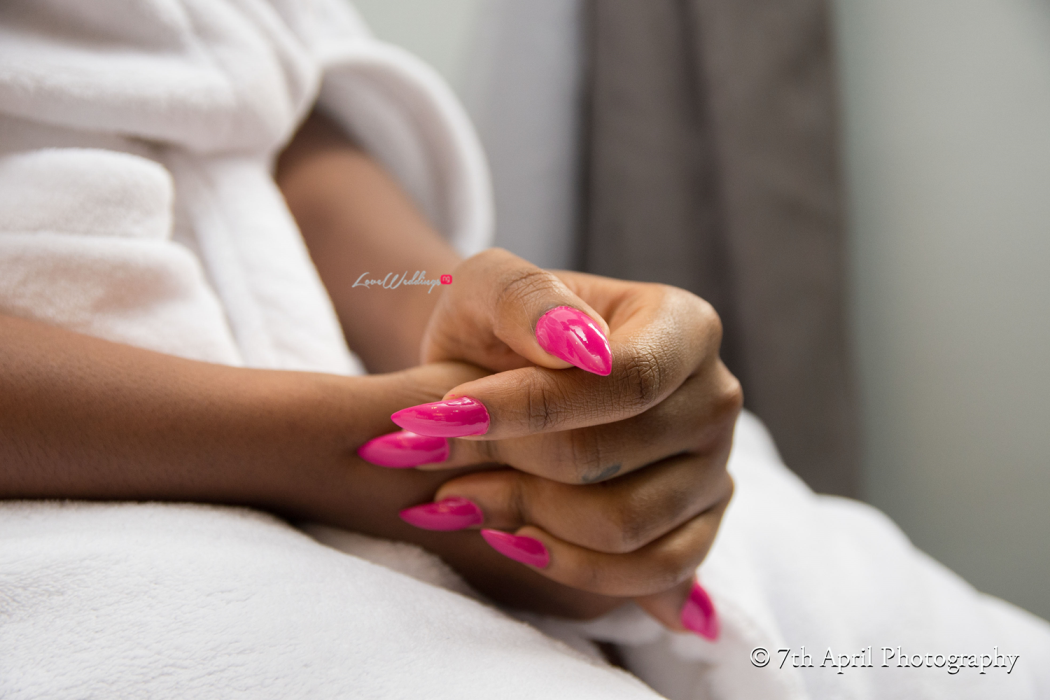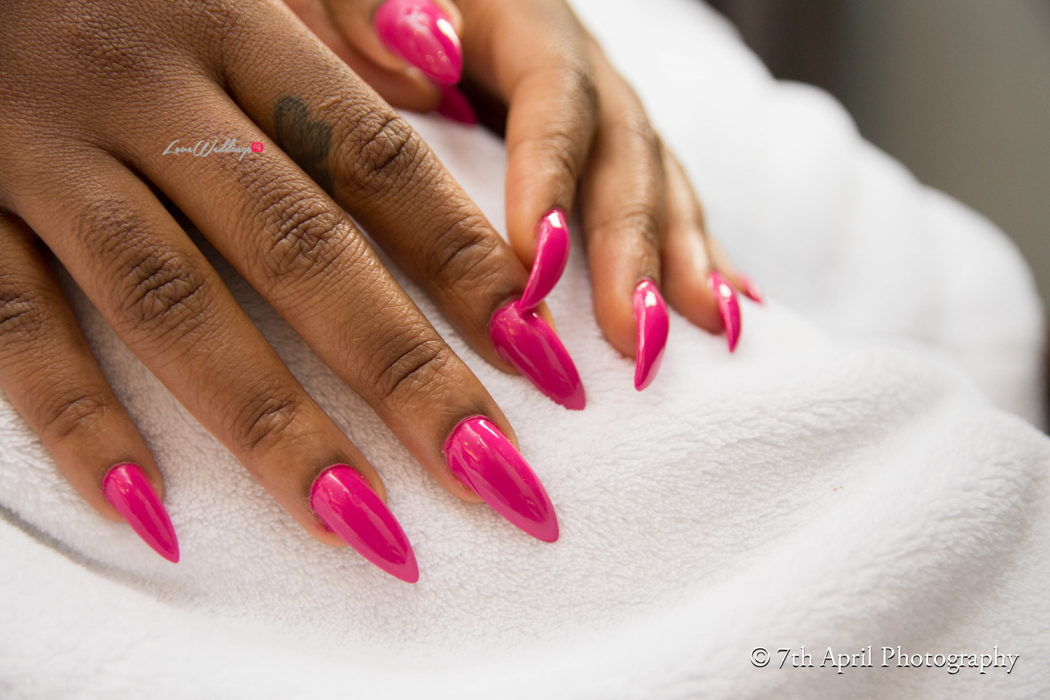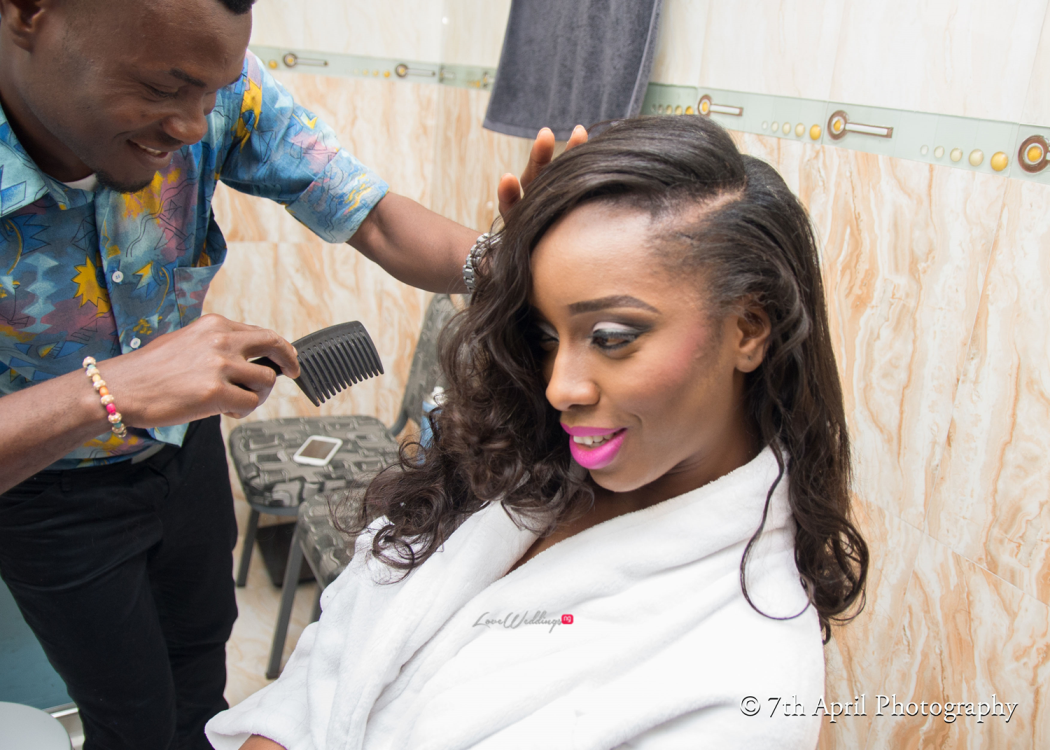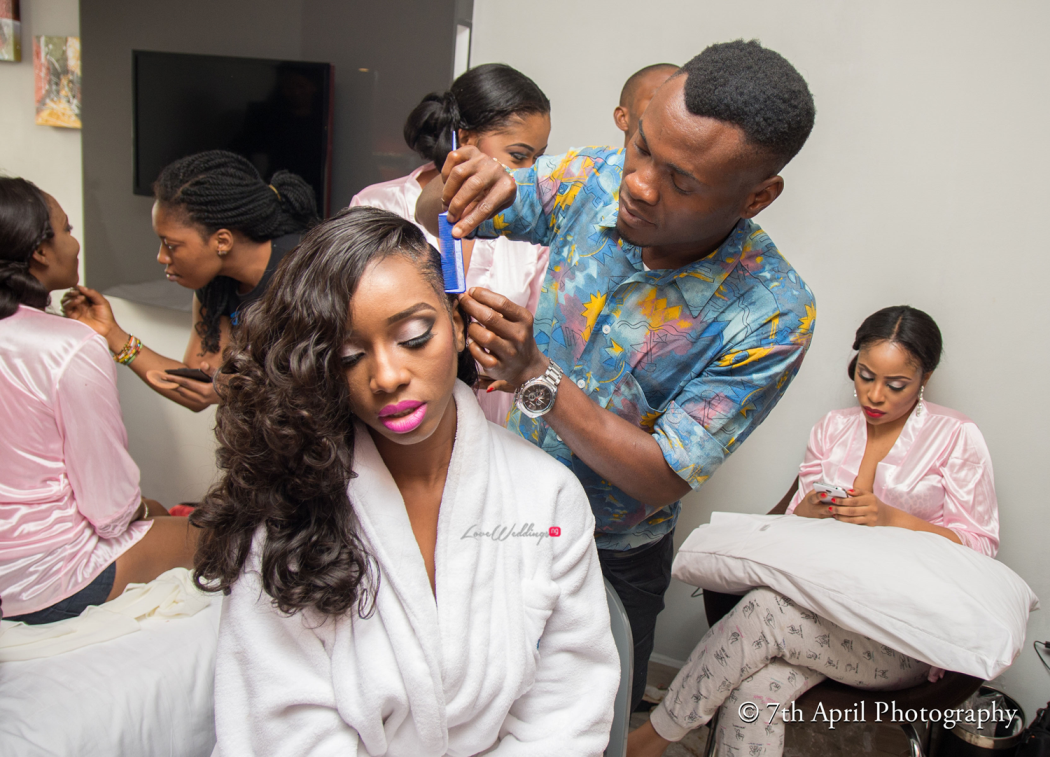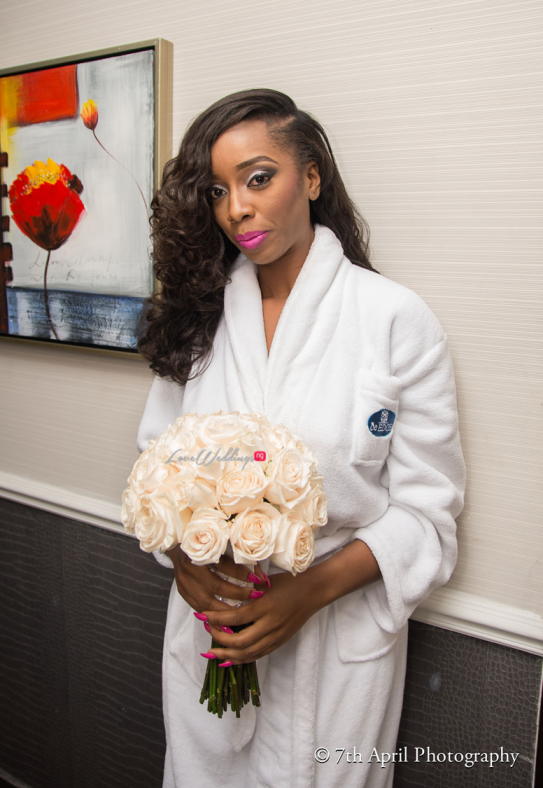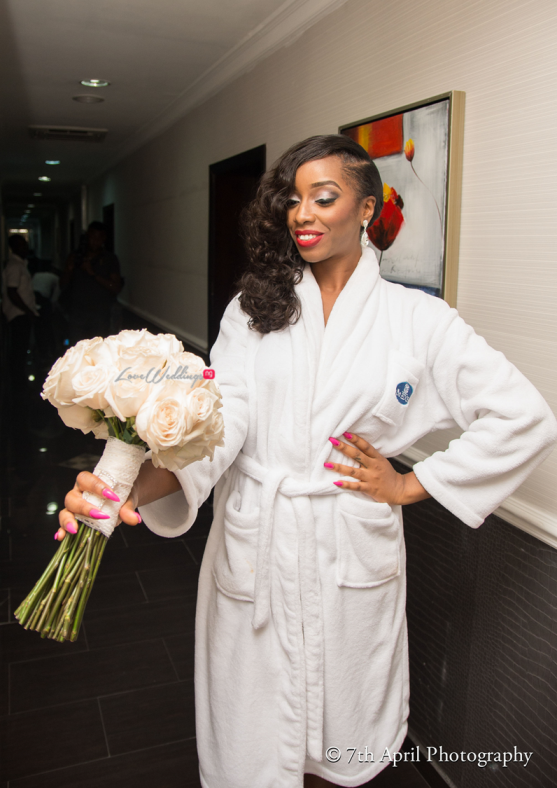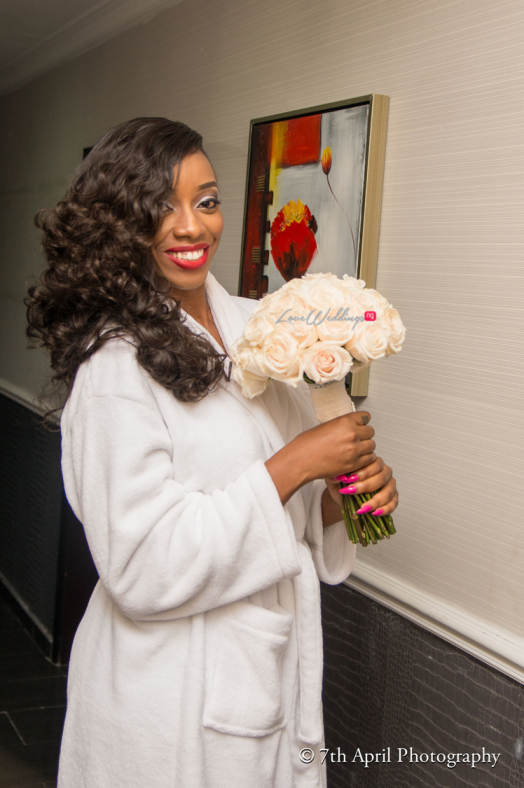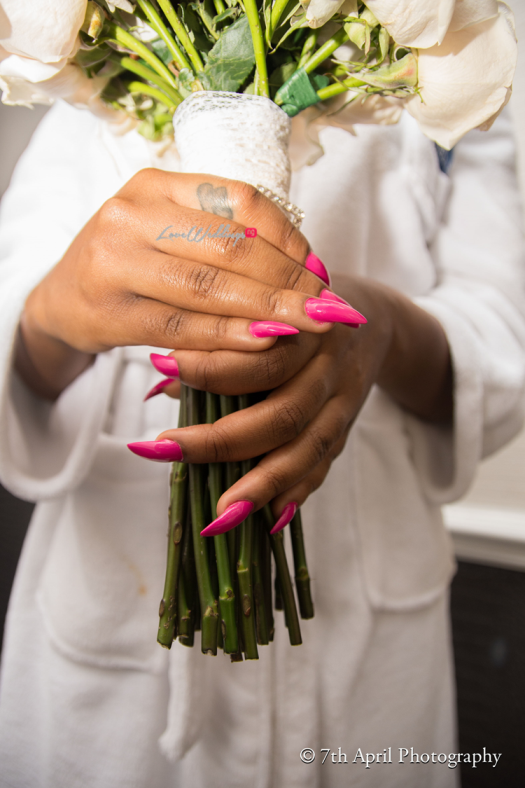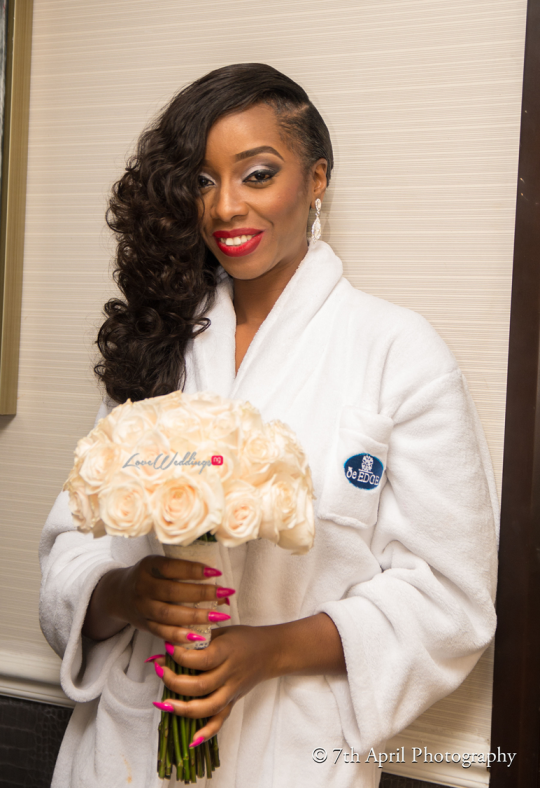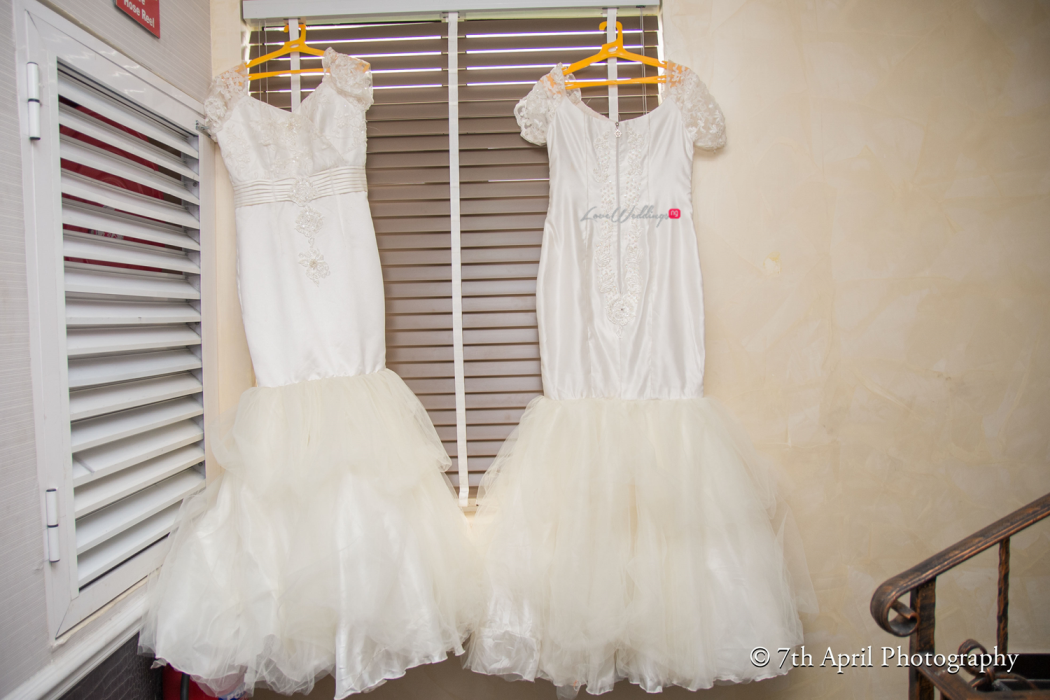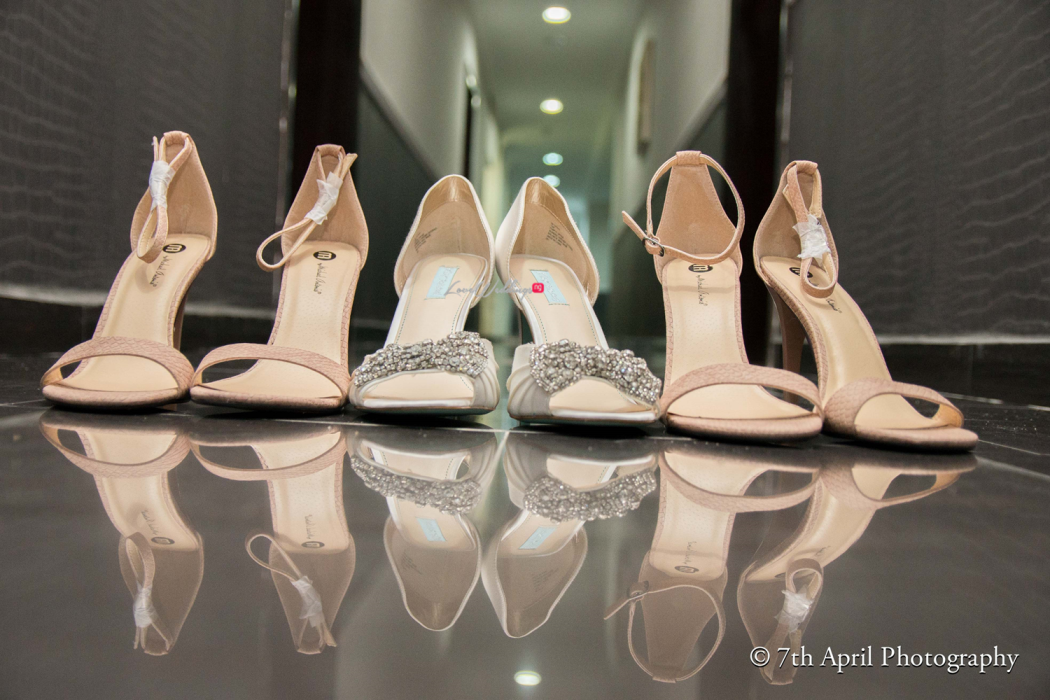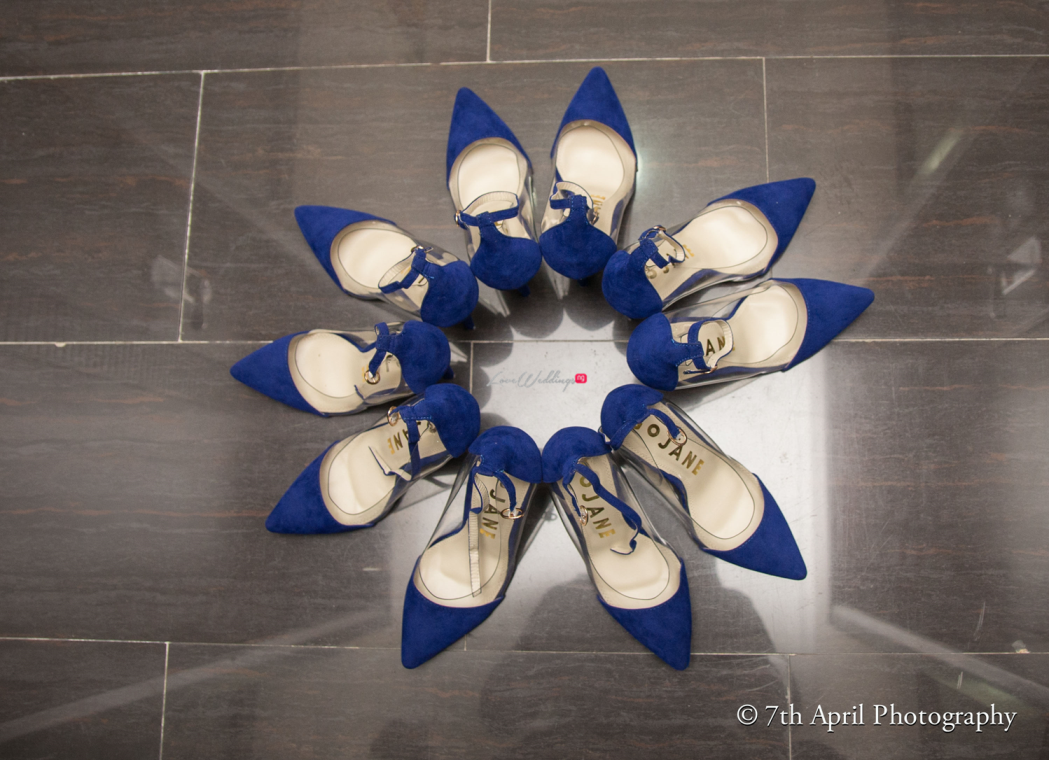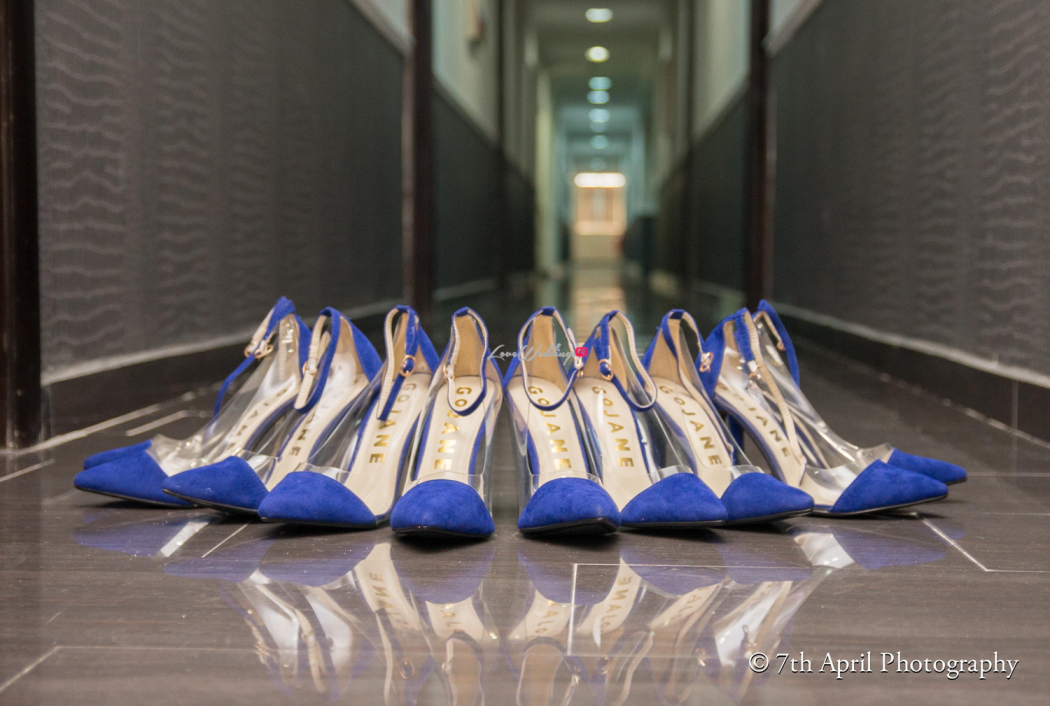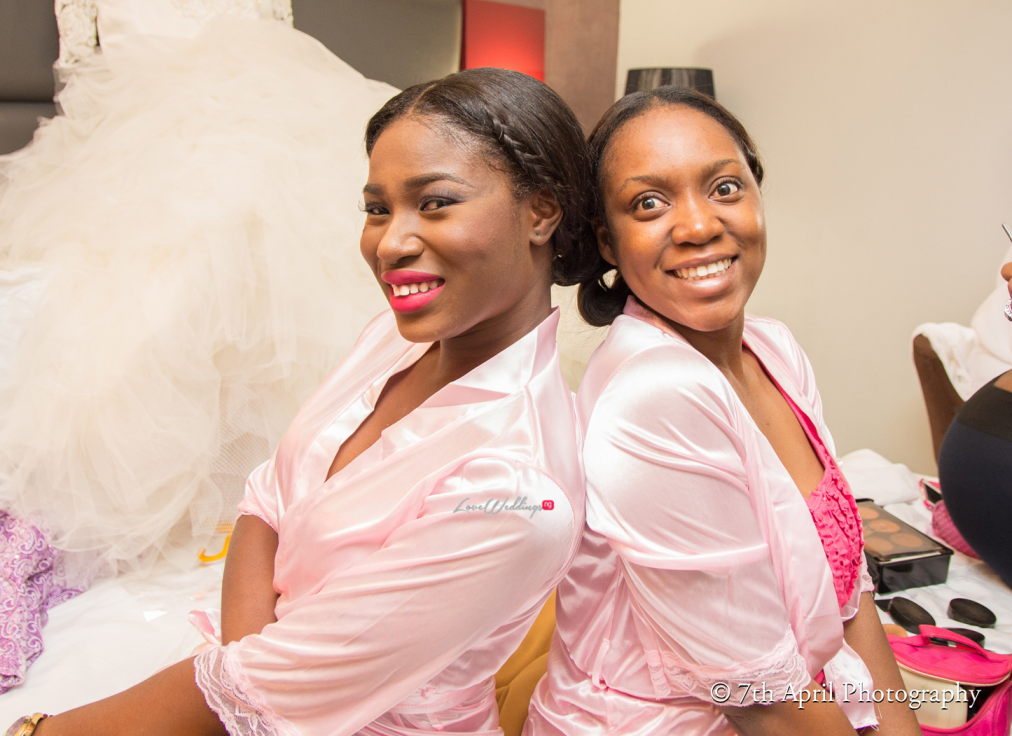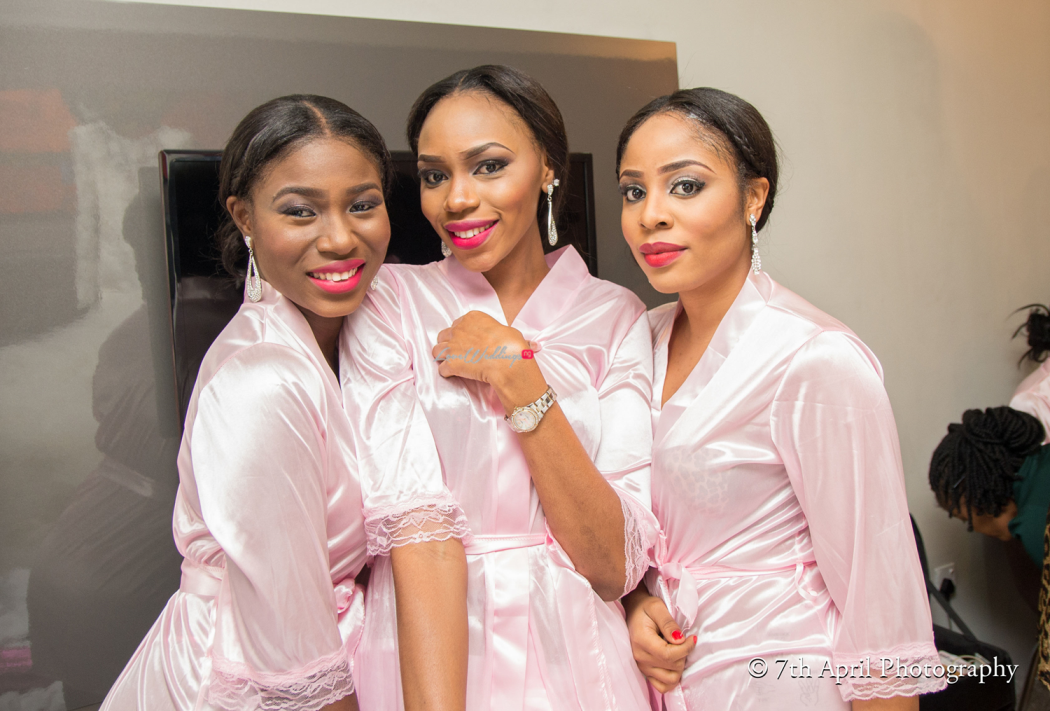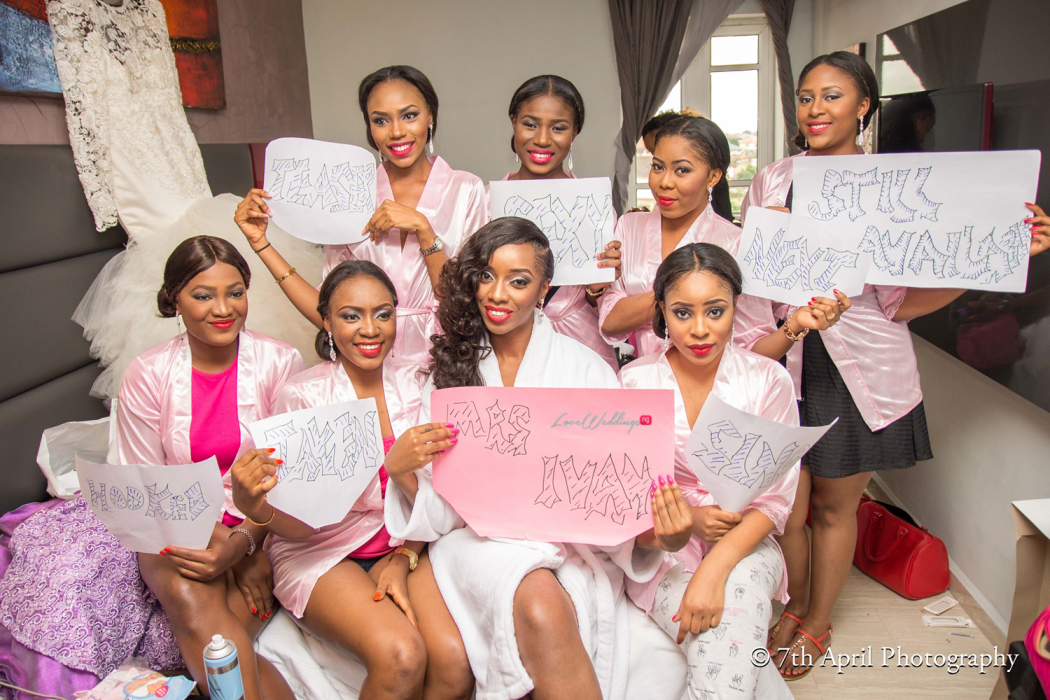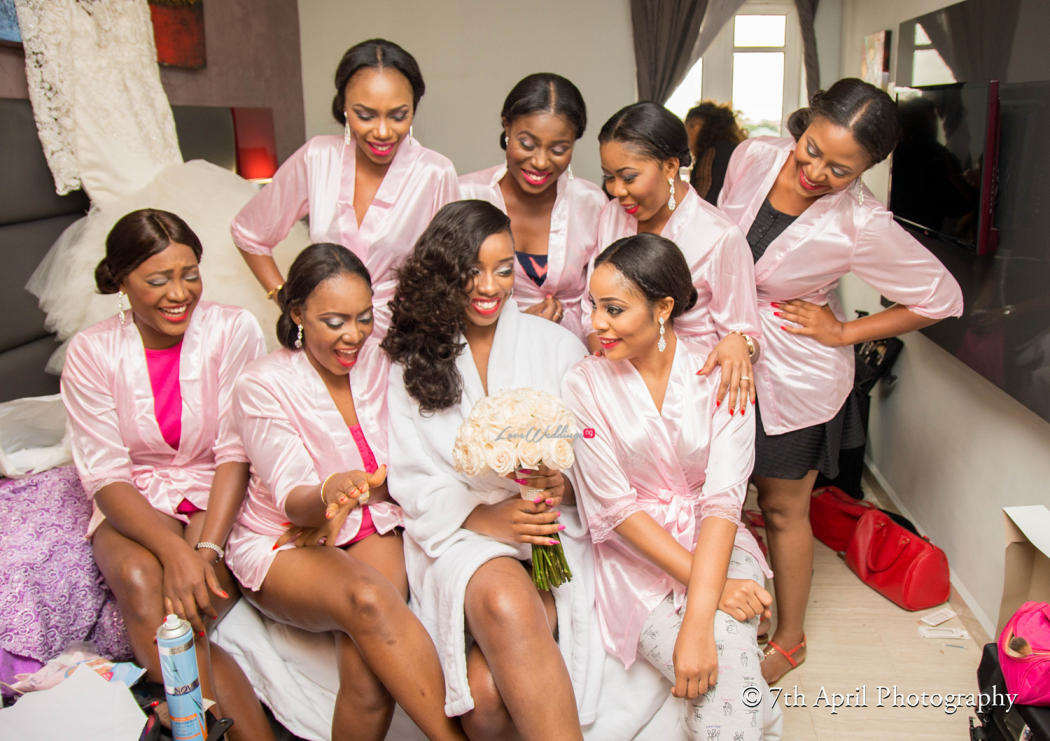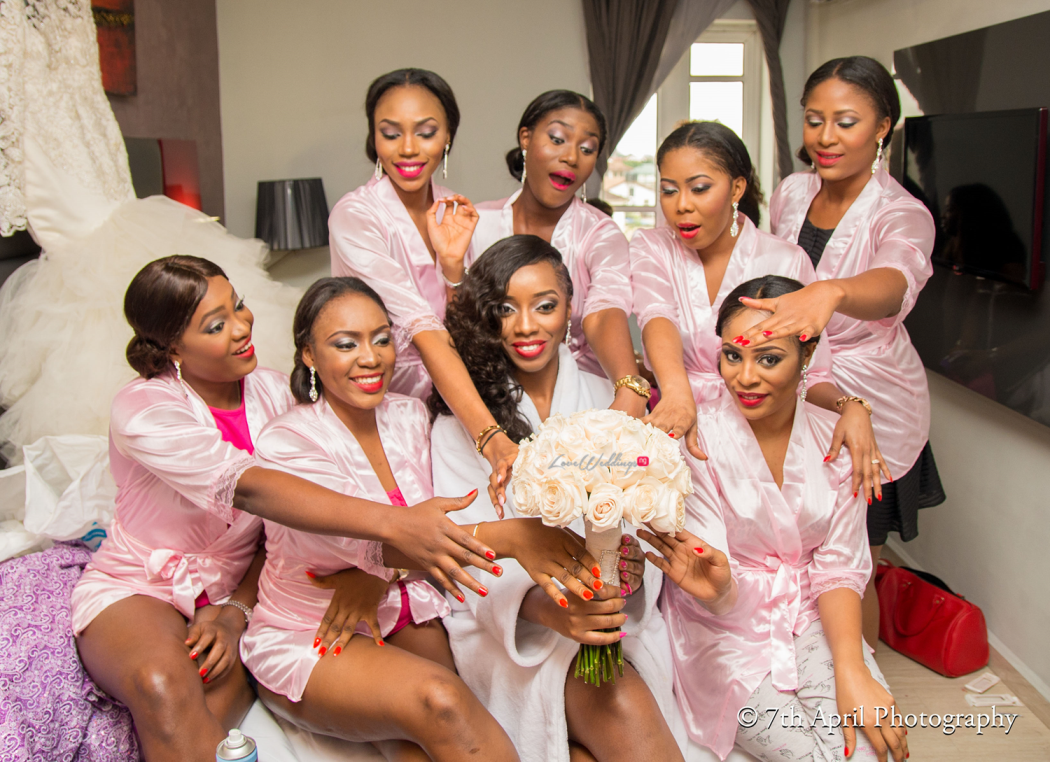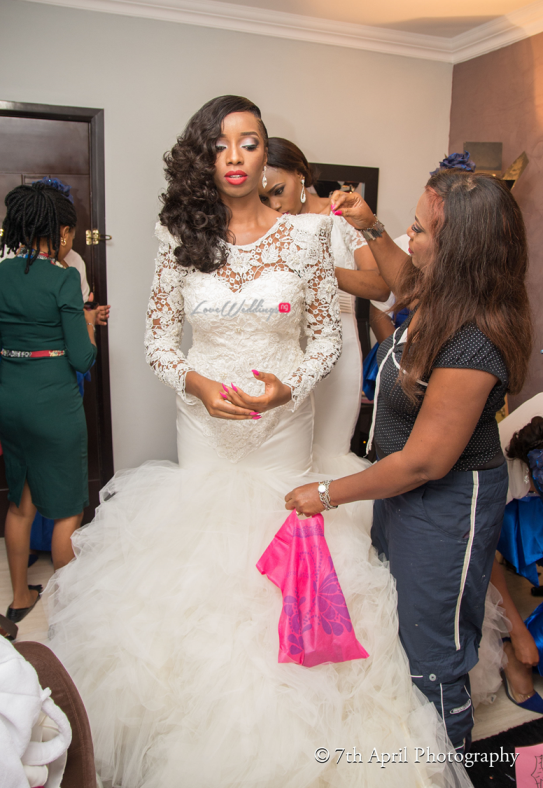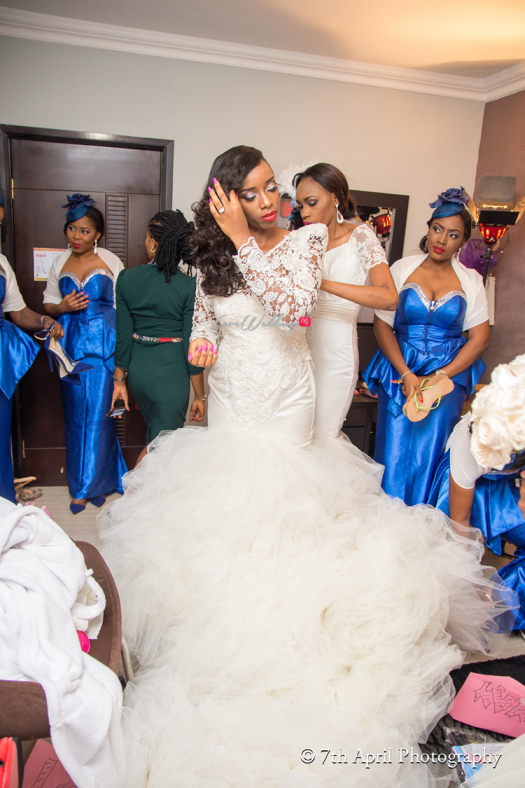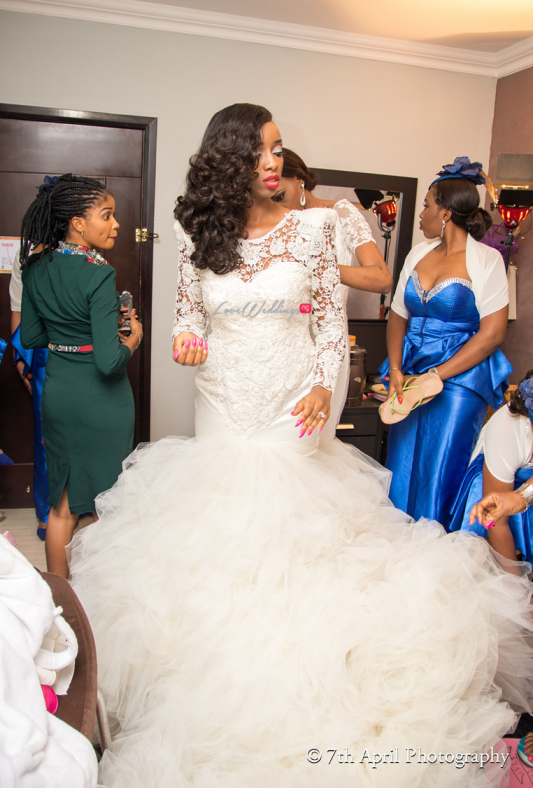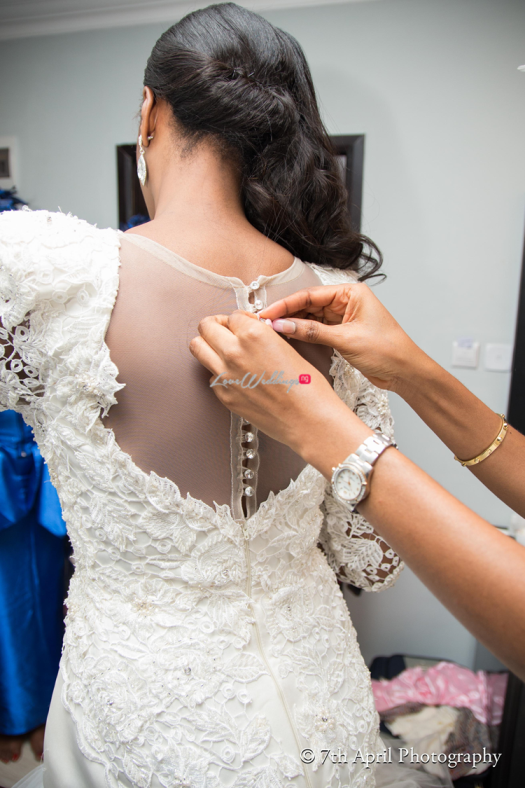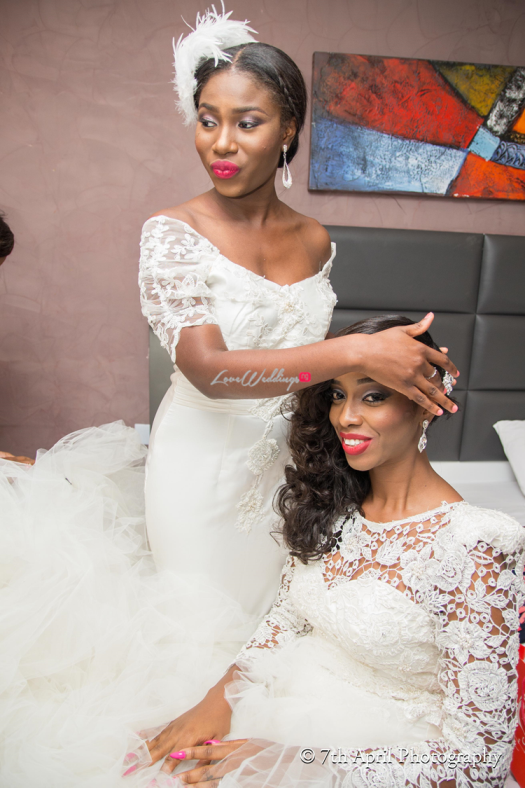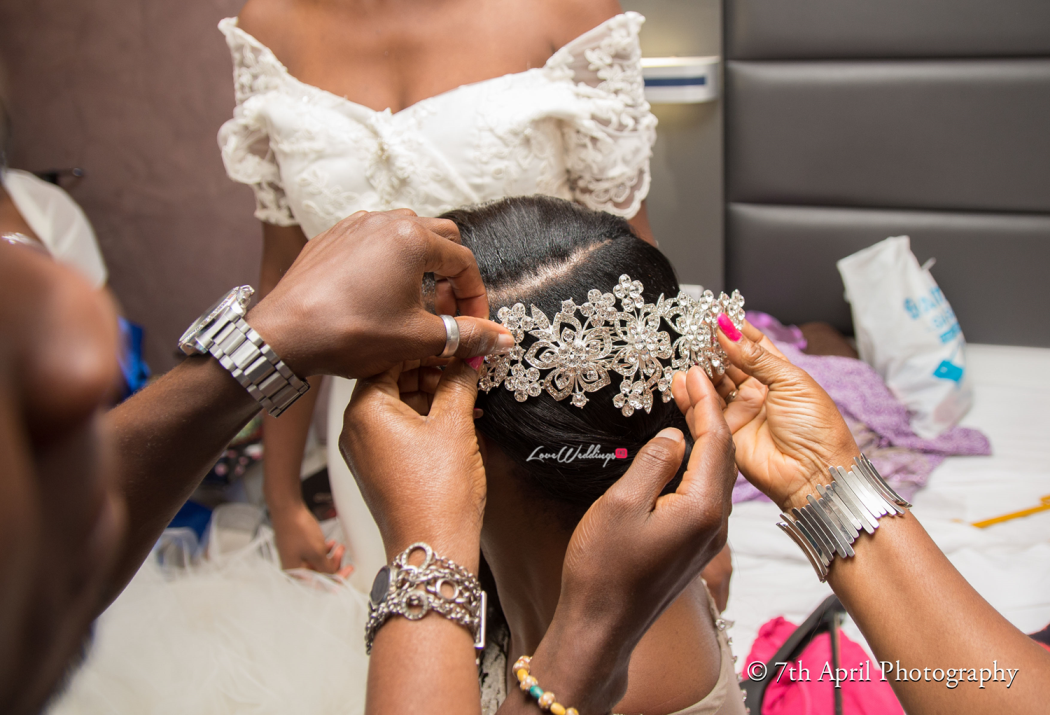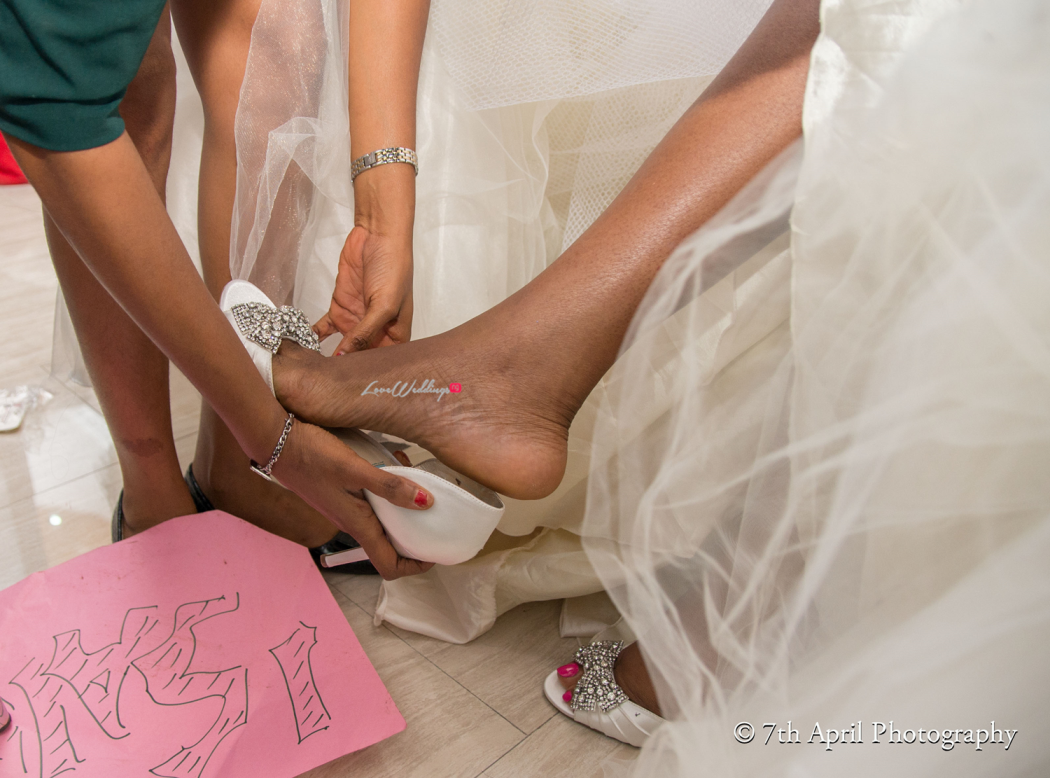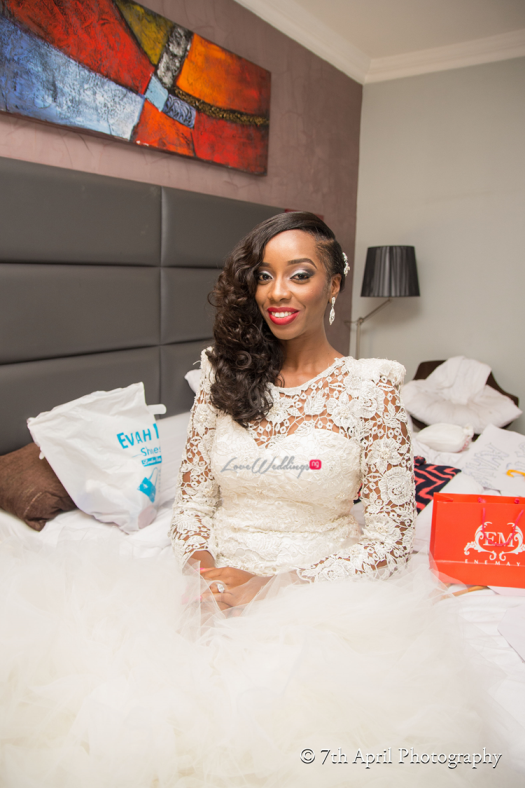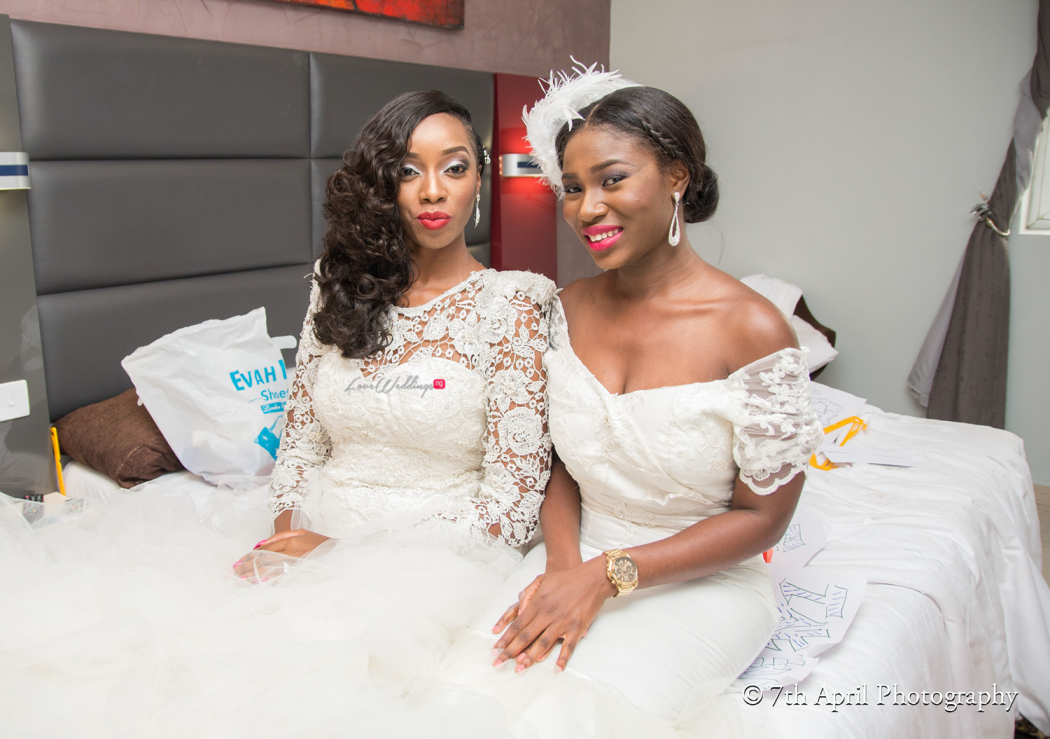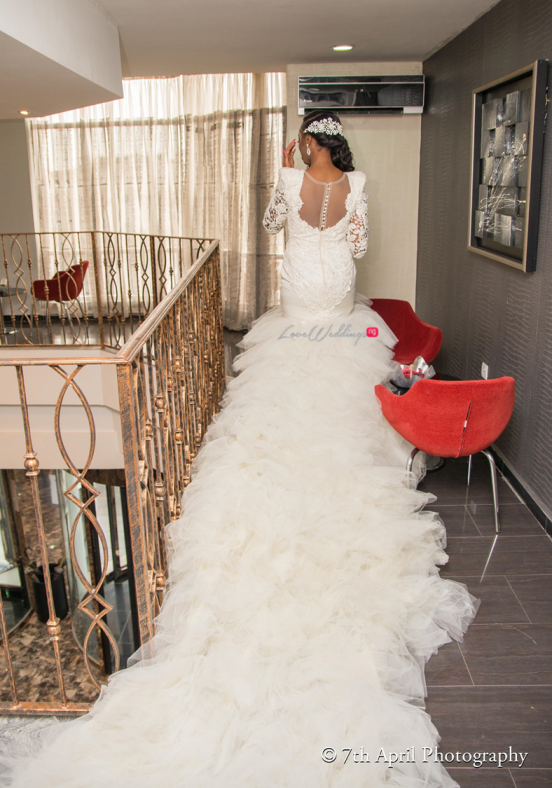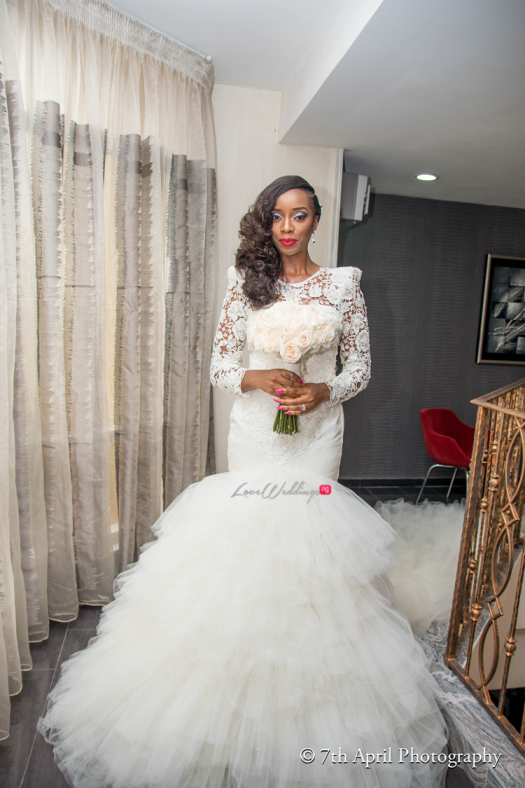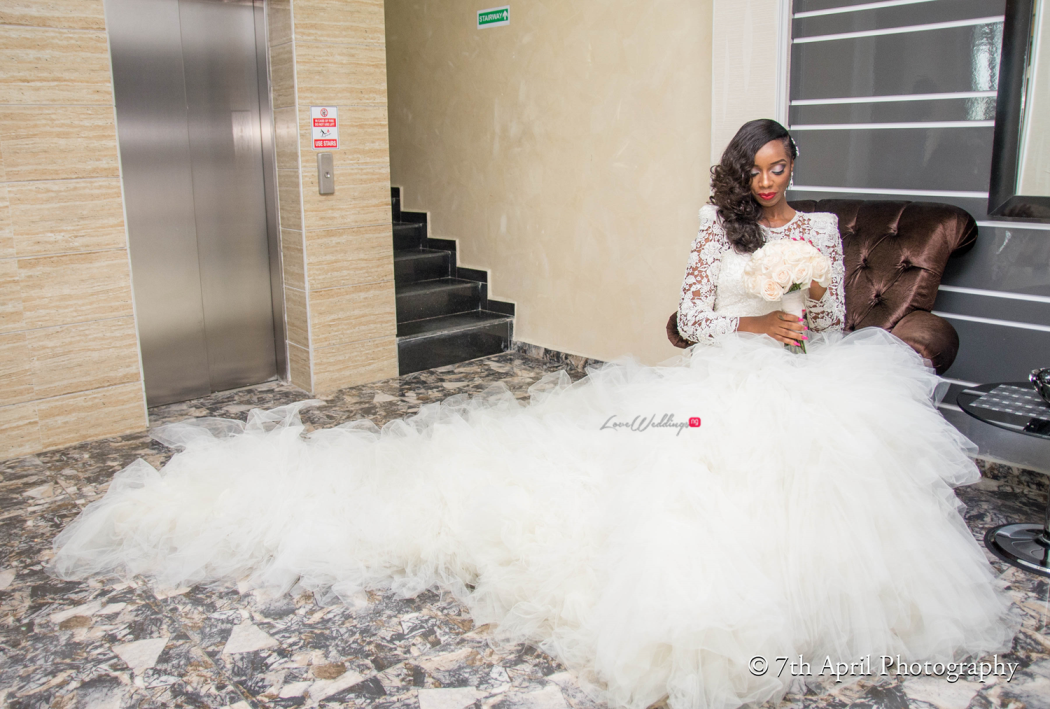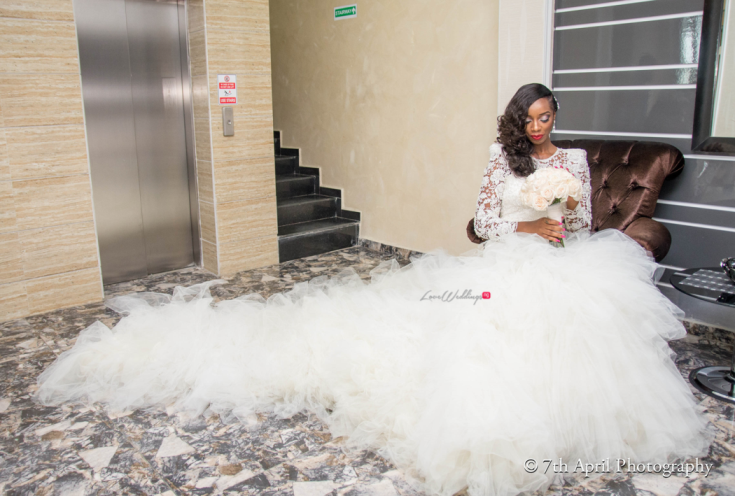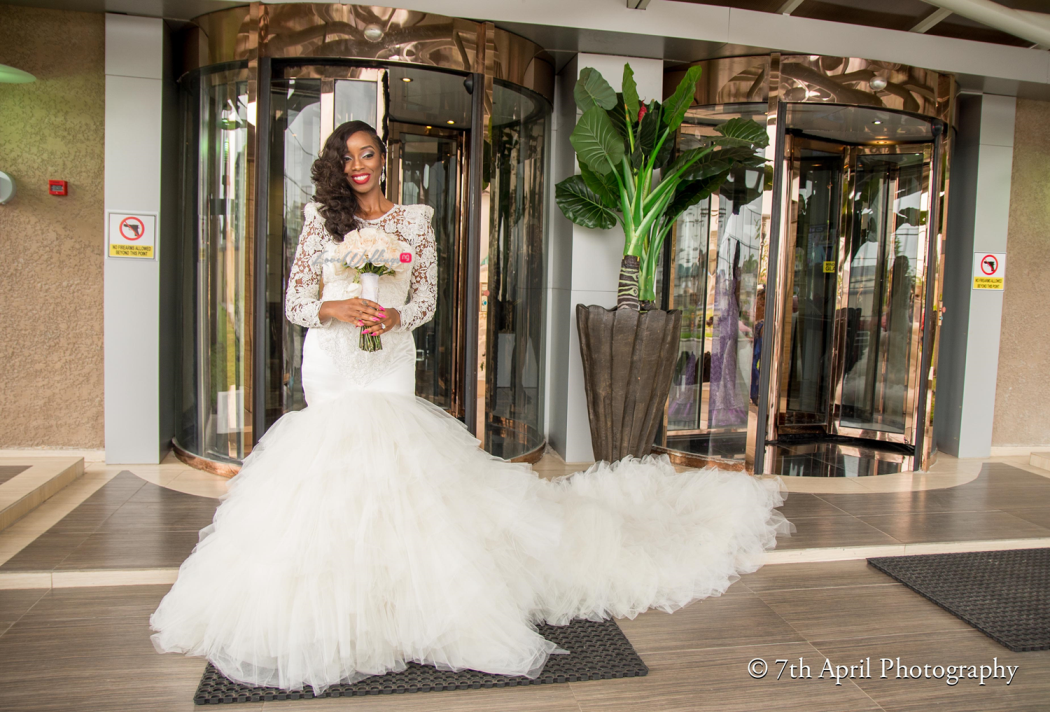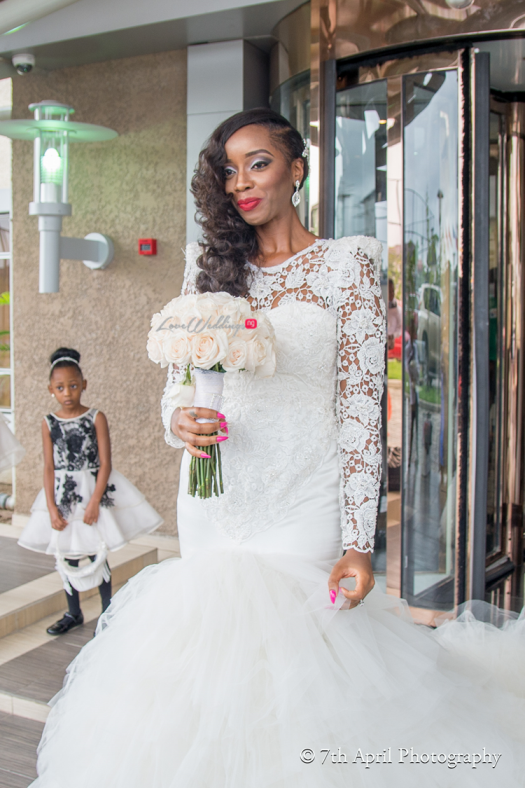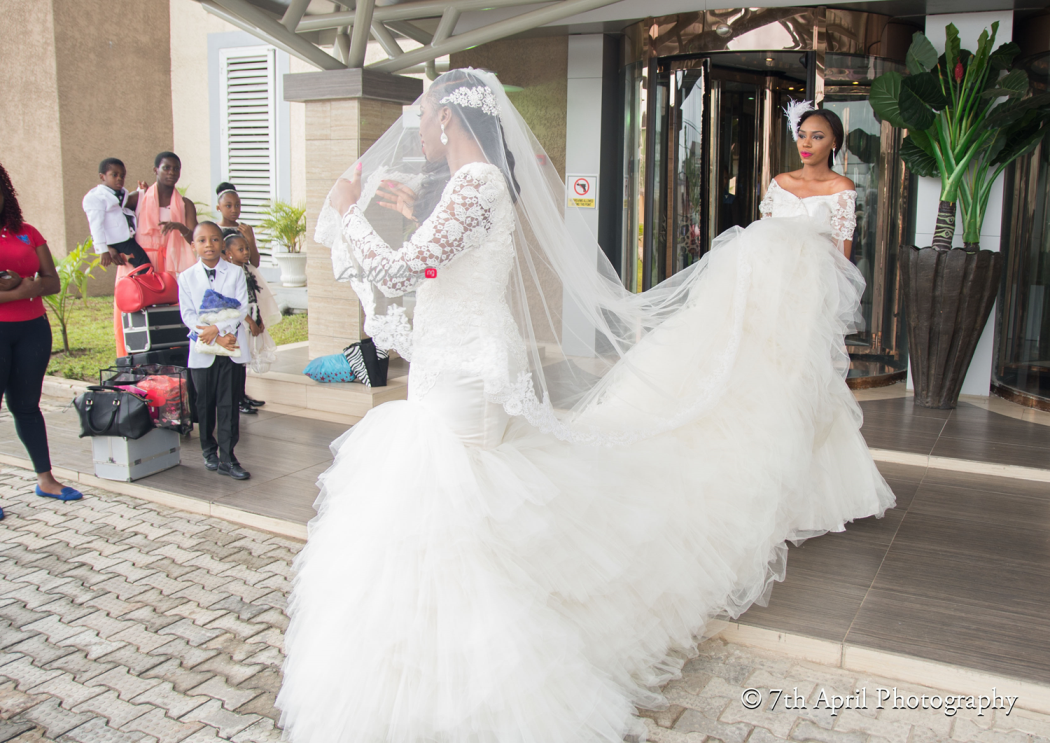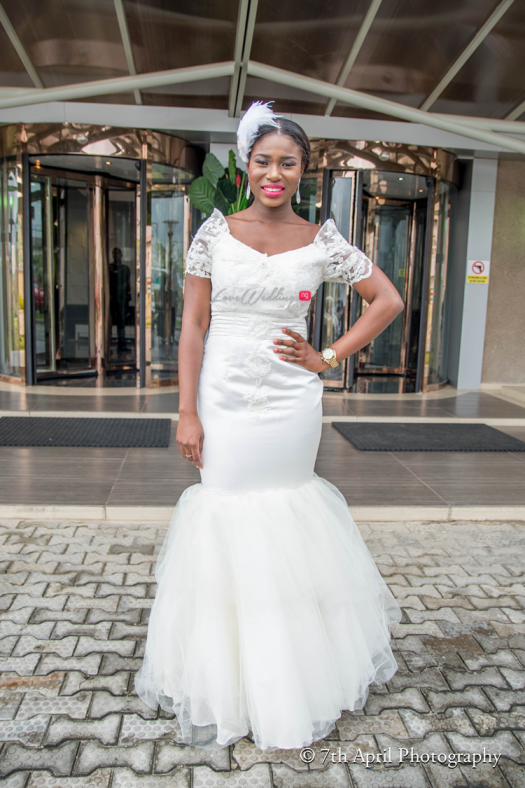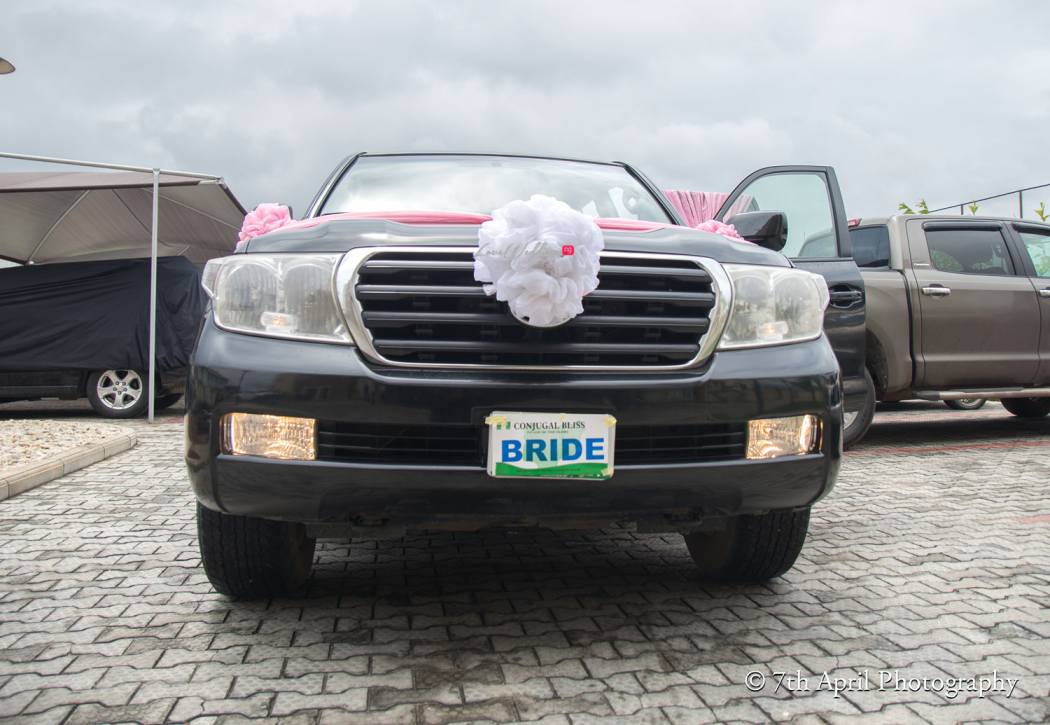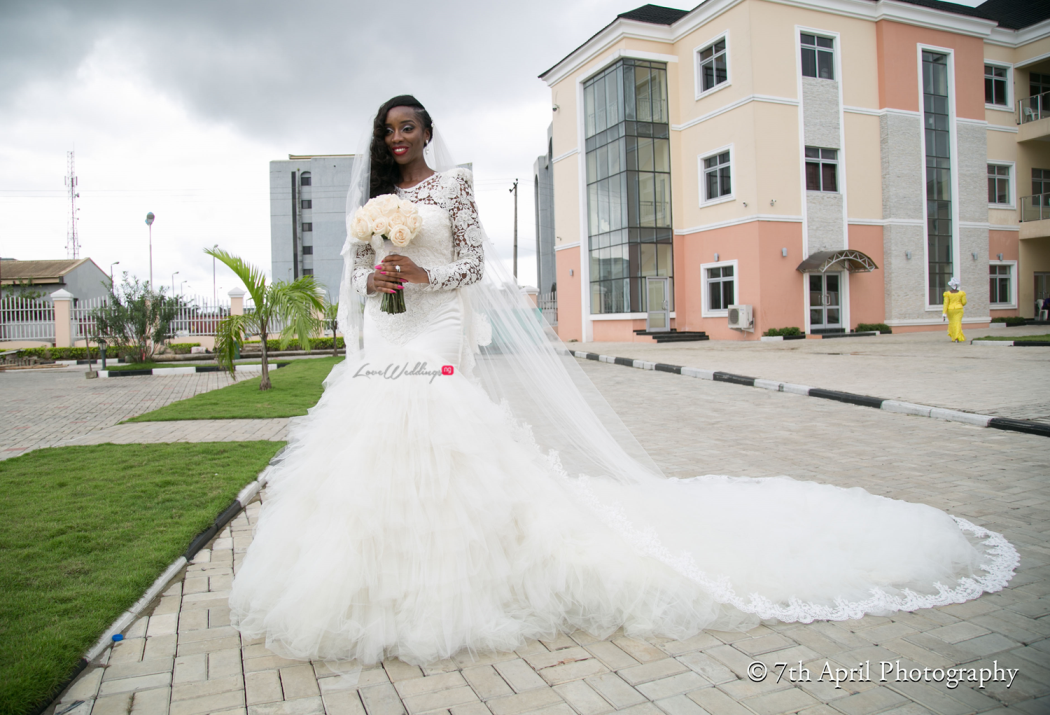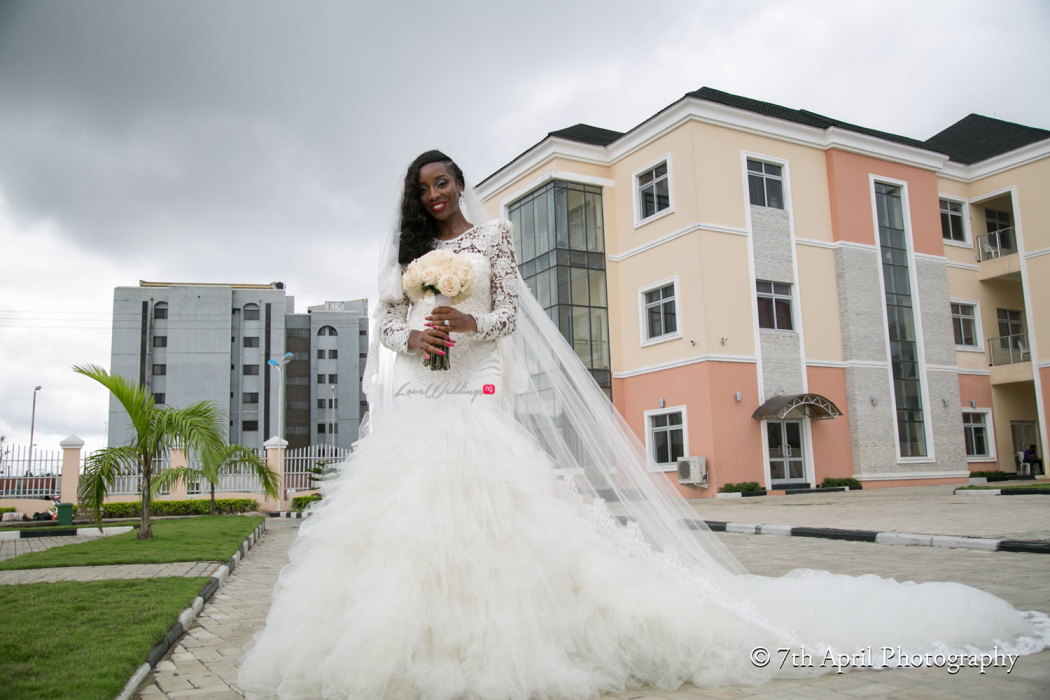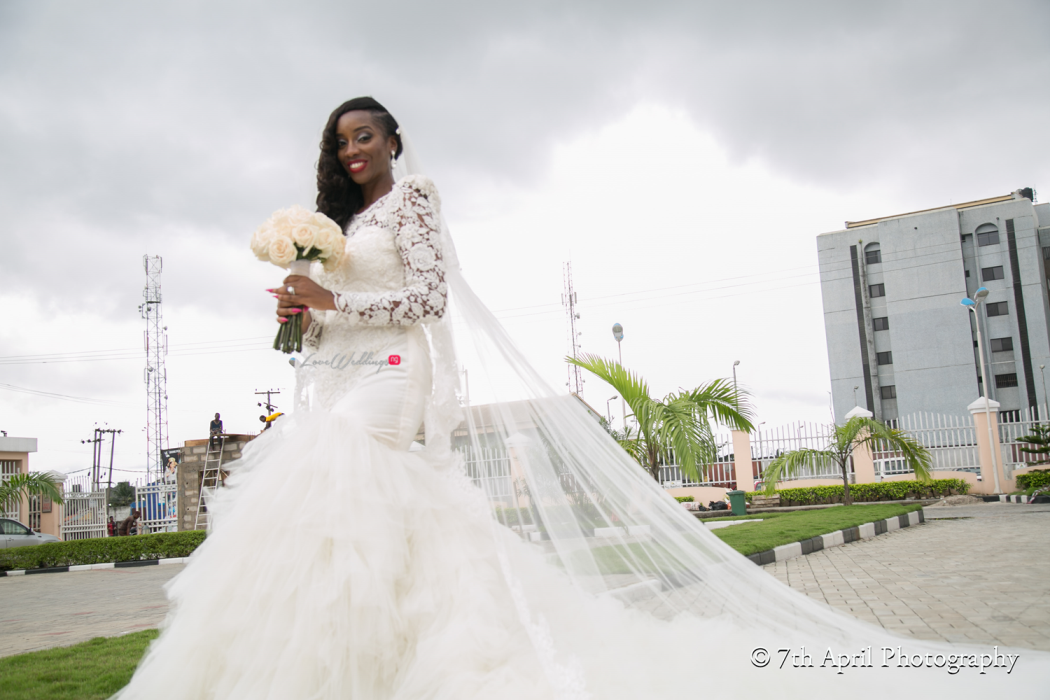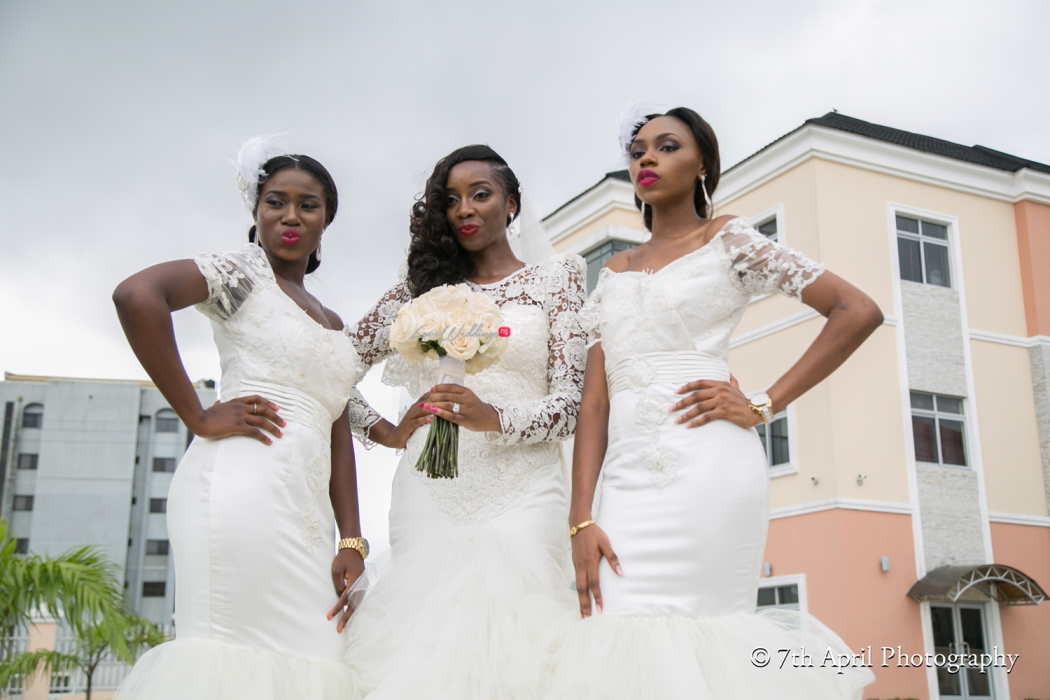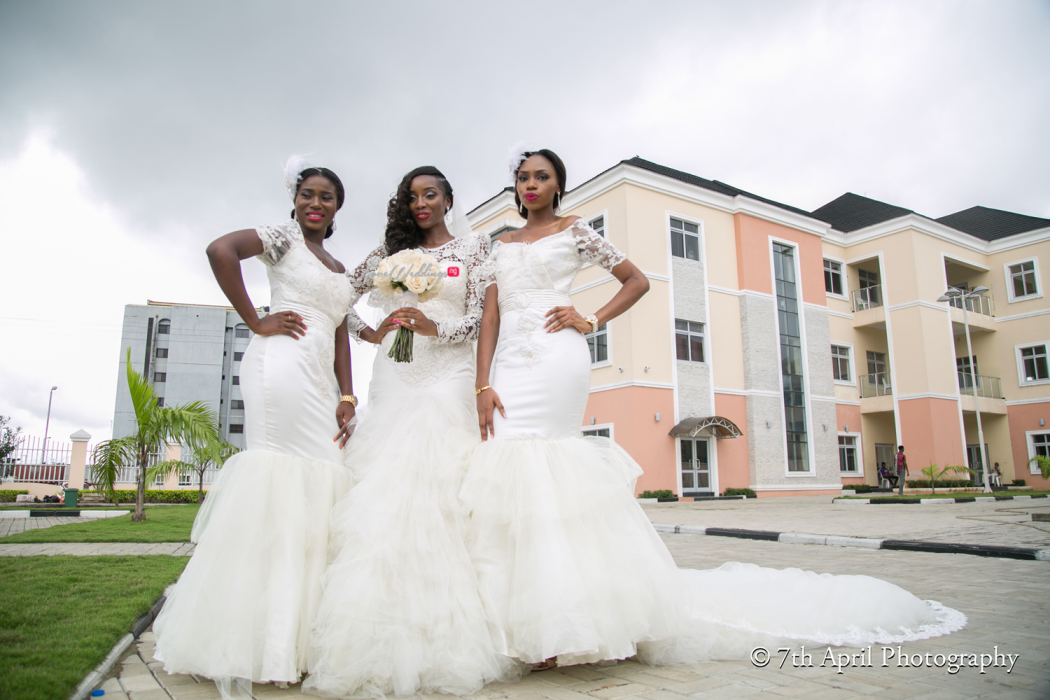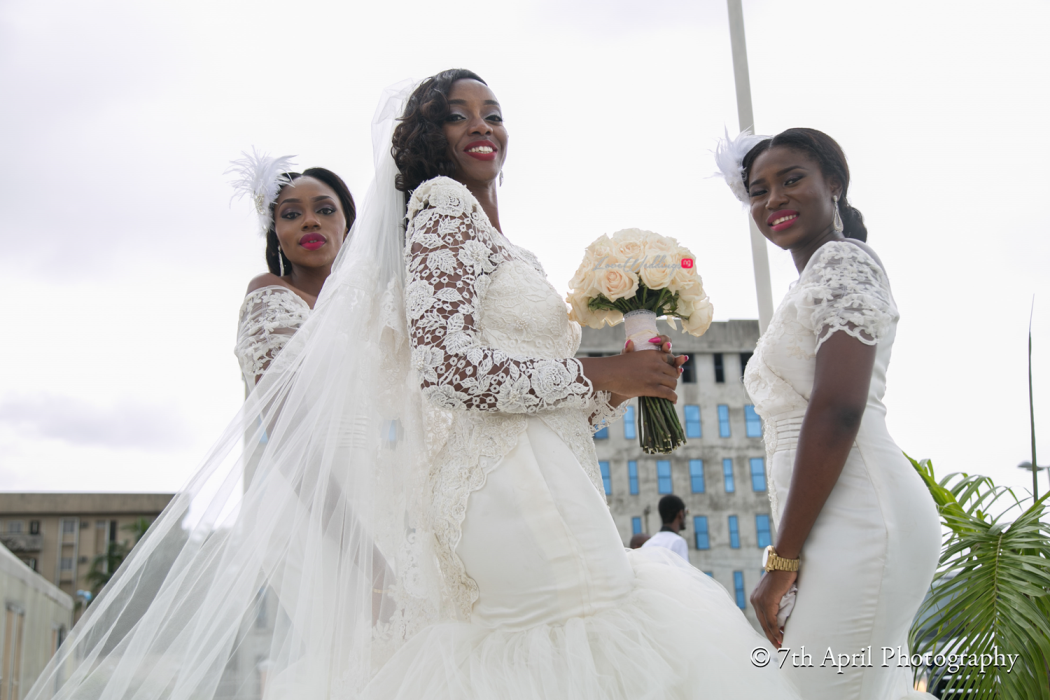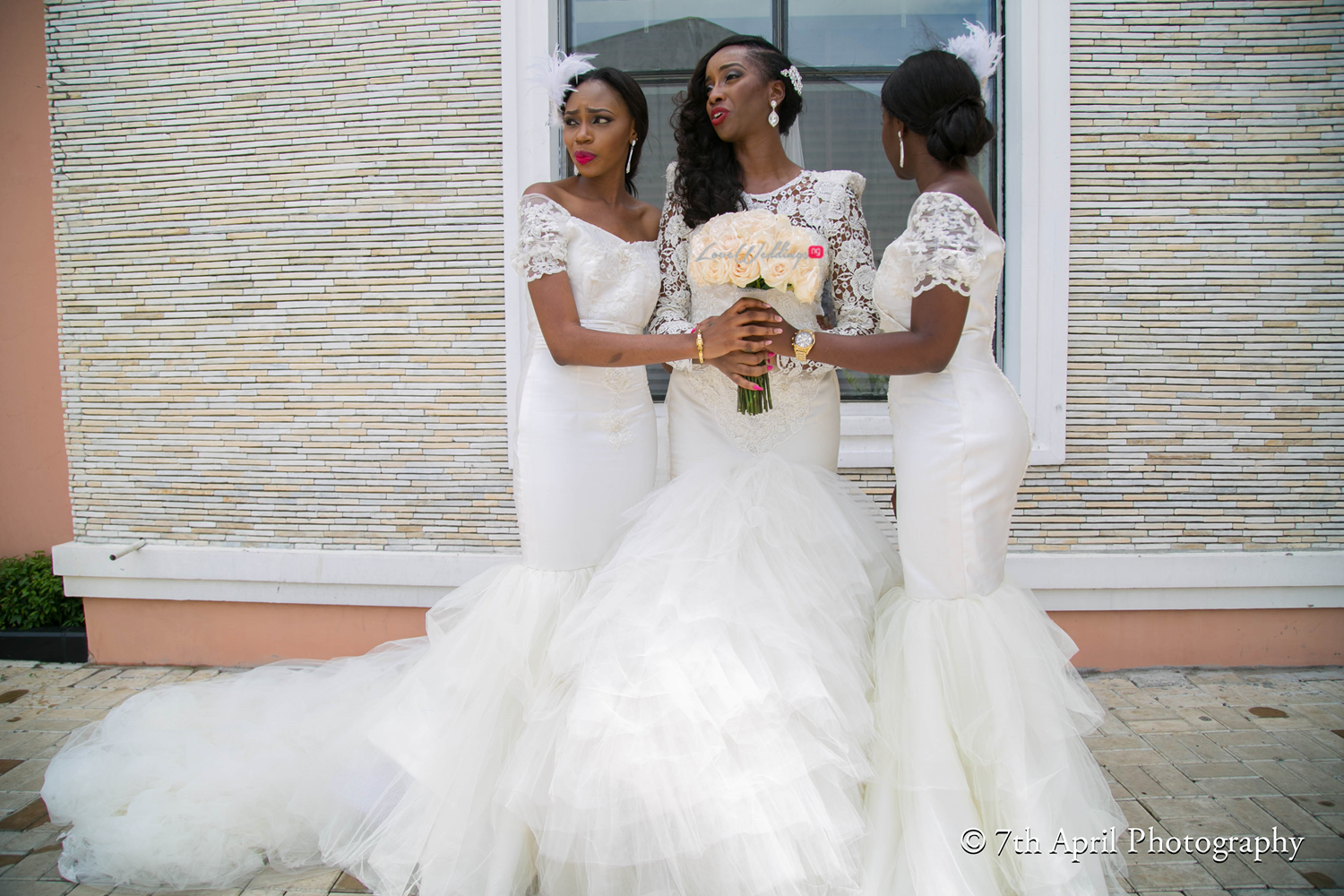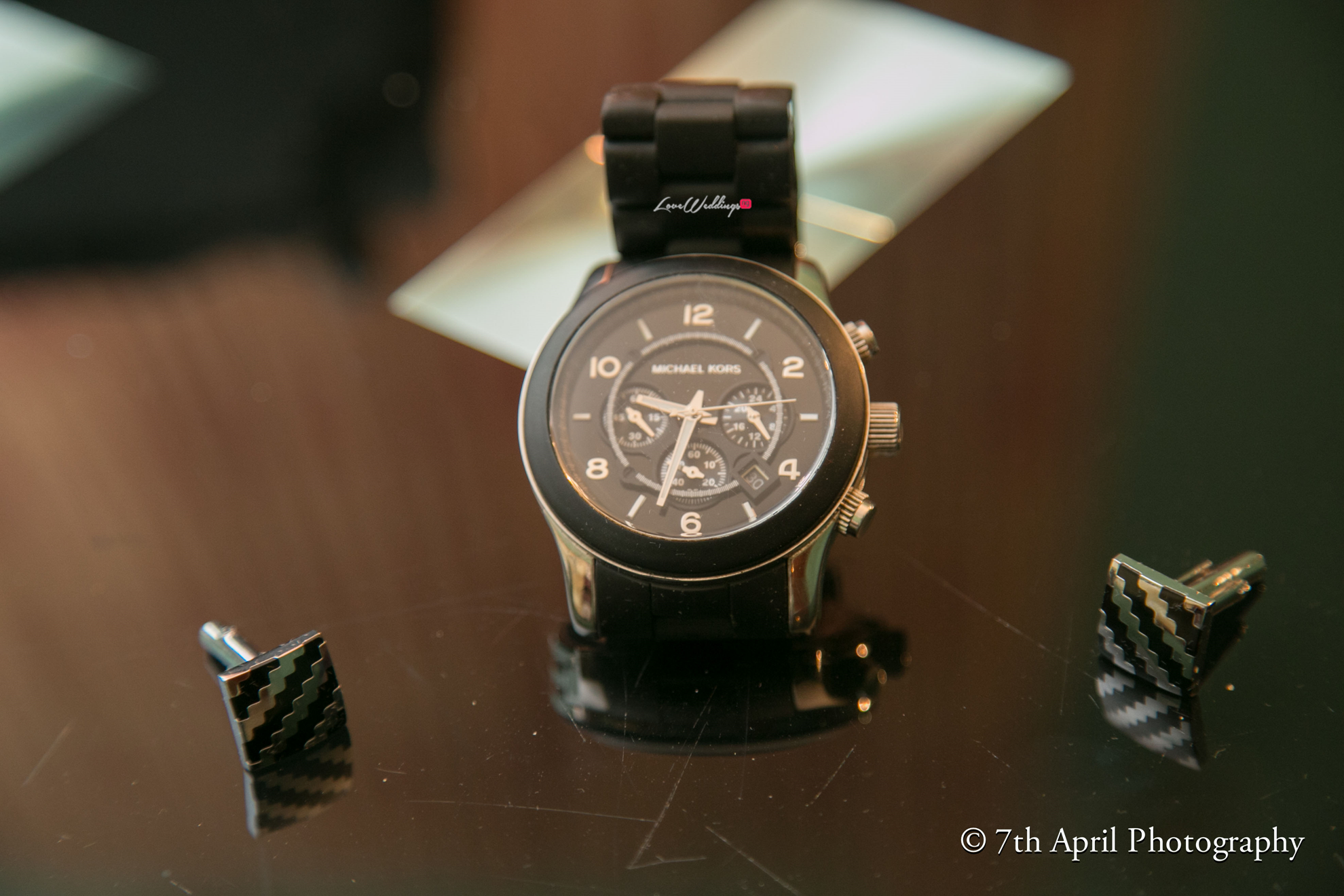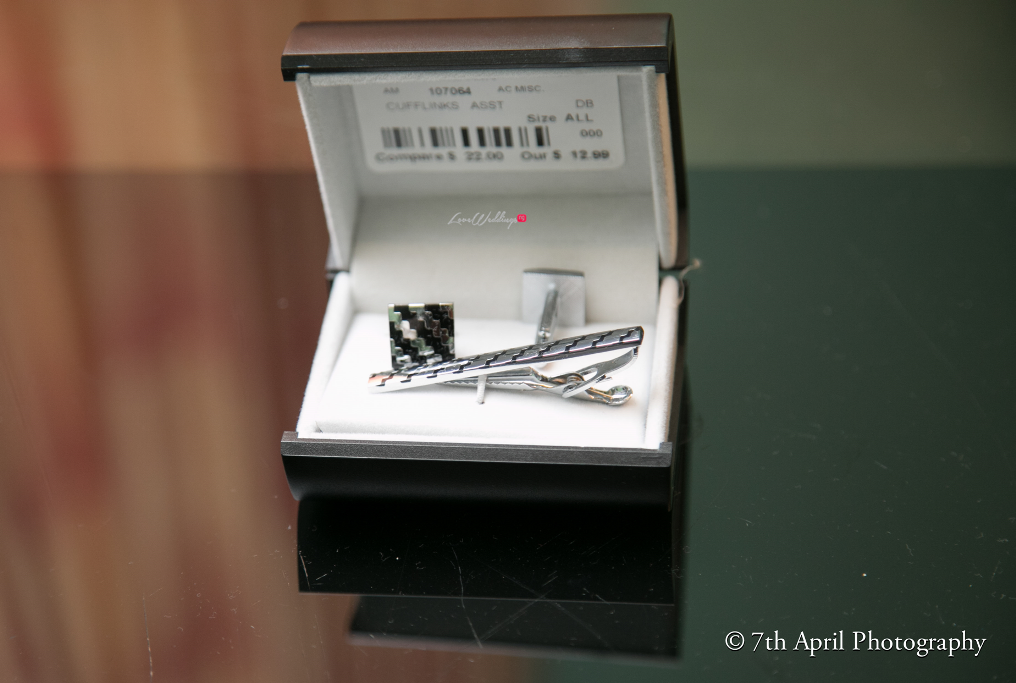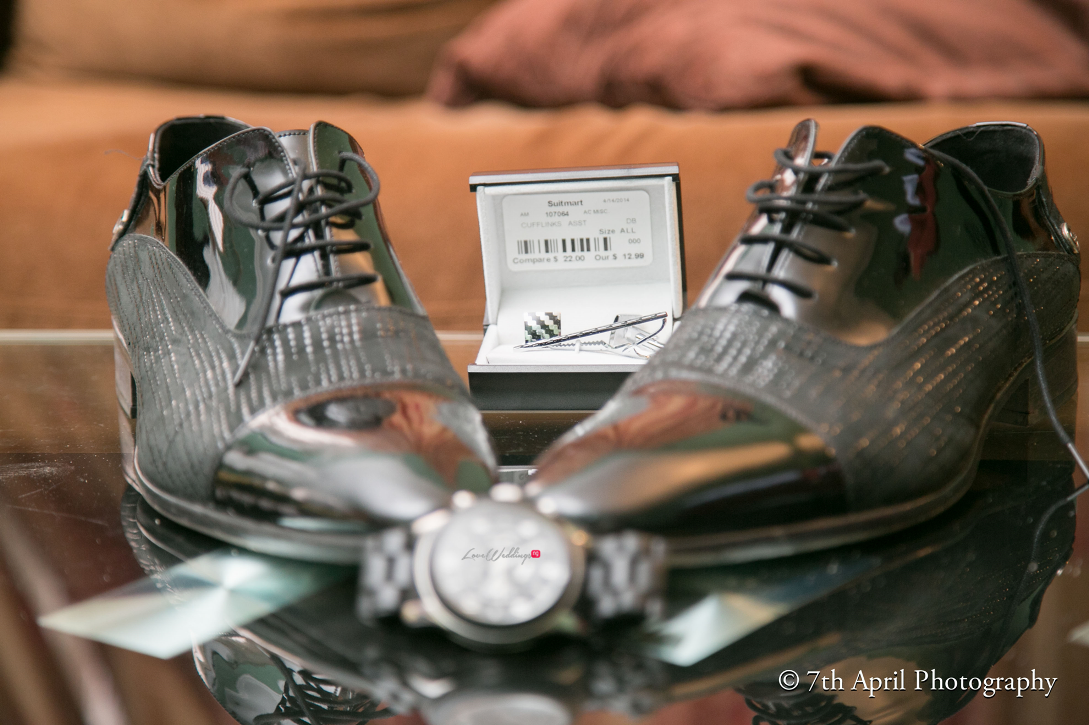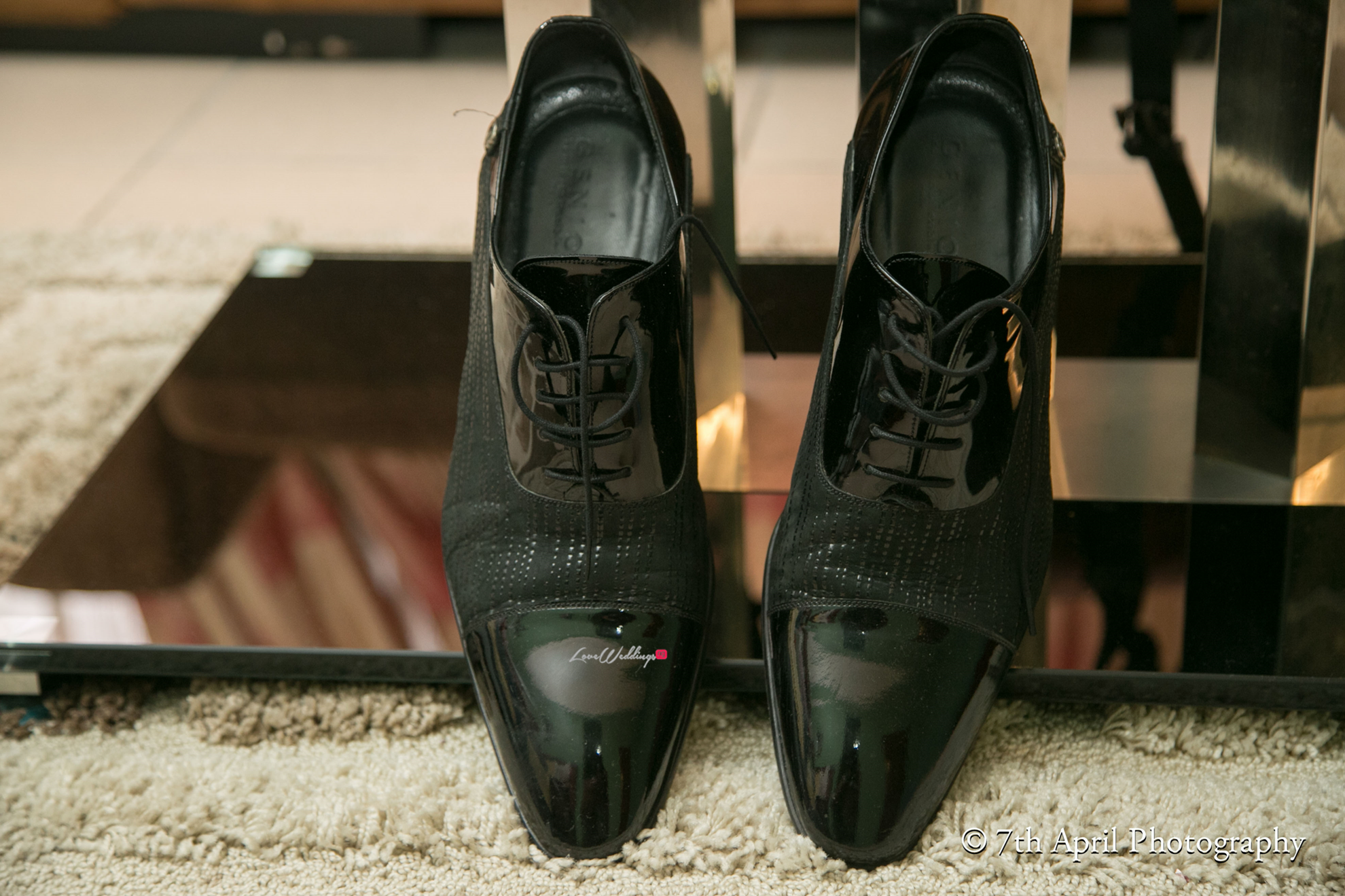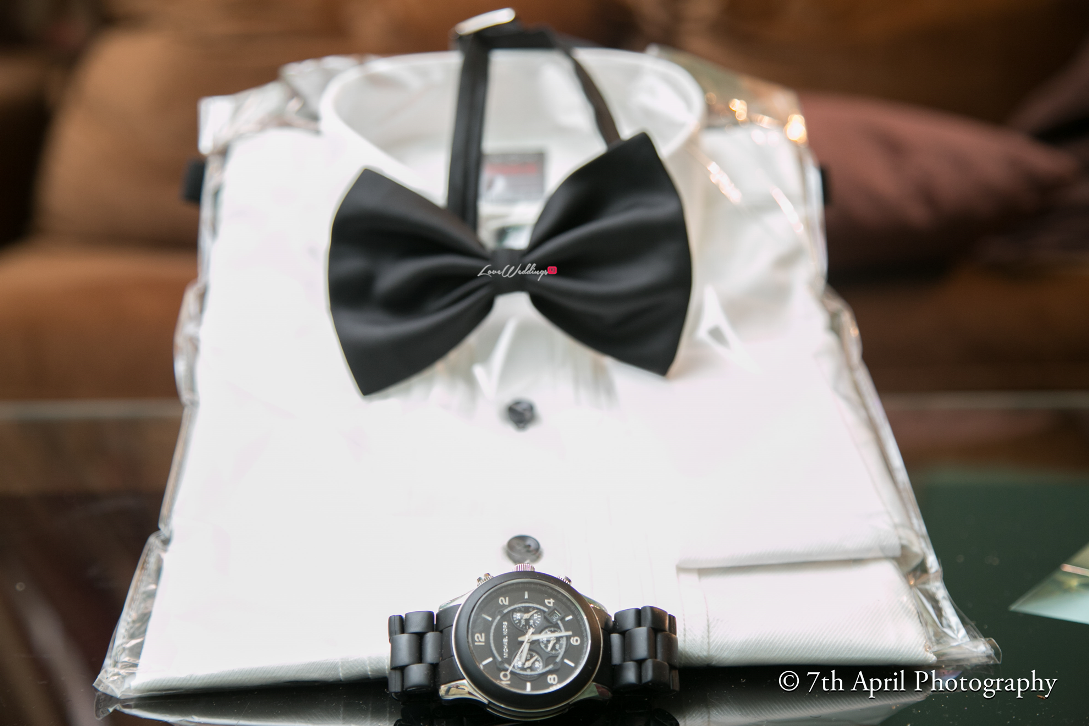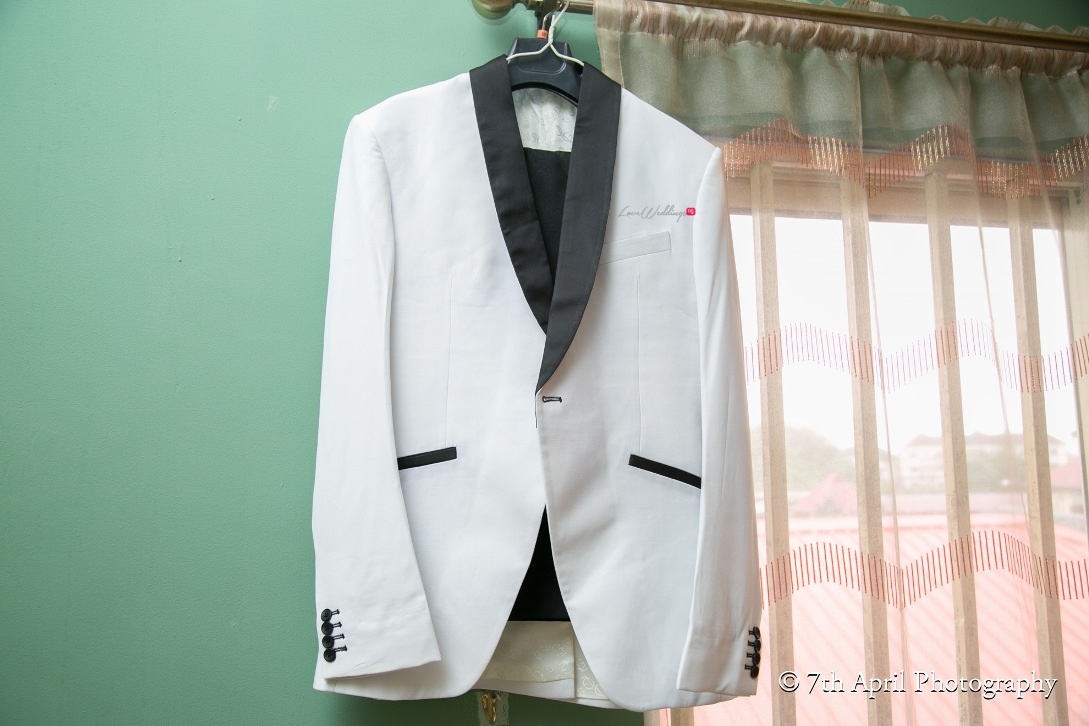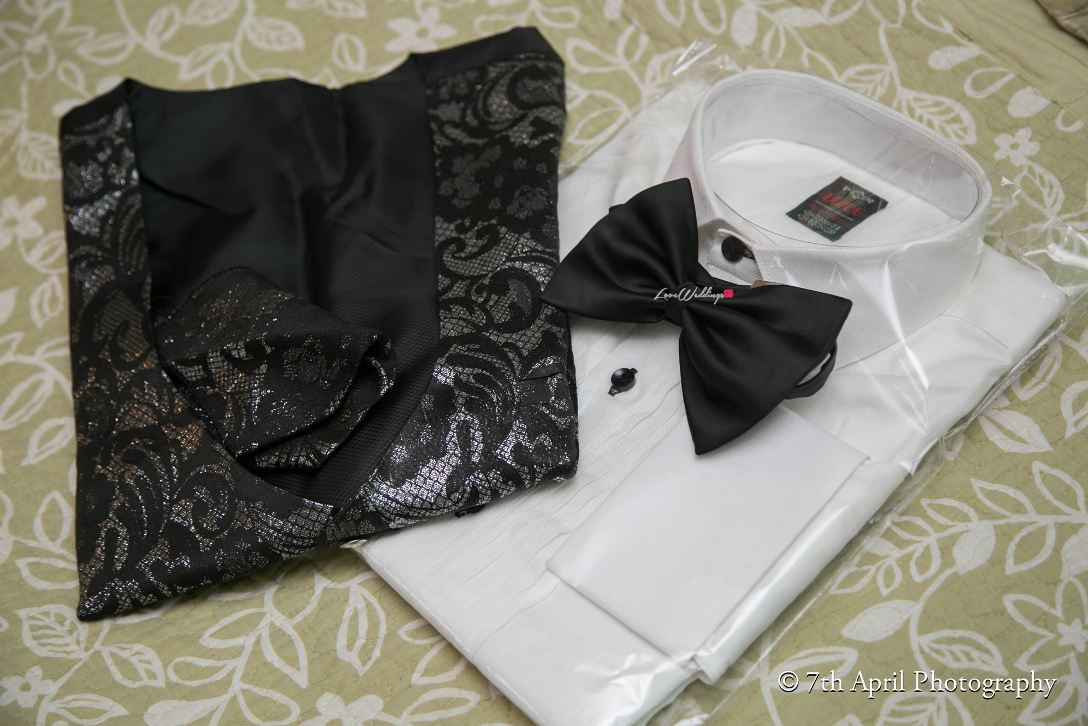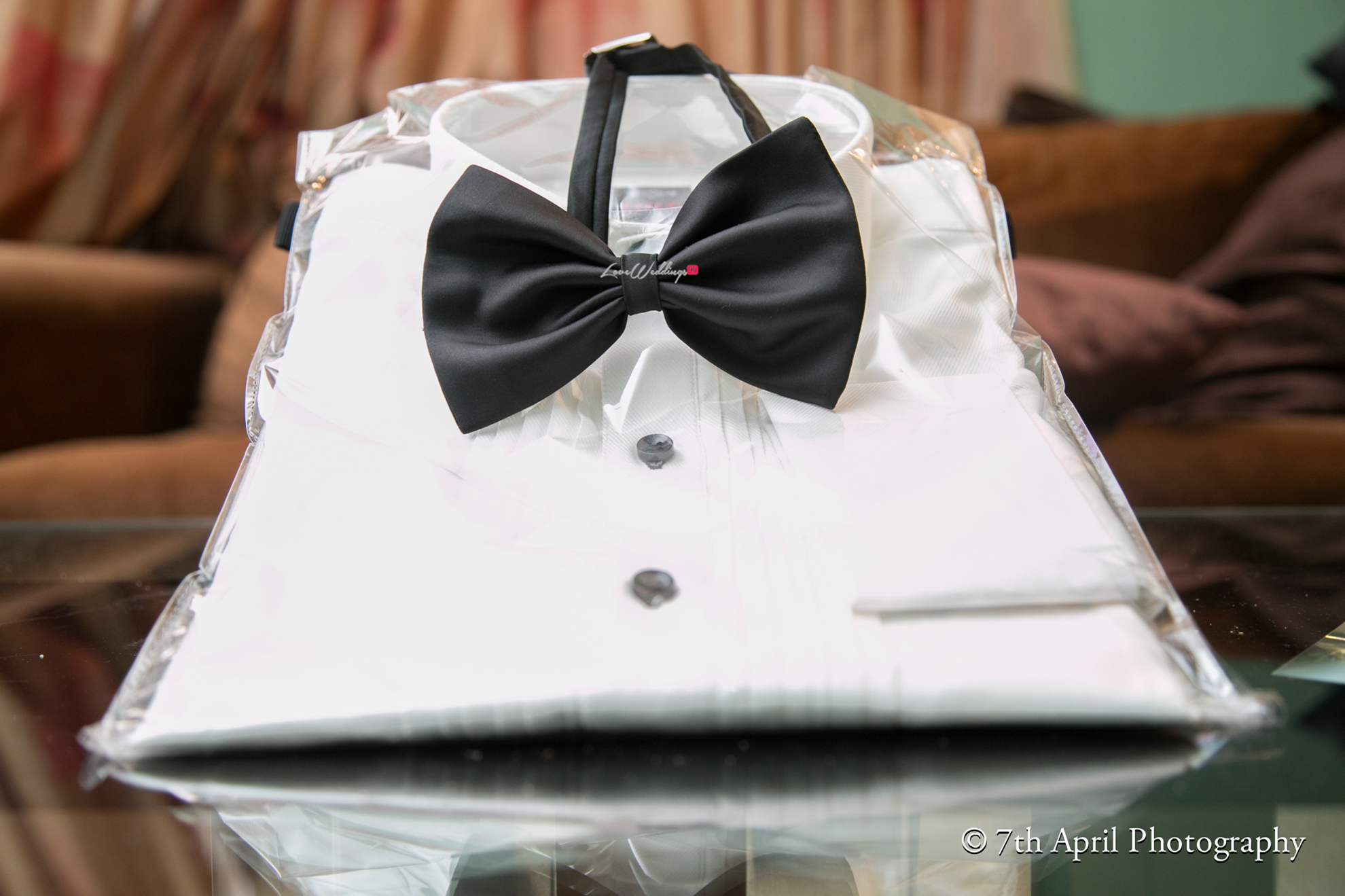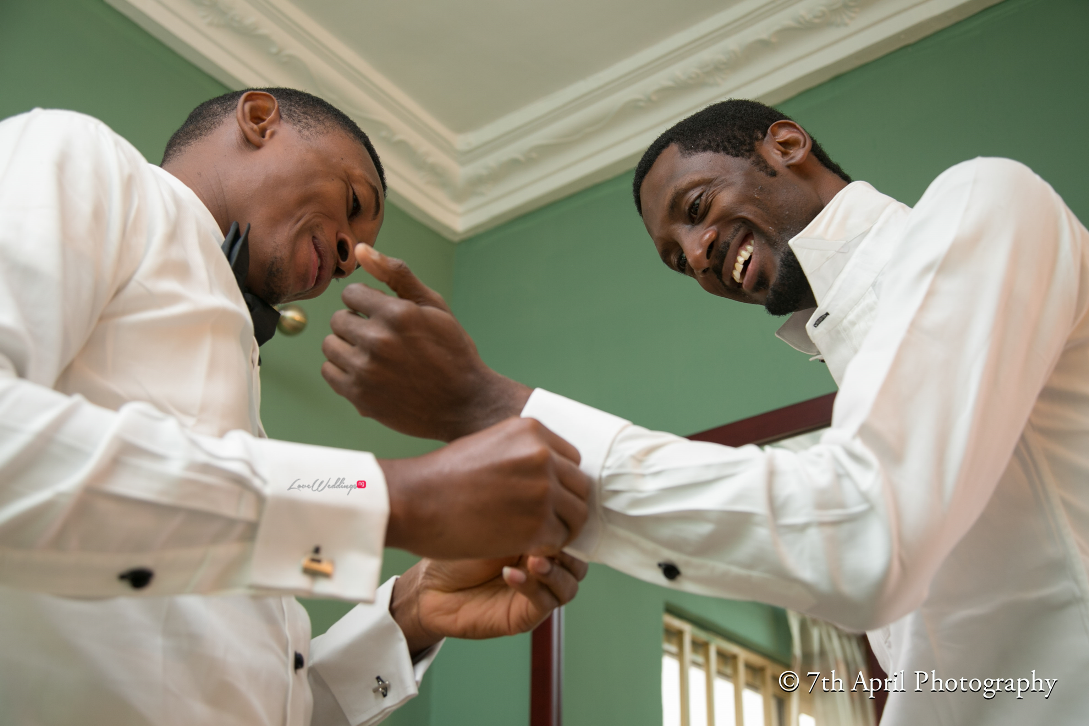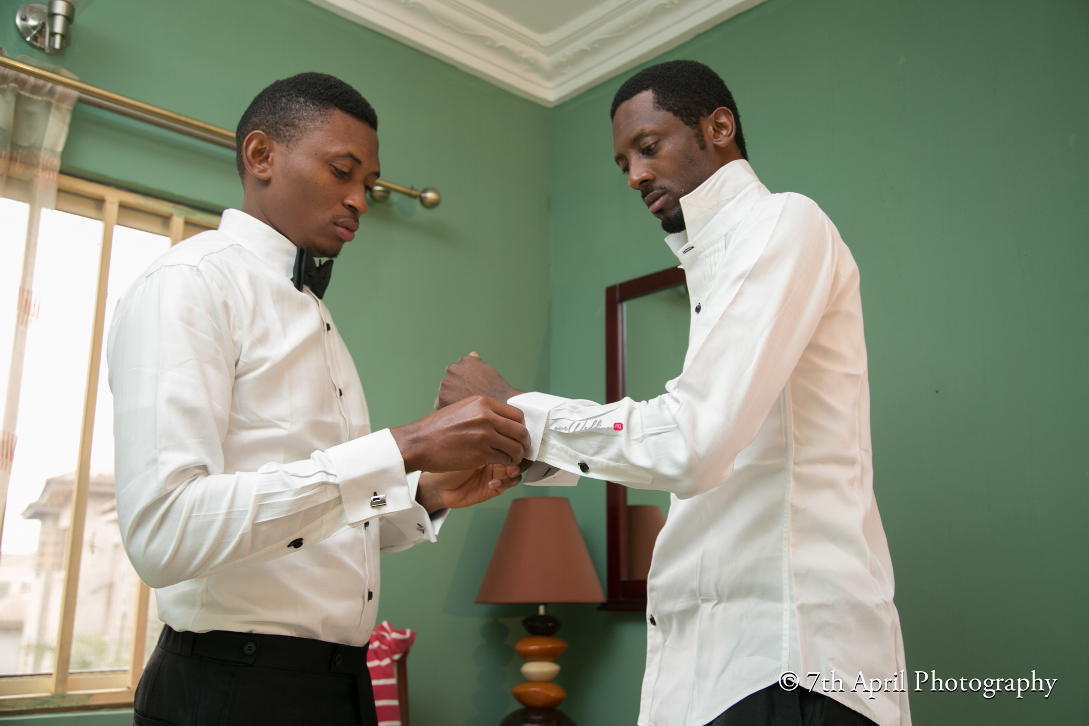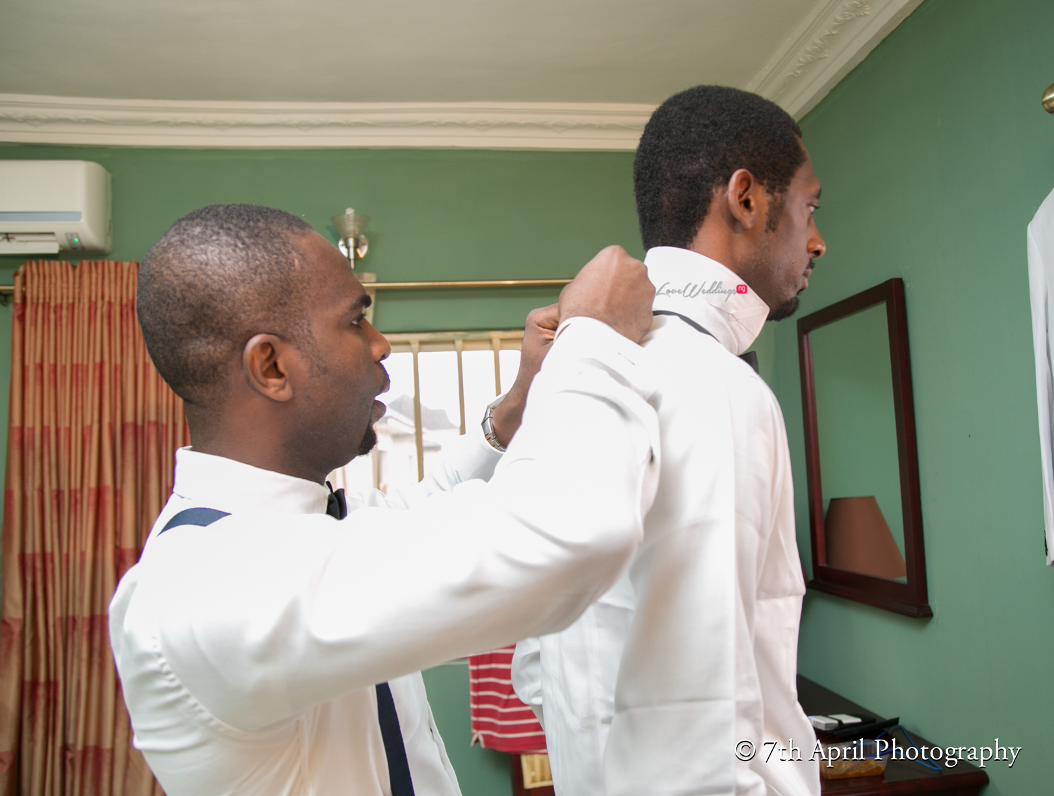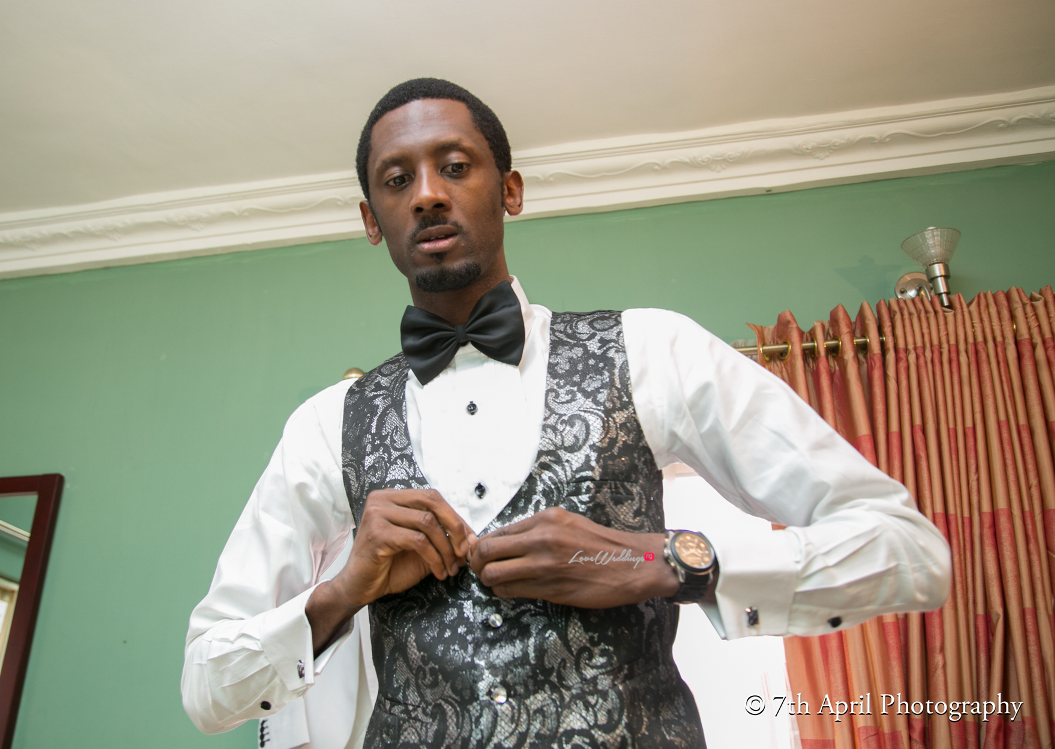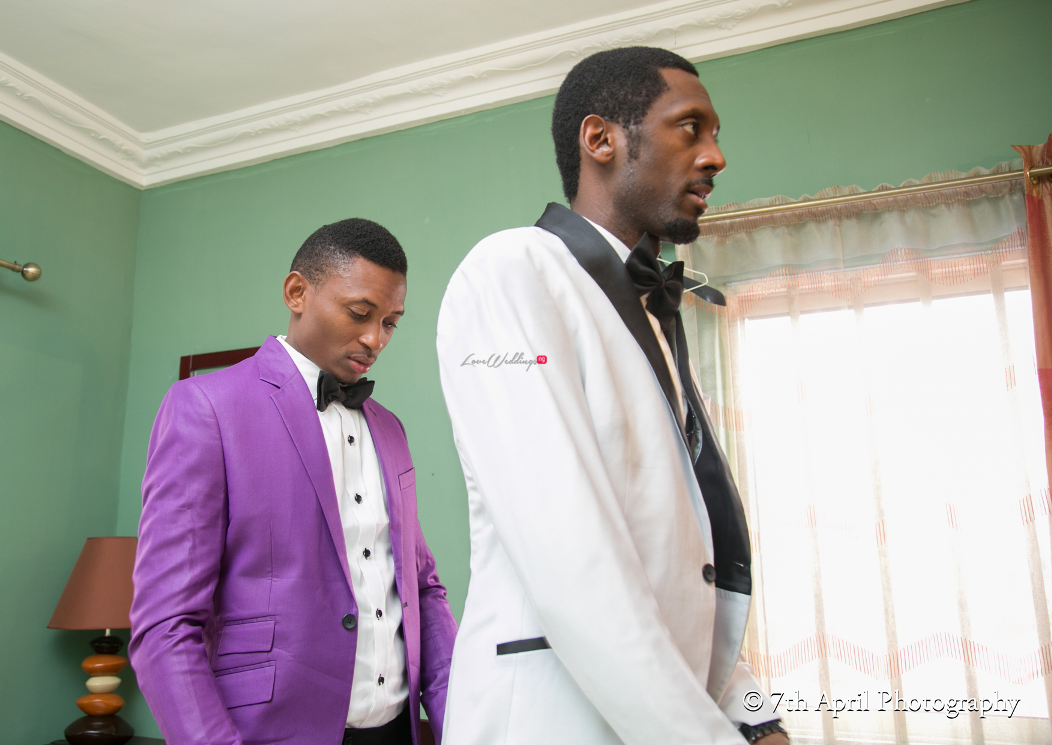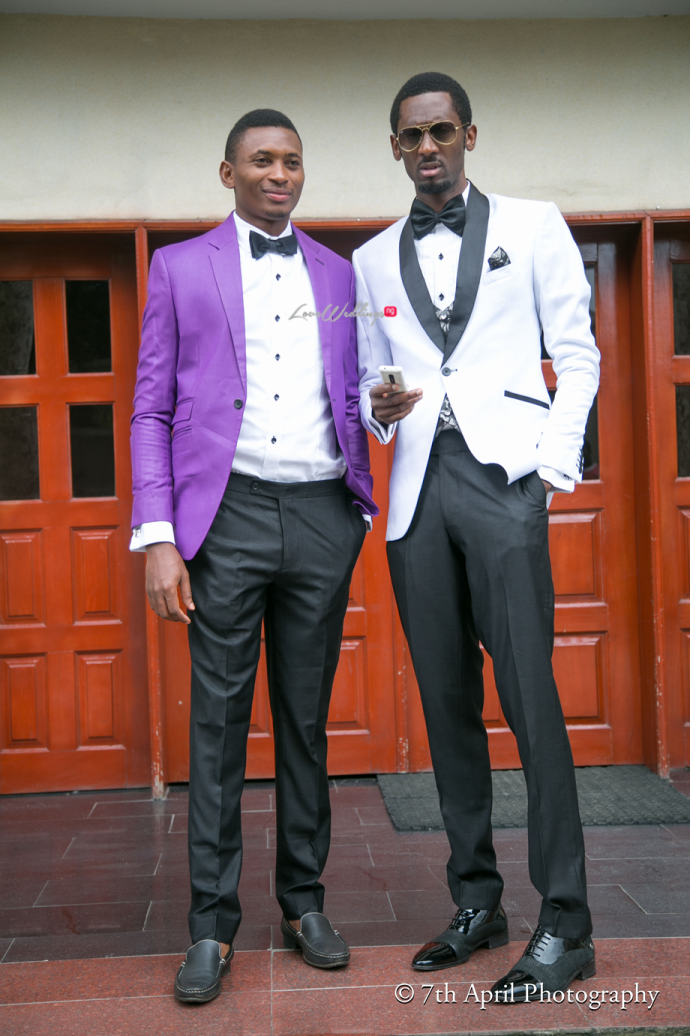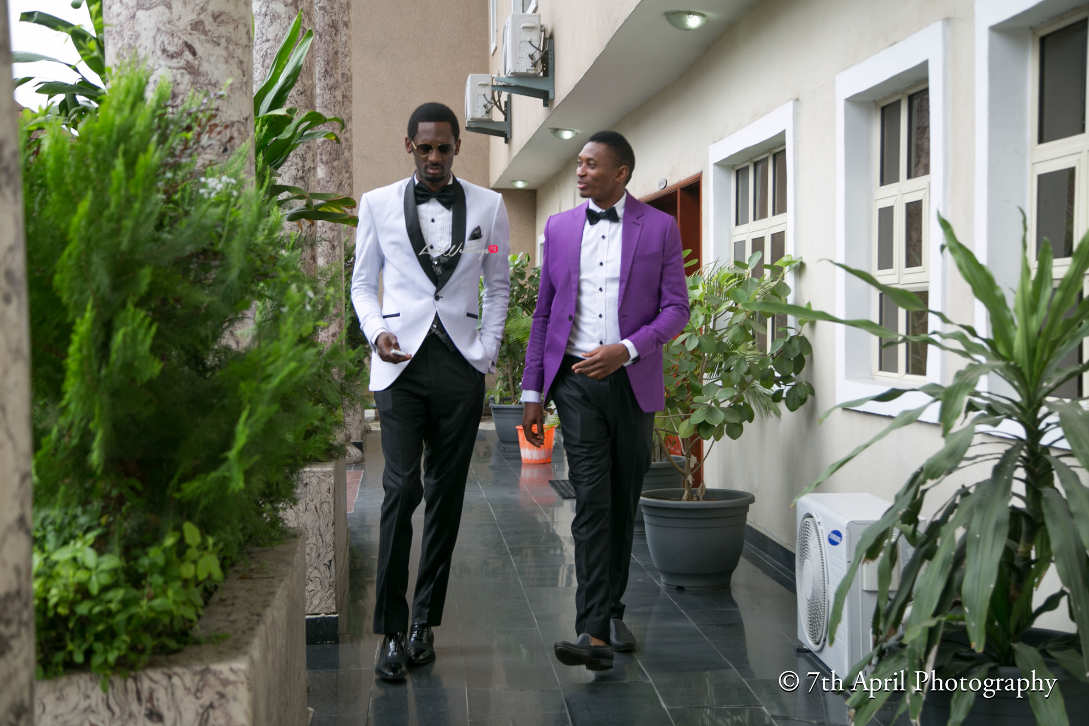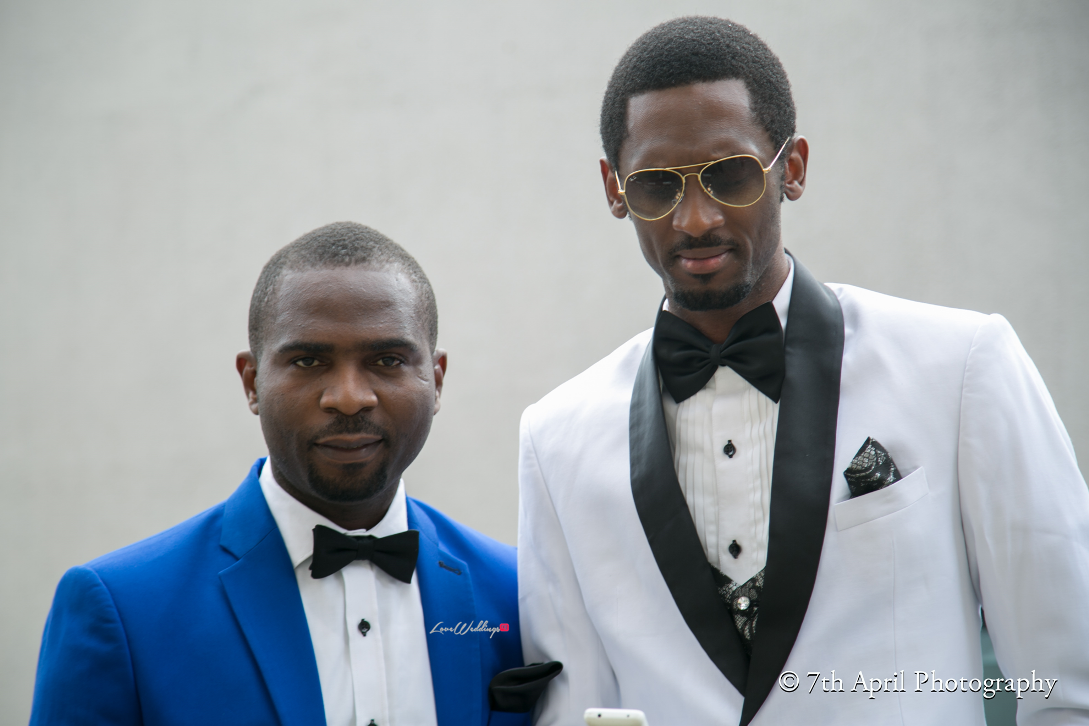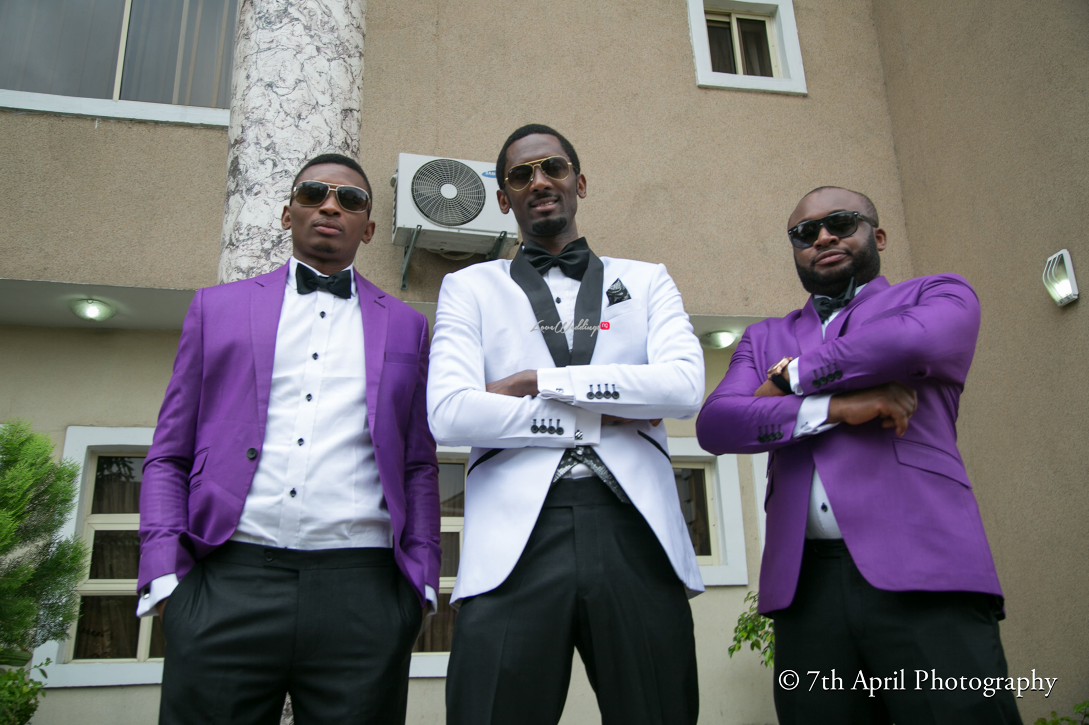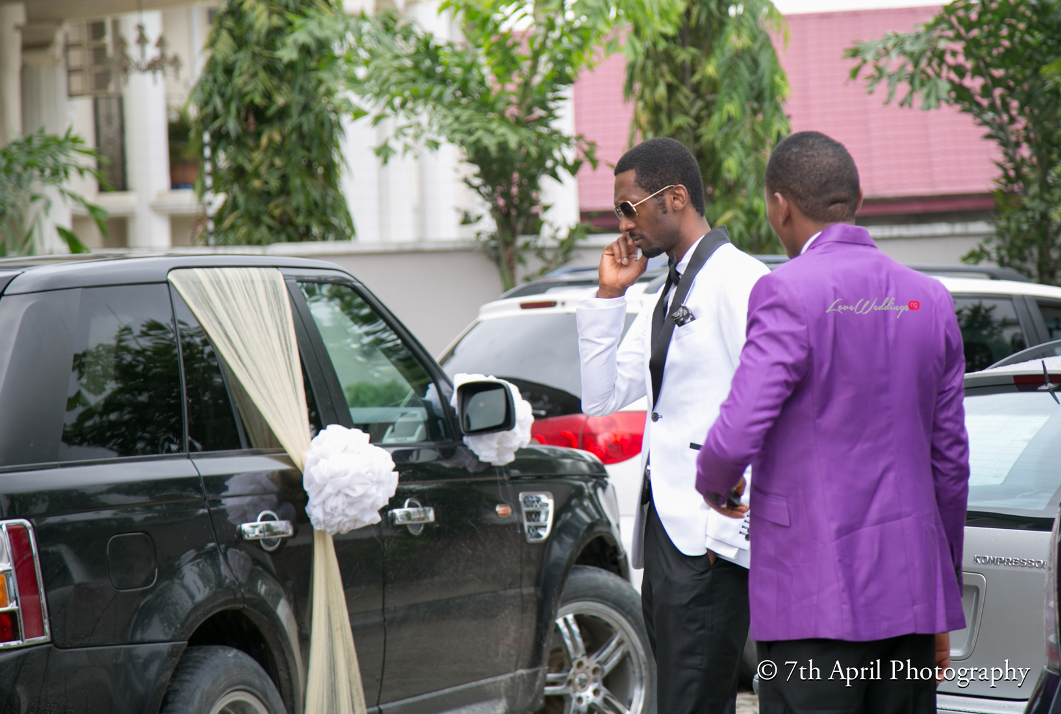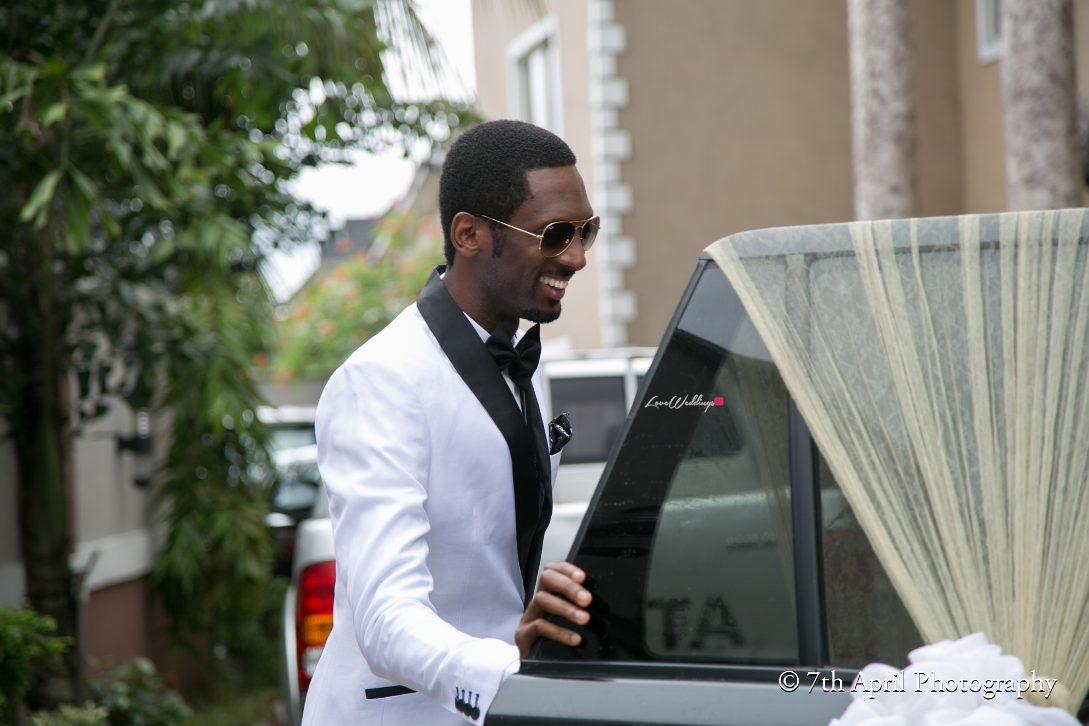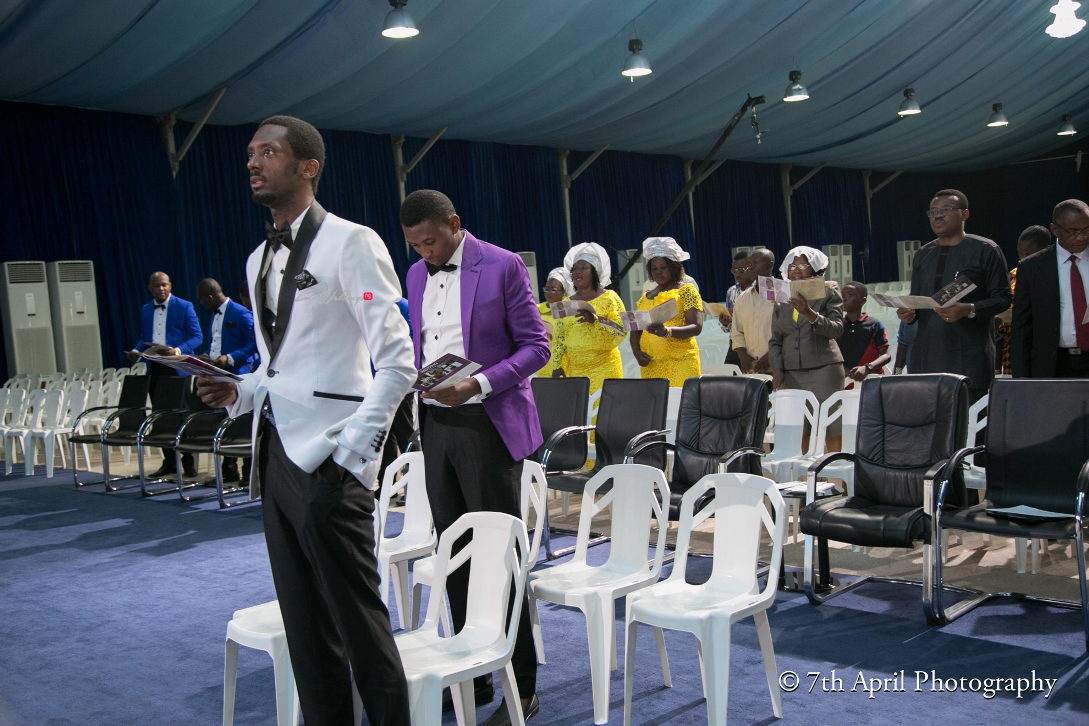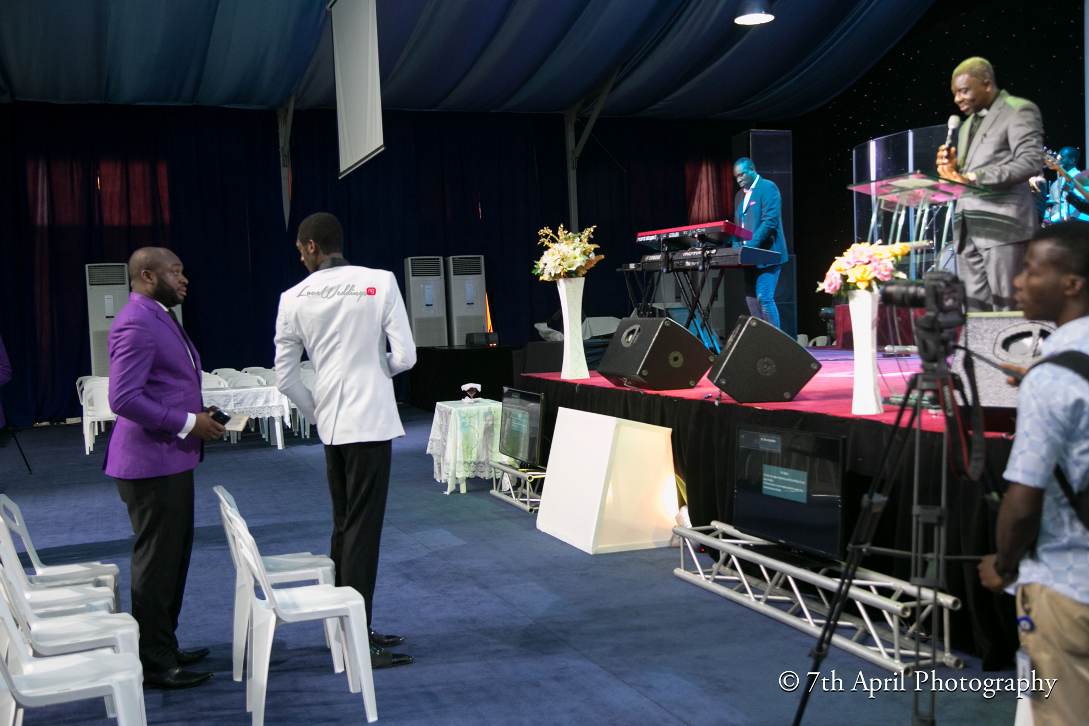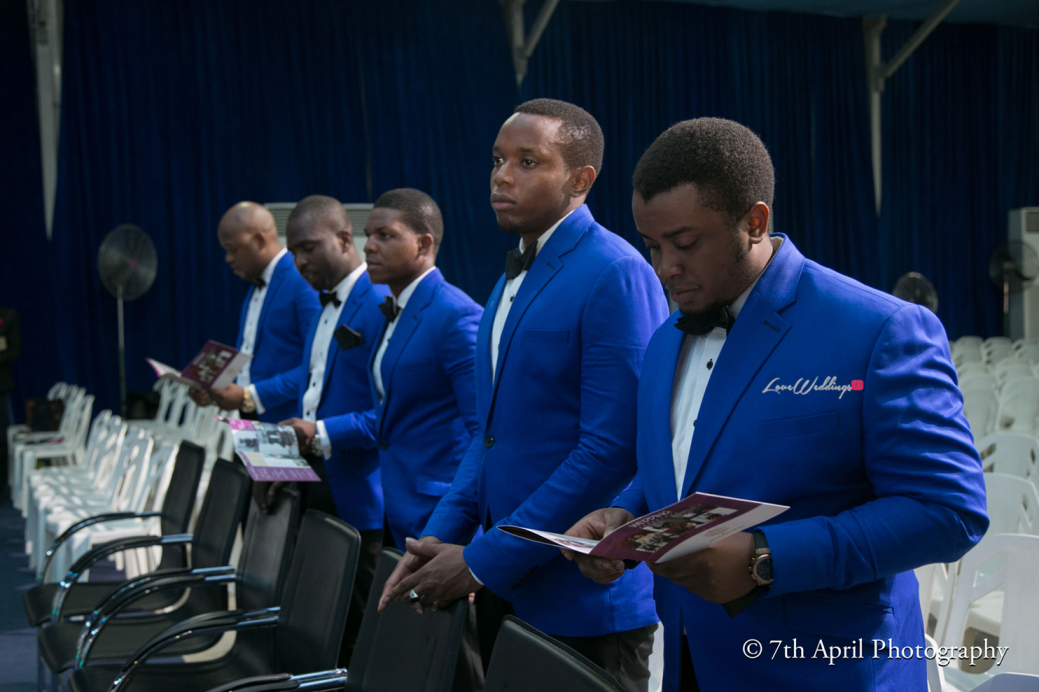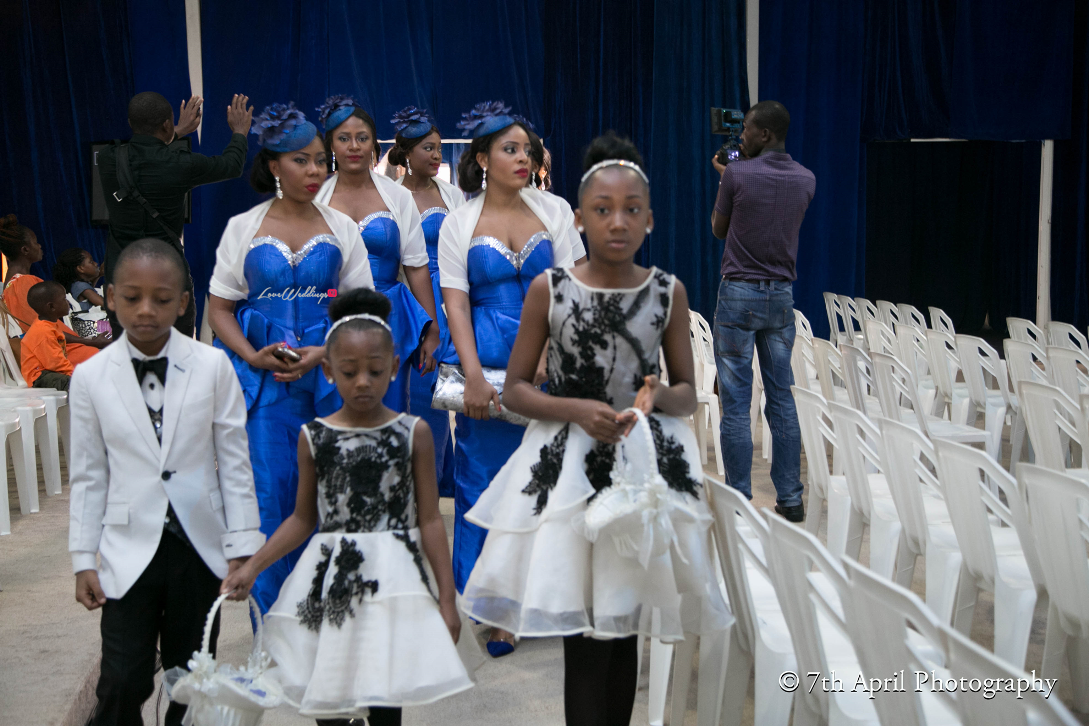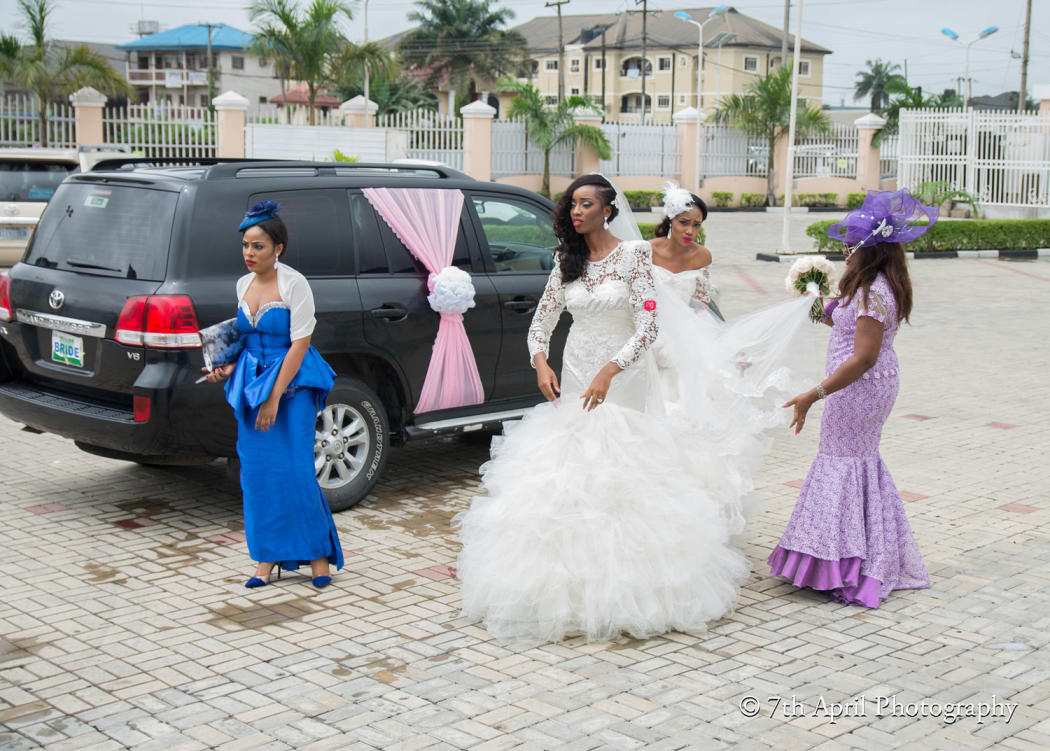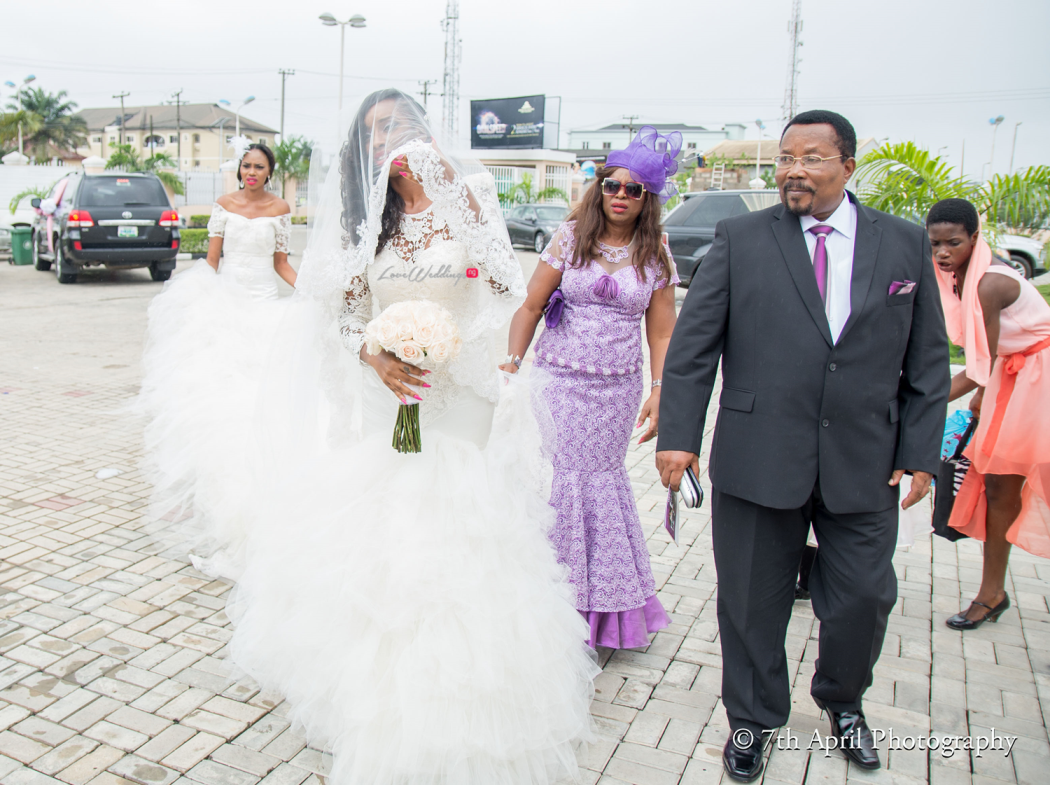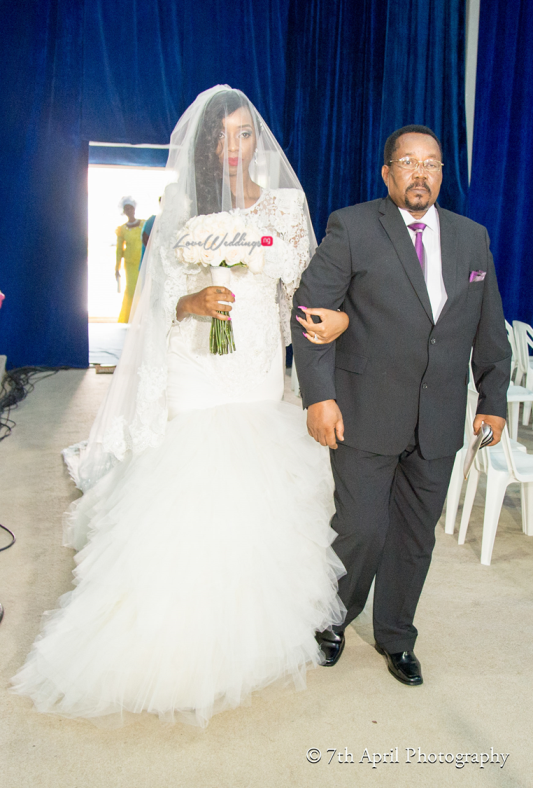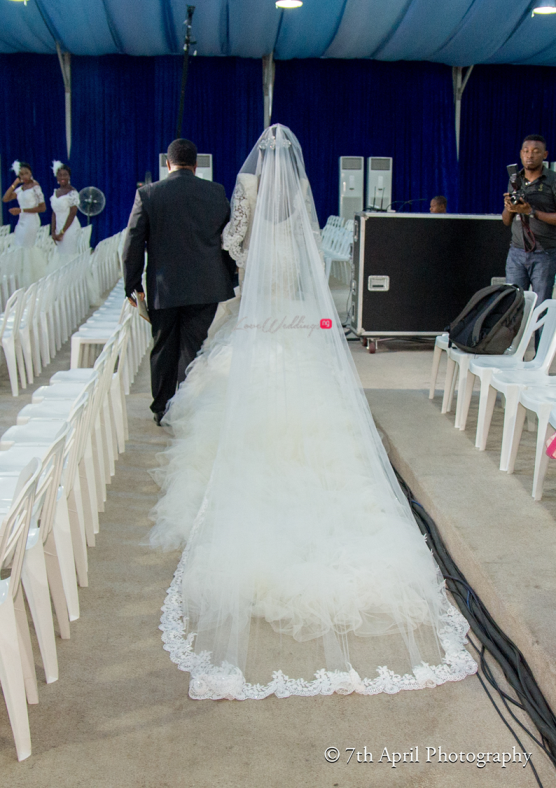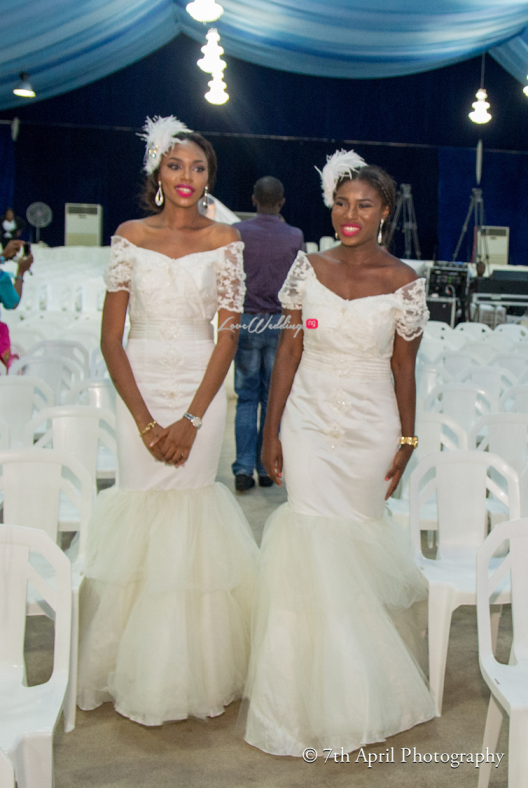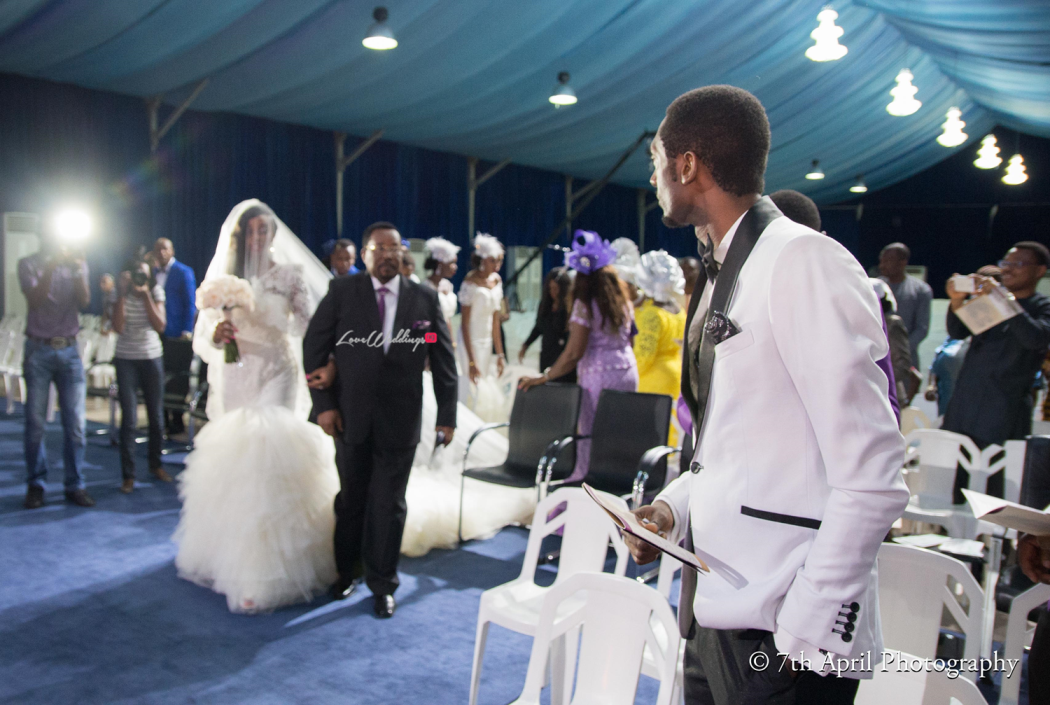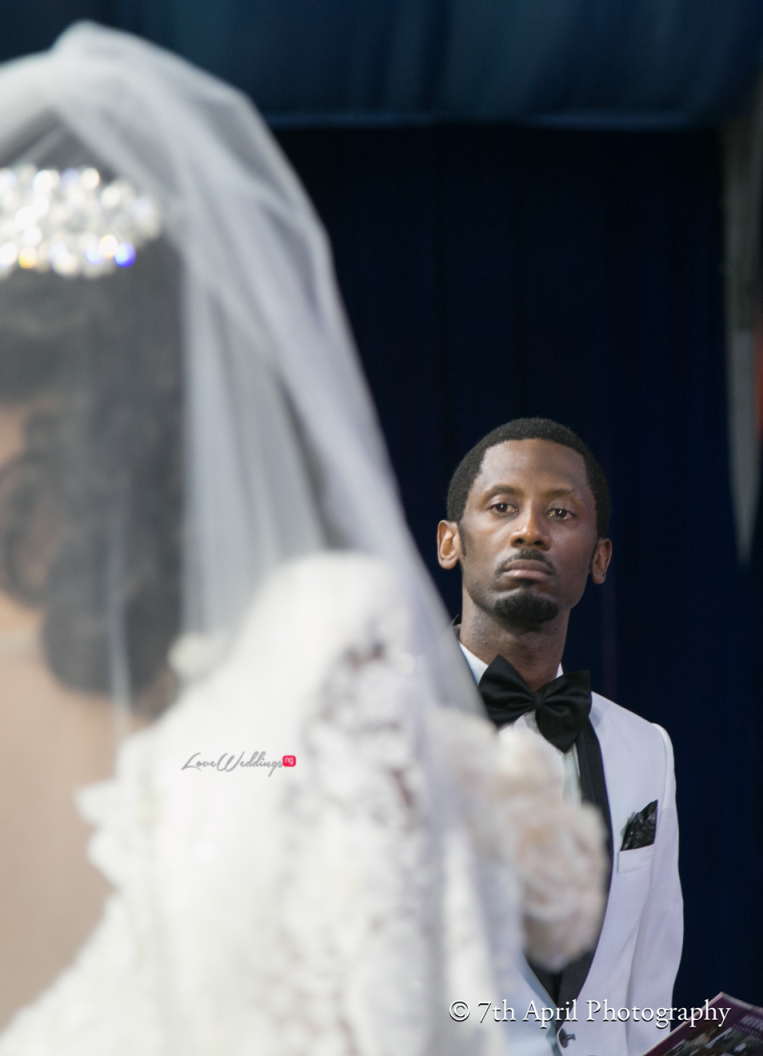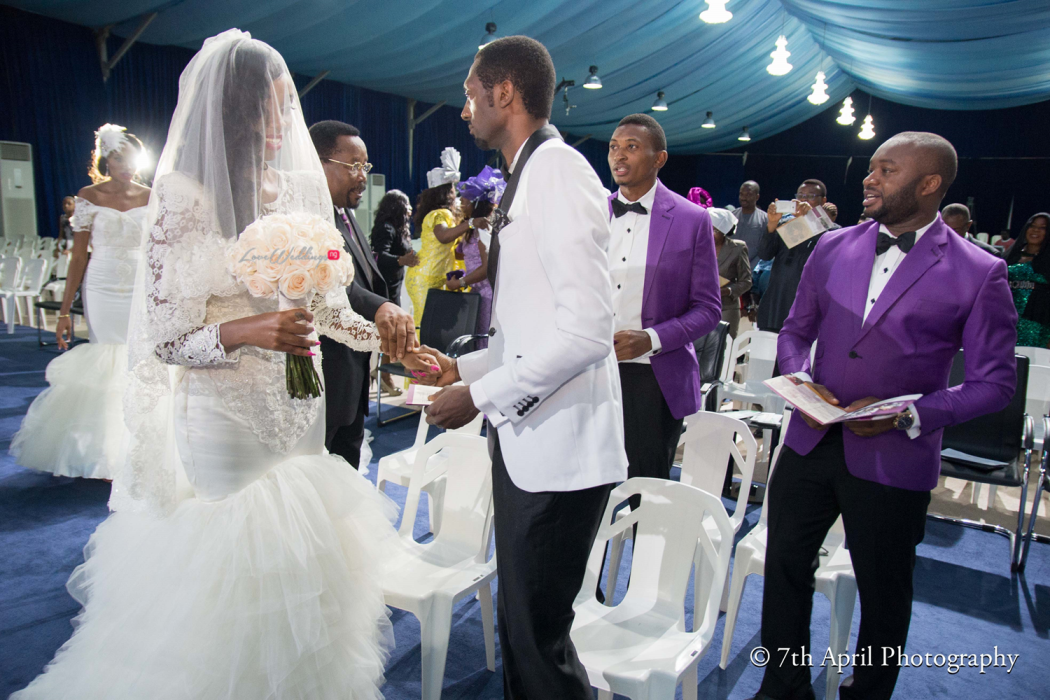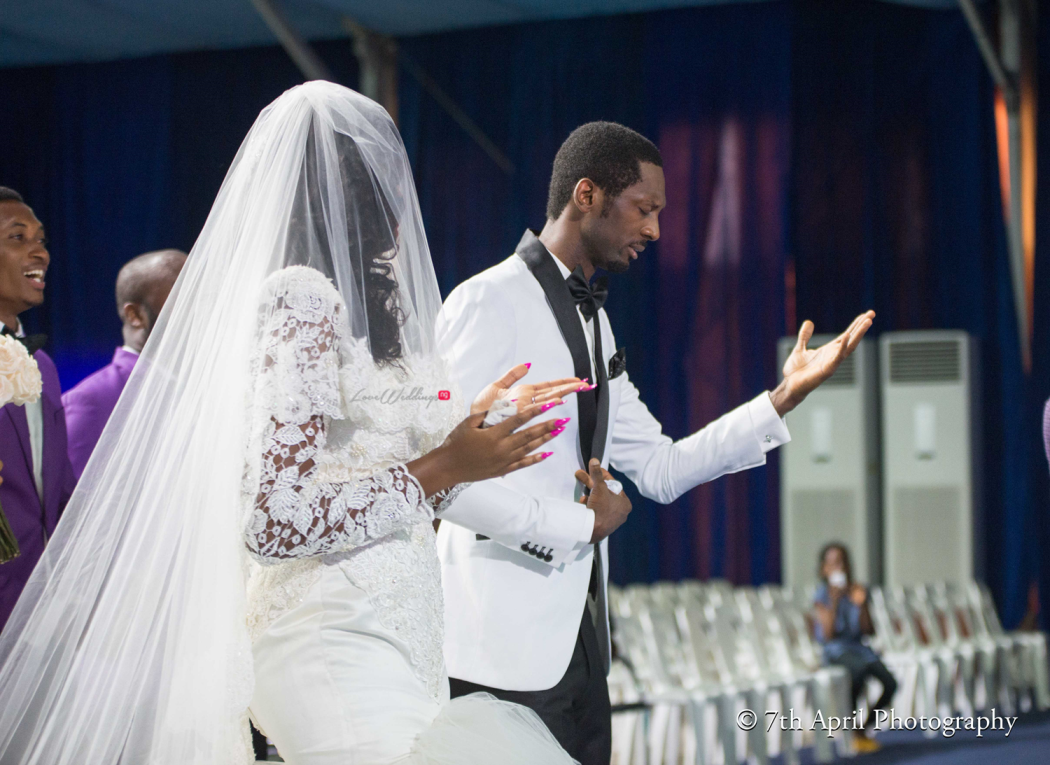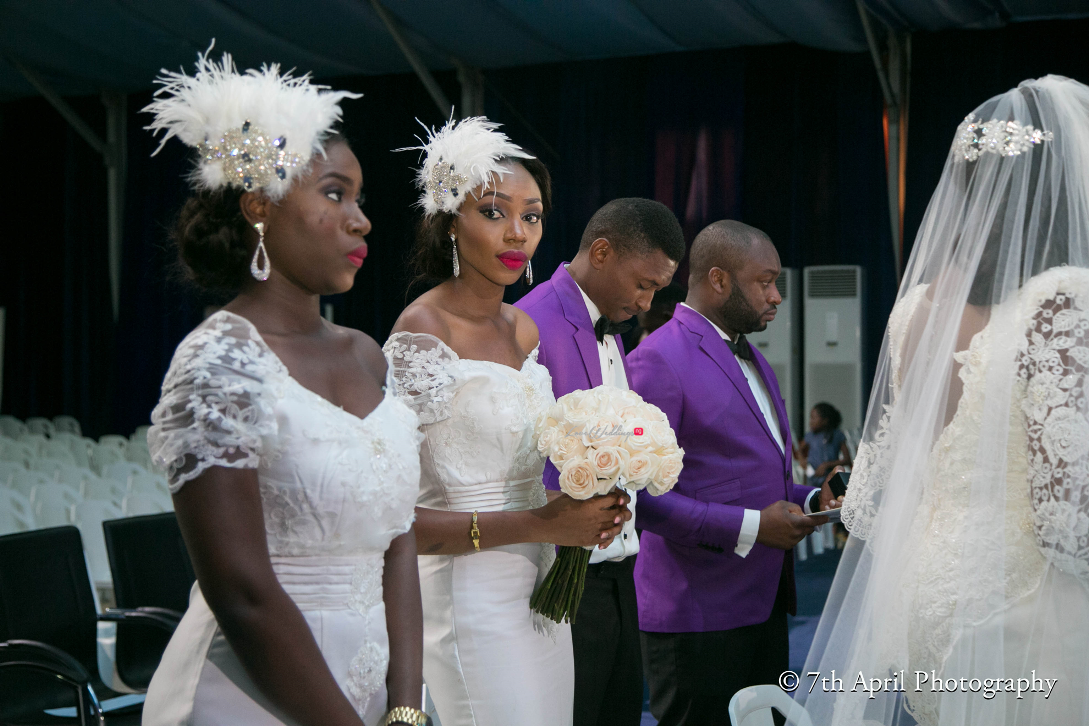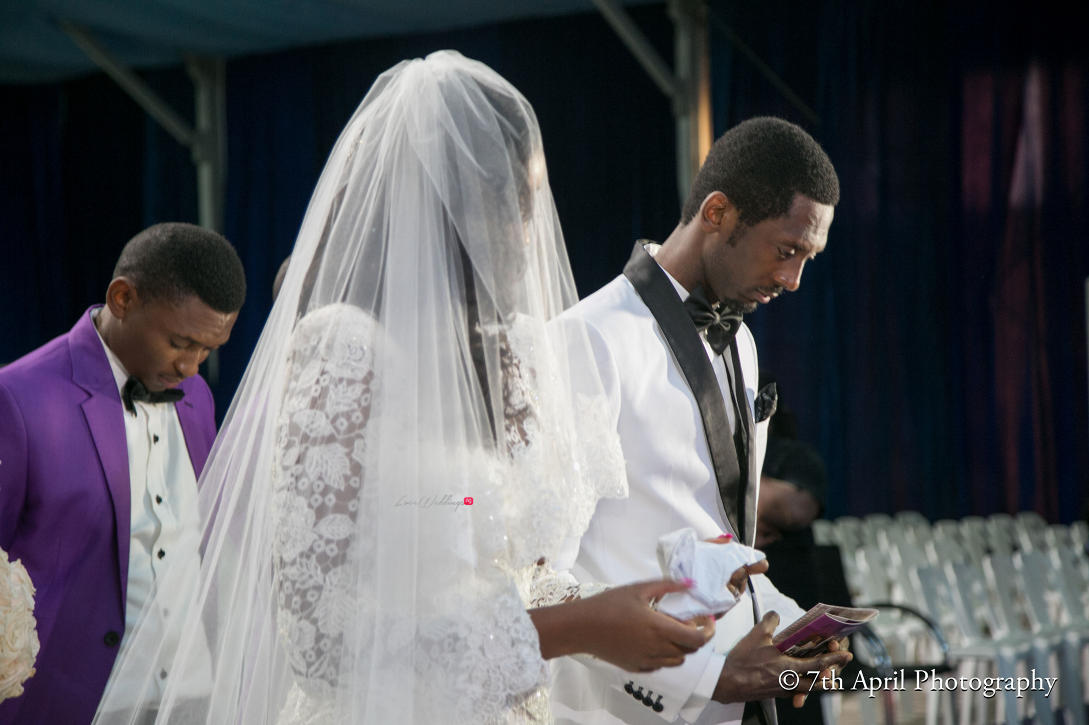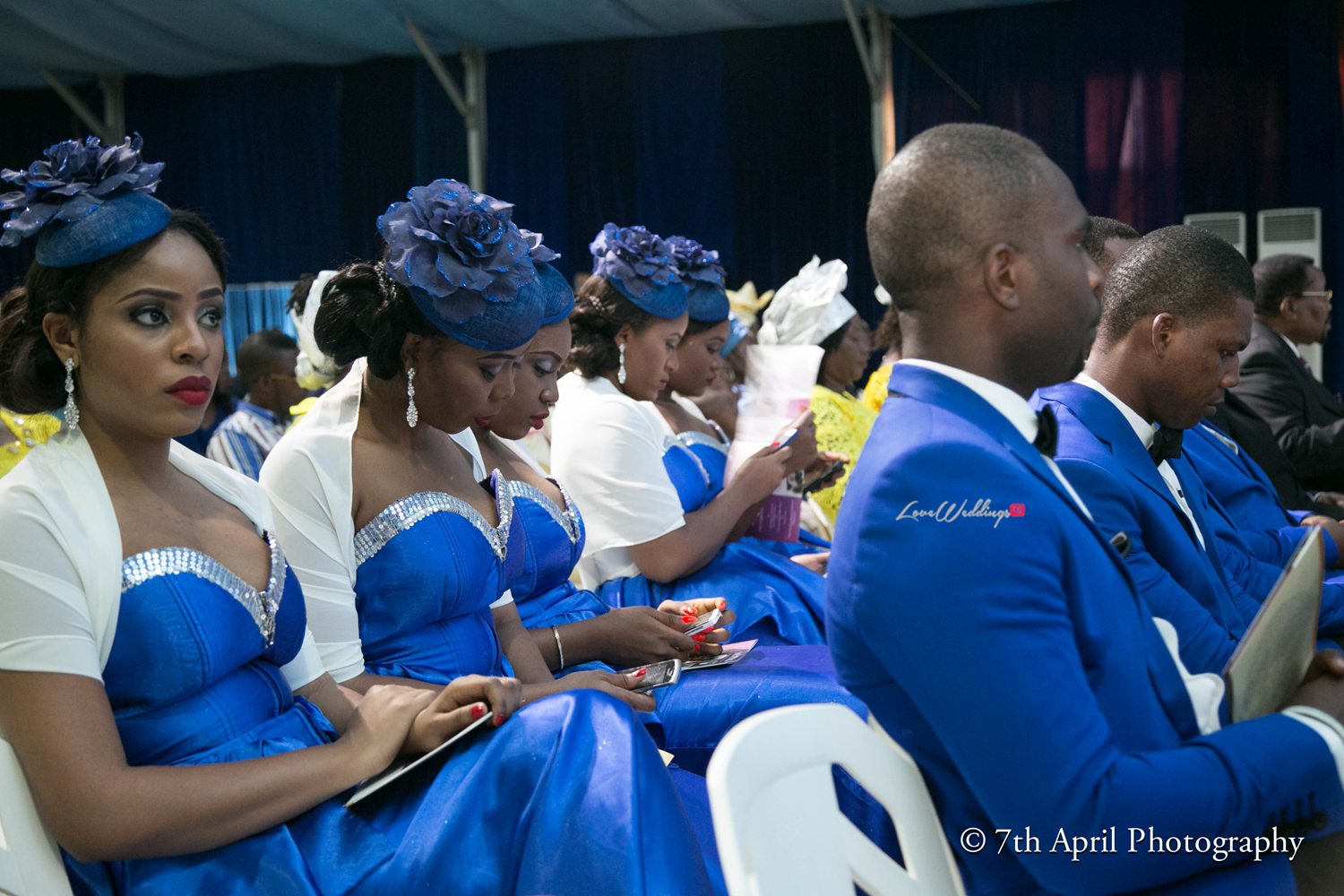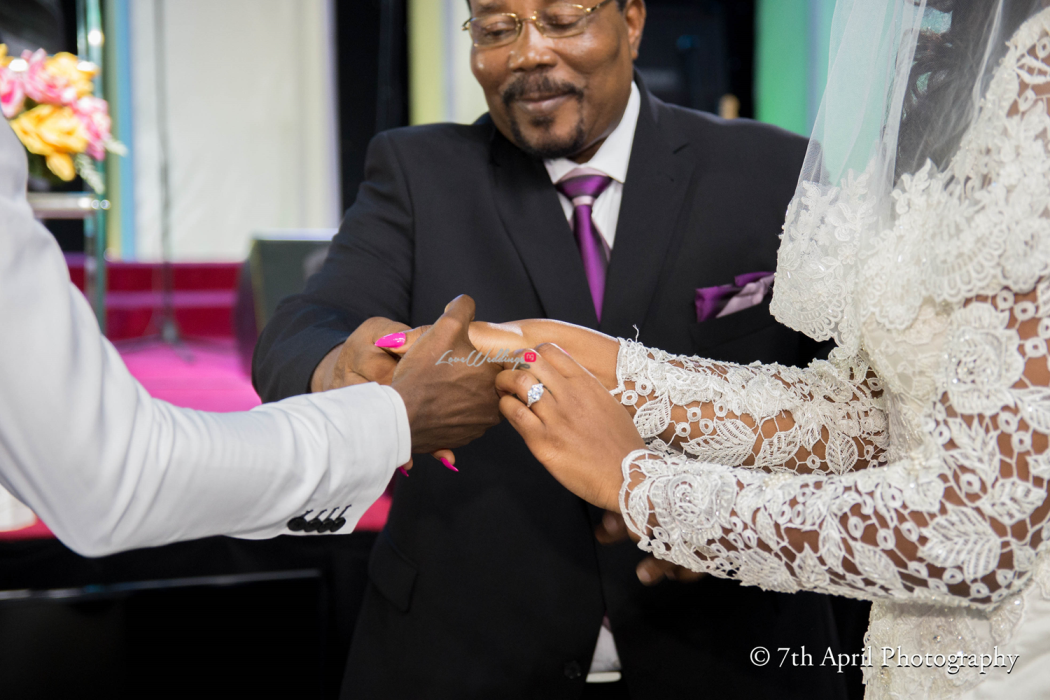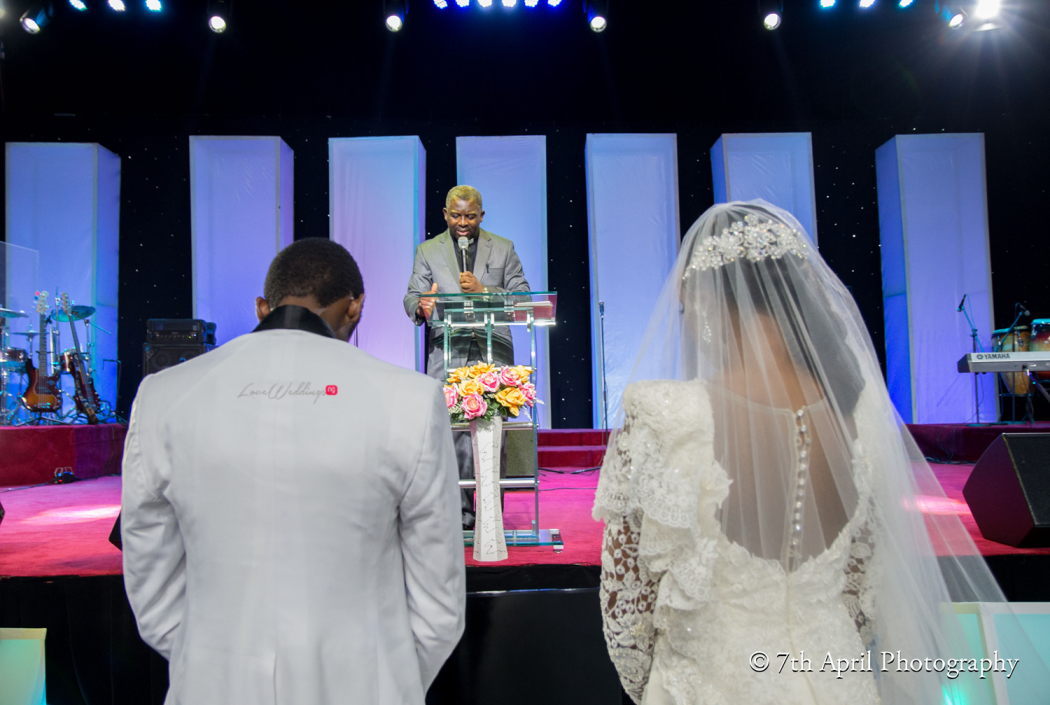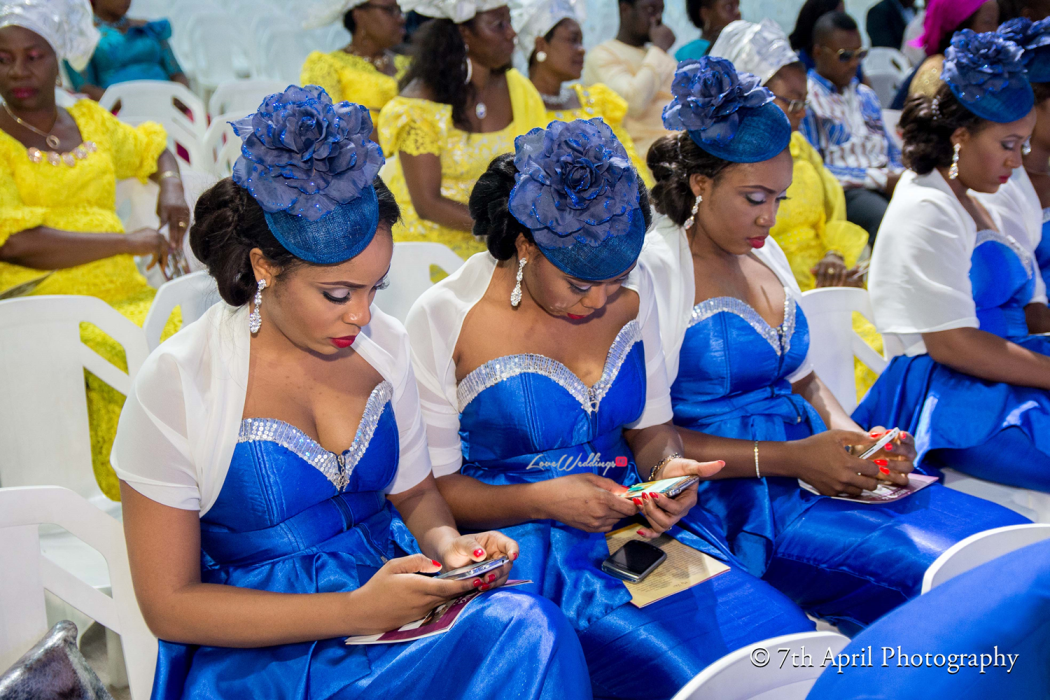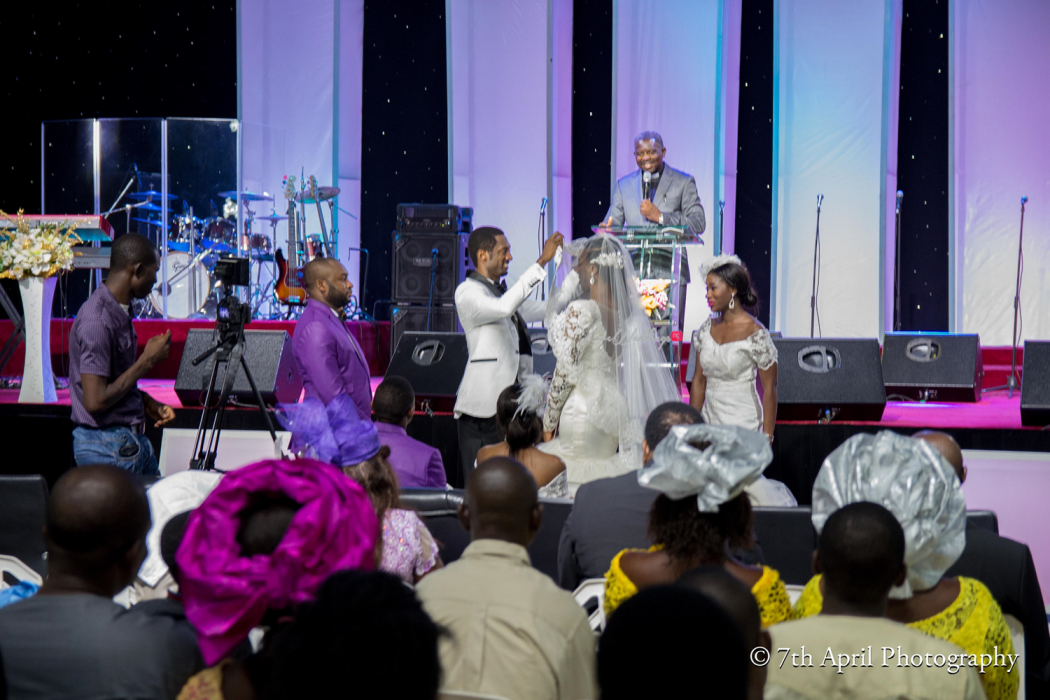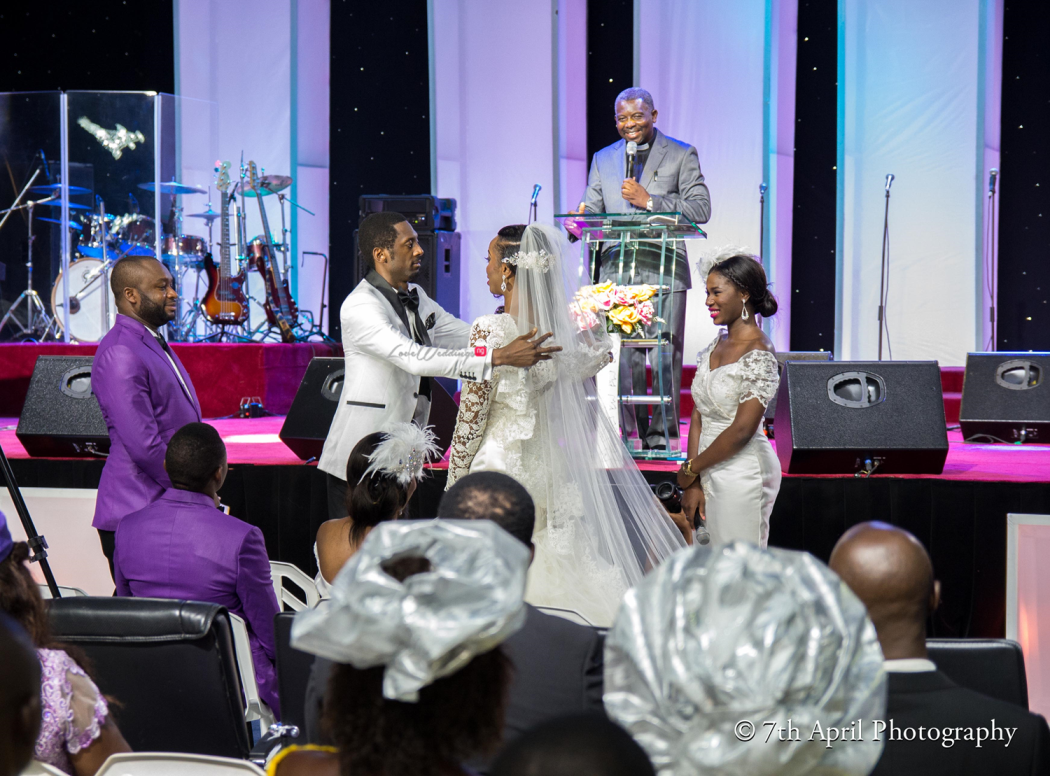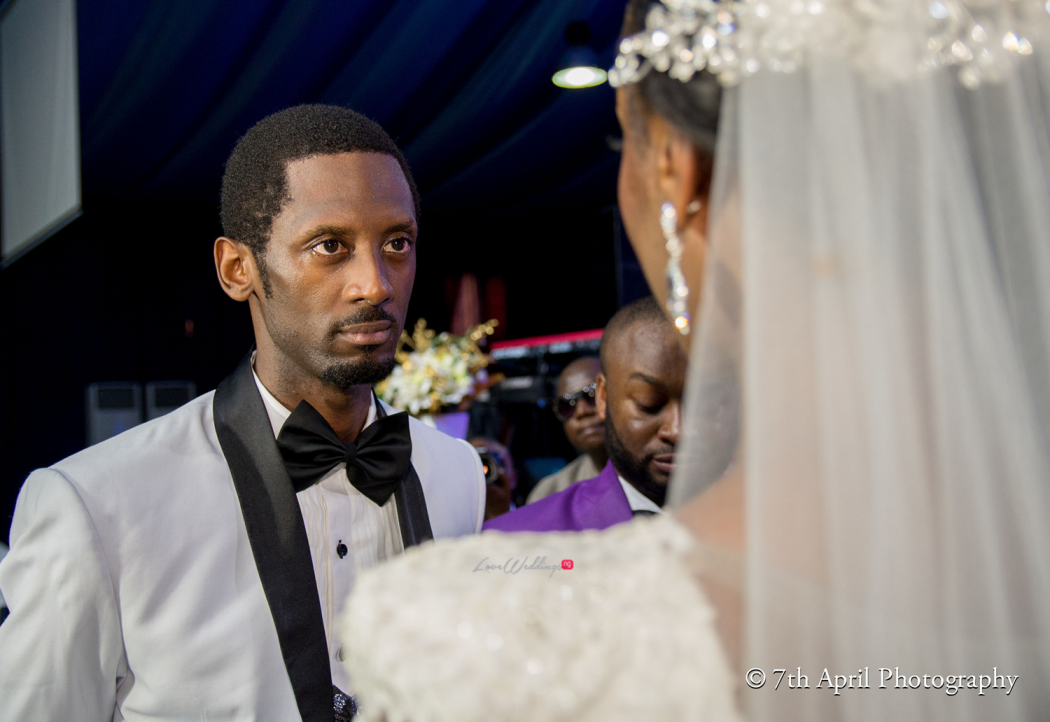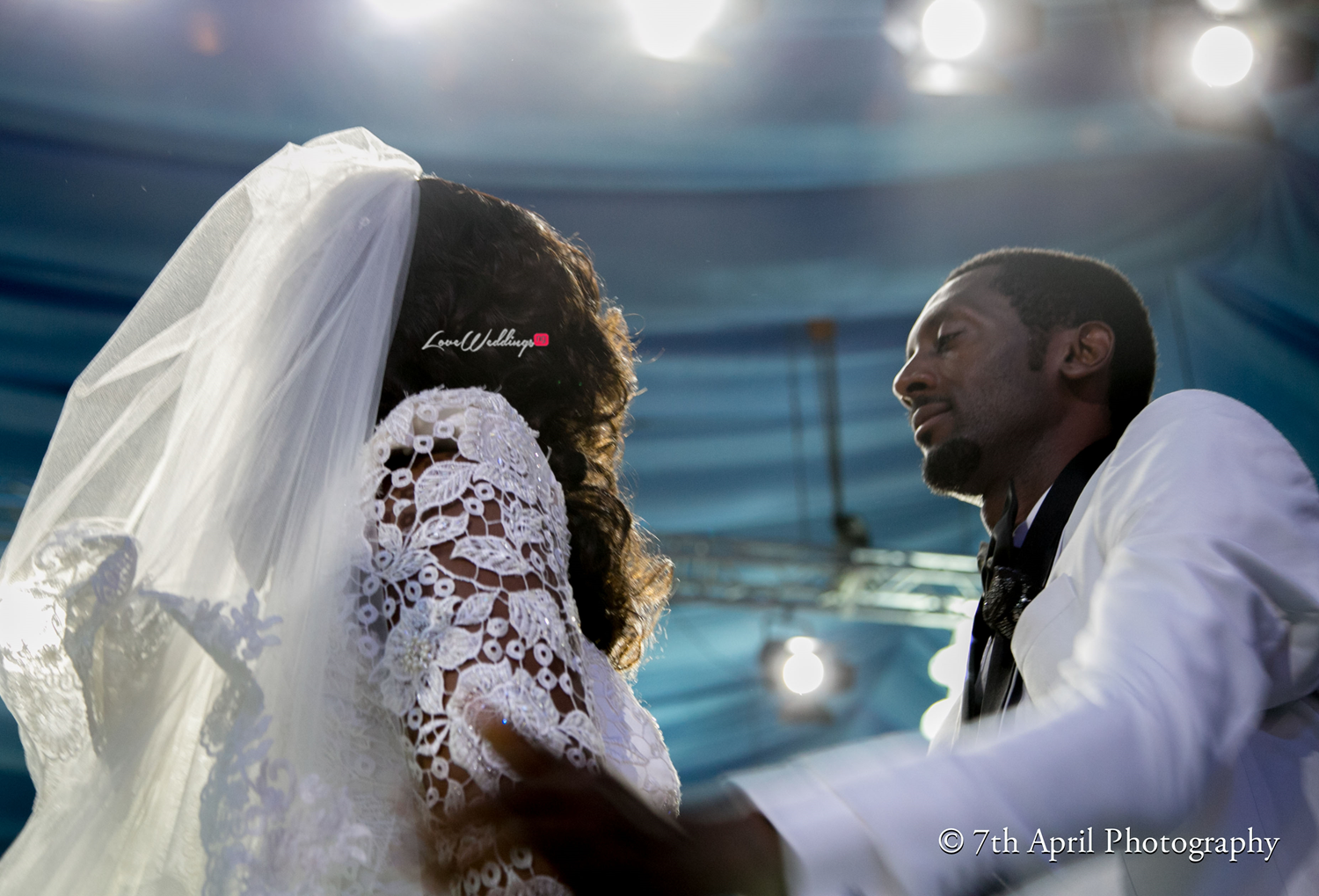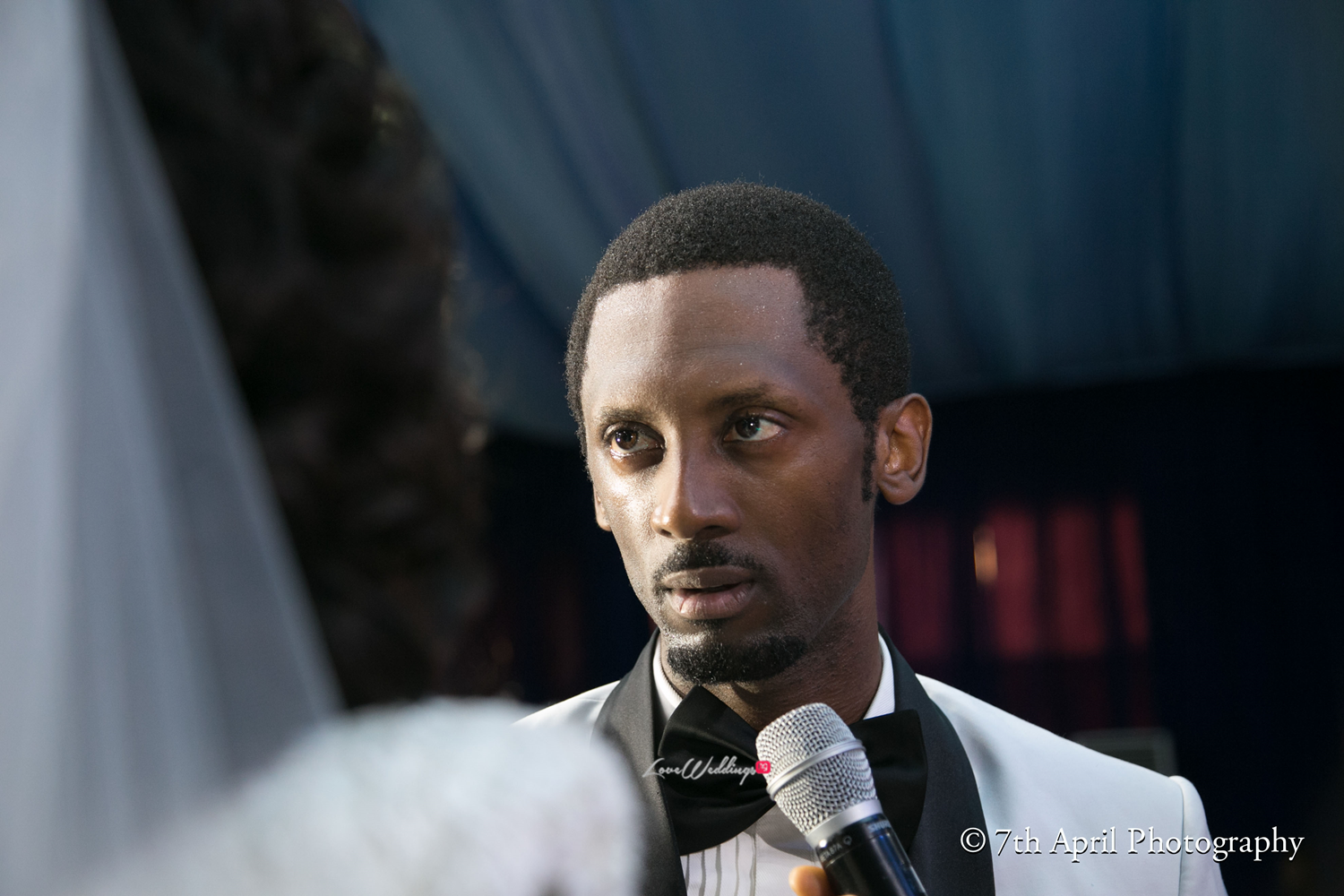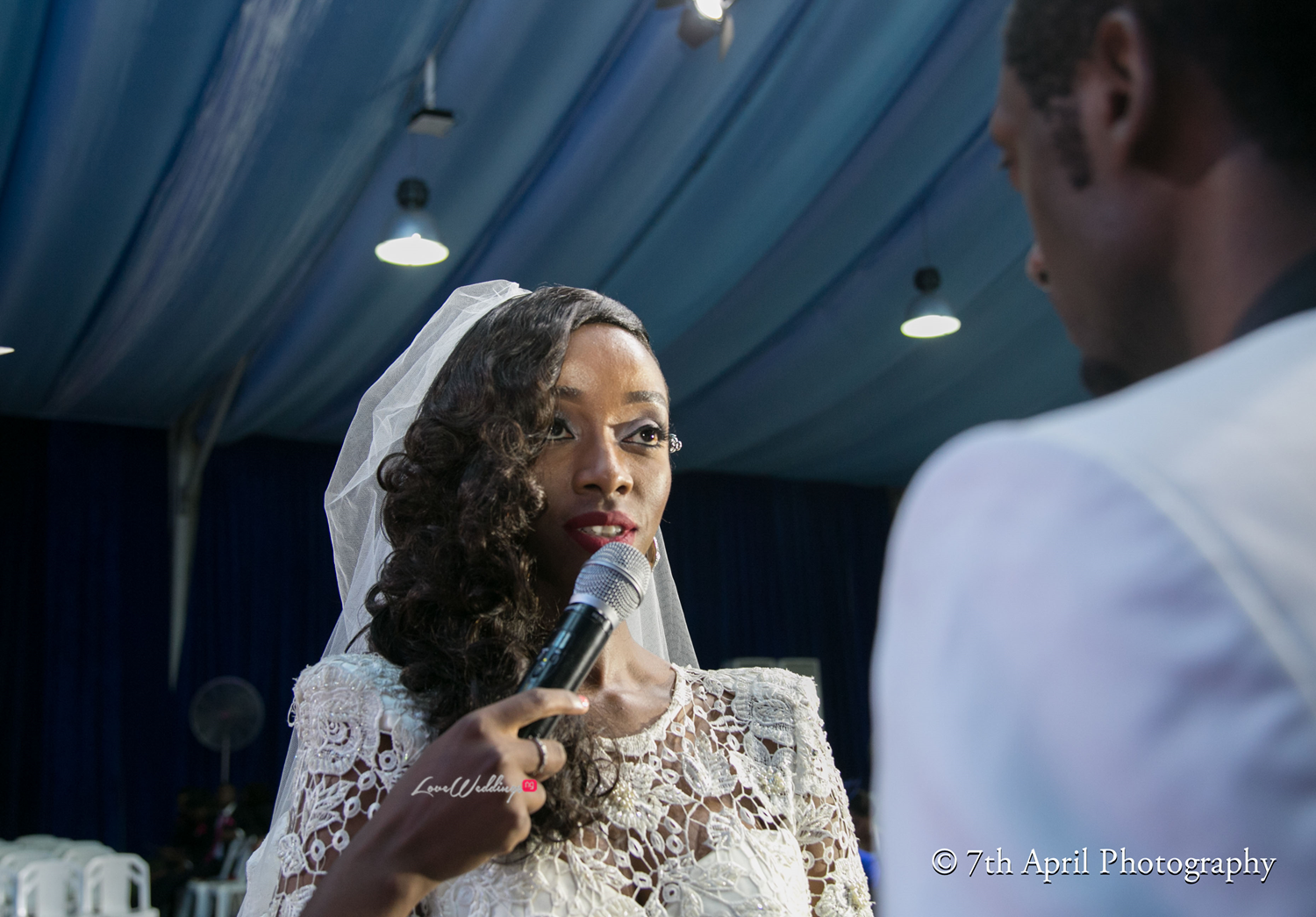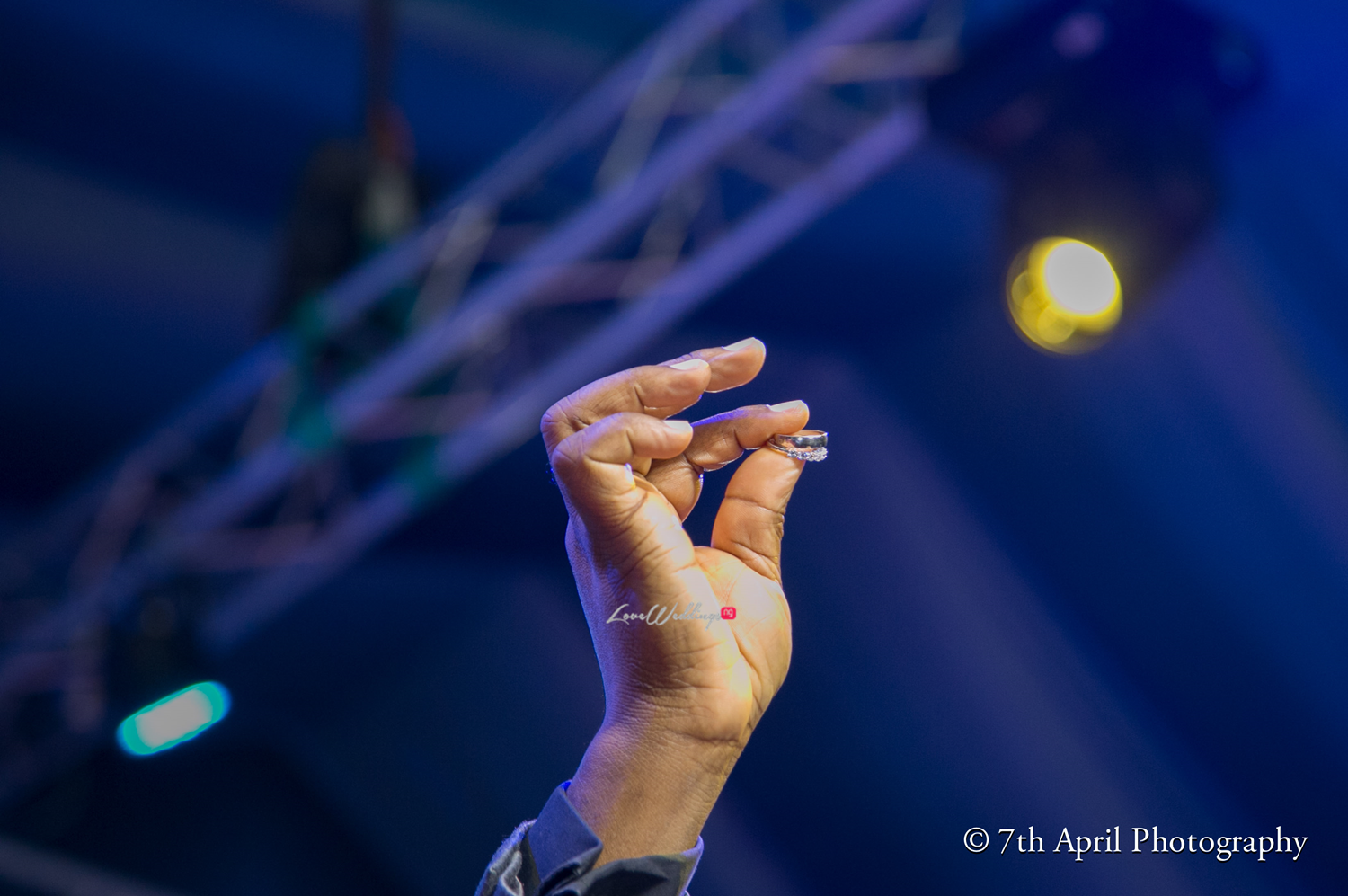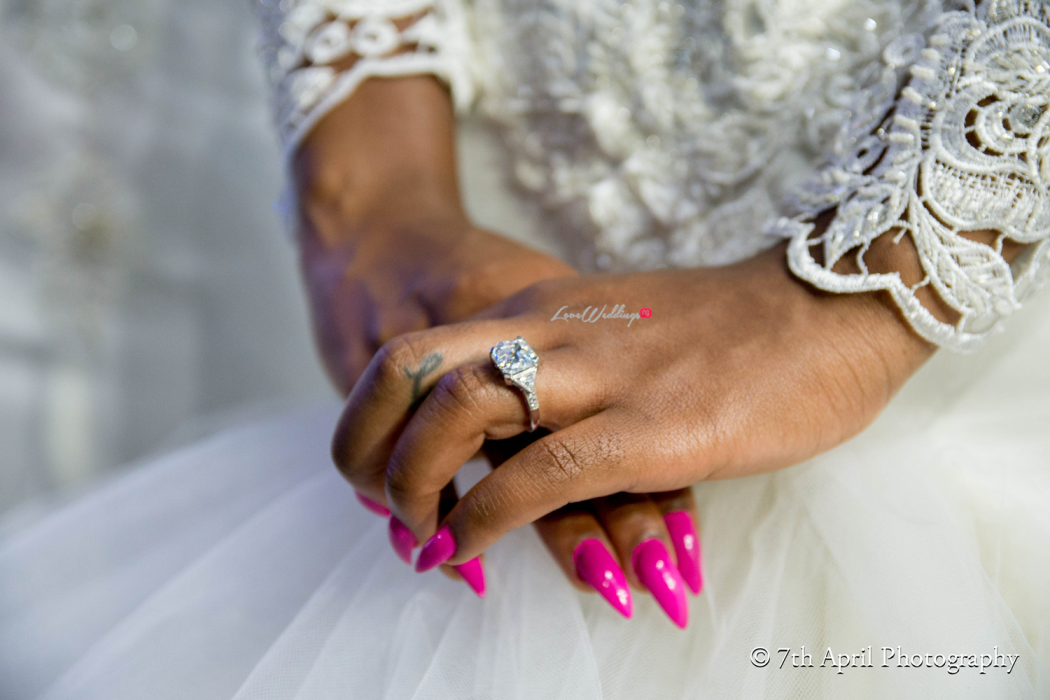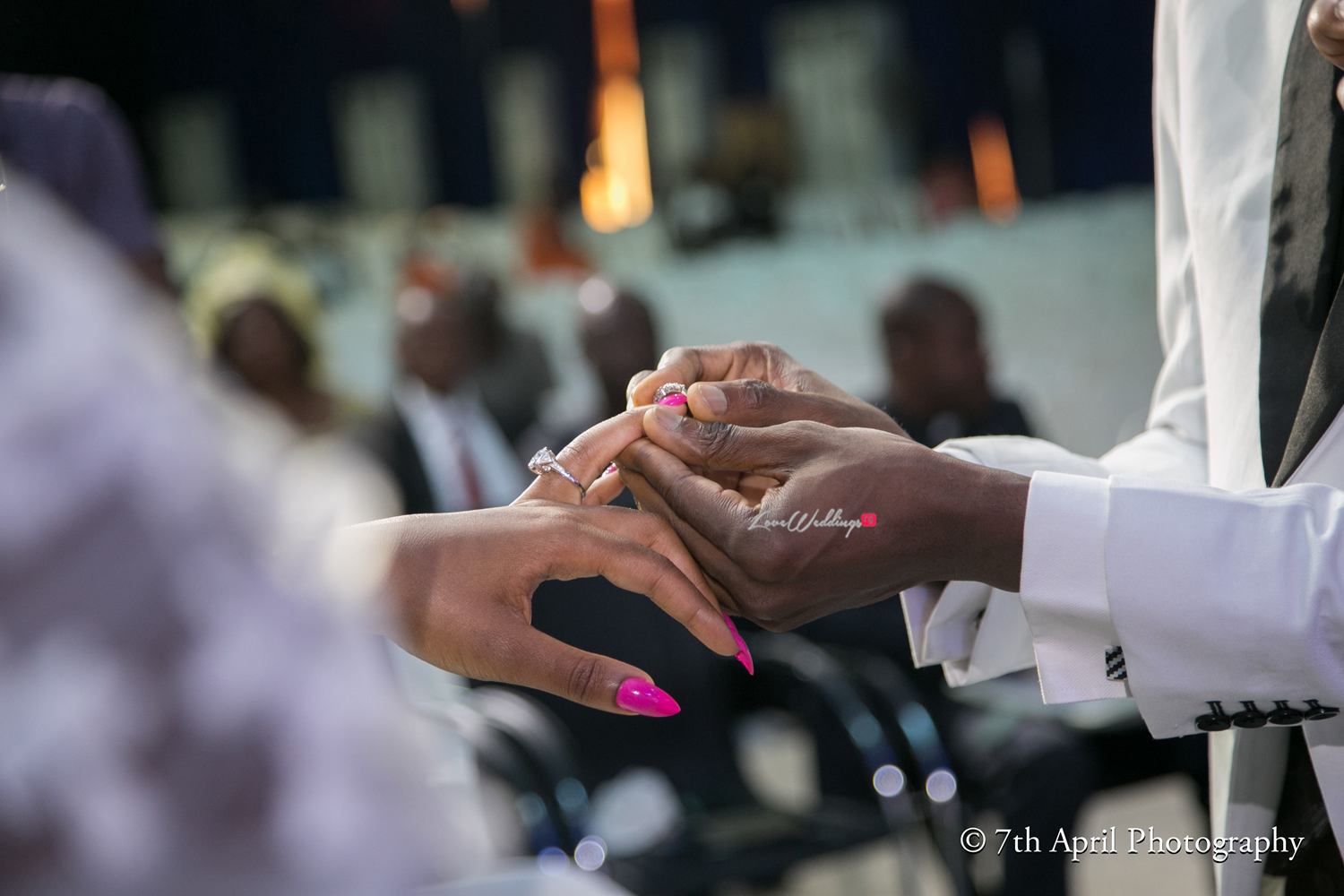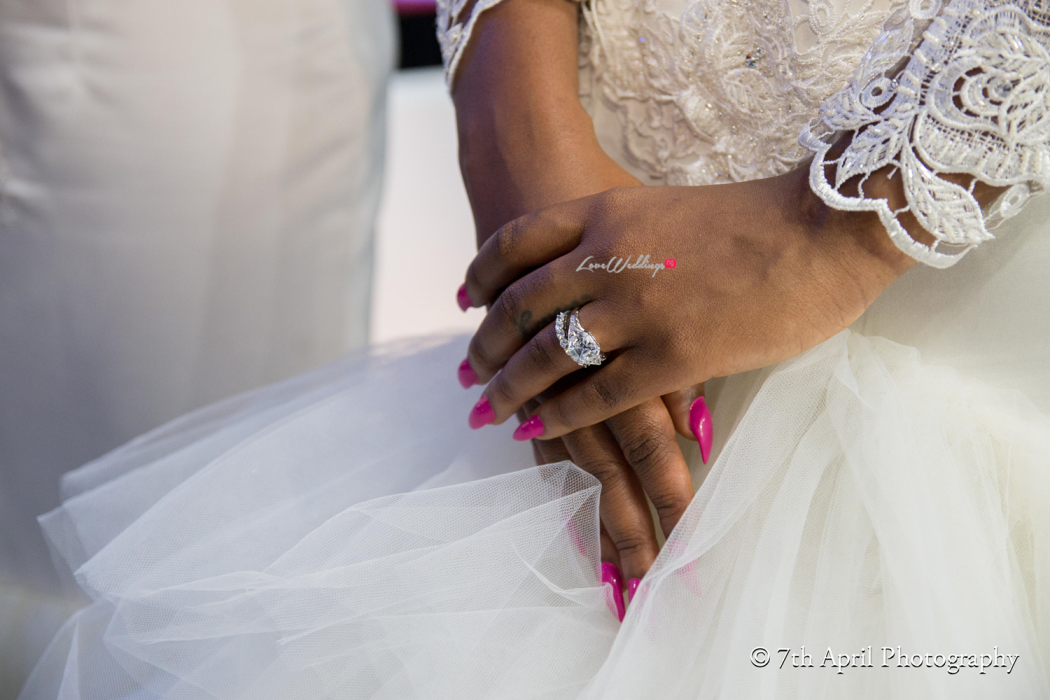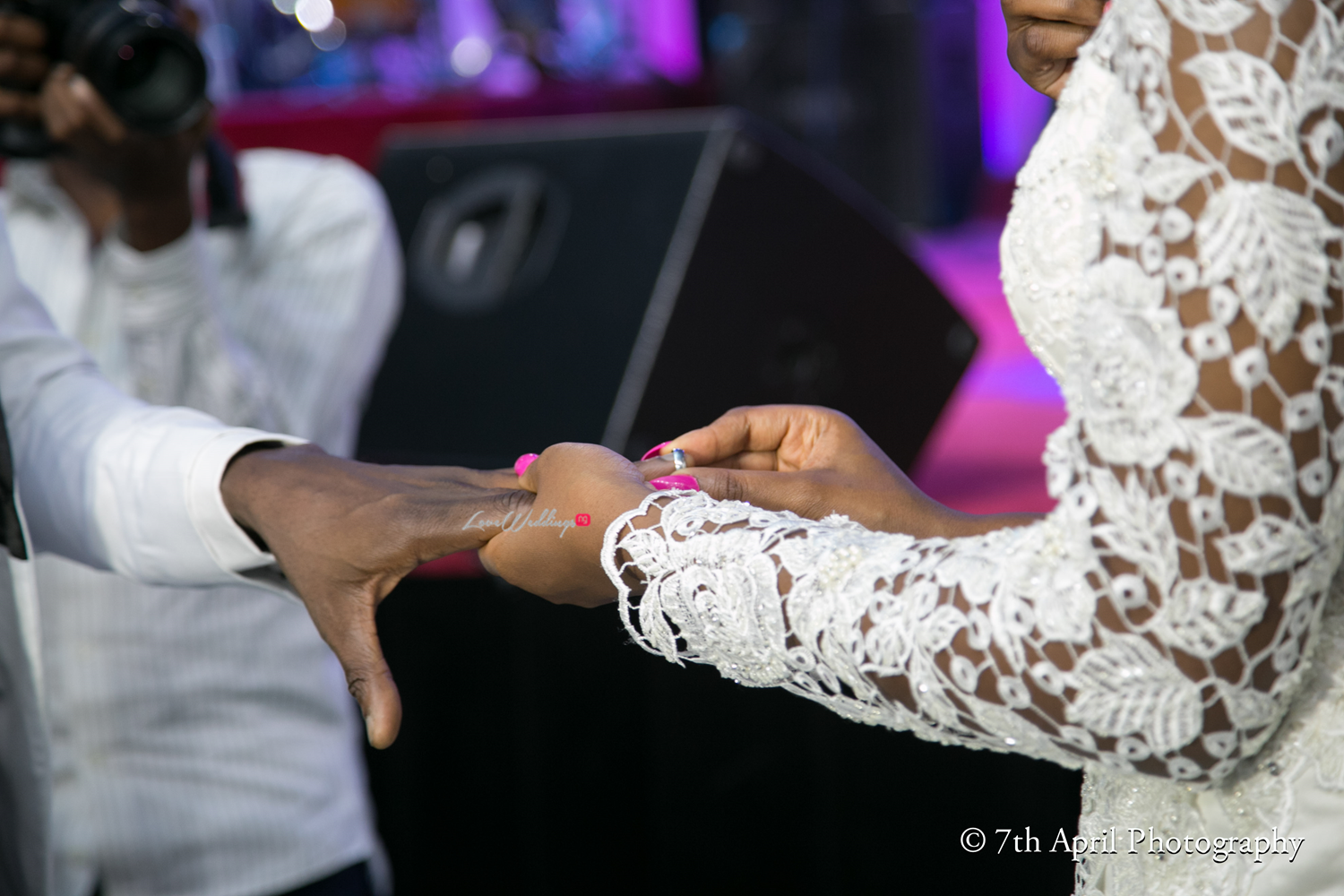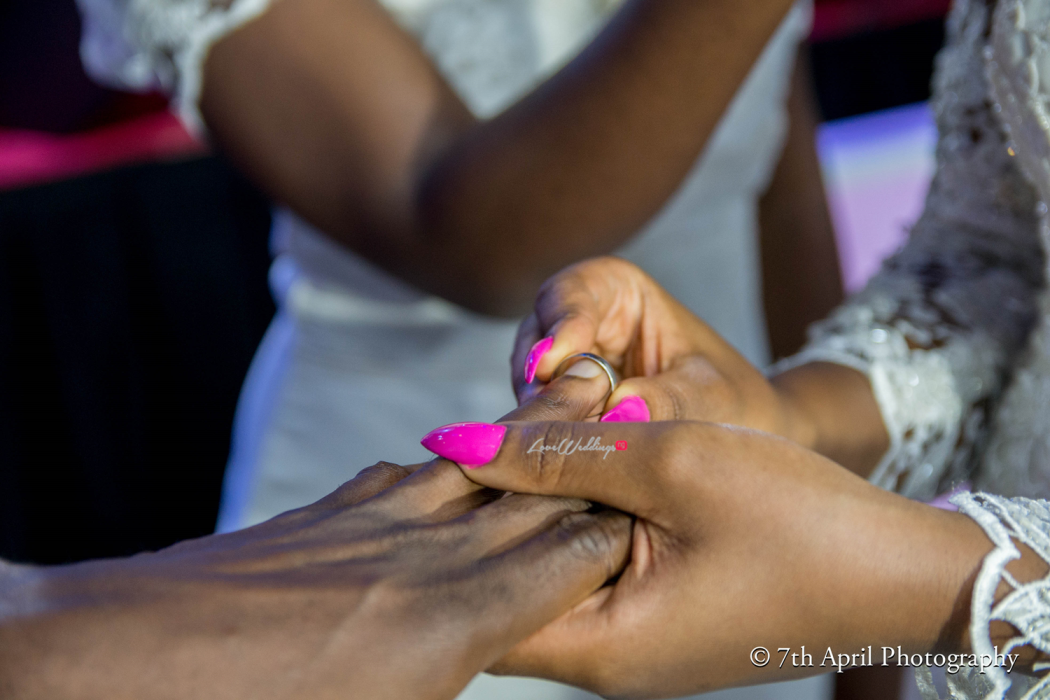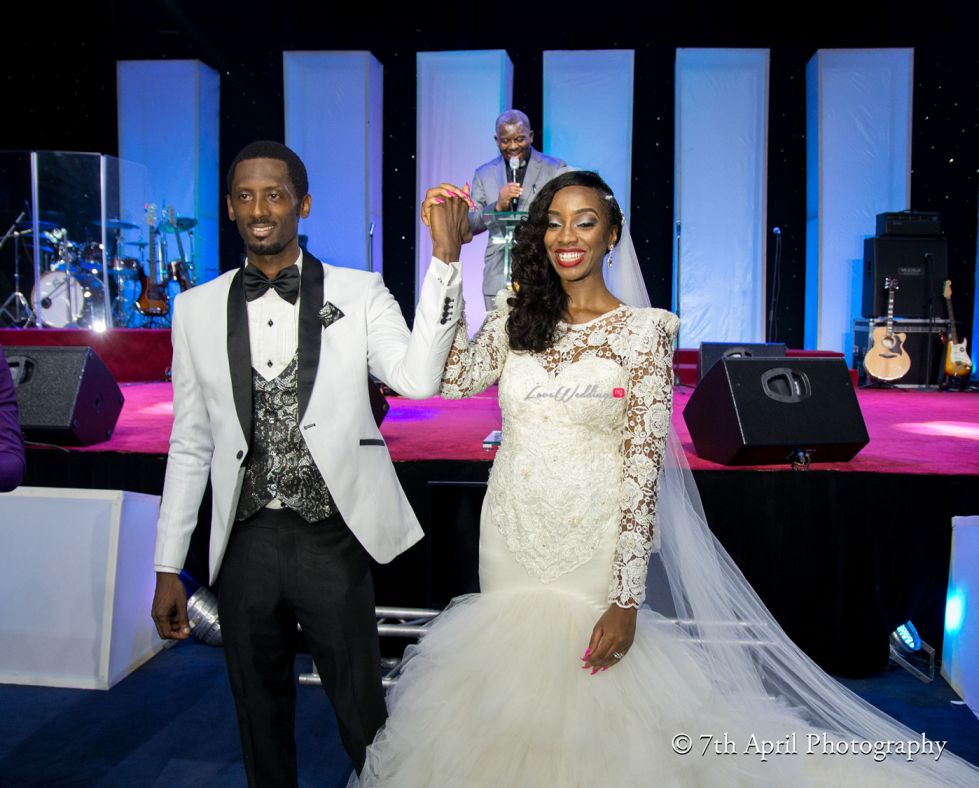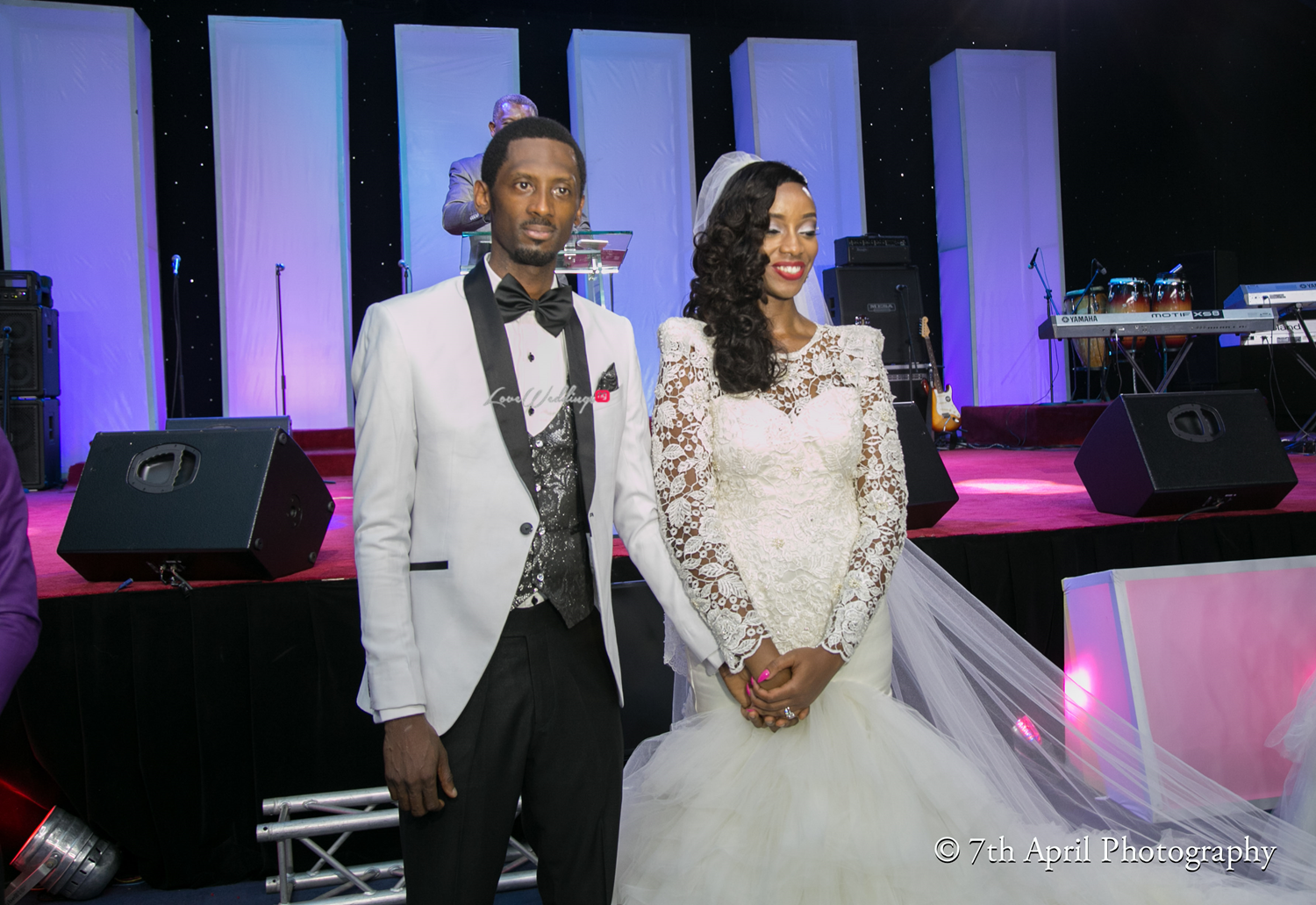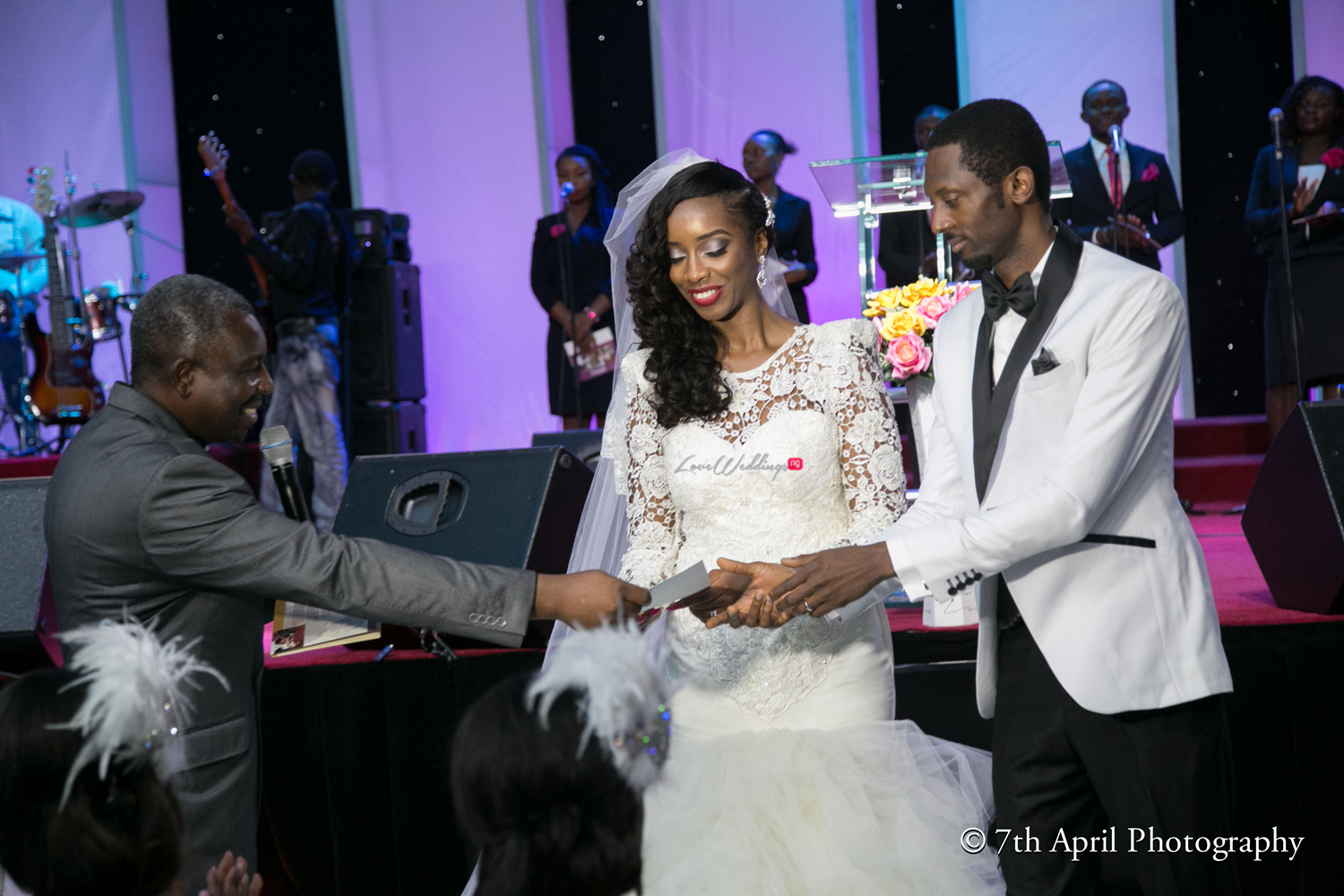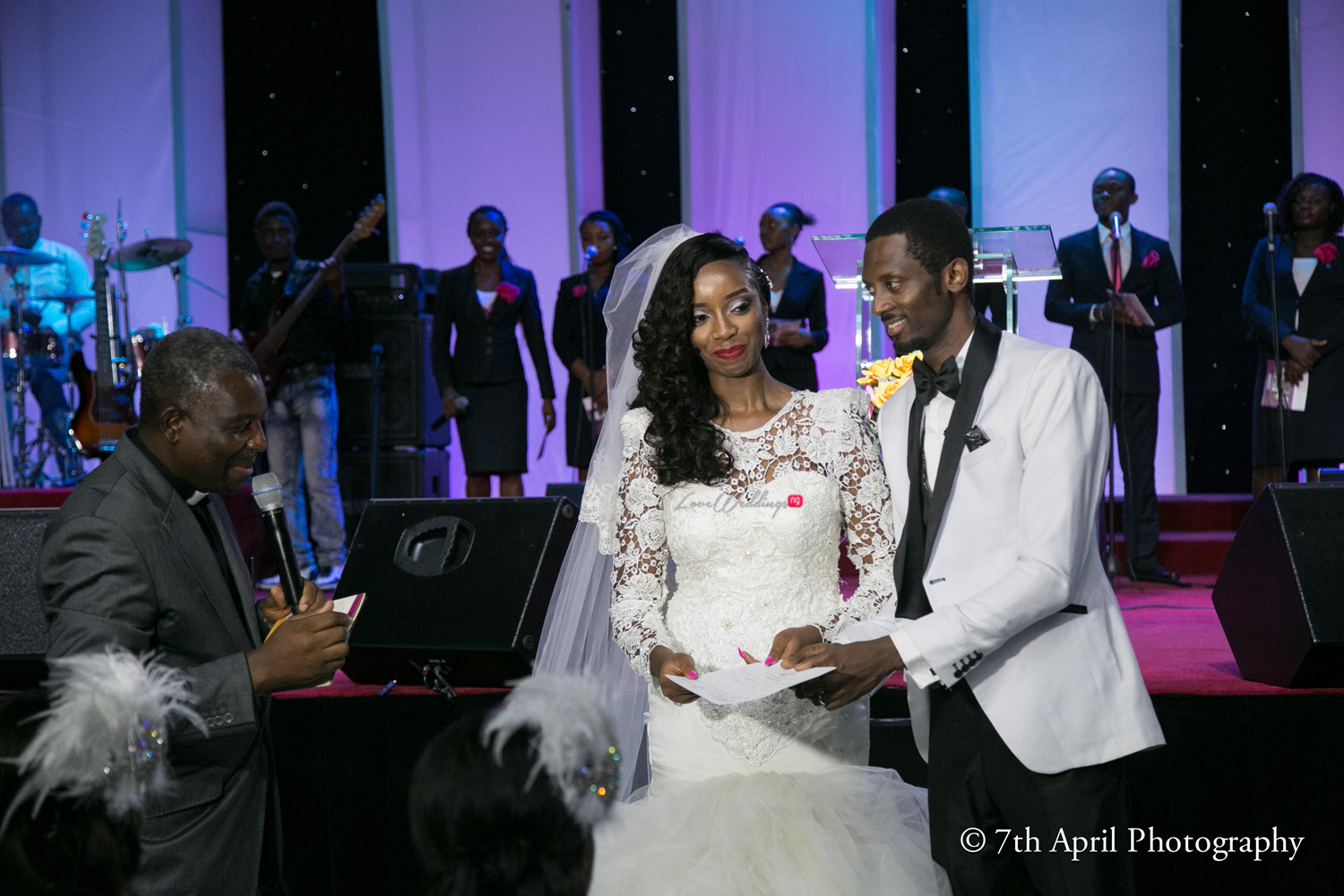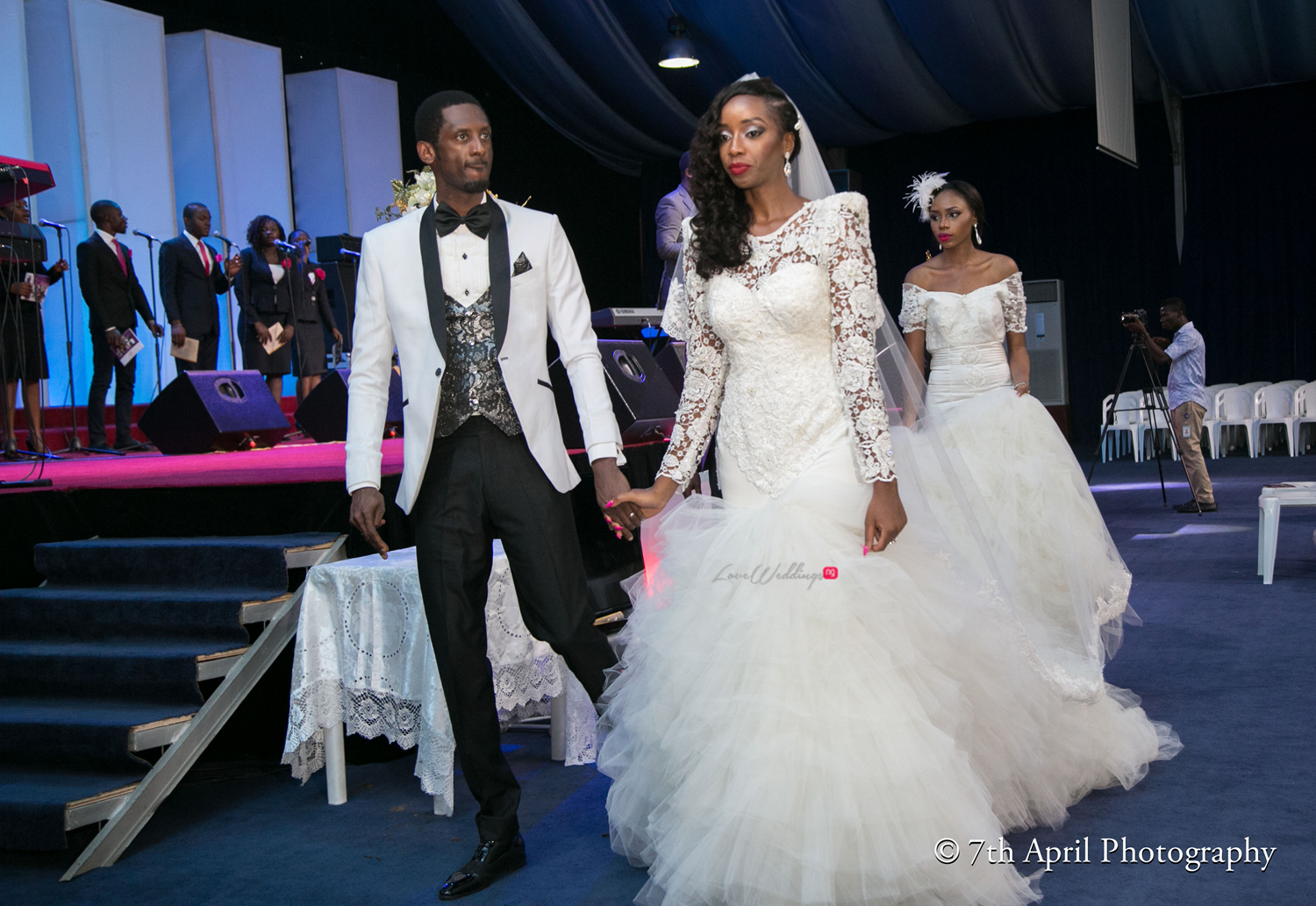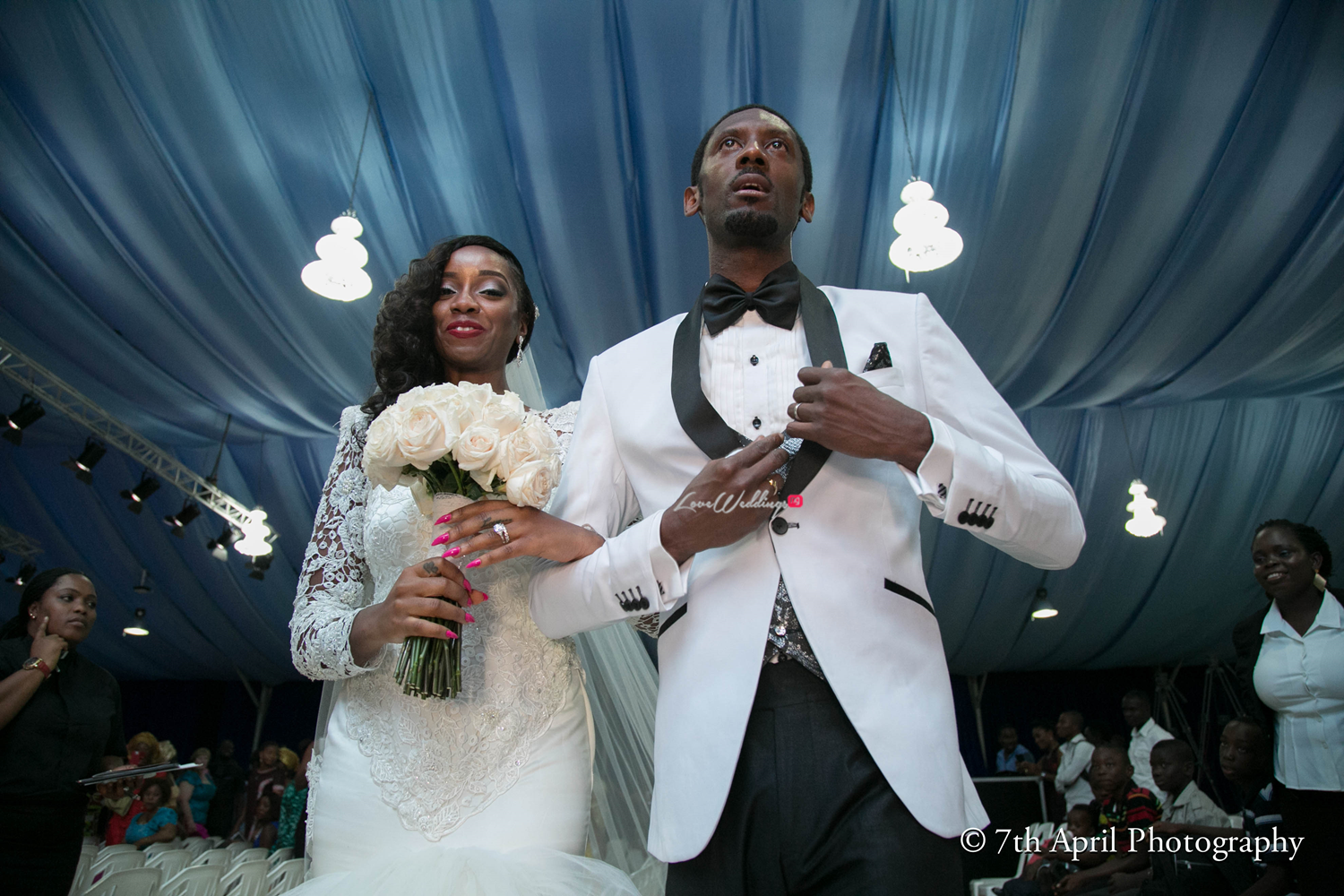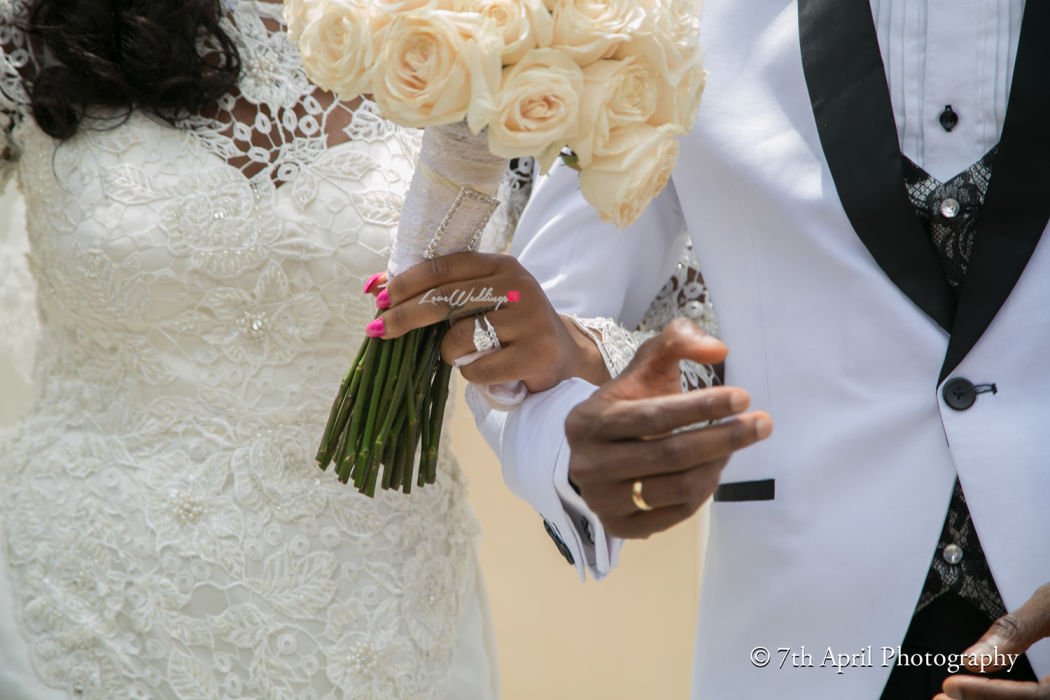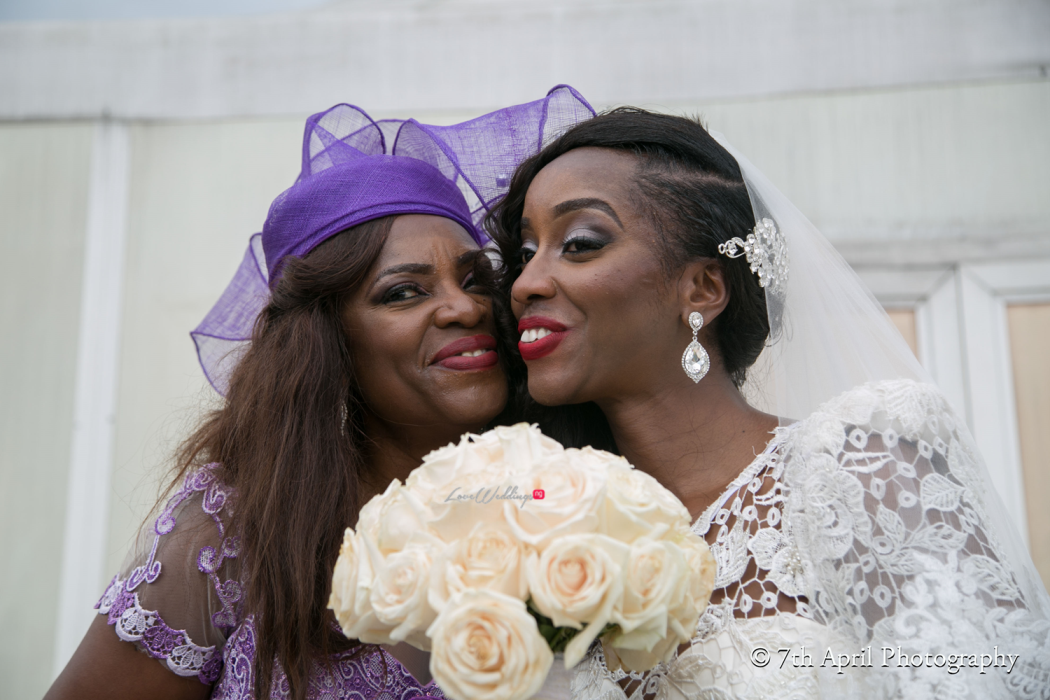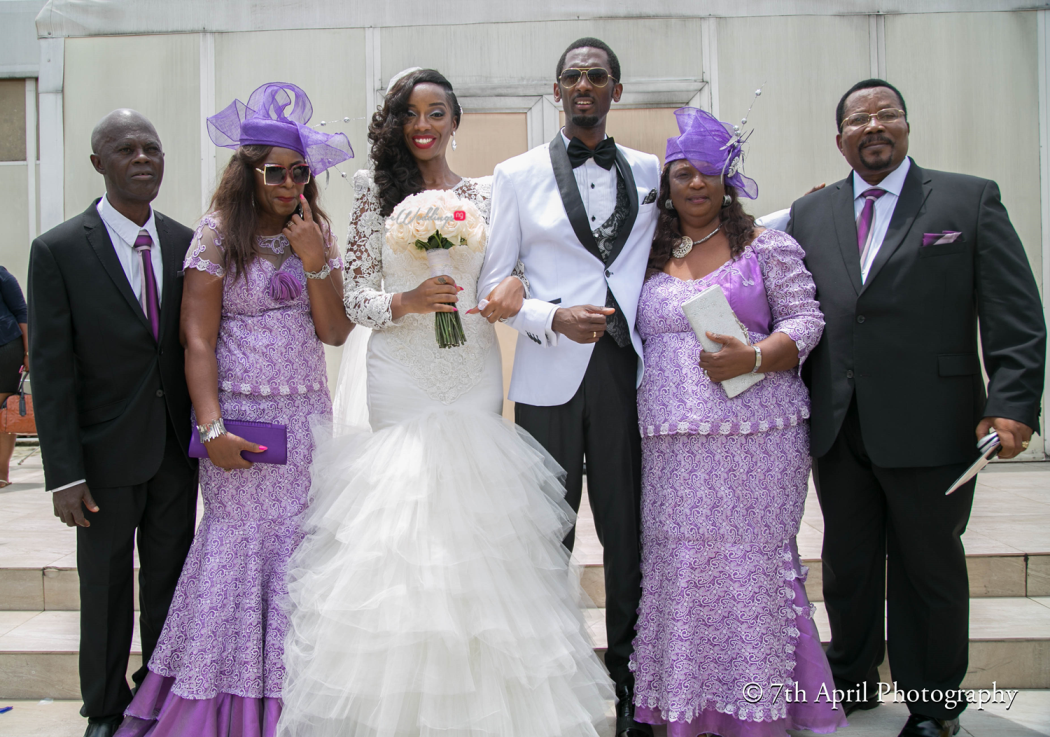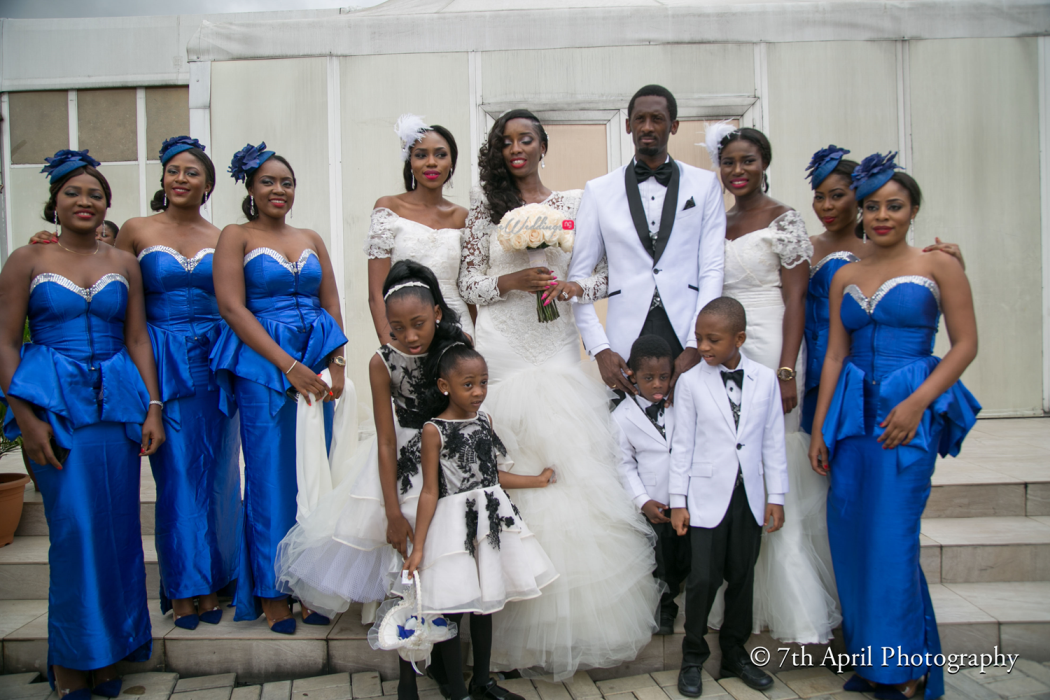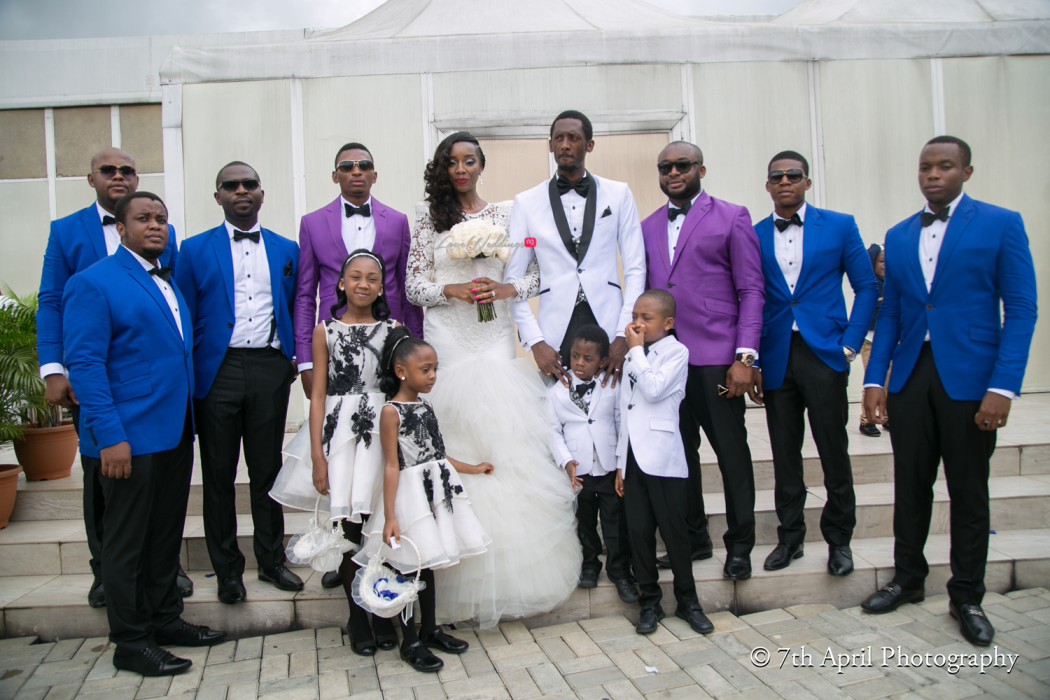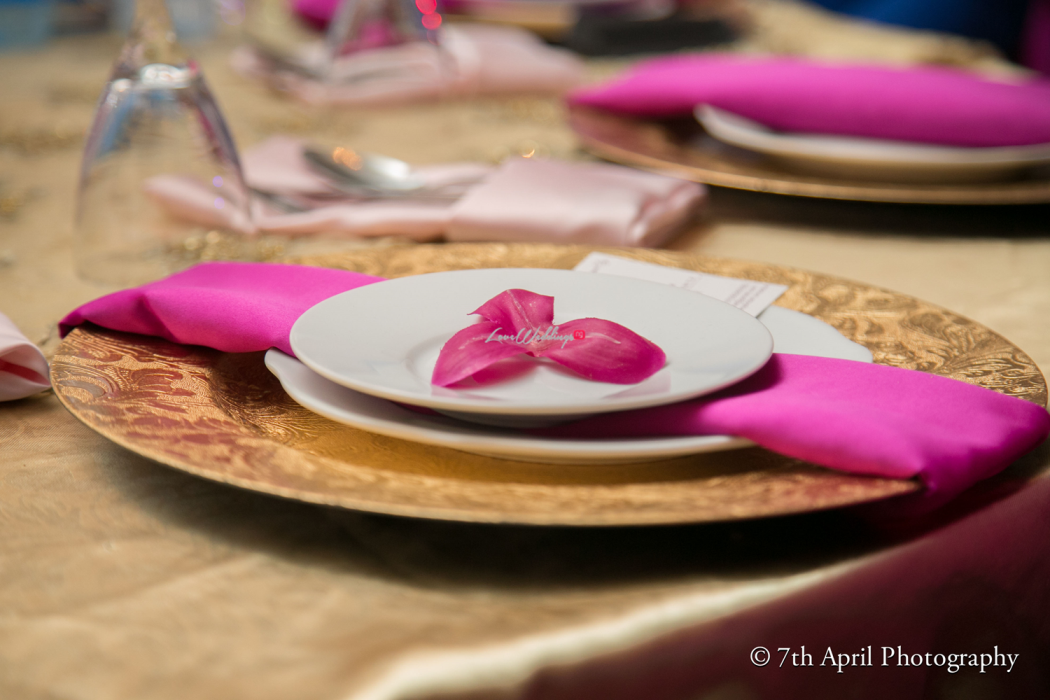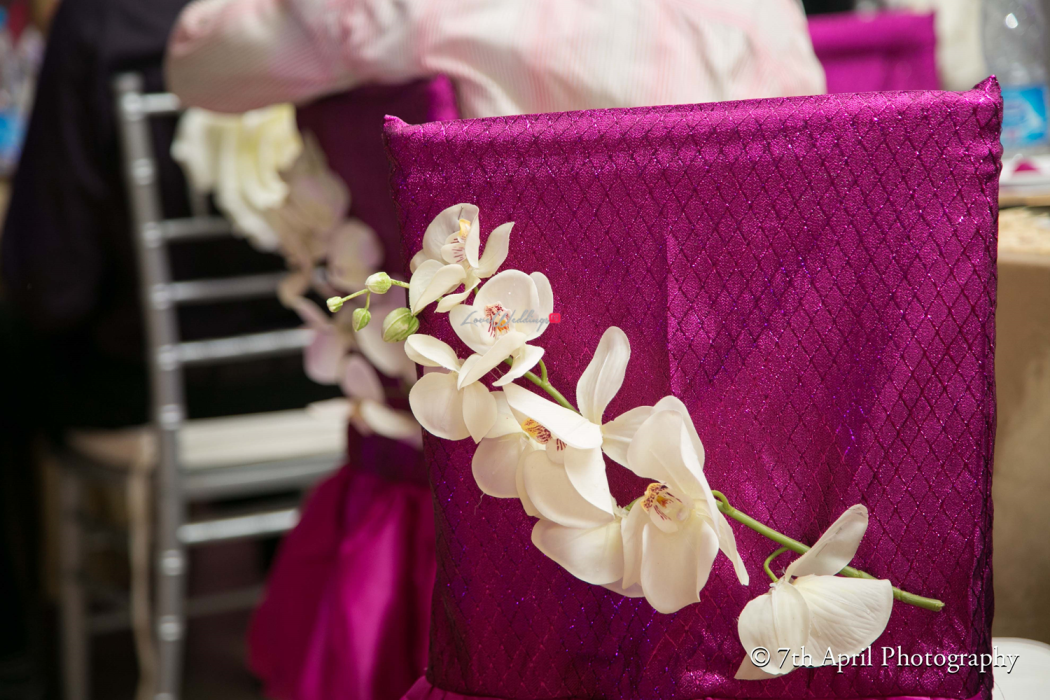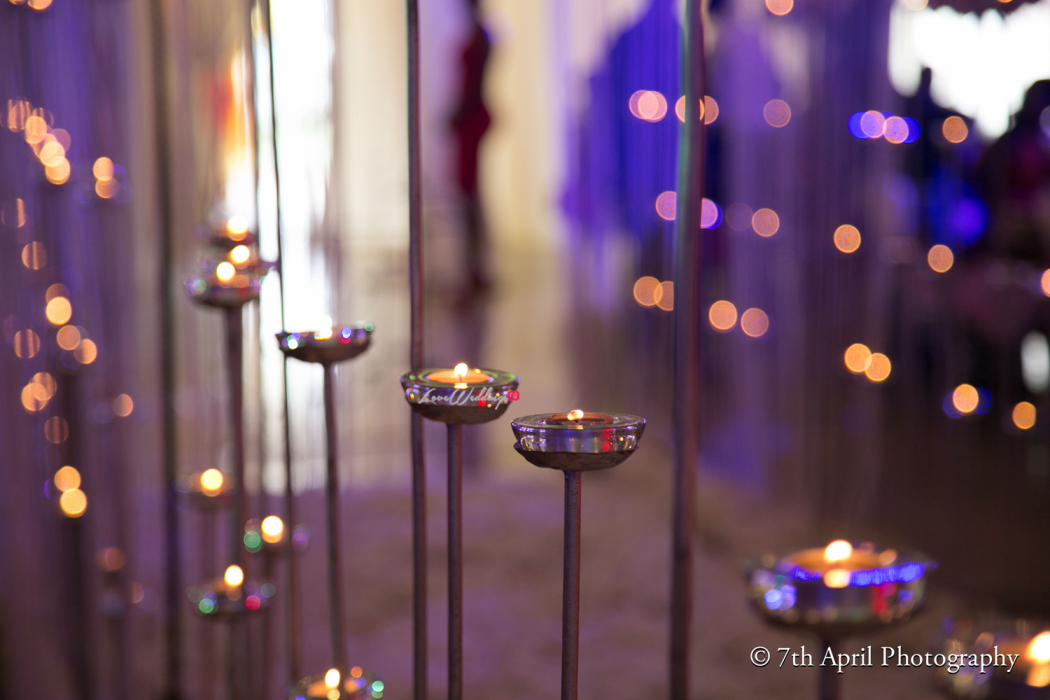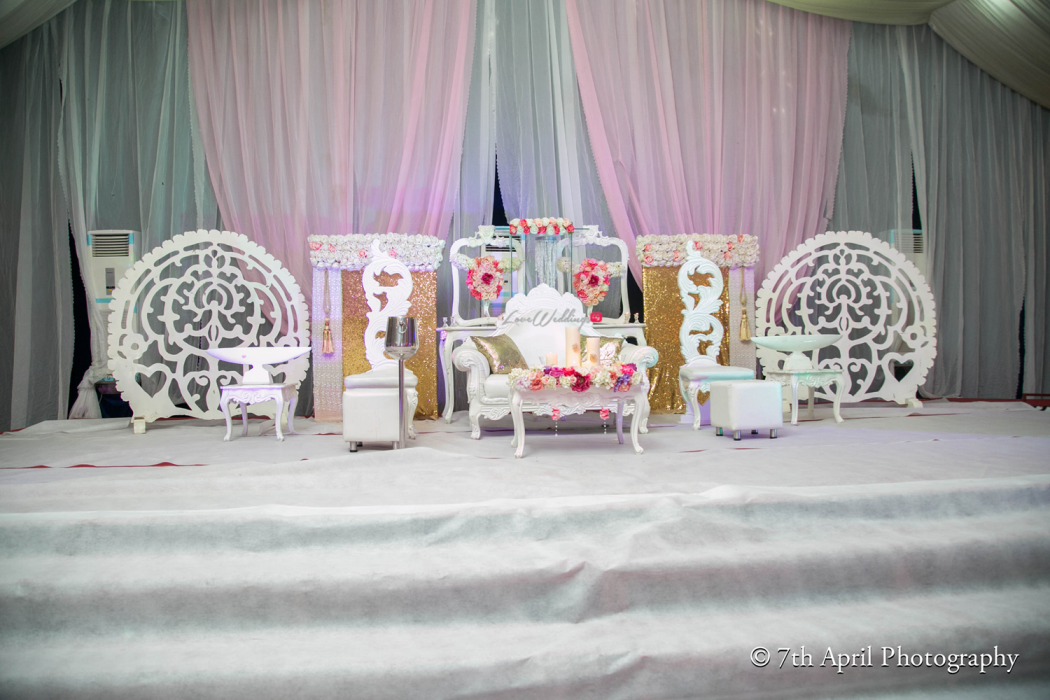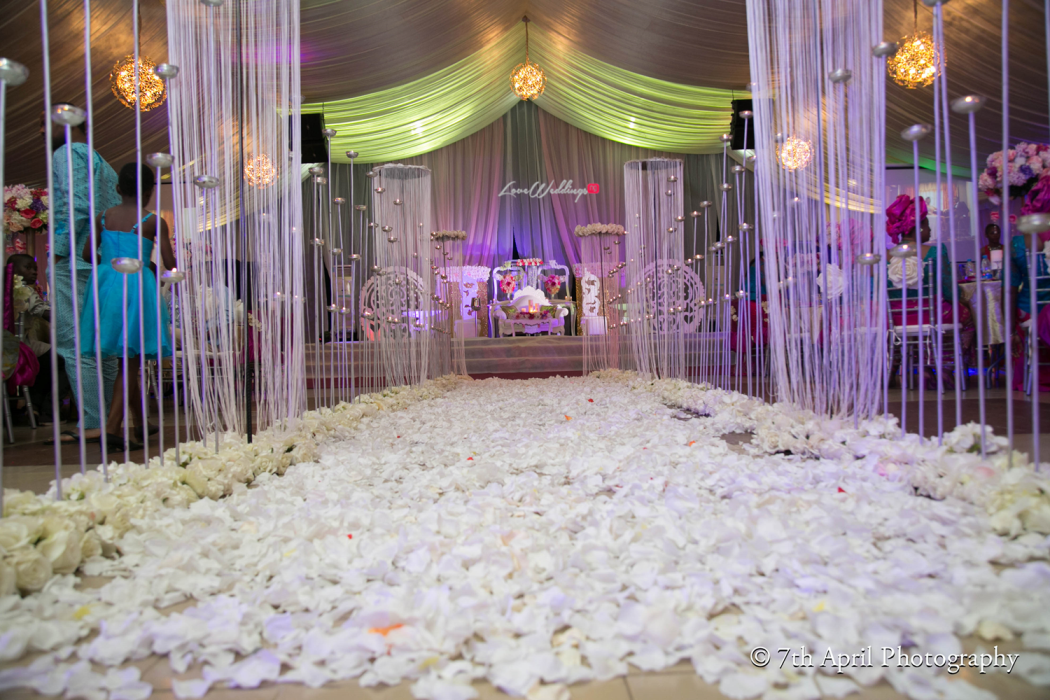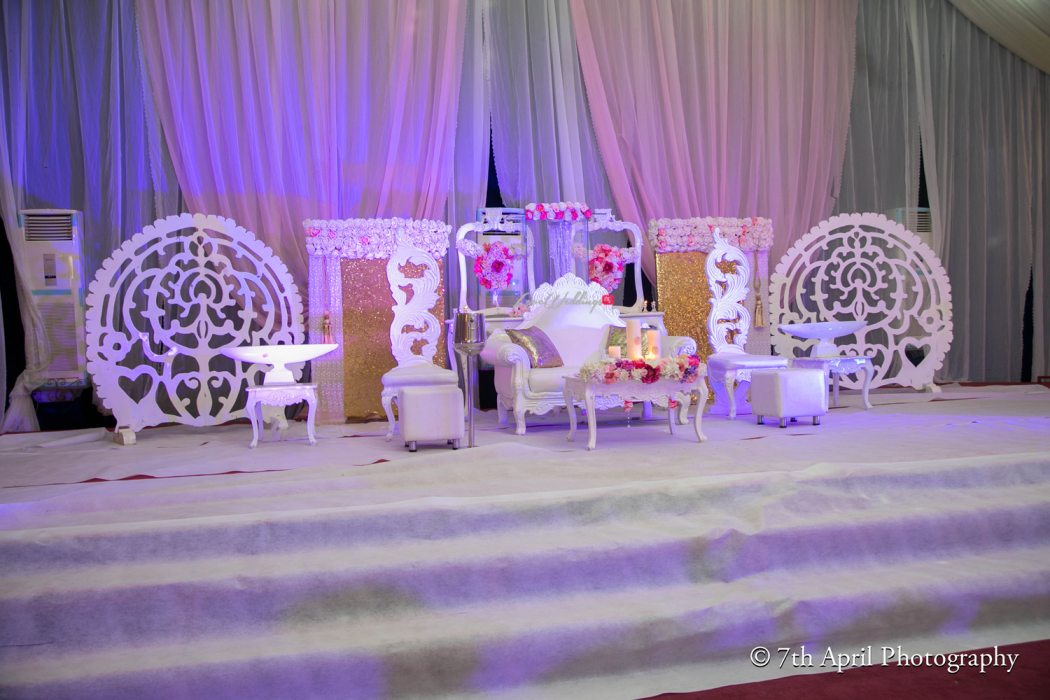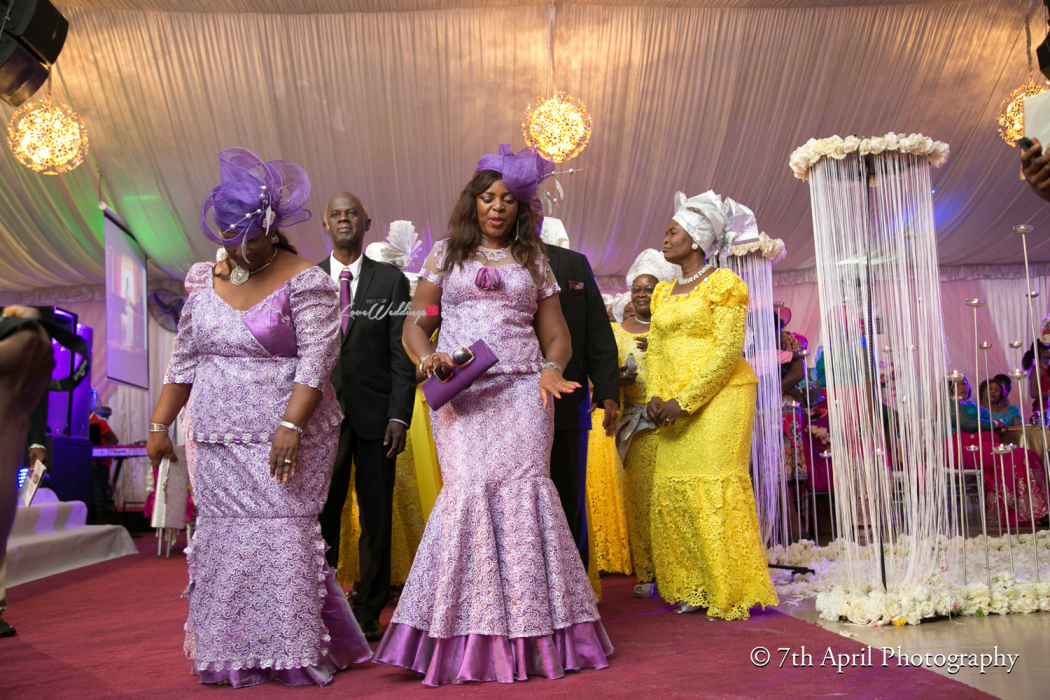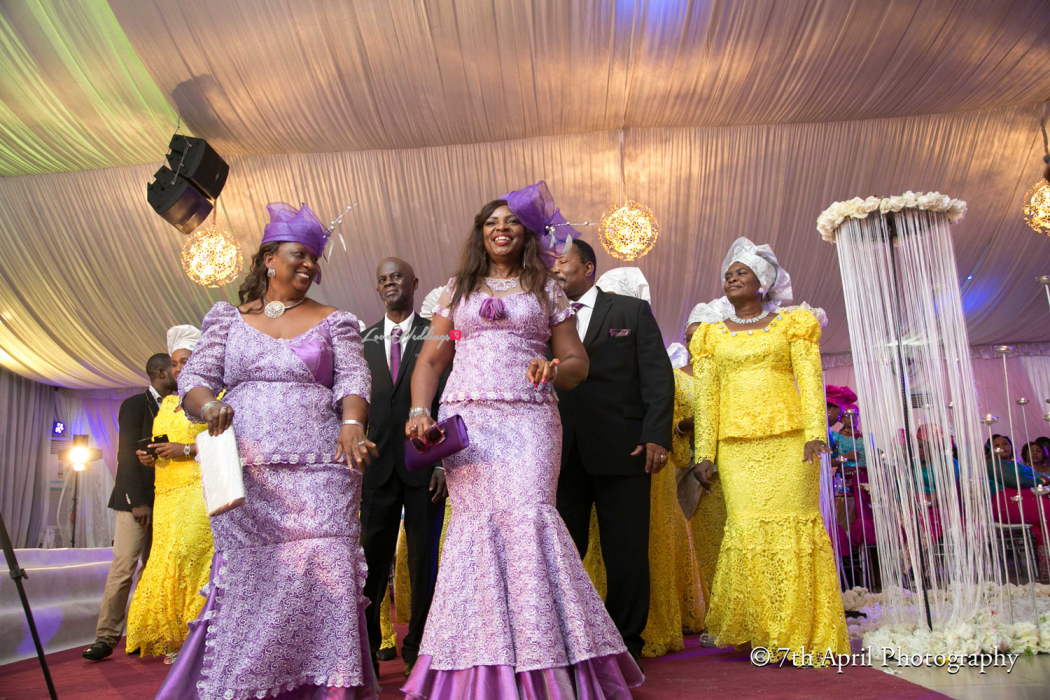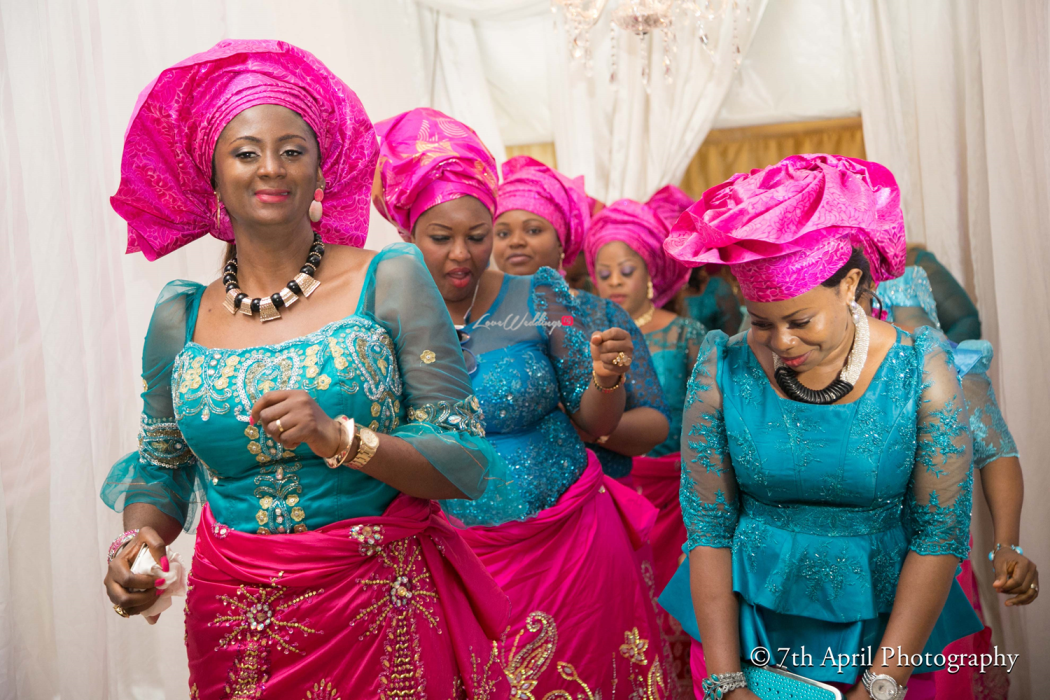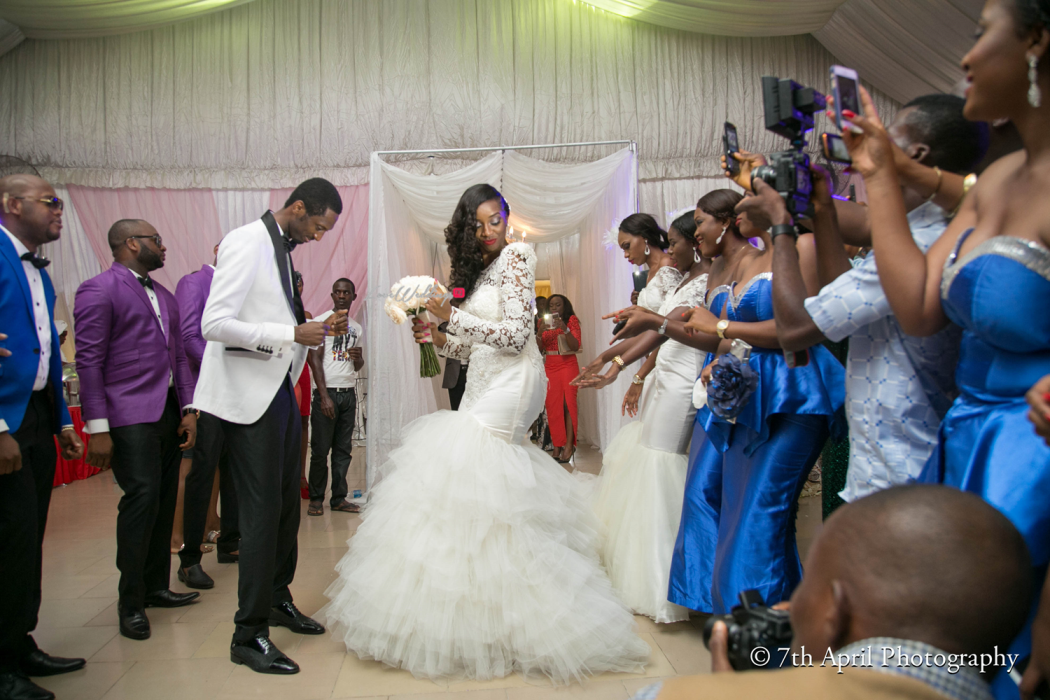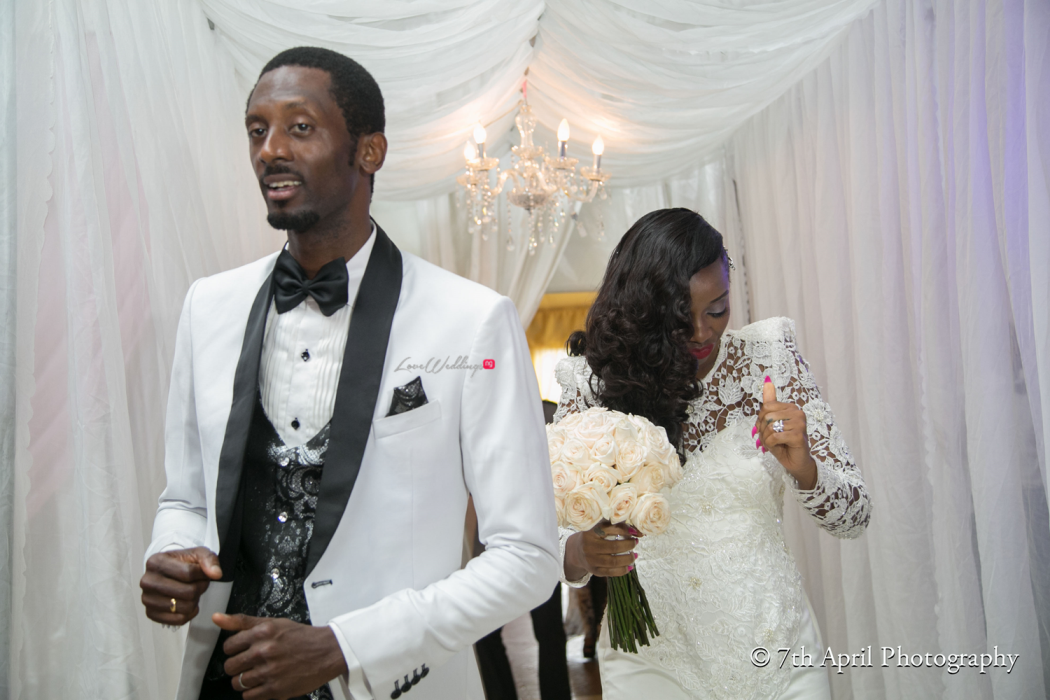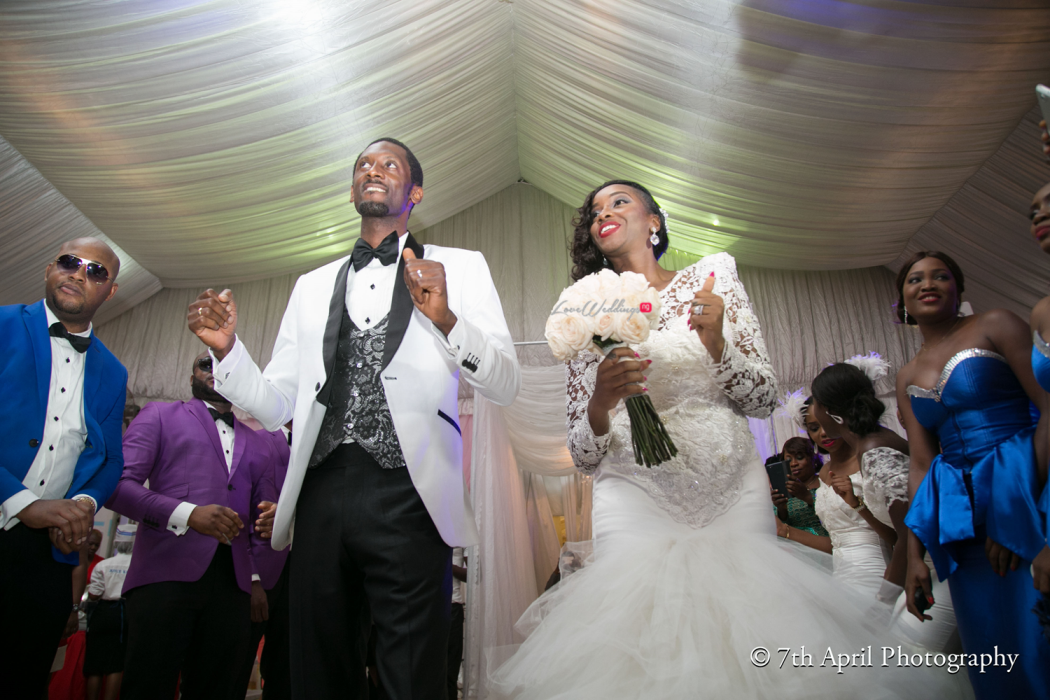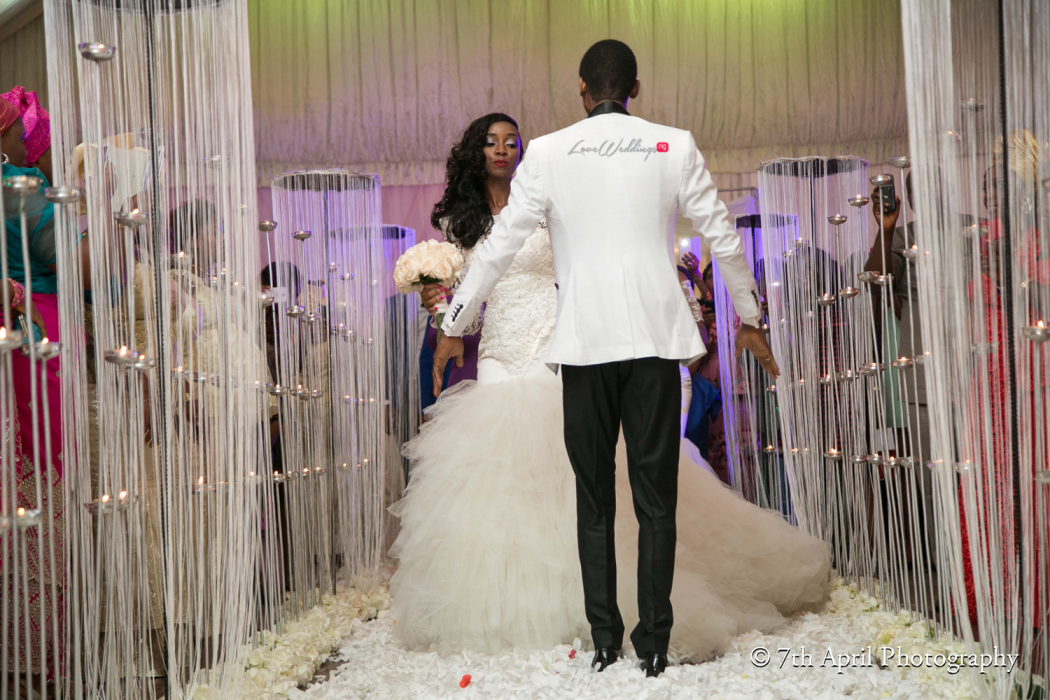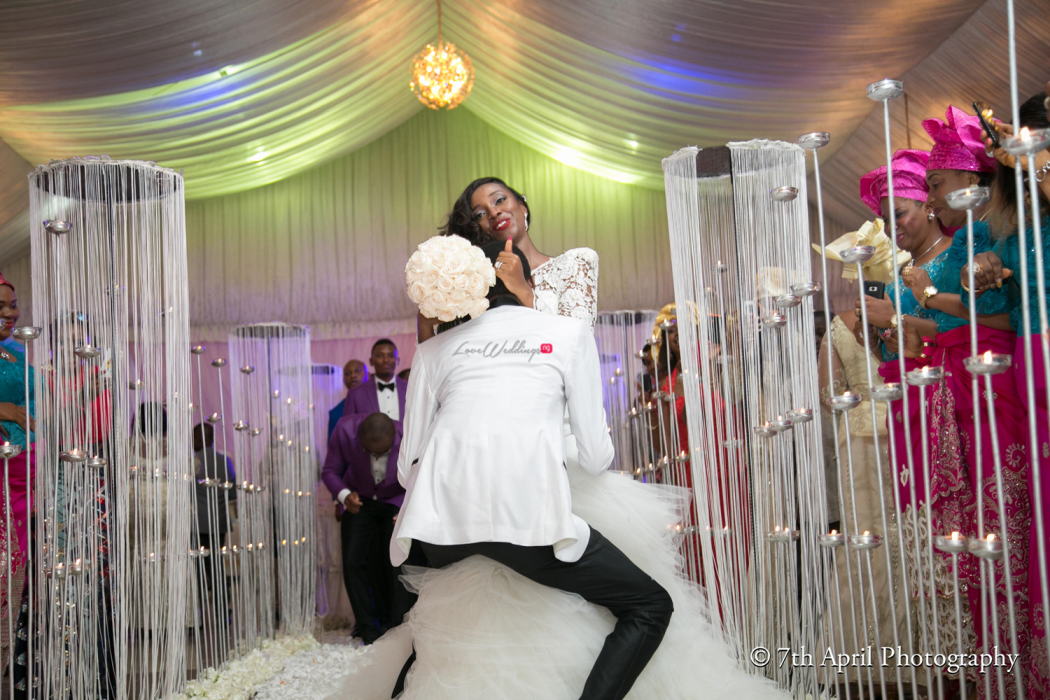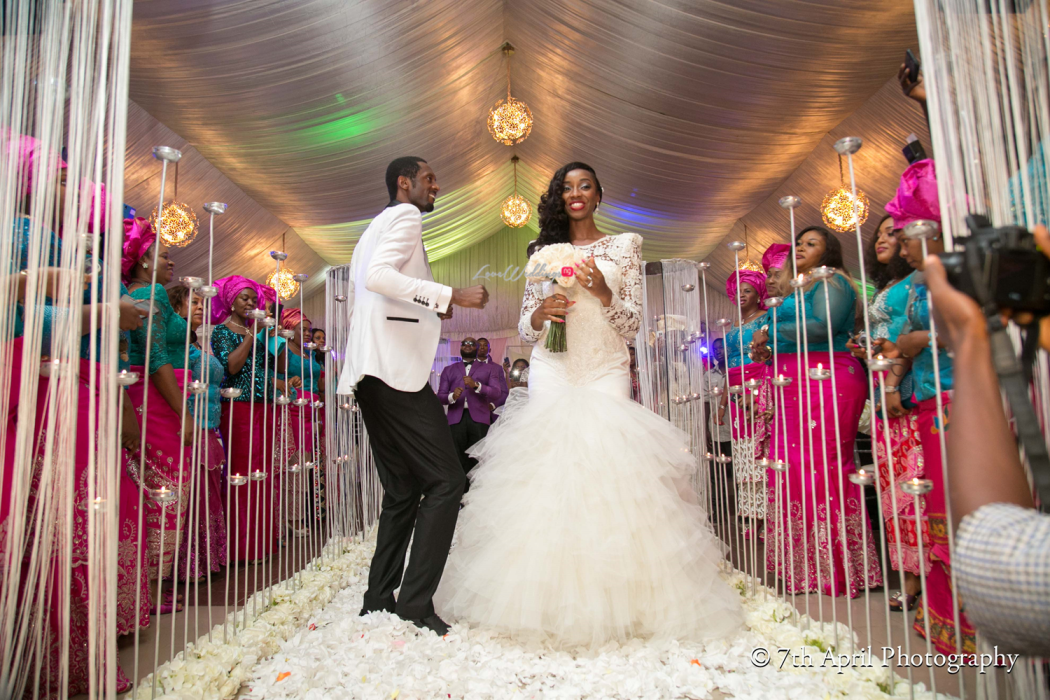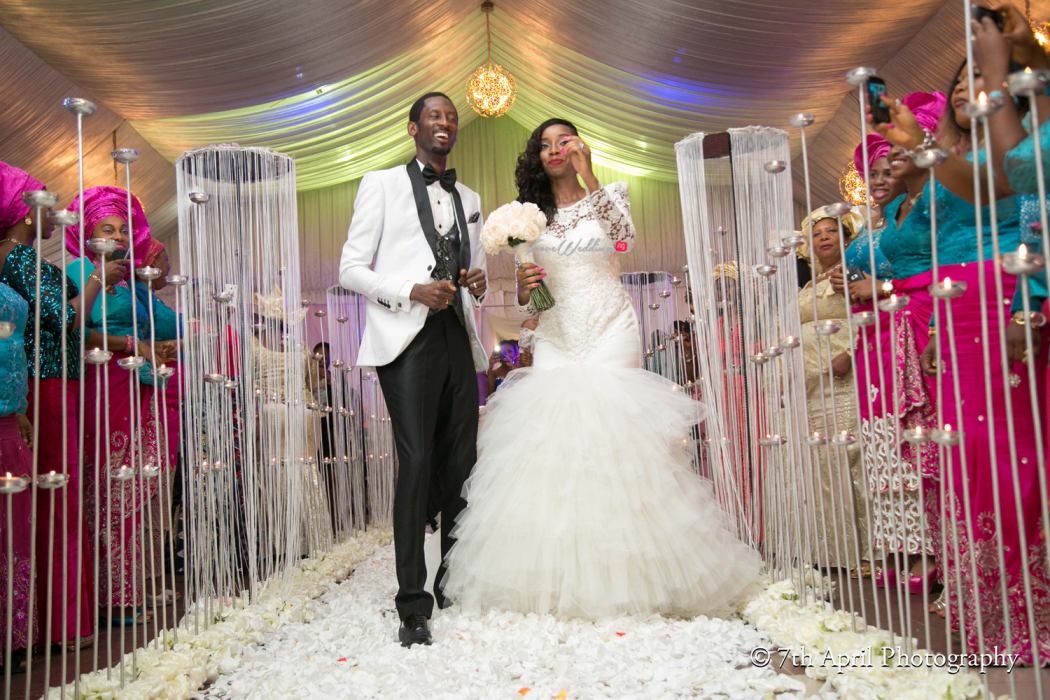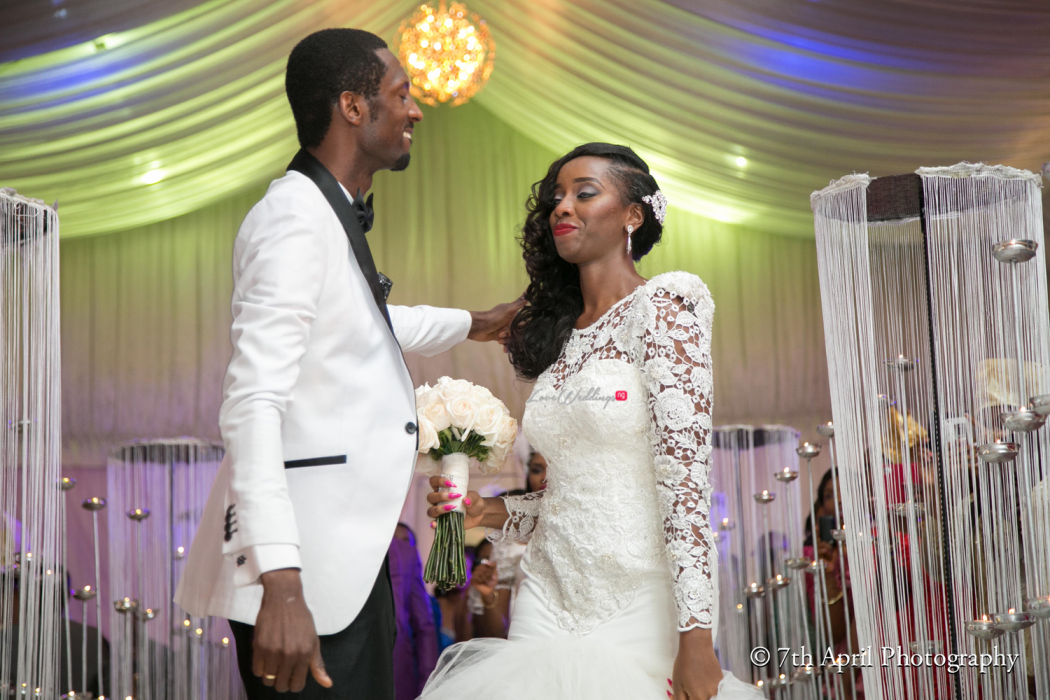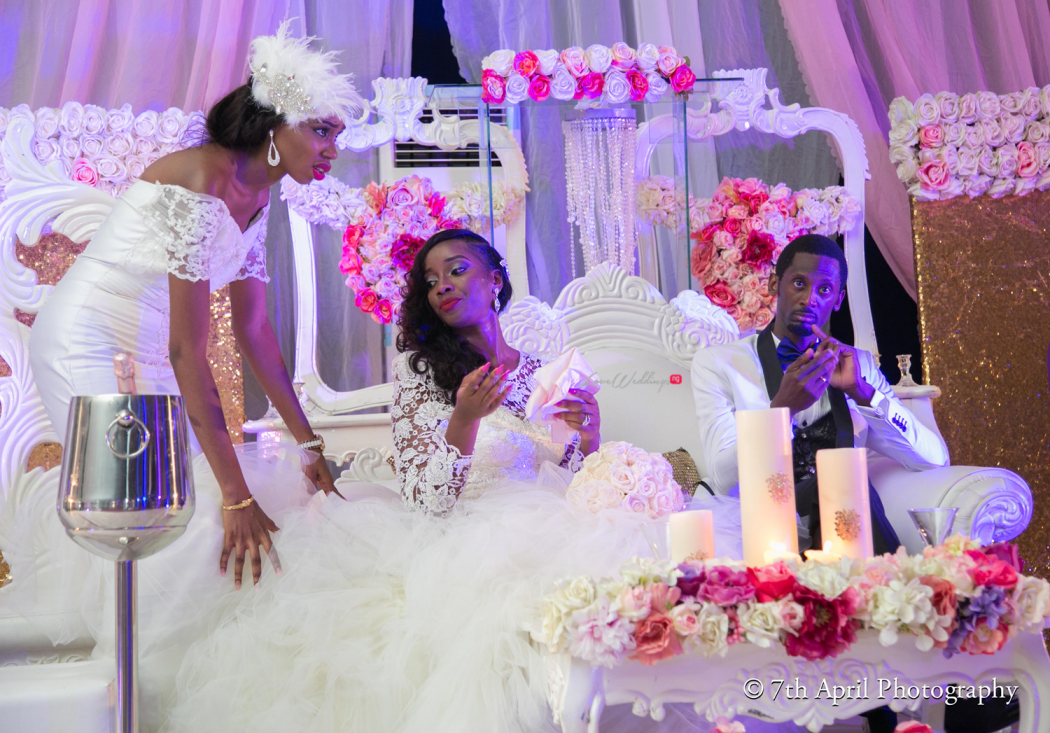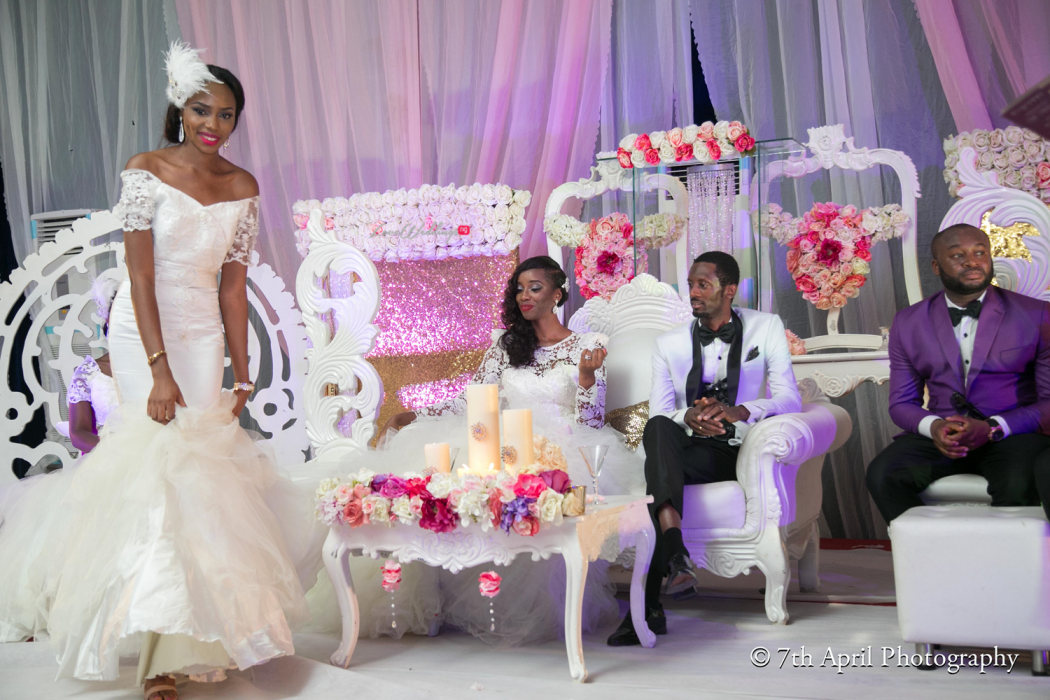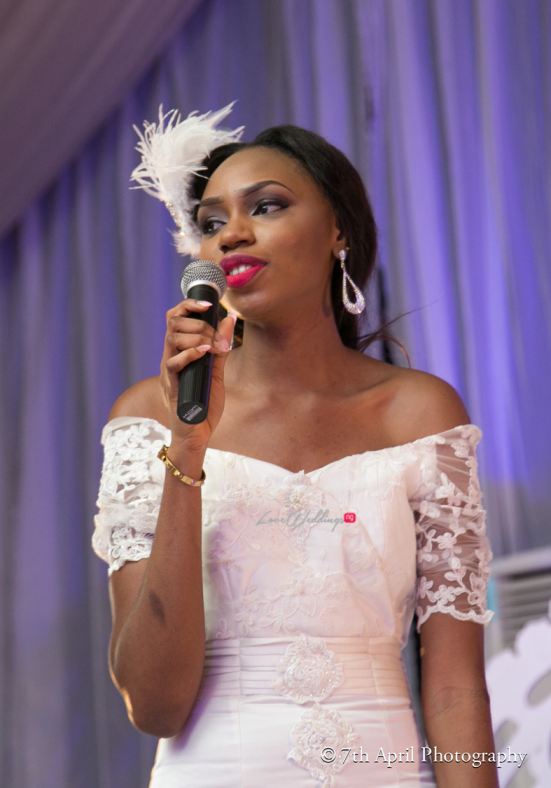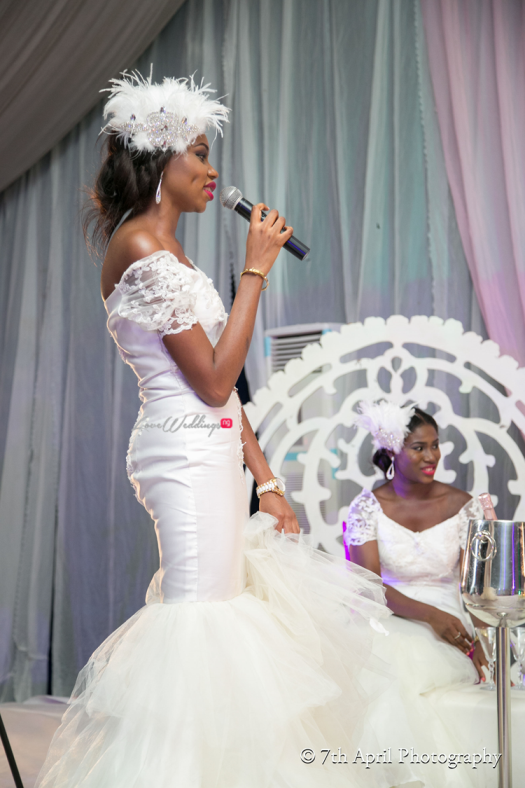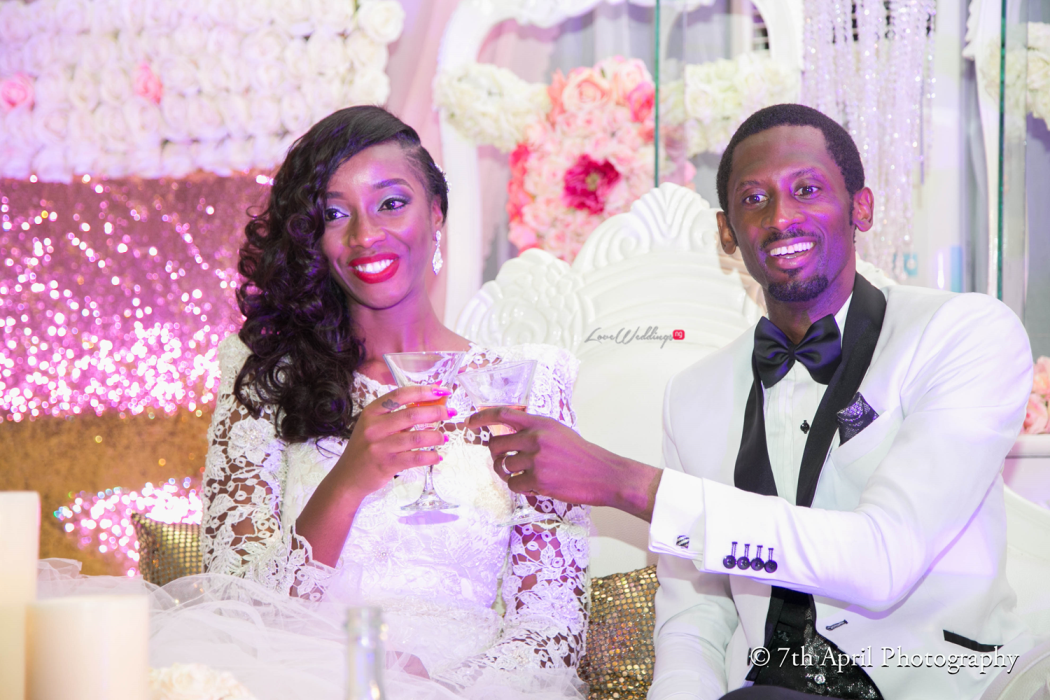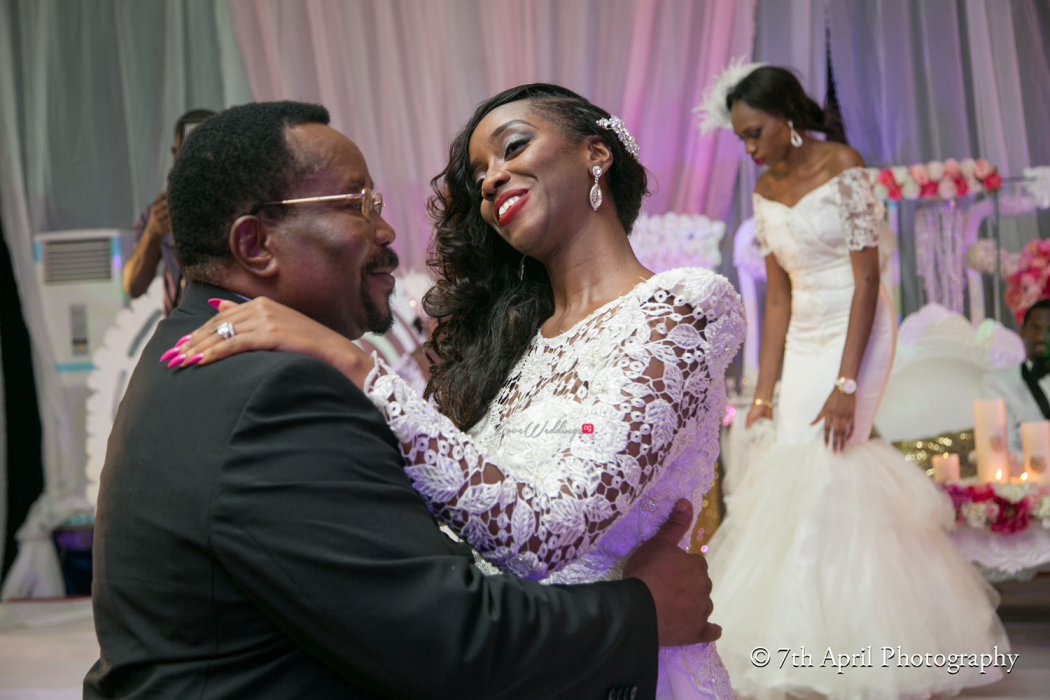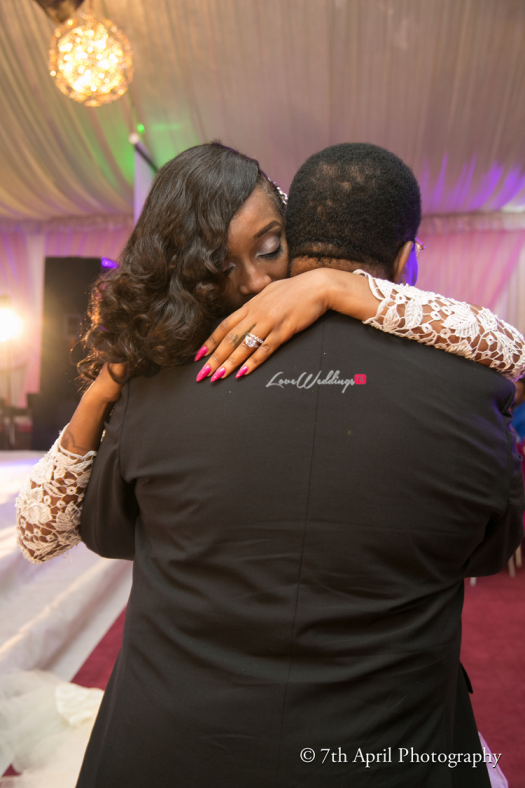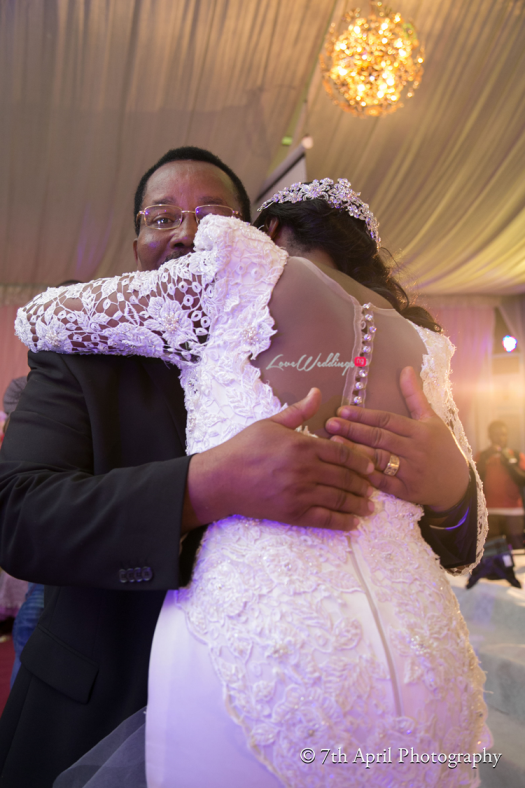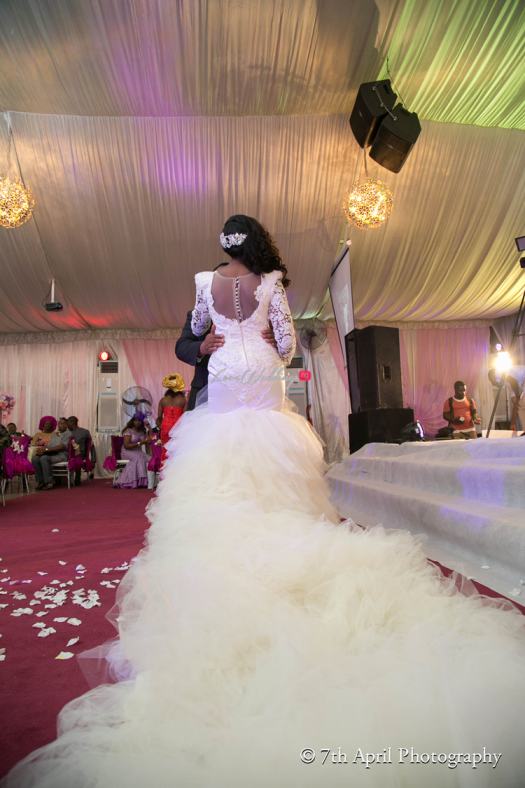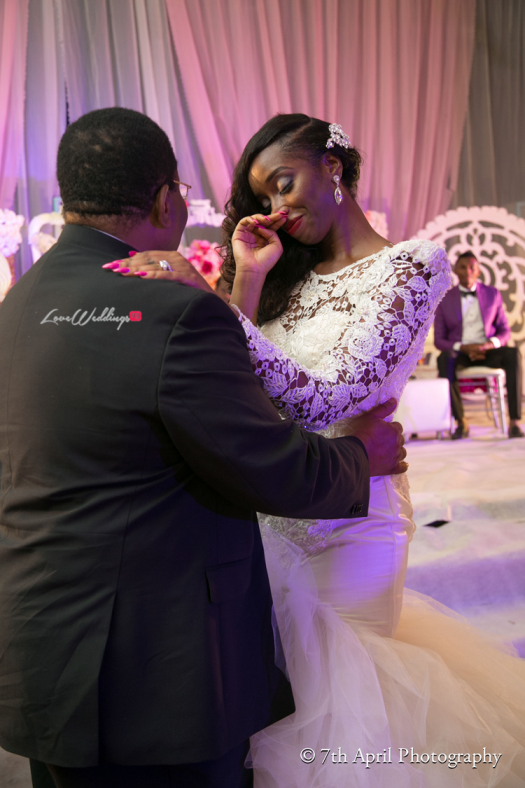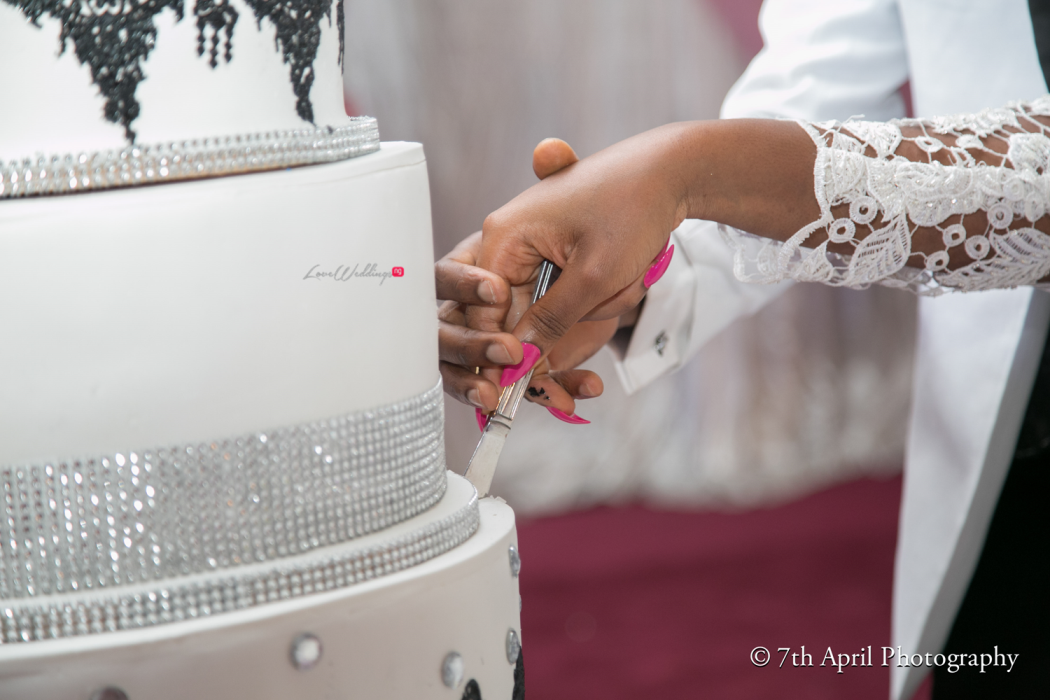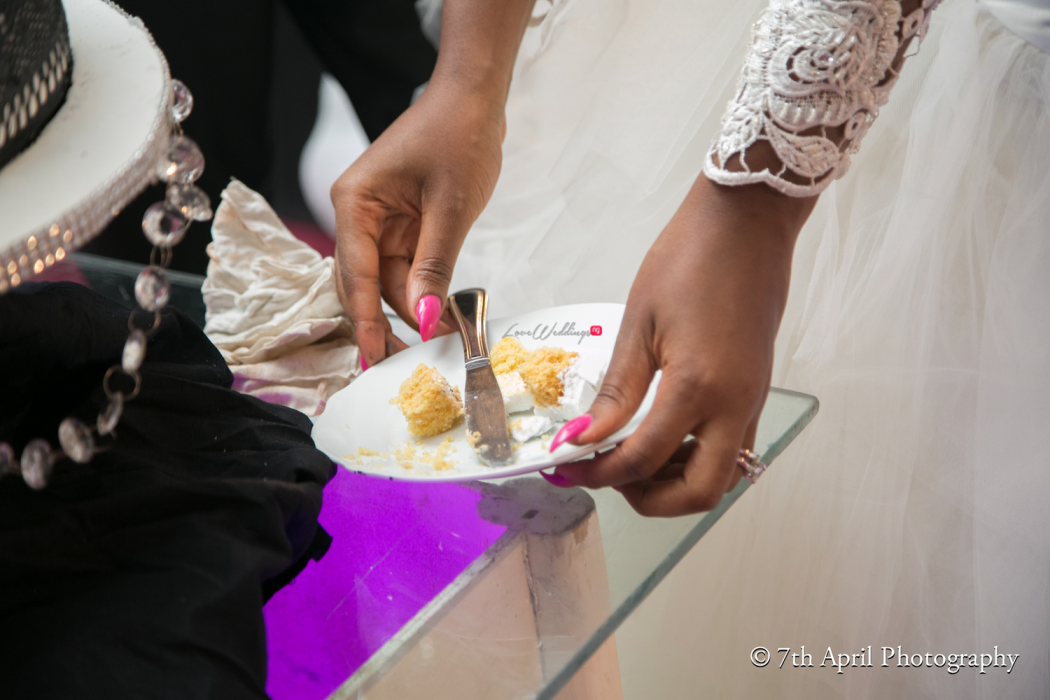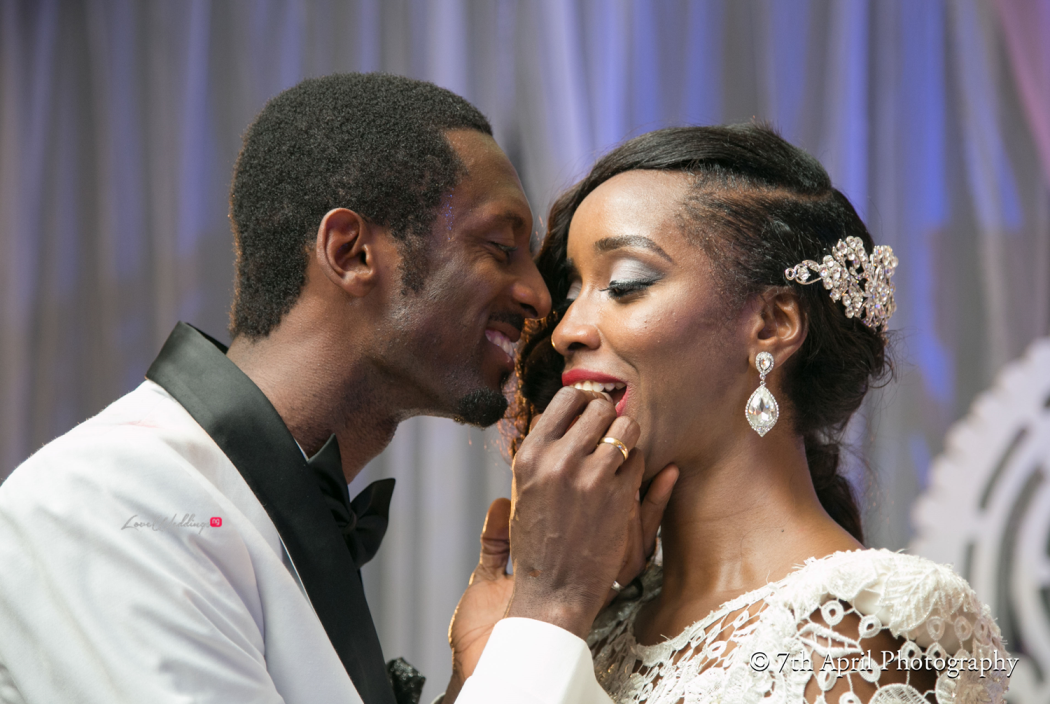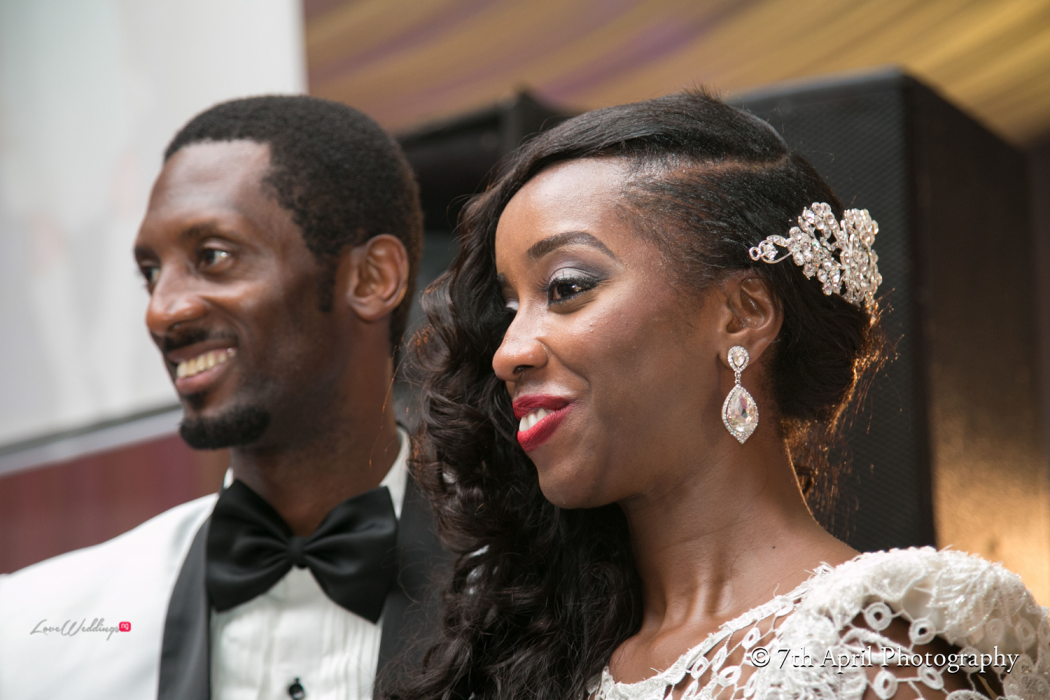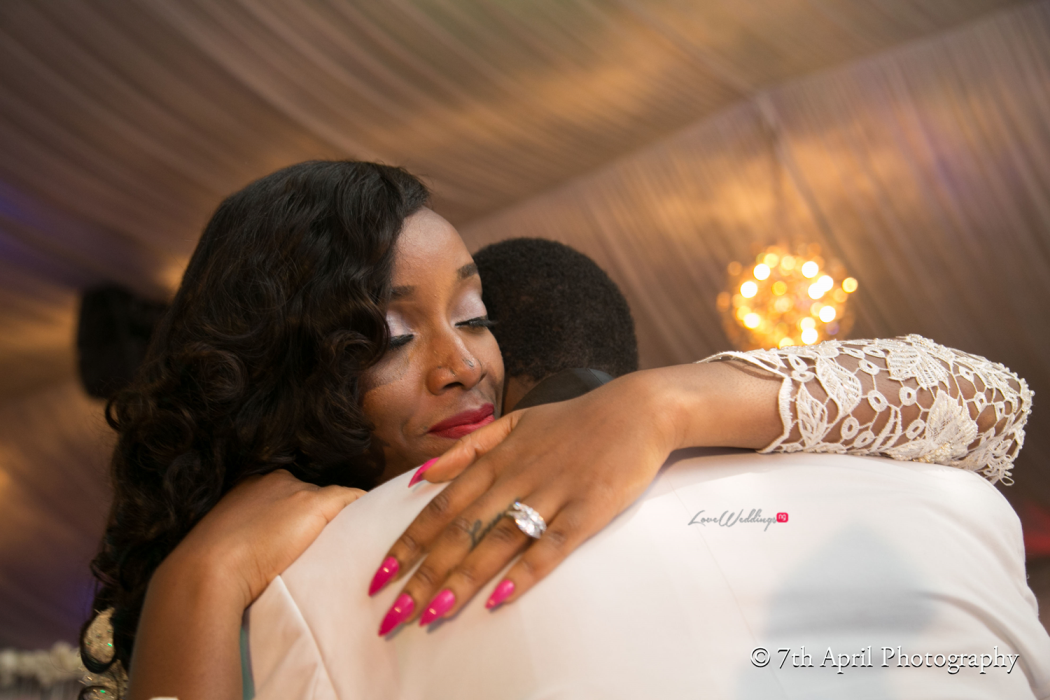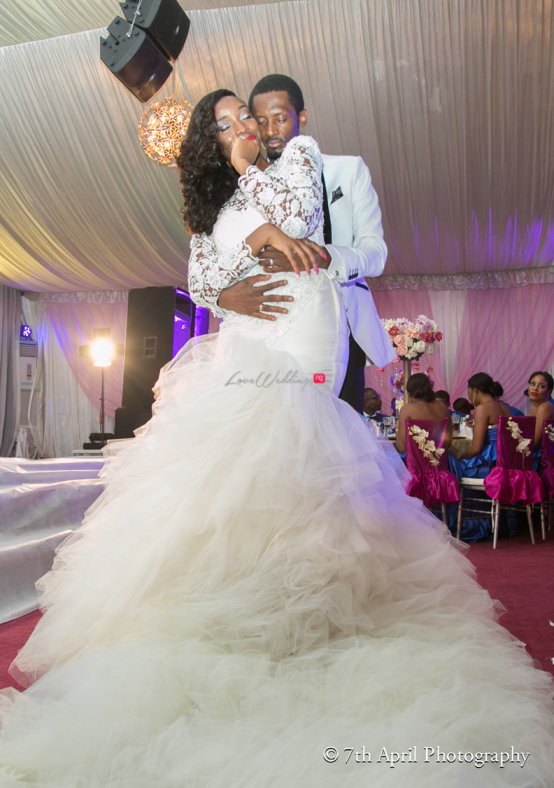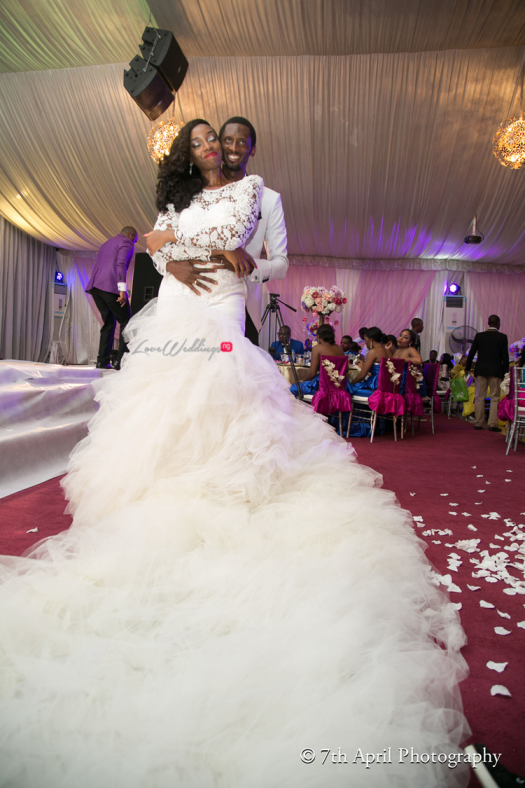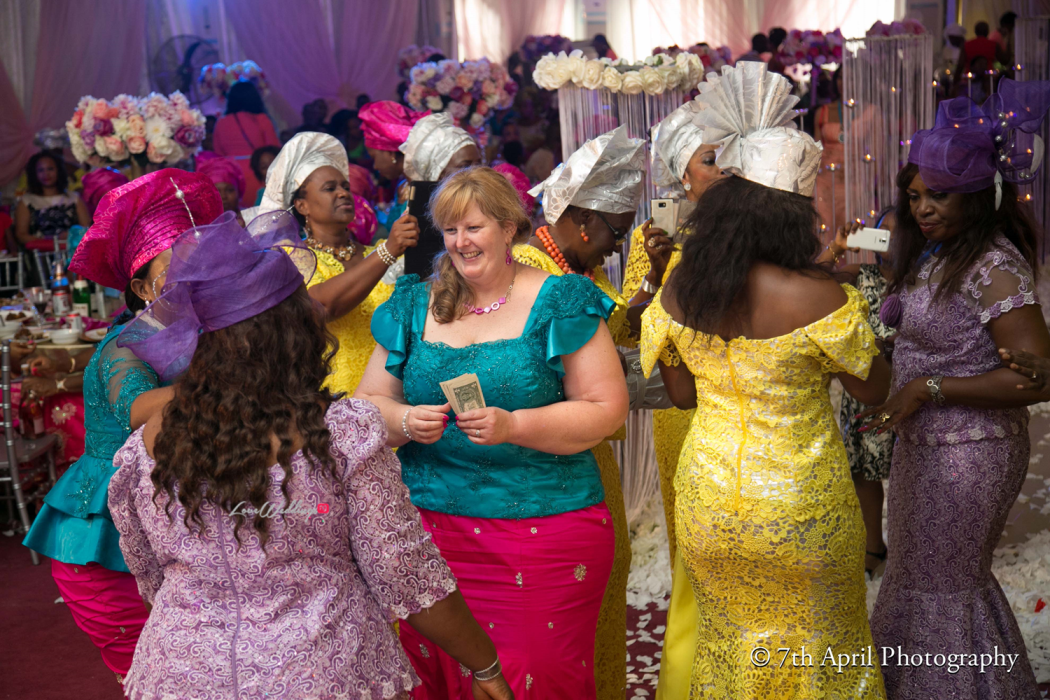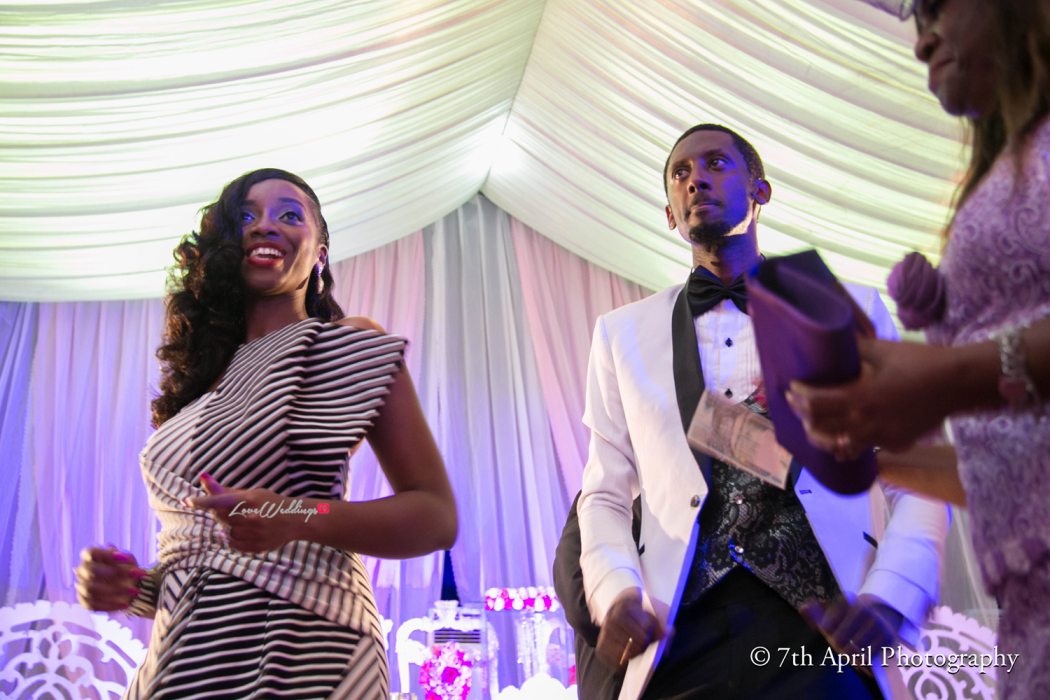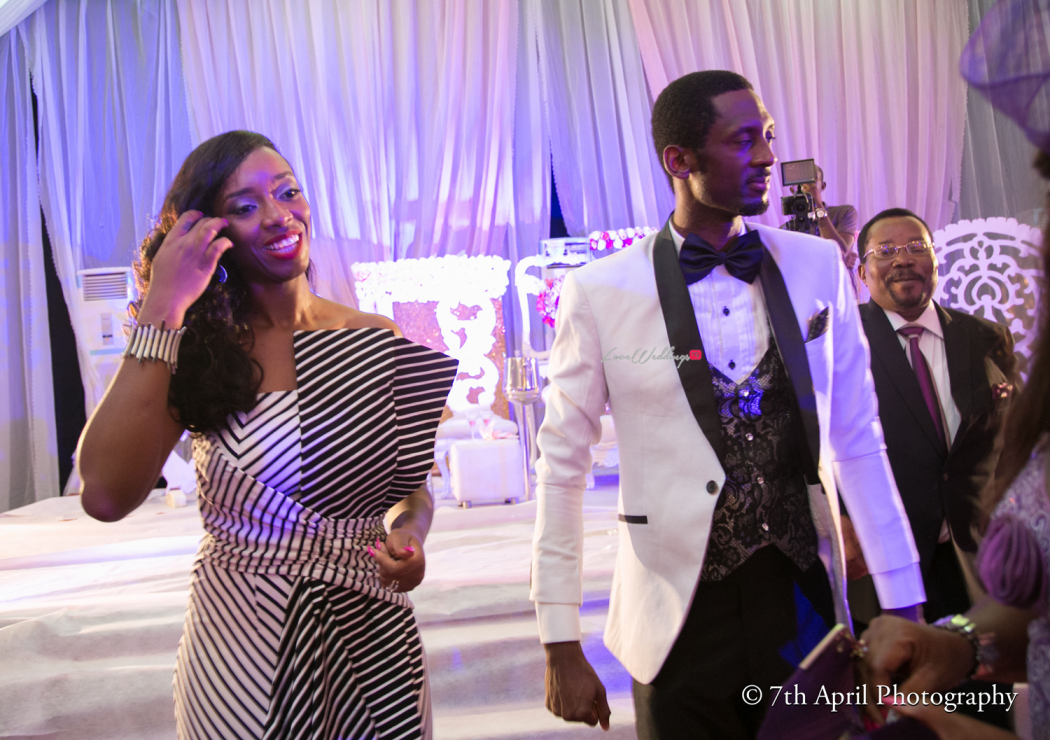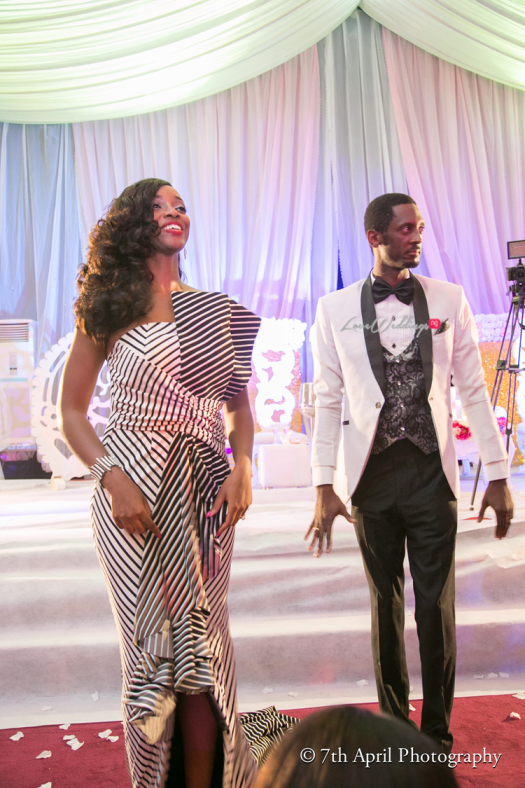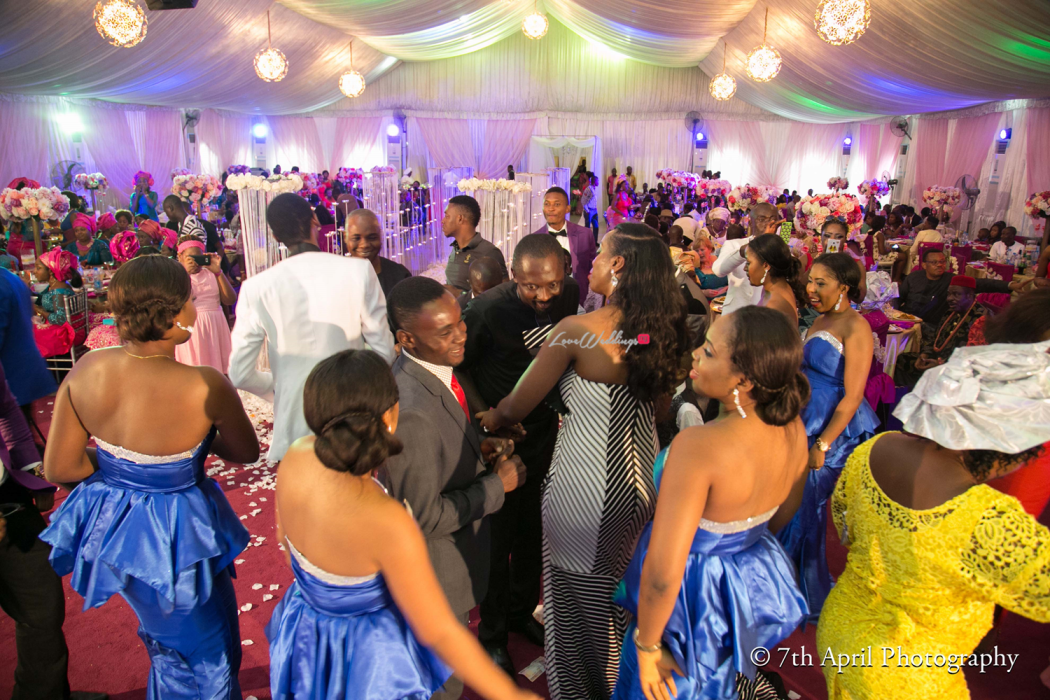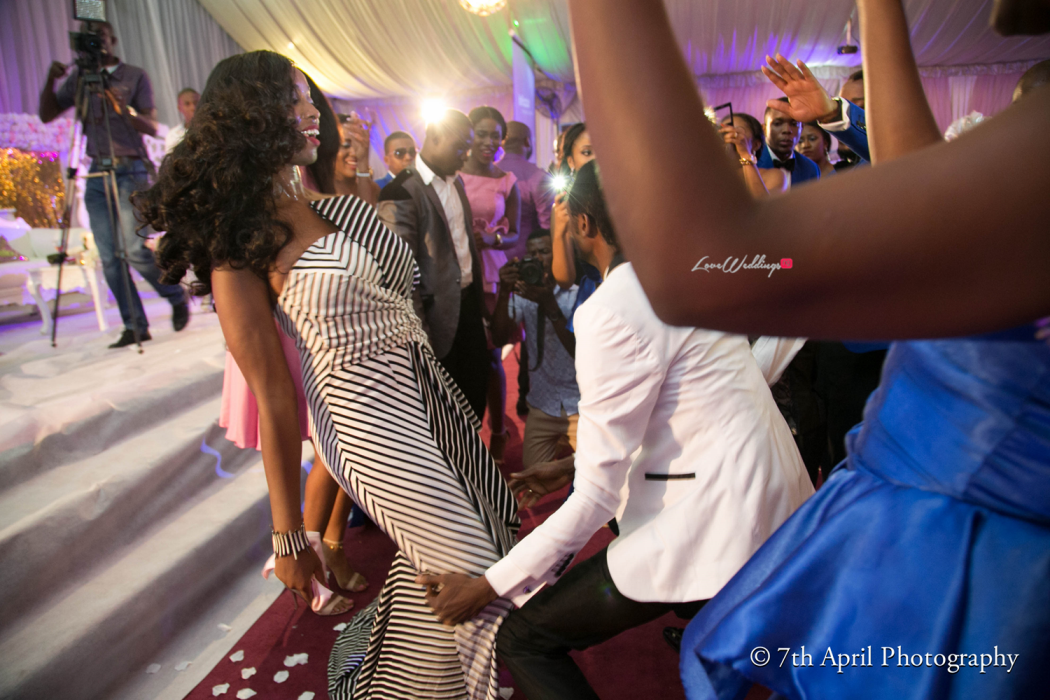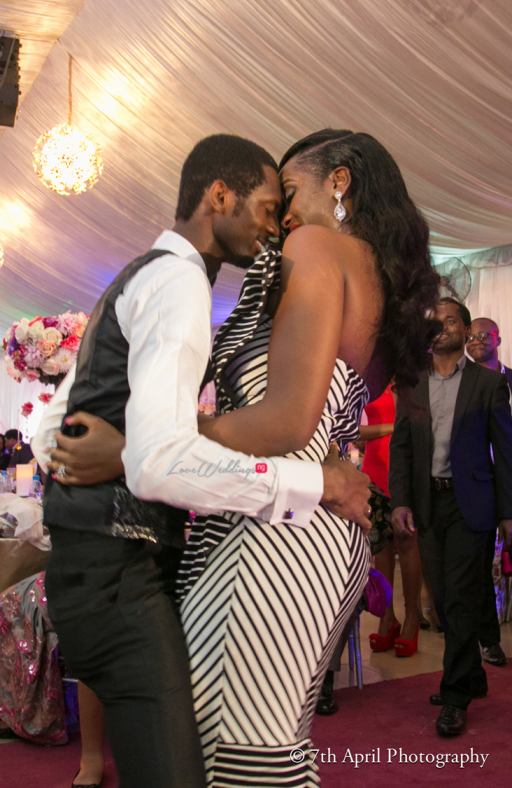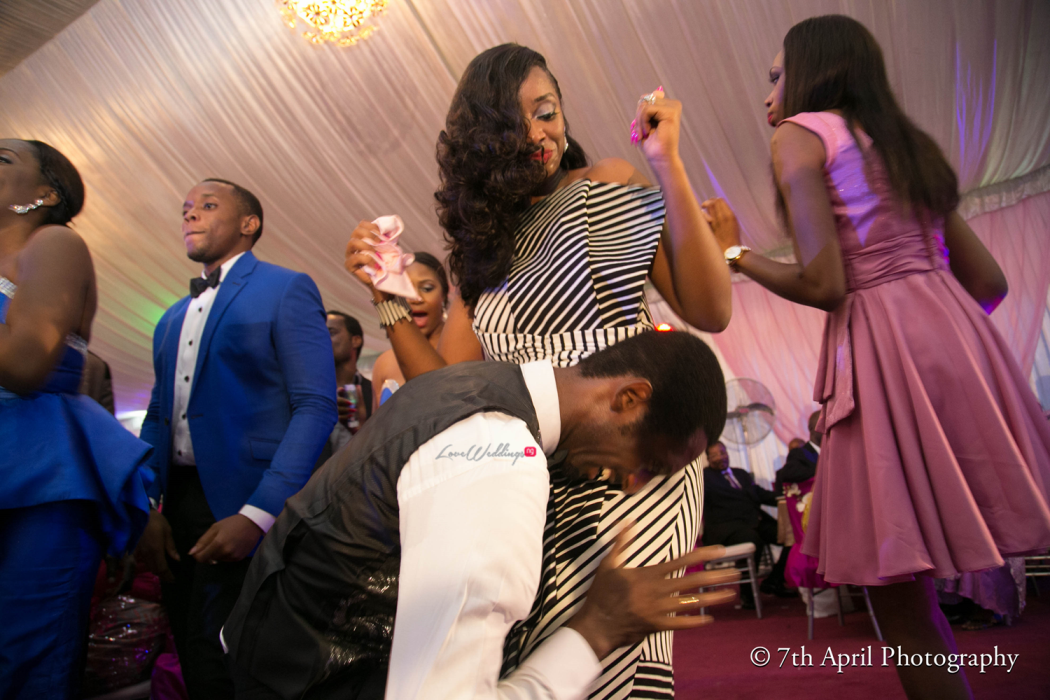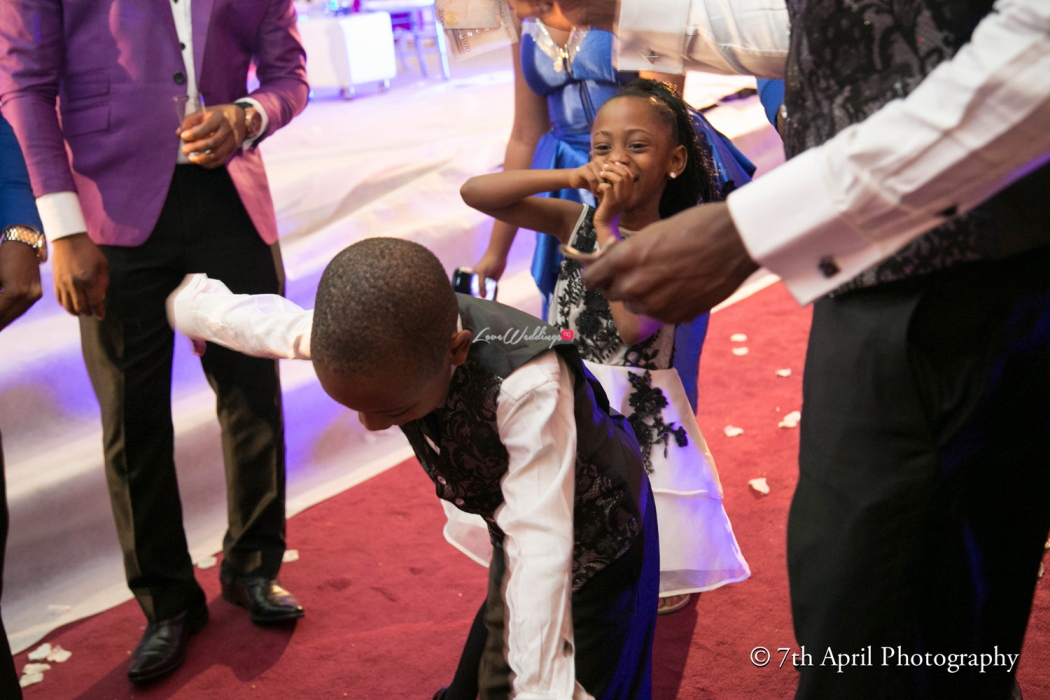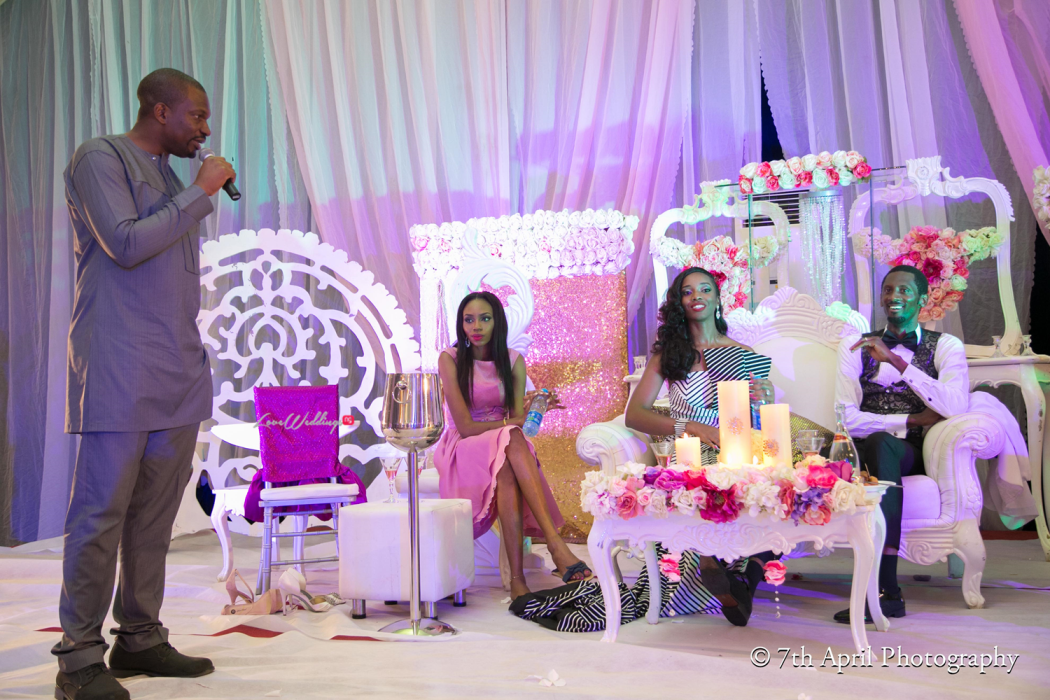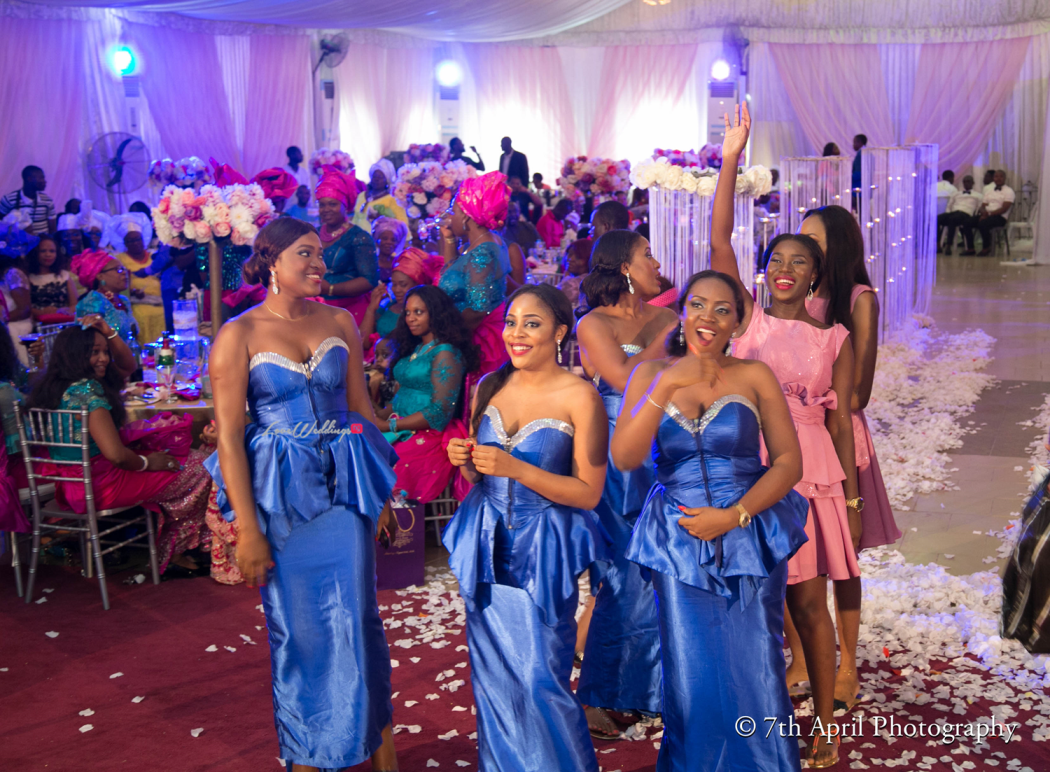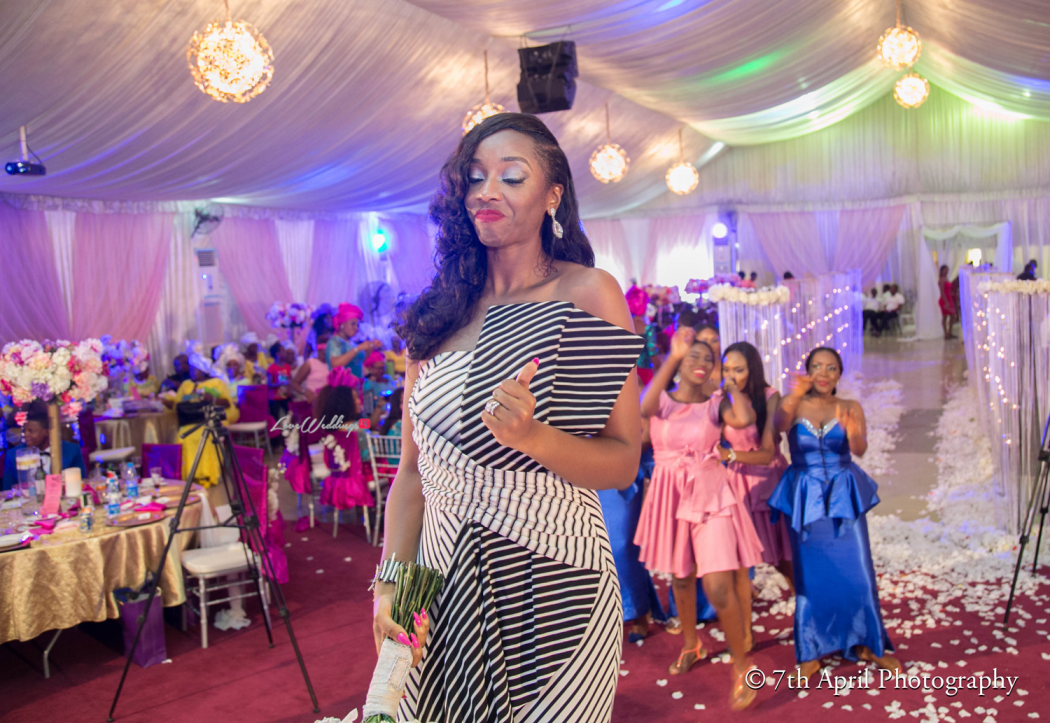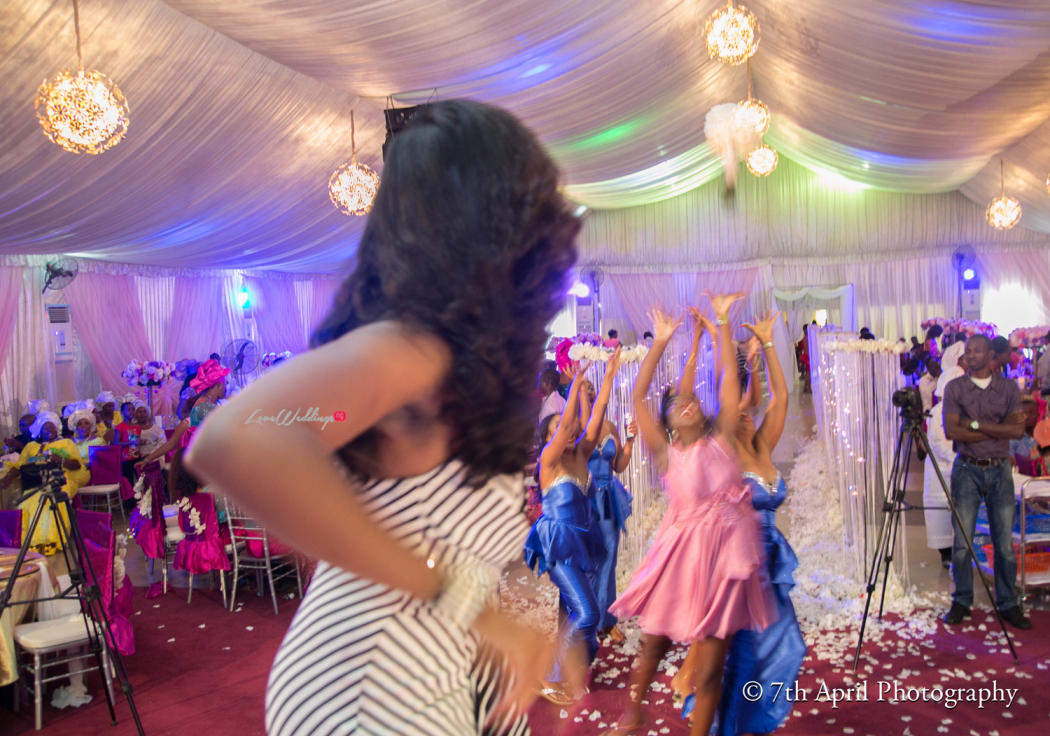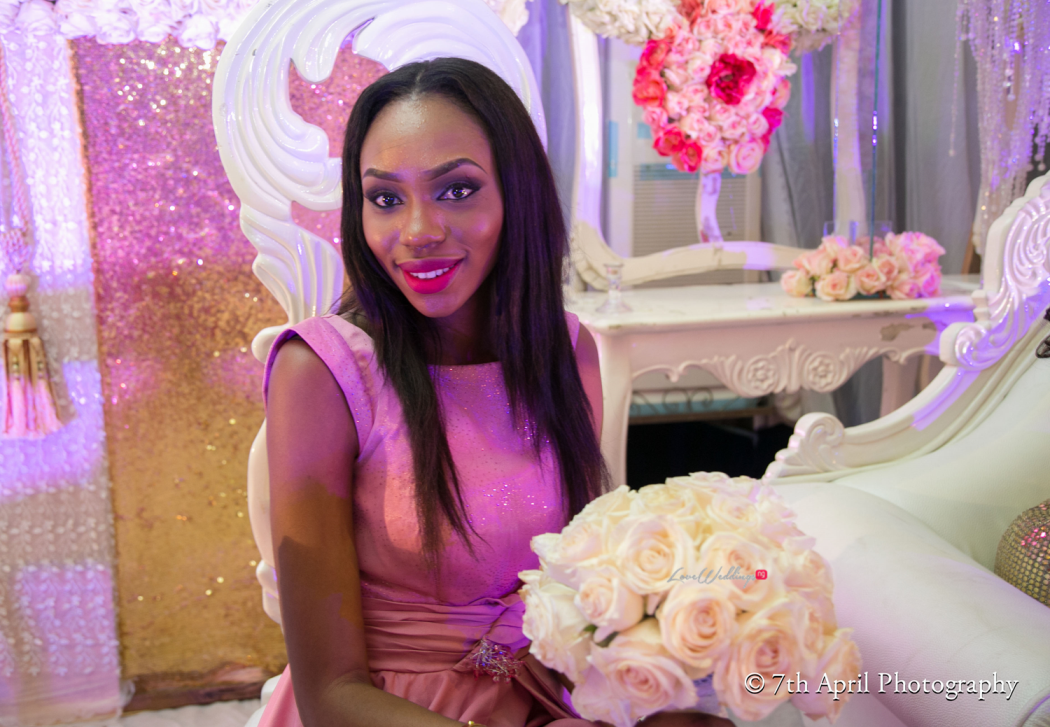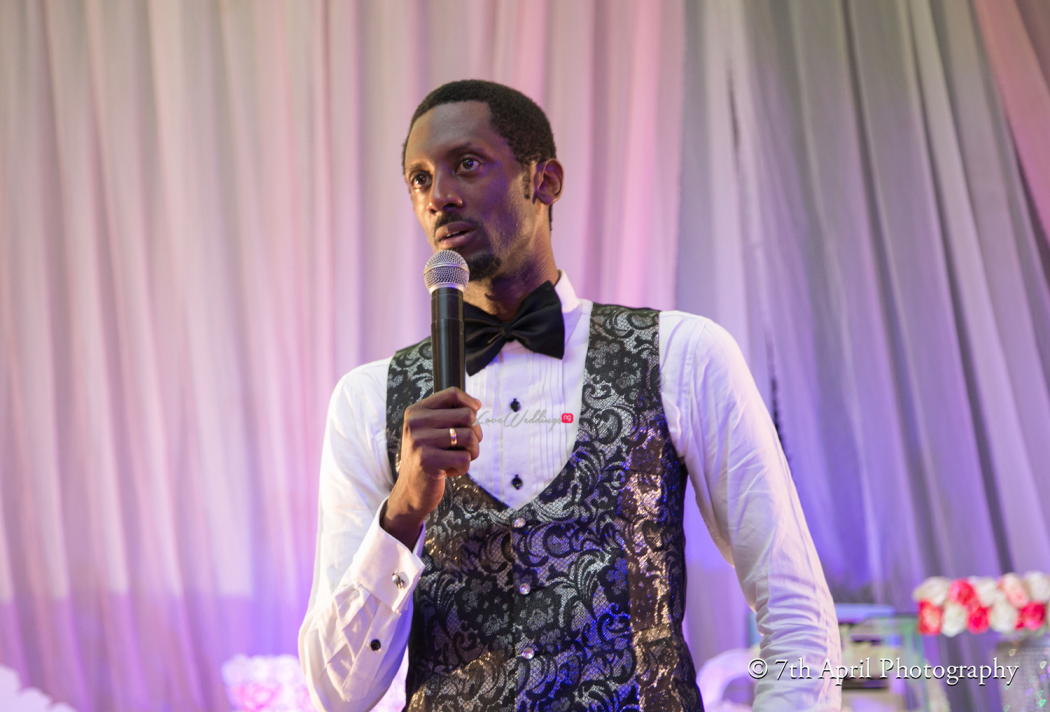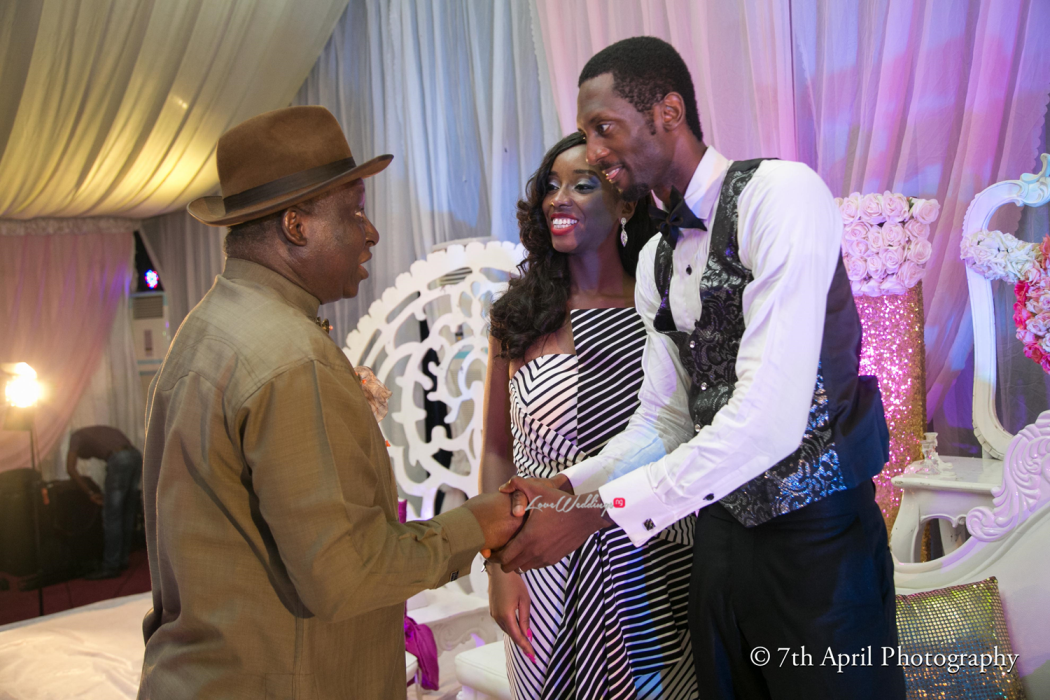 Vendors 
Photography: 7th April Photography | Instagram
Bridal Gown, Bride's Reception Dress, Chief Bridesmaids second outfit, Bridal Train & Little Bride's Outfit: Yvonne Jonne | Instagram – @sommyyvonne @yvonnejonne | Phone: 08033172959 |08165588214
Make Up: Ada Art Studio | Instagram | Phone: 08035021888
Hair: Karo Williams | Instagram
Event Planner: Gleamz World of Events |  Instagram | Phone: 08036780002
Decor: Intimacy Events | Instagram | Phone: 08030267652, 09036140003
Bouquet: Love Bug Florist Instagram | Phone: 08131883002
Caterer: Phone: 08037245148 , 08091111180
We love weddings, do you?
Get in touch today Loveweddingsng| Website | Instagram | Twitter | Facebook | Tumblr | Google+