Calling All Female Entrepreneurs! Showcase Your Business & Gain Attractive Benefits at YEEx For Women 2014
The end of the year is fast approaching and it's time to give your business that much needed boost it deserves. Picture a gathering of thousands of buyers where you can showcase your goods and services and also benefit from financial, mentoring, training, sales and media opportunities! This is what you stand to gain by participating in YEEx For Women 2014.
Youth Enterprise Exhibition (YEEx) Nigeria with the support of Federal Government of Nigeria's YouWin Programme, Enterprise Development Center of Pan Atlantic University, Federal Institute of Industrial Research, Oshodi (FIIRO) is organising another edition of Youth Enterprise Exhibition (YEEx) Nigeria this December. This edition, tagged 'YEEx For Women' is for female entrepreneurs who are either just starting out or have been running their businesses for a while.
The highly competitive business terrain makes it necessary for youth who want to succeed in business to have the edge they need. This is why YEEx Nigeria is committed to giving young entrepreneurs a conducive environment to showcase their products and services, and also provide them with financial, training, mentoring and more opportunities through the support of our partners and sponsors.
In 2013, YEEx Nigeria hosted two successful editions of Nigeria's premier youth enterprise exhibition with record breaking attendance and entrepreneurs who attested to business growth. The 2014 edition is a bumper package as youth exhibitors would have access to meet with experienced personnel in the area of business financing. The theme of the event is: "Growing the 21st Century Young Women Enterprise."
YEEx For Women is FREE to attend and is open to both men and women. However, interested exhibitors would pay a N15,000 registration fee to showcase their products and services. Another major attraction of the event is the Networking Lounge where attendees will have the opportunity to relate with successful entrepreneurs who would serve as mentors and a host of successful YouWIN! Winners.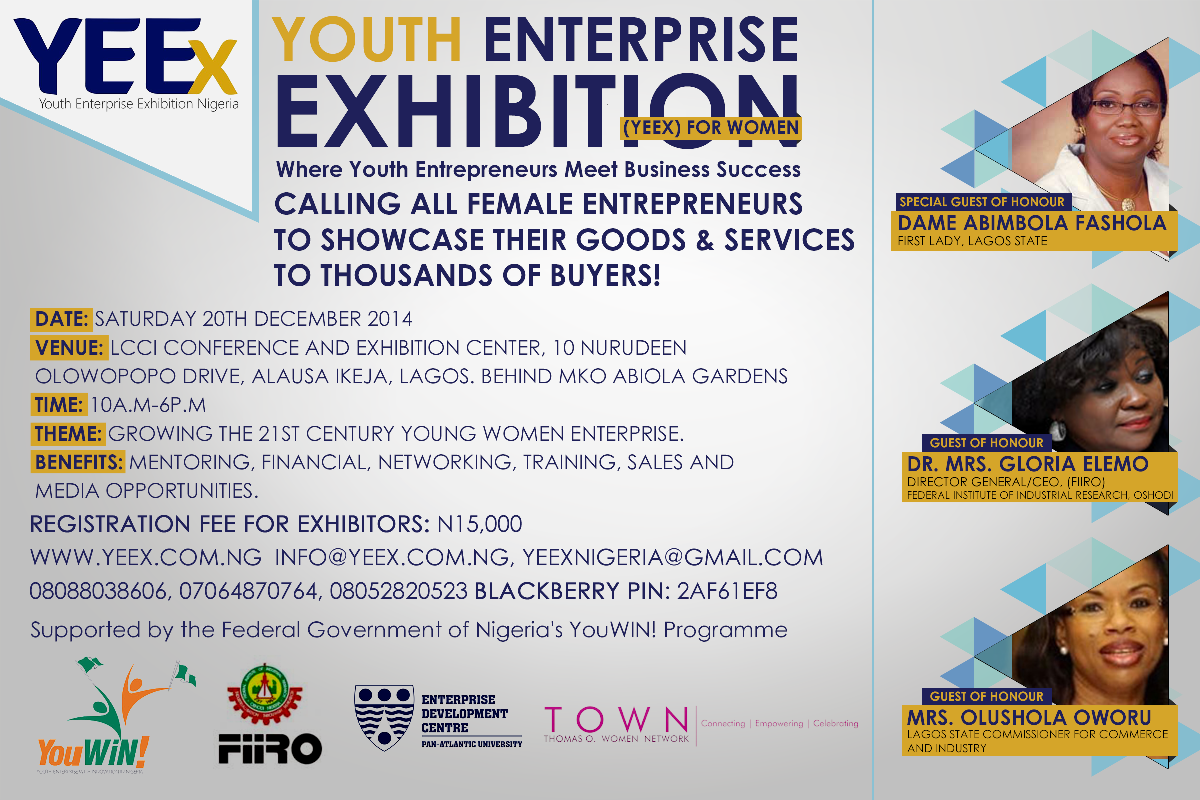 Dame Abimbola Fashola, First Lady of Lagos State will be the Special Guest of Honour at the event. Also, Dr. Mrs. Gloria Elemo, Director General/CEO, Federal Institute of Industrial Research, Oshodi (FIIRO) and Mrs. Olushola Oworu, Lagos State Commissioner for Commerce and Industry; and many other successful individuals are expected to grace the event.
Exhibitors also have the opportunity to launch new products and services, meet with Financial Institutions, Angel Investors and Venture Capitalists for possible equity investment. They also get useful media and brand exposure through the exclusive brochure that would be designed for the purpose of the event and widely distributed.
Date: Saturday 20th December 2014
Venue: LCCI Conference and Exhibition Center, 10 Nurudeen Olowopopo Drive, Alausa Ikeja, Lagos. Behind MKO Abiola Gardens
Time: 10am to 6pm.
Contact: 08088038606, 08052820523, 07064870764; yeexnigeria@gmail.com, info@yeex.com.ng; www.yeex.com.ng
To register as an exhibitor, CLICK HERE