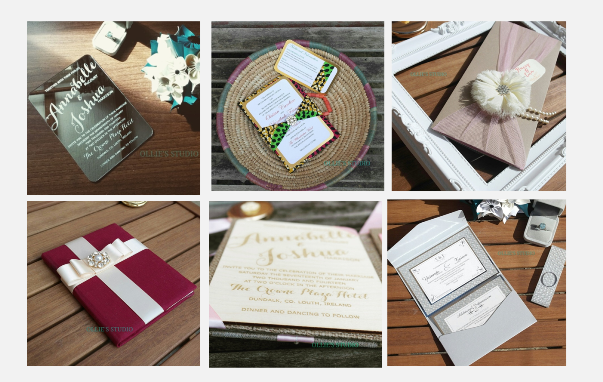 Invitations give your guests the first opportunity to form an impression of your wedding. The anticipation begins the moment the envelope or box arrives … so why not give them something to talk about?
An invitation can relay so much more information than just where and when an event is. It can tell your guests whether the event is glamorous, low key and laid back, how to dress, what colours to wear and the calibre of guests that will be attending. It's also a great way to show your guests just how stylish you are. Your stationery is also essential when it comes to branding your event. Ask your invitation designer to create custom monograms and venue stationery to tie your whole event together.
Gone are the days of boring, bland paper invitations. There is now a staggering array of choices to go with any theme, personality, colour or feeling that you can think of! Here are just a few examples:
1. Glamorous Wedding Invitations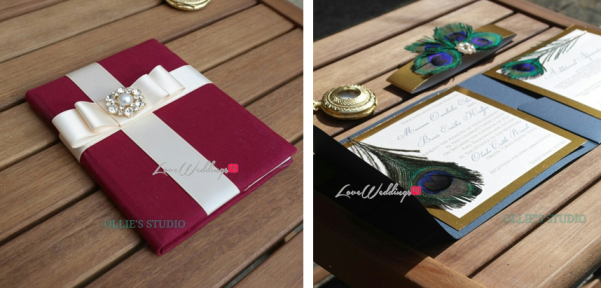 Oh my… you know the tailor and gele specialist you have on speed dial? It's time to give them a call. This invitation heralds an event overflowing with glamour and style. Fine bobos and babes aplenty and killer fashion all around. You'll definitely want to bring your A-game for this one. Show off your glamorous side with silk folios, Dior bows, gold foil accents, decadent bling and luxurious pearl card stock. Embellishments like real peacock feathers are a great way to make sure your invitation and event stand out. Consider coordinating your reception décor with matching menus and peacock feathers in your centerpieces and even your bouquet.
2. Elegant Wedding Invitations

This invitation is for the cool, elegant couple that believes in understated elegance. But don't let the word "understated" fool you. This invitation heralds the kind of wedding where oil blocks are bought and sold! We're talking old money folks. Letterpress printing and cool colours like silver, grey and black signal quiet sophistication so you'll want to keep it classy for this one. Think chic up do and fitted (not tight) evening dress in winter colours. And for the fellas, get your Bond on with a tuxedo. You never know, you might just find your next contract at this wedding.
3. Shabby Chic/Rustic/Informal Wedding Invitations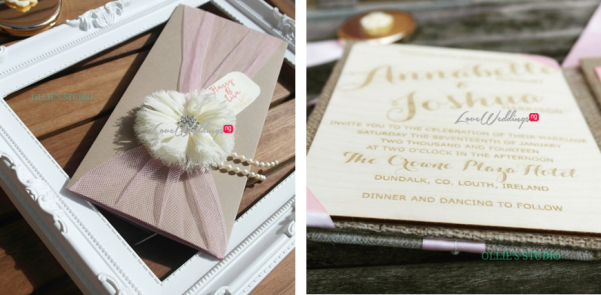 This is for the laid back, informal couple who like to take things easy. Think outdoor or barn wedding with lots of handmade touches. The food served will probably be informal like a barbecue or hog roast. This type of wedding tends to be a lot of fun as everyone is relaxed, dress code is easy and the type of food served encourages guests to mingle. This is not the type of wedding where you can be on your phone the whole day. You'll probably want to skip the heels too. Think cute summer dresses, ballet flats or sandals, flowy hair and flowers everywhere! Burlap, wood, and recycled card softened with sweet touches of pink, pearls and a handmade flower signal a fun and easy breezy wedding!
4. Avant Garde Wedding Invitations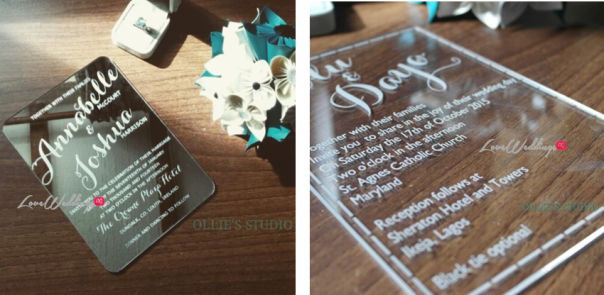 This couple are always ahead of their time. They have the latest gadgets before they've even been announced and they've been saying "bae" and "on fleek" since kindergarten. They taught Lil Wayne about "YOLO". So it's no wonder their invitations are different. Foregoing conventional paper invitations, this couple wows their guests with acrylic, leather or metal invitations… sometimes combining the different media to create a tactile and visual experience for their guests. They're certainly not afraid to be different and try new things so the kind of wedding they have will be anyone's guess. Just know that whatever happens, the wedding (and these invitations) will be talked about for years!
5. Afrocentric Wedding Invitations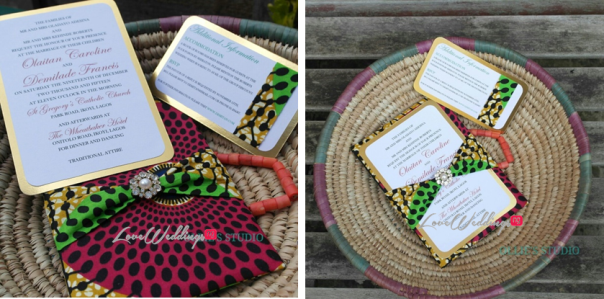 Designers these days can make invitations out of pretty much anything and this includes your favourite Gele fabric or Aso Ebi. While this invitation would be great for a traditional wedding, the gold foil accents and pearl embellishment would glam it up for a white wedding too. This invitation tells your guests that you are a fun and colorful couple and are proud of your heritage. It is a fabulous way to let your guests know what colours to wear to your wedding and prepare them for the serious Owambe that is sure to come. You defintely want to don your favourite traditional attire for this one.
It is recommended that you start your invitation design process at least six months before your wedding and as soon as your venue is booked. The convention is to send your wedding invitation at least six weeks before your event, twelve weeks if your event is out of town or if you're expecting a lot of out of town guests. Save the dates are also a good idea to give your guests time to book flights, get time off work, etc and should be sent four to eight months in advance. A lot of designers are happy to offer discounts if you book all your stationery (invitations, save the dates, menu cards, table plan etc) at the same time. With the range of printing techniques, fabric, paper and material options available, your wedding invitation can be anything you want it to be!
About Ollie's Studio
Ollie's Studio specialises in handmade event stationery – from invitations, save the dates, table plans, place cards and menus to guest books, favour tags and paper party decorations. Ollie's Studio are based in the UK but ship worldwide. You can get in touch by visiting their page on our Directory, calling +447939825339 or sending a mail to hello@olliesstudio.co.uk. You can also get in touch via their Website | Instagram | Facebook.
We love weddings, do you? Get in touch today
Loveweddingsng | Website | Instagram | Twitter | Facebook | Tumblr | Google+