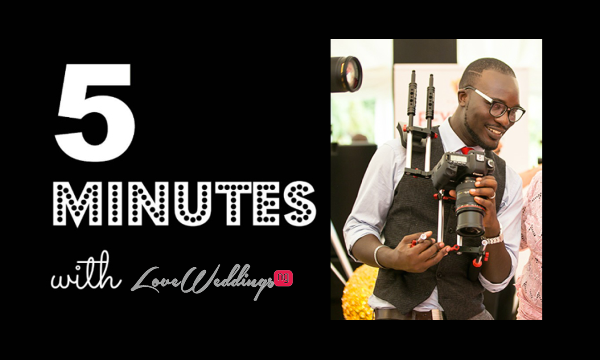 Yes I know, we took a break with 5 Minutes With but we're back with a bang. '5 Minutes with…' is a series of short interviews with some of the esteemed vendors listed on our directory. We get to know the brilliant people behind the brands we love. Last time, we met Barbara of AFMENA Events, catch up HERE if you missed it. Today, we meet Oluseye Samuel-Onalaja of Samon Films.
Oluseye Samuel-Onalaja is the founder of the fast growing production company Samon Films. His first attempt at handling a camera was 10 years ago. He only established Samon Films as a production company 3 years ago after he went to film school (MA in Filmmaking). He is based in Kent and married with a son and another addition soon….yaaay.
Your Brand In Three Words… Creative, Unique, Quality
The Part of My Job I Enjoy The Most … Being able to go out there and do what I love by helping people create a beautiful and lasting memory of different phases and stages in their lives; also the joy of meeting new and lovely people while I equally travel the world.
My Biggest Accomplishment To Date… Birthing Samon films and watching it grow and thrive. I'm assured that there's no success and greatness that we cannot achieve by God's grace and I look forward to that. And also the opportunity to travel to film weddings is something I won't have thought of years back.
The Best Vendor You've Worked With … I have worked with some top vendors. One I will single out is Nigel from Favour Catering & Events. Great guy!

One Quality Every Nigerian Wedding Vendor Must Have and Why? Integrity. This is very important and has always been my watchword, "let your yay be yay and your nay be nay". This will curb most forms of disappointment and possibly displeasure between vendors and their clients. Be punctual – Better too early than late.
In my Spare Time, Family time. As you know my kind of job takes me away mostly on the weekend, which is always, a perfect hanging out time with family. And I also catch up on TV Series' – Game of Thrones, Person of Interest, True Detective etc.
Interesting Fact about You, I can dance for dayssss…contrary to that rule "Tall people can't dance"
What Songs Are Currently on Replay
Melo Melo – Olamide
Roar – Katy Perry
What Book are you currently reading, or what was the last book you read?
The Film Director
London life, Lagos living
Call or Text… Call. I'm "a straight to the point" kind of guy. I love getting things done quickly so I just pick up my phone and call instead of texting and waiting for response and all that back and forth. I will text if Only I know that's the most effective way of communicating with any particular person.
Cook or Be Cooked For… Definitely Be cooked for. Though I'm not really a food guy as I eat what is available to me and for the few things I love to eat, thankfully I can easily make.
3 Guests For Dinner, who would they be?
Quentin Tarantino
Morgan Freeman (Legend)
Pastor E.A Adeboye.
To get in touch with Samon Films, click HERE.
For more from our 5 Minutes with … series, click HERE
Next, we meet Teju of Makeover by Teju
We love weddings, do you? Get in touch today
Loveweddingsng | Website | Instagram | Twitter | Facebook | Tumblr | Google+