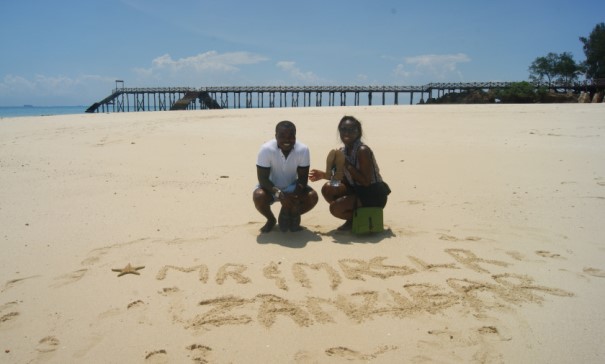 Welcome to our first Naija Nomads + LoveweddingsNG honeymoon post. If you missed our introductory post last week, catch up HERE.
Today's honeymoon inspiration features Kunye – Yejide & Lakunle, who got married last year. Their decision to go to Zanzibar for their honeymoon was inspired by Scandal Season 4, Episode 1;
The pristine white sandy beach, so pure, clear blue skies….Marvin Gaye's "Sunny" playing in the background and our my favorite TV-series couple, #Olake (Olivia & Jake), making out on an isolated beach. This pretty perfect scene was the defining moment for me and I knew I had finally found my honeymoon destination! Wherever Olivia and Jake did that is were I wanted to be. And this right here is how we I decided on the honeymoon location. I am a pathetic gladiator and I want to do everything scandal. I even have to drink wine from my "Olivia Pope" glass each time I watch an episode so I can be in my "Olivia Pope" moment. Sorry, I get carried away when I talk about scandal 🙂

Back to the reason why we are here. Right after that episode, I told my husband to forget Thailand, St Lucia, St Maarten and all the other potential destinations we had penned down. Zanzibar was closer and cheaper and I was going to have my "standing in the sun" moment. Win-Win for both of us :).

This time around, I had no time for my usual read-all-reviews-on-tripadvisor behavior. I planned and paid for everything in a couple of hours. I was going batshit-crazy planning my wedding and I wanted little or no distractions. I basically went on Booking.com and paid for the best rated hotel in Kendwa. I didn't even research things to do because the plan was to laze around and do absolutely nothing for 7 straight days. Thanks to my inadequate planning, we were left with getting information from the hotel and locals which turned out helpful.
Budget: N500,000 approx (Flights, Visas, Hotels)
Visas: No prior application as you will obtain your visas on arrival for $50. You will need your yellow fever card.
Flights: We flew Kenya Airways, which is the fastest route from Nigeria to Zanzibar. Other flight options are South Africa Airways and Ethiopia Airways. Flights cost N426,000 – as per honeymooners, we had to travel in maximum comfort.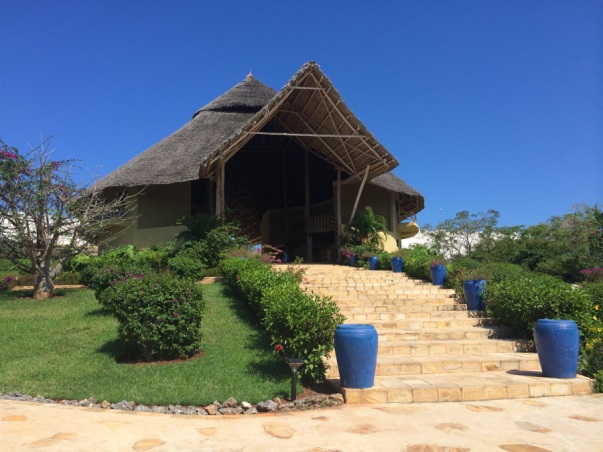 Hotels: There are many hotel options in Zanzibar to suit your budget which is also dependent on the part of the island you decide to stay i.e North, South East, East or West coast. Being honeymooners, we were looking out for a really fancy beach hotel in a quiet area and Gold Zanzibar, located at the North of Zanzibar, suited our criteria. Awesome customer service, perfect white sands and a very relaxing atmosphere. There were other hotels 5-10 minutes away from Gold Zanzibar, which seemed pretty decent like Kendwa Rocks, Eden Village and Sunset Kendwa Beach Hotel. Cost: $320 (N64,000) per night.
Transportation: Taxis at the airport cost between $50 – $100 (N10,000 – N20,000) depending on the distance. Our ride cost us $90 because the North coast of Zanzibar is about 2 hours away from the airport. Our stone town/prison island tour cost about $100 (N20,000) for two which included the boat ride to prison island, tour of stone town and lunch. ACTIVITIES: In spite of my plan to laze around and do nothing for 7 days, I found myself longing for activities during our stay. I guess the adrenaline junkie in me came out to play.
Activities

Beach Day
Day trip to Stone Town/Prison Island
Sunset Cruise
Dinner for two at the beach
Jet Ski Seafari
Spa Day
Parasailing
Beach Day: Beach day…all day…everyday. Leisure strolls, standing in the sun, sipping on cocktails and coconuts, shisa puffing, swimming in the crystal clear Indian Ocean and everything newly weds do.
Day Trip to Stone Town/Prison Island: 
"Brada, wanna do the Stone Town tour?"

"Been to Prison Island yet?"

"We take you to Stone Town, give you good deal"
These were some of the questions we were constantly getting asked by numerous locals at the beach. We haggled, then shook hands with one who offered us the best deal (or so we thought) and scheduled a pick for 10.00am the next day. Approaching our room, I heard my husband talking to another local who offered a way better deal than the previous and he scheduled a pick up for 9.30am the next day too. "Babe, what about the other guy we just shook hands with at the beach?" He responds "that is why I told this one to come at 9.30am, we will run away". Imagine that! Next day, we get to the reception at 9.20am and our cheaper guide is already waiting there. As we are getting into the car, guess who walks into the hotel? The 10.00am tour guide. Next thing I hear my husband say; "Hide, Hide, Babe"! hahahahaha. But hide to where please?? After a lot of Swahili speaking, we ended up giving the guy some money for his "stress".
Our guided tour through the alleyways of Stone Town gave us an insight into the rich cultural history of Zanzibar outside the fancy beaches and clear waters. The town had loads of gift shops and we were able to pick souvenirs for friends and family.
A 20 minutes boat ride away from Stone Town was the picturesque Prison Island. From being used as a prison to house rebellious slaves to a quarantine station for yellow fever cases, Prison Island is now a major tourist attraction in the Zanzibar Archipalego.
The Island houses large giant tortoise which reminded us so much of Moyenne Island in Seychelles. We were not surprised when the guide told us the tortoise were imported from Seychelles. We arrived to loud moans coming from the animals which the tour guide told us was the sound of the animals shagging/ mating.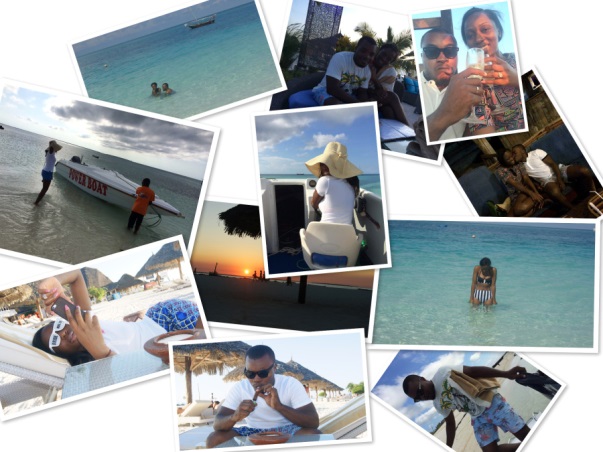 Sunset Cruise: A cruise around the North Coast of Zanzibar as we watched the orange sunset. This was organized by the hotel.
Dinner for Two at the Beach: This came as part of our honeymoon package. The hotel organized a complementary dinner by the beach with a nice show by masai traditional dancers.
Jet Ski Seafari: Unlike me, my other half is not very daring. He likes to play it safe a.k.a. boring! The seafari was a 30 minute jet ski ride + snorkeling. We all know which of the two he did.
Parasailing: One word, exhilarating. This was done at Nungwi. Cost: ****
Spa Day: I always leave my spa days to the very last day of my holiday. Good way to cleanse your body of all the salt, dirt and craziness you might have picked up on your trip. We did this at the hotel and it was so good! Cost: ****
I totally blame Zanzibar for my current weight as I gained about 6kg in one week! No jokes. Everyday we ate a huge seafood patter at Kendwa Rocks for lunch and pasta + prawn wrapped in bacon at Eden Village for dinner.
Unfortunately, I don't remember how much was spent on most things we did. I was in a totally different world :). However, It was an extremely memorable trip and I loved every bit of it. I will definitely visit again but with an Ijebu mind this time around.
Thanks Kunye for sharing …
See you next Thursday
Naija Nomads
About Naija Nomads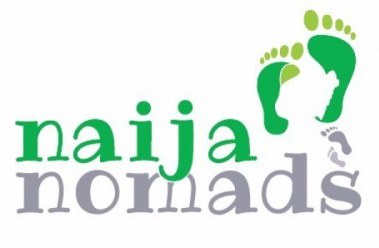 Naija Nomads is the go-to spot for everything travel from visa necessities, budget, activities, travel buddy needs e.t.c.
Get in touch with Naija Nomads – Website | Instagram | Twitter