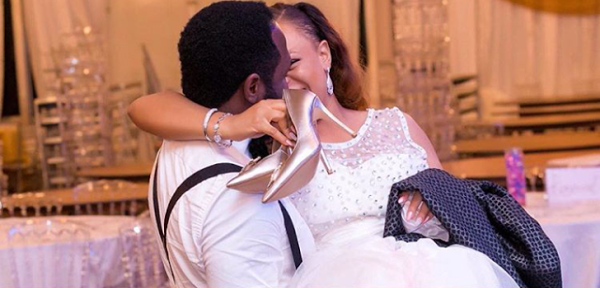 Remember our bride – Alma!! We featured her story and engagement shoot in May, catch up HERE if you missed Alma & Jesse.
Alma believes you don't have to break the bank to look good and she runs a blog – The Style Cheapstake, where she writes about her style, makeup and fashion interests. We came across this very insightful article on her blog and couldn't help but share. Alma shared 10 tips which saved her money while planning her Nigerian wedding. In this current financial climate, any money saving tips will come in handy.
Enjoy!!
Planning a wedding was no small task and there were high moments, low moments and OMG moments!!! Being the cheapie that I am, I tried to save as much as I could. You just might decide to hire me as your wedding planner.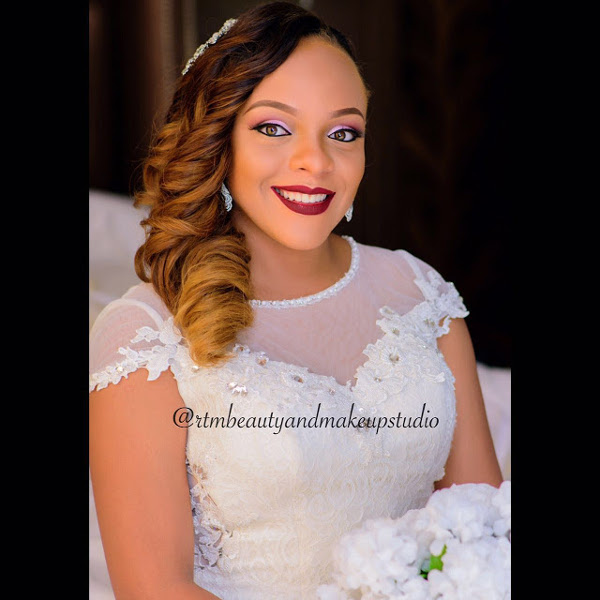 1. Buy Affordable Shoes 
Yes! I still didn't splurge on anything outrageously expensive. Not for a pair of shoes that wouldn't be seen by most of my guests because it would be hiding under my very long dress? My shoes were by Dune London and I got them off Asos!
I already had an idea of what I wanted the shoes to look like, champagne pumps with a powerful bling detail on the top. However I only kept seeing them in brands ranging from Versace to Badgley Mischka. I just couldn't deal. I checked out my loyal ASOS online and voila, Dune London had the same style of shoes, same colour with the same details. The initial problem was that they were being sold for over £80. In this current dollar/pound rates craziness we have been facing in Nigeria, I knew that I had to either wait for it to go on sale or buy my shoes from Aba market. Yes, I was that frustrated. Lol!!!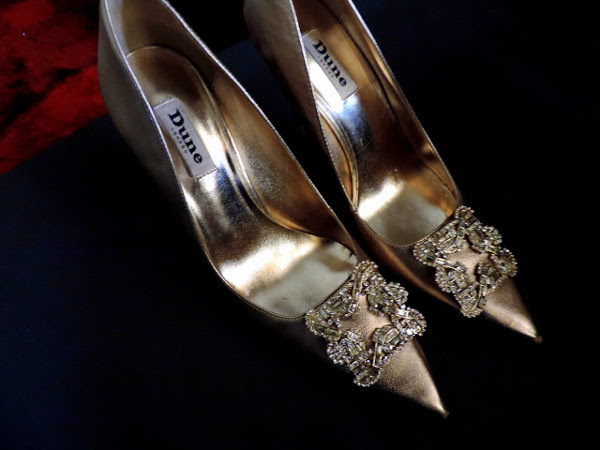 Anyway, long story, short, the shoes later went on sale for £53 and the rest is history. It was sooo freaking beautiful when I received them and it still is. Future brides, just get what your pocket can handle. Trust me, nobody is gonna be talking about your shoes that much. The only time anyone had a good look at mine was when I changed into a short dress before my bouquet toss. Your wedding dress is a little more important, which brings me to my next tip.
2. Buy your dress off the rack
Why do brides stress themselves so much over the almighty wedding dress? I used to think I would have to cross seven seas and climb seven mountains to find my dress but the reverse was the case. Travelling out of Nigeria all because of a dress did not even cross my mind because like I earlier said, the exchange rates have not been smiling. Besides, everything overseas can be found right here in Nigeria. Right here!
So, I took my mum along with me one day (just one day) to scout for wedding dresses and we ended up at Brides & Babies here in Abuja. After trying on four dresses from the rack, the last one stole our hearts. To be honest, I wasn't feeling it on the hanger but once I put it on… it was a different ball game.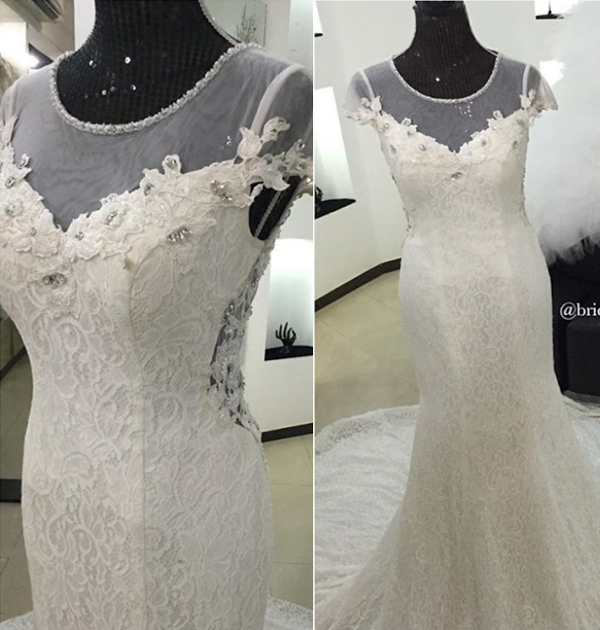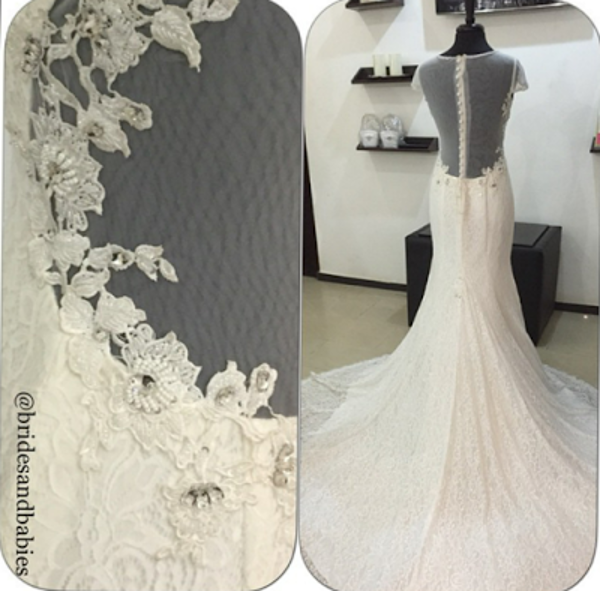 The option of getting a custom made dress did not come up because I had found what I wanted right off the rack. Plus the cost would have been about 50% more if I wanted my dress custom made. If you find something close to your specifications on the racks, buy it and move on. And yes, I didn't have to visit 500 bridal stores in the space of six months to find mine. Why? You will always find something better as long as you keep searching. So save yourself the stress and commit to one dress (the one that you love of course).
After a few adjustments, my simple but beautiful trumpet, all lace wedding dress came out gorgeous and I wouldn't have changed a thing about it. The illusion details at the back turned heads on that day. Sexy, simple and classy!
3. Make your bouquets yourself 
Yes you can do it. Don't panic. I wasn't sure about it too but I just had to try. How was I supposed to pay 45-50k for a bouquet that I was going to end up tossing to one lucky lady at my reception? I carried my two legs to Wuse Market in Abuja where you can find everything under the sun. I got beautiful artificial flowers within my colour scheme and got a different design for my bridesmaids. I also got necessary materials like florist tapes, ribbons and sequin materials. Total cost of everything was roughly about N7,000.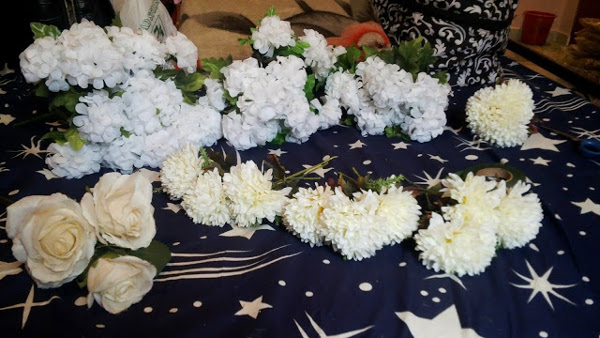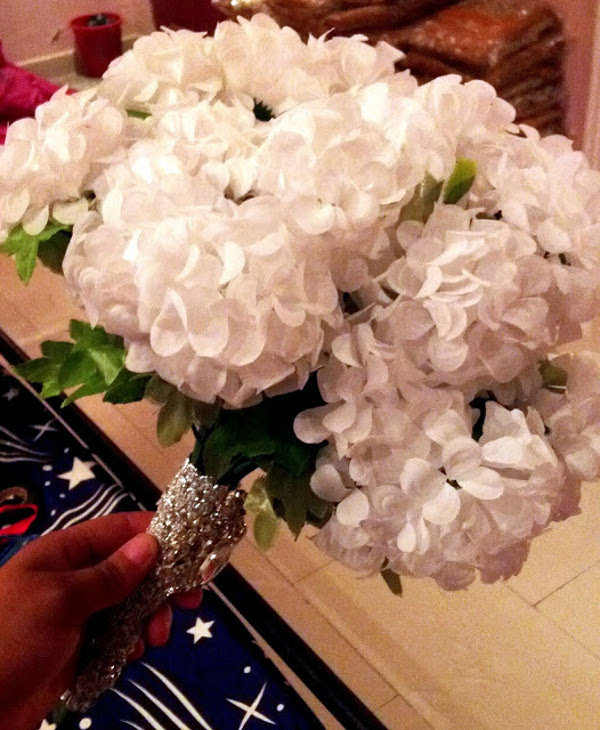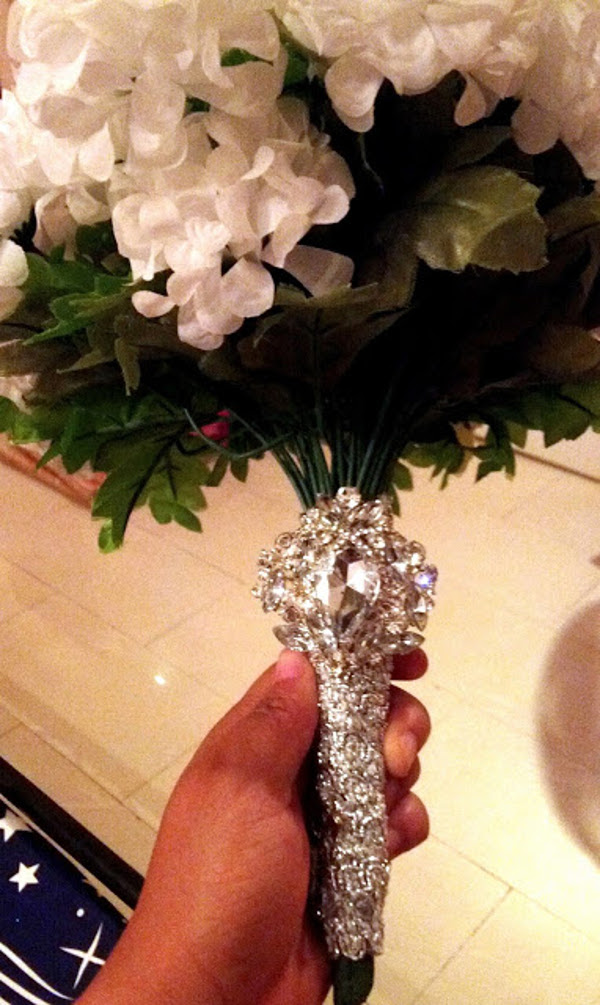 I had so much fun making them, pretty easy too. And for a touch of class, I pinned one of my embellished brooches to my bouquet. They all looked beautiful.
4. Wear two/three bracelets and save on a new wristwatch 
Yea I know you're wondering what I mean by this. I desperately wanted to buy a new wristwatch for the wedding. Nothing overwhelming, just something cute. While I was still contemplating on it, I came across an Instagram post stating how wrong it was for brides to wear wristwatches on their wedding day. The post gave good reasons stating that a wristwatch could clash with the softness of a standard bridal look and how a bride had no business peeping at the time on her wedding day when she had an entire bridal party to do that for her.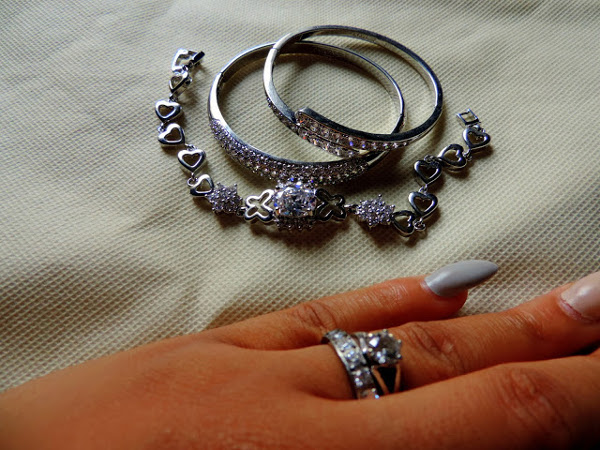 This post was also against ladies wearing wristwatches on the red carpet, with examples showing photos of celebrities at popular award shows like the Oscars who make sure not to commit this fashion faux pa. You know what? I believed it, I 'googled' some of these claims and there were similar reviews on the internet. So yes I decided not to wear a watch on my wedding day, instead I wore a bracelet on one hand and two on the other as advised by top wedding style experts. Lol. All in all, I loved it and I had no issues disturbing my sister every second to tell me what time it was.
5. Create an e-invite 
In this digital era where everything under the sun is passed around via social media, it only makes sense that you invite people for your wedding through that medium. A lot of people do bulk SMS invites though I am not really a big fan as it isn't just personalized enough. We had physical invitation cards, which we gave out to our very distinguished guests, dignitaries and our parents' guests. You know Naija na, we had to!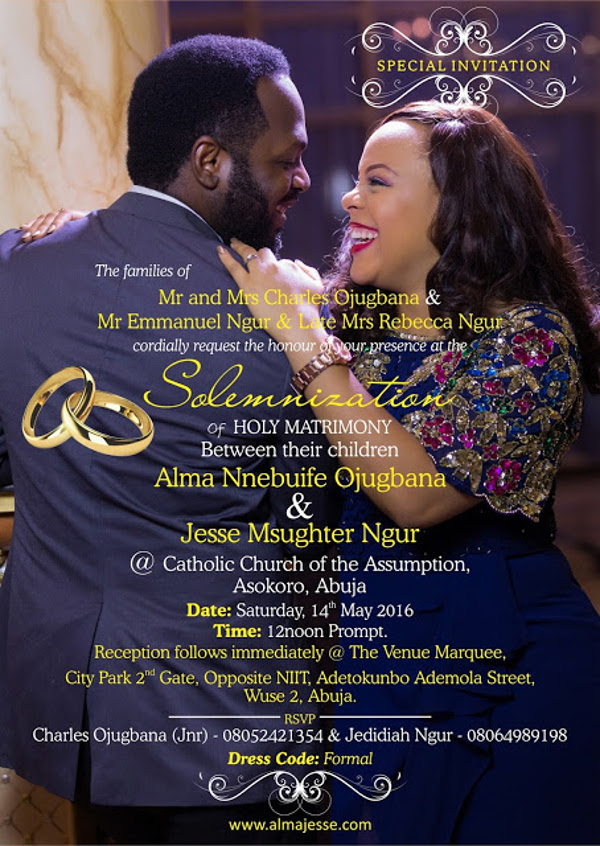 However, the bulk of our invites were sent out in the form of an e-invite created by a graphic designer. If you are good with basic design applications, you can even do this yourself. It cost us basically nothing and it reached out to more than 500 people via BBM, Whatsapp, Facebook and Instagram.
6. Participate in Giveaways & allow family & friends contribute
If you follow me on Instagram, you must have seen me participate in one or two bridal giveaways. I made sure not to go crazy about it but I made sure also not to miss out on some of them. For instance, my bridal robe, bridal mug, bridal handbook, bridal earrings were all given to me for free at BBN Wonderland – an event I was selected for via social media. I also won my bridal hair comb and another pair of earrings in another giveaway. There was one I entered hoping to win a wedding dress but it just didn't happen. I probably would have won more stuff if I continued. You have absolutely nothing to lose. Just try one or two and see.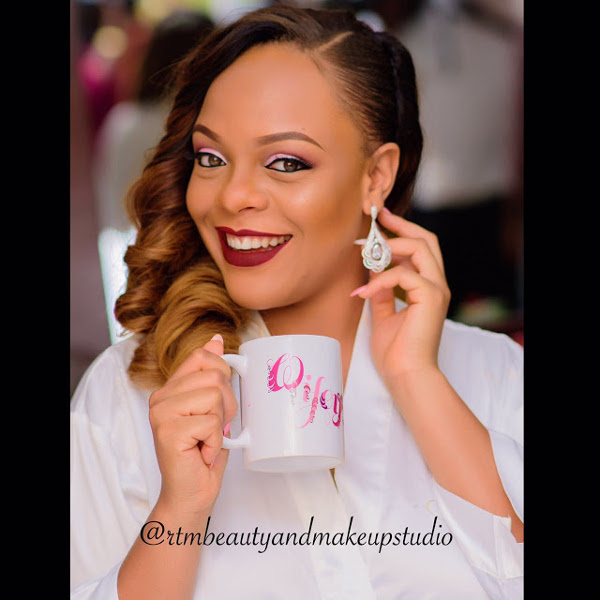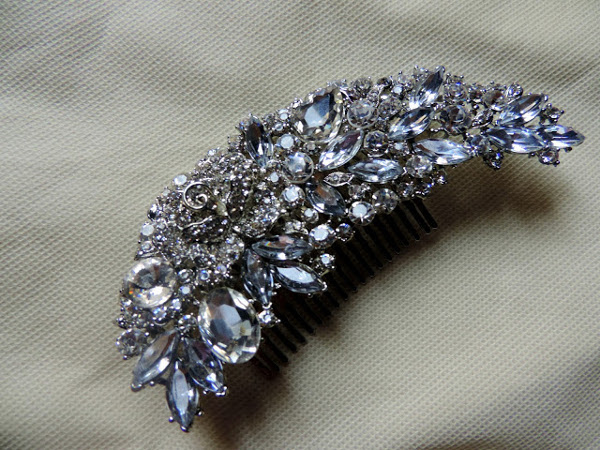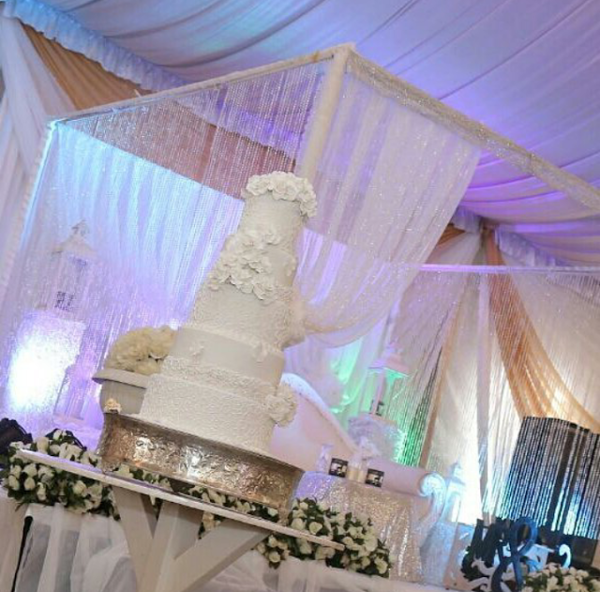 Also, I had family and friends take care of some aspects of the wedding. Many of them offered to do this as their contributions and I couldn't be more grateful. Our huge 5-tier wedding cake, customized bottles of water, part of the food and different pieces of souvenirs were taken care of by loving people. Who says you cannot ask if no one offers and you have to. Ask and you shall receive.
7. Get trusted people to act as wedding coordinator(s)/hostesses
I planned my wedding myself with tremendous help from my mum and I didn't realize the importance of having hostesses/ushers at my wedding reception until almost two months to the wedding day. I had made enquiries and the best deal I could get was N10,000 per usher. For my number of guests and the size of the reception venue, we were talking about 10-15 ushers. No way!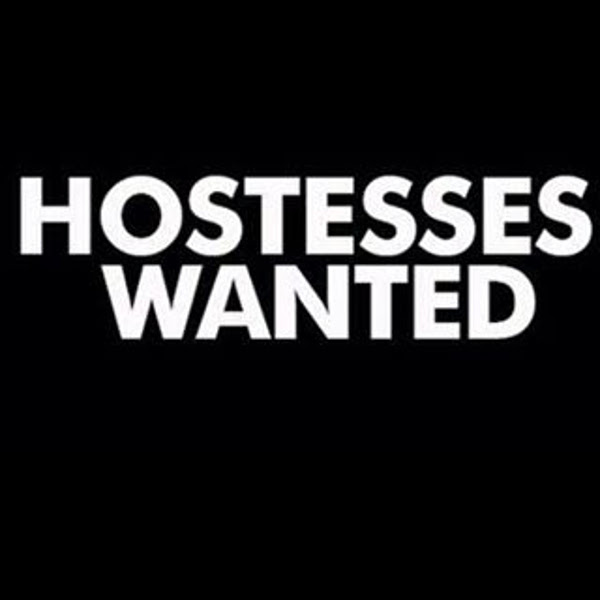 I was still thinking of the best way to go about it and my mum came to the rescue. She organized about 14 young ladies from her place of work and asked them if they could handle the job. Instantly, they all showed interest and were ready to help. All we had to do was to make matching outfits for them and guide them at the reception venue two days to the event about seating arrangements etc. A family friend who also works with my mum acted as my wedding coordinator and all the hostesses were working under her.
Need I say, I was wowed by their smartness and excellent execution of the job. They sure helped in ensuring our guests were well taken care of. What more could I have asked for? (I am yet to get a photo of all my hostesses! Will update soon.)
8. Ditch Aso Ebi for your friends
I had to put my friends into consideration too. I made it clear from Day One that my friends will only wear asoebi for my traditional wedding WHERE I FELT IT WAS MORE IMPORTANT. I knew I wanted my white wedding to look as simple and as classic as possible without subjecting my friends to traditional uniformity again. So I set a dress code by asking all the young ladies and guys to wear anything formal. Boy, were they glad! Everyone was happy to look unique and more importantly not to spend money on asoebi. I love the feel that it gave the wedding with guys in their suits and ladies in their pretty dresses.
9. Serve affordable sweet wine 
My mum is a lover of red wine and over the years I have grown with numerous bottles of red wine being consumed at home by visitors. So it was only normal that I wanted a bottle of good red wine in addition to other drinks on each table. Now we were talking 100 bottles of red wine for the wedding minus extra bottles. You don't need me to tell you how much we were looking at. Of course we needed another option.
During our Valentine's treat back in February, the hubby and I were served a lovely sweet alcoholic wine called 4th Street and it is made in South Africa. I could not stop gushing about it after that day. The following week, we found ourselves in a store and we sighted it in the 'Wine Section' being sold for about N730 a bottle. I couldn't believe it.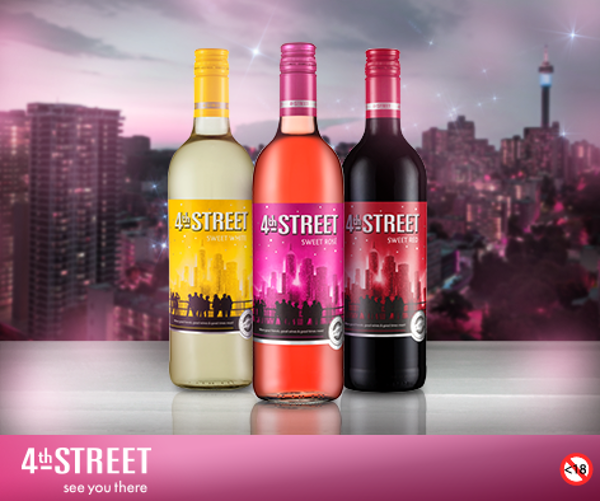 What's more, they come in three different flavours. At that very moment, that became the option we were searching for. What's more, by the time we purchased it in cartons, the prices were slashed by almost half! I realized that not everybody is a core red wine drinker and this particular sweet wine would appeal more to the larger percentage of our guests. And it sure did. Everyone loved it. We made sure to mix it up with another brand in the same category (I don't remember the name). Despite this, my mum still had a personal cooler with special red wine for her important guests.
10. Give out affordable souvenirs that people will actually use
Now I am not very good in coming up with ideas for souvenirs so this was an uphill task. Nobody wants to receive plastic kitchen utensils or a bottle opener anymore. People will always write so we decided on a mini notebook that one could easily throw into a handbag. In addition to that, we had very unique mugs in different colours. I loved the fact that they came in individual packs. People will always drink coffee/tea abi?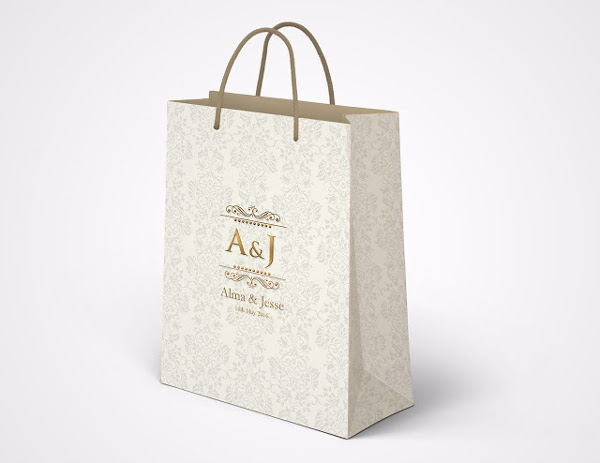 We also had travel toilet bags, egg whisking utensils, face towels and sewing kits. To crown it all, we made mini gift bags with our logo big enough to house two items each person received. It was simple but classy. Not to mention that we had family and friends who made special numerous souvenirs for us and ended up sharing them as well after the gift bags had gone round.
BONUS TIP: No matter how cliche it sounds, stick to your budget
Yes my brothers and sisters, stick to your budget. Jesse and I found ourselves cutting down on stuff instead of going over and beyond our budget, doing things we could not afford. You have a new life to look forward to after the wedding, save up a little, rent a beautiful apartment and if possible, go on an amazing honeymoon (if this era of change will allow you). Everyone who attends your wedding will eat your food, drink your wine, dance to the tunes of the DJ you paid for and collect the souvenirs you had sleepless nights over. At the end of it all, they bid you farewell and reality sets in. Trust me, it may not be so rosy for you and your new spouse if you begin your lives with a huge debt over your head.
Above all, commit all your plans into God's hands and let him take full control. Never stop praying! This has to be the most inexpensive tip when planning a wedding, it doesn't cost a thing.
We totally enjoyed reading this article and we're grateful to Alma for sharing this with us. Let us know which of these tips you'd be adopting for your Nigerian wedding.
Credits: The Style Cheapstake