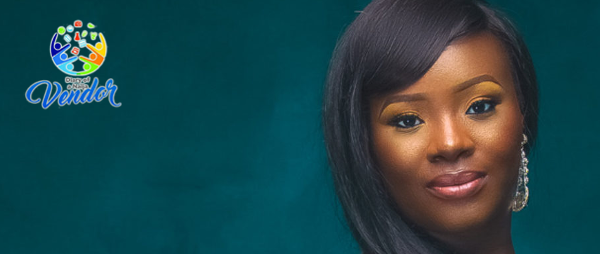 Its our first Diary of a Naija Wedding vendor post of the year and who better to feature than the madam herself – Ifeoma Adefemi. Ifeoma is the head makeup artist of IPosh Looks and the founder of Diary of a Naija Vendor. In this post, she recalls how being extremely nice and tolerant earned her a lot of abuse from the groom.
Read below;
Sometime last year, I was contracted for a bridal makeup job in the United States. I negotiated with the wedding planner and we concluded on the price including terms and conditions of accommodation and transportation. The price agreed was for two days. When I got to the US, I called the planner to let her know I was in town. Few days before I arrived, we had some issues regarding transportation which we were able to resolve.

On the day of the traditional wedding, I arrived at the hotel and did the bride's make up. After doing the job, I was expecting them to indicate where my room was but they were not forthcoming. When I completed the job, the wedding planner told me I will be sharing the hotel room with the bride, which was contrary to our agreement. I reluctantly agreed empathizing that the bride may be on a low budget; I thought 'maybe she had over spent.' Rather than sleeping on the bed, because she also had her friends and sisters around, I chose to sleep on the couch.

On the day of her white wedding, the bride really loved her makeup, so she begged me to stay for her thanksgiving, which wasn't the initial plan. I told her I had another job on Sunday in New Jersey. She begged and begged and being a pretty young lady, I took her like my kid sister; allowed my emotions take the better part of me and agreed to stay on the condition she would provide my accommodation for the extra night. I did her makeup and her hair because her hairdresser messed up. I did her hair for free because I felt we were already friends (regular cost is about $150).

When we got to the wedding reception, I realized that her husband's elder sister was my secondary school classmate. I felt good that I did a favor for a friend. At the reception, I noticed that her friends were dancing and taking selfies, while the money guests sprayed lay fallow. I took it upon myself to help pack the money; I wouldn't normally do this this I later realized this was not appreciated.

When we left the reception venue, I expected to be dropped off at my hotel only for them to stop at their in-laws. I was left in the car tired and exhausted. After we left the in-laws', we continued driving and got to the venue where we were supposed to sleep. Lo and behold, it was the couple's house! I decided okay to just take it as it was already late (past midnight). I assumed, the house was a two bedroom apartment and I'll have a room to myself only to find out it was a one bedroom apartment. Guess what? I had to sleep in the couch again. They had no regard or respect and acted like it was the normal thing to do. I said to myself, I am here already, "let me just do and get out". I reminded her I had jobs scheduled for the next day so she would have to come out early.

I got up early, got ready and waited for her to come out for her makeup. I don't know if it was honeymoon that had started already, but she came out really late. I restrained from knocking the door because I felt it was not polite. Now she made me miss the coach that was supposed to take me out of town. I had to pay for an express speed train, which was more expensive. "After all the inconvenience, who do you think should bear the consequences?" I asked her. She said she would bear the consequences and pay the extra train fare.

When I arrived at my destination, I had to beg and apologize for coming late but was able to do the job despite the many hullabaloos. I mean it was a whole crazy episode to get to the train and all. I even forgot my phone at the bride's place, because I was in a hurry. When I got back to New York, I was expecting my extra money for transportation as planned. We spoke and she talked about how she would return my phone but didn't mention the money. Then I asked about the extra speed train fee, because it was like three times the regular cost. They were supposed to cover my transportation into their state and out, but did I mention that it also wasn't paid for? How about all that?

She started stuttering only for her husband to pick up the phone and he started raining abuses on me!!! He said to start with, his wife lied about my fees in the first place and he thinks I was over paid and I am just taking her for granted, He asked that wasn't I paid for the extra job on Sunday so why should I make her pay for my transportation. I replied that we had an agreement plus she made me miss my coach by coming out late, but he kept abusing me and raining curses at me, thinking I was taking advantage of her. He said I was all cheap for $50 or $100, I can't even remember. He also said even the hair I did was just ordinary, nothing extra. #wehdoneSir #clapforyourself

When I noticed how rude he became, I kept quite and hung up when he was done, which further aggravated him making him send a voice mail. Listen to the voicemail below;
Did I regret it? No, I actually laughed. I concluded that I did it for God. And yes I eventually got my phone back because the planner and her mum had to intervene. But I sure learnt my lessons

On getting home, I decided that I would stay professional and stop going the extra mile for people on the job. All that "sleeping on the couch" concession makes you look less than what you are. On a second thought, I think it's just me. I realized that l am very considerate and love to help people. I concluded that I cannot start to be wicked or act out of character simply because I was nice to someone who didn't appreciate it or took me for granted.
Lessons learnt
Going the extra mile on the job shows you are nice but may not be professional.
In business, allowing your emotions to override your judgment may be nice but isn't necessarily professional.

Dairy of a Naija Vendor, is an outlet for vendors to share experiences, tell stories, inspire, learn from and encourage one another. If you're a wedding vendor and you have any real, fun, behind-the-scene stories to share, please send a Whatsapp message/voice note to 08083225395 and we'll get in touch with you. Visit the website and follow Diary of a Naija Vendor on Instagram and Facebook.