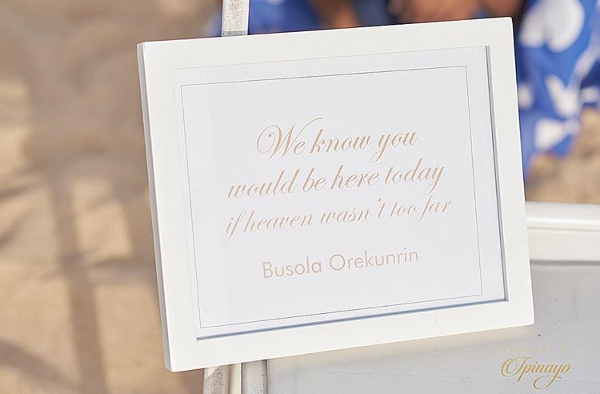 It's tough losing a loved one and you think of that loved one, even more, when there's a happy moment you wish they were there to experience with you. What do you do when it's your wedding day and your dad, mum, sibling, friend, who you wish could have been there to see you say 'I Do' is no longer here?
Here are some ideas we've seen at some Nigerian weddings.
1. Make an outfit that reminds you of them: Nigerian bride, Nini shared on Twitter "So pops is late and my brother wore an Agbada with Daddy's face on it. Made me feel like he was with me through the day."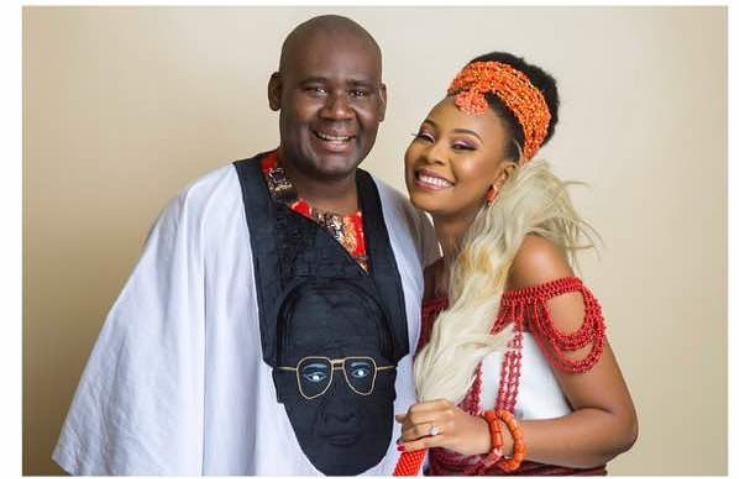 2. Save them a seat like Ola, Uche & Lola
Photographer, Weddings by Ipinayo was hired to cover Ola Orekunrin's wedding. Ola is a medical doctor and Managing Director of Fly Doctors Nigeria. The photographer shared this on Instagram;
Ola saved a seat for her sister who passed away when they were young. They looked for the nearest air ambulance service to transport her sister to the nearest hospital with the facility to take care of her but Nigeria had none. Today, Ola is a Medical Doctor and Managing Director of Fly Doctors Nigeria.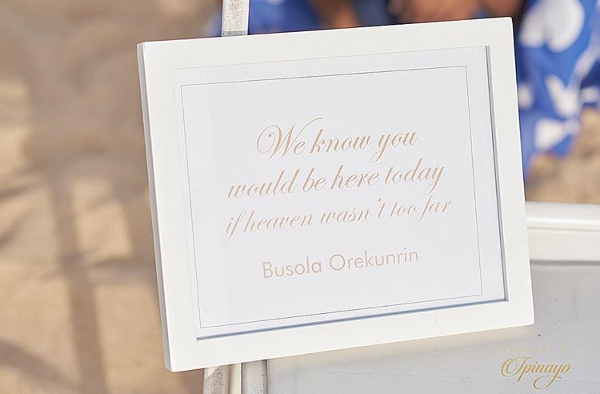 Uche's dad had a seat at their wedding reception. Their planner, DWS Events shared the picture below by RareMagic Weddings.
3. Use your bouquet: Titilayo from #Teekay16 had a picture of her dad on her bridal bouquet. This was the perfect way to ensure she walked down the aisle with her dad.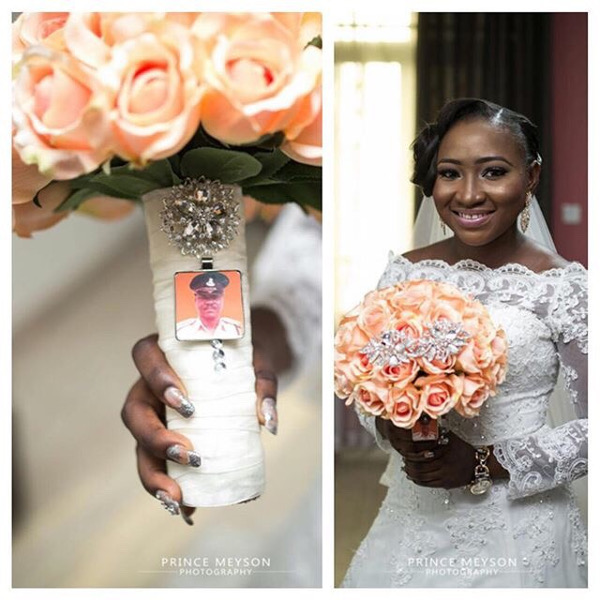 Nigerian bride, Tosin from #TheBantels2016 also did this with the help of her planner, IPC Events. Here's what she shared on Instagram.
Creating memories for our clients on their Wedding day has always been our forté #thosearemomentsilivefor……

So I remember speaking to Tosin on one of those days we would gist for hours non-stop on the phone and she mentioned her mum was late and was talking about how she misses her and wishes she was present for her wedding. While we were still on the phone, I started jotting down the little things that meant a lot to her.

Knowing that a girl's bouquet is one of her greatest accessories on her wedding day, we decided to attach her mum's picture to her bouquet, so that when she walks down the aisle, she walks down with her memories, warmth and presence. You can infuse this in as many ways as you please but this is an idea you can try if you have lost a parent.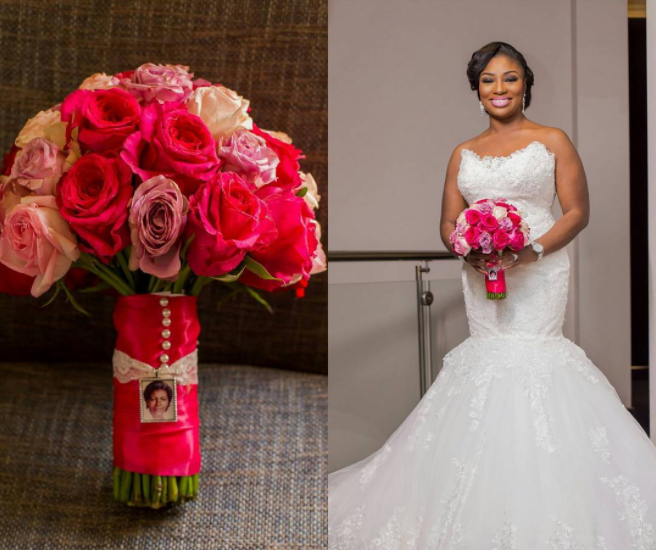 4. Walk down the aisle with them: Tosin also wanted to walk down the aisle with her late mother's memories while her father hands her over to her groom. Her wedding planner, IPC Events created this and attached it to her shoes.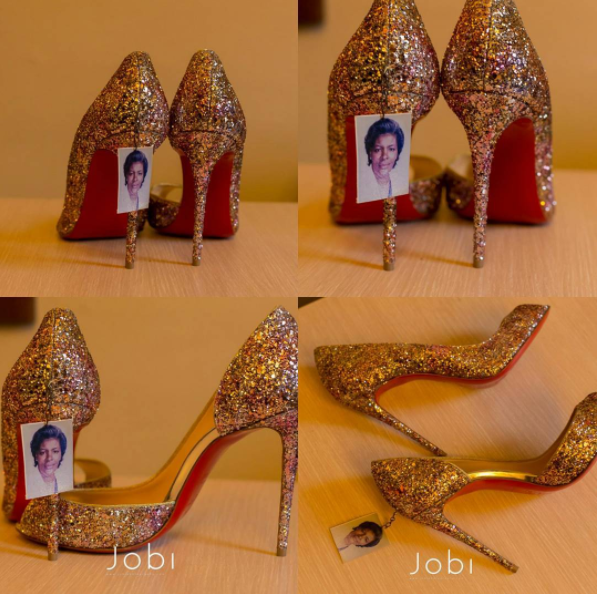 5. Get them involved in your photo shoot: During the photo session, hold a picture of your loved one and strike a pose with it. Nigerian designer, Kunbi Oyelese of April by Kunbi did this at her wedding. She shared the picture and caption below on her page on Instagram shortly after her Cinderella-themed wedding to Lanre Tomori.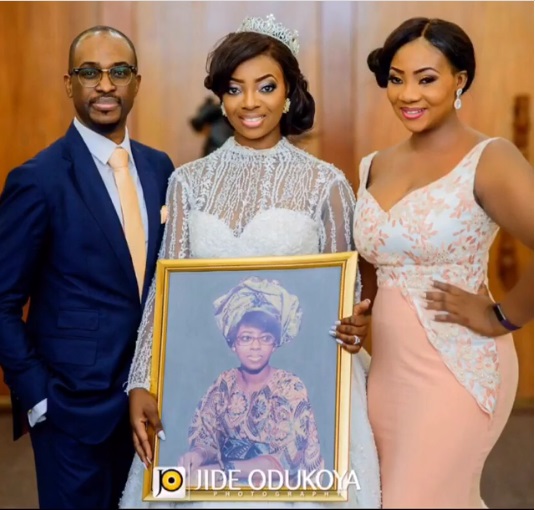 Dear mummy,

Today would have been another day to truly pamper you. You lovedddddd birthdays.

I pray to be half the mother you were. Mother to many. So graceful, so full of love…God's daughter. I miss you mummy. I hope you are proud of us. May we accomplish all that you wished for us.

One of the most precious gifts my mum gave us was a song.

She was a gospel singer/songwriter and composed the popular praise song 'Ta lo da bire' recorded in 1997. She would wake up in the middle of the night, grab her dictaphone to record a song she heard in her dream, sometimes she would actually sing out loud from her sleep. She loved to sing and did it for free evangelizing in her own way. When I go to churches/functions and hear that song or hear other gospel artiste remix it, I feel a sense of joy and pride… She left something death couldn't take away.

We promise to make you super proud mummy.
Here's a picture of another bride, who did the same. Her makeup artist, Zainab Azeez shared the picture below on her page on Instagram.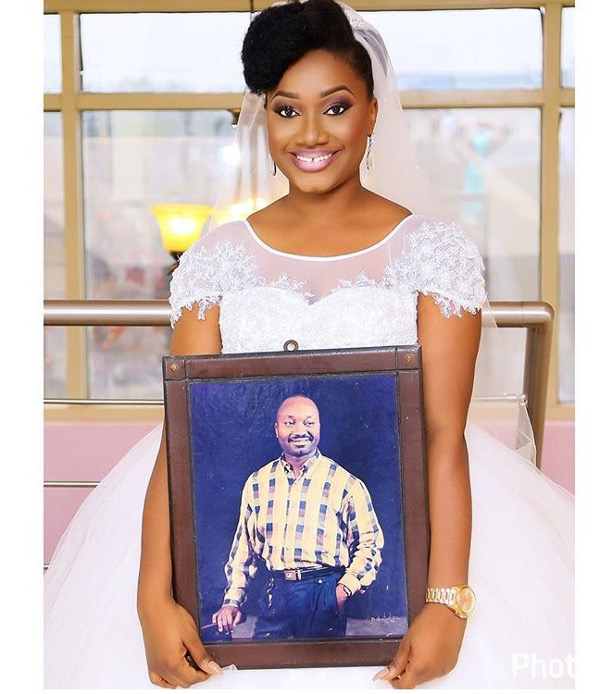 6. Wear something that's specially designed for their memory: Nigerian groom, Mayowa from #Ayowa18 wore cufflinks in memory of Oluwabunmi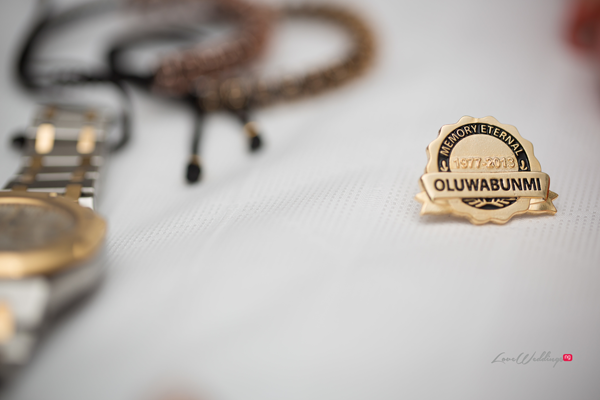 7. Observe a minute silence during your wedding reception: We've seen this done at a number of Nigerian weddings. Recently, at #ForeverOA17 planned by IPC Events, the MC announced that all the guests observe a minute silence in remembrance of the groom's father, who passed away.
8. Use quotes from them as part of the wedding decor like Uche & Lola: Uche's dad passed away and Lola worked with the wedding planner DWS Events to ensure her father-in-law was a part of their wedding. The planner, DWS Events shared; 
Uche's dad had just passed, and Lola the bride wanted us to recognise the great father-in-law of hers. A man of value, who did great by imbibing such great values in his son. Uche loved his dad dearly; seeing this caught him unaware! He loved the idea, but of course, got emosh. Blessed is indeed the memory of the righteous 
#love#celebratingfathers
Credits: Instagram