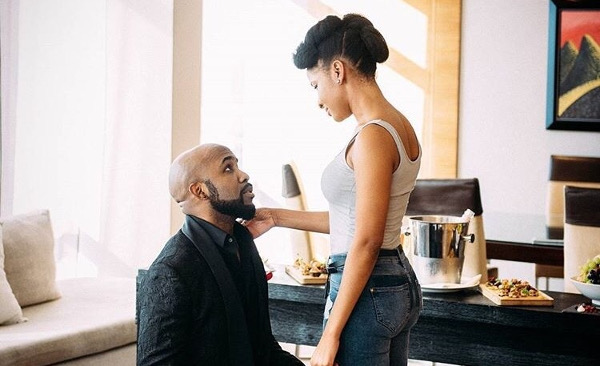 Banky Wellington released a song 'Heaven' dedicated to his lover and wife, Adesua Etomi. Their plan to make Nigerians mushy is working. EME boss, Banky shared the news on Instagram;
Heaven (Susu's Song).. now playing on YouTube.
Off the #SongsAboutU album –
#Iwrotethisonewhen I graduated from the friend zone and was tryna enter the forever zone. Lol. Ugh.
Watch the video below;
And the lyrics, so you can join us and sing along
Just gonna let the chords play
[Verse 1]
You asked a question and I, ain't gonna lie but
I wasn't ready still you took me by surprise
You wanna know if I will, ever leave your side
But I will love you till the very day I die
Girl I need you I've been needing you like air
Don't know how I would survive without you there
I could scream it loud for the whole world to hear
And if they call me crazy I don't care
[Chorus]
You should know, I won't go
That's the last thing you should worry about
Stay with me, till eternity
And ask only one question
Will people fall in love in heaven
Mmmm, in heaven
Hope we'll still be in love in heaven
Yeah, in heaven
Do people fall in love in heaven
[Verse 2]
Until we're older and, our hair is grey
When, our bones are aching and
Memory start to fade
My love for you will always be the same
And if you don't mind, please carry my last name
To you I promise, to you I vow
I pledge forever, I'm starting now
I was lost until you turned me back around
I will love you for as long as life allows
[Chorus]
You should know, I won't go
That's the last thing you should worry about
Stay with me, till eternity
And ask only one question
Will we still be in love, in heaven
Yeah, in heaven
Hope we'll still be in love, in heaven
In heaven, yeah yeah yeah, in heaven
Will we still be in love in heaven
[Hook]
Oh baby don't you, don't you, don't you
Worry about it, cos I can't live without you
And now I can face it, this is how I'm feeling
Omo to sure ju, wa bami lo
Wa bami se temi
Oh baby, oh baby
That's the last thing you should worry about
Stay with me till eternity
And ask only one question
Will we still be in love in heaven
Yeah, oh yeah yeah yeah
Hope we'll still be in love in heaven
In heaven yeah, in heaven yeah
[Outro]
I wanna love you now
Forever hold you down
There ain't no way around