Its our second post in the 'This week's hottest wedding news' series and we're excited. This week, we saw it all from the designer bride, Ms Makor to angels at a wedding reception, a very controversial question on Twitter, the yoga couple, another Igbinedion wedding, the ankara aso oke and more. Check it all out below;
Abuja based designer, Ms Makor got married to Olayemi and OMG!!! She SLAYYYYEEEDD!!! She looked so elegant, classy and regal in her traditional outfits styled by Lavish Bridal. For the white wedding, she designed her dress herself; it was a 4 meters long and 3 meters wide dress that weighed about 40kg. .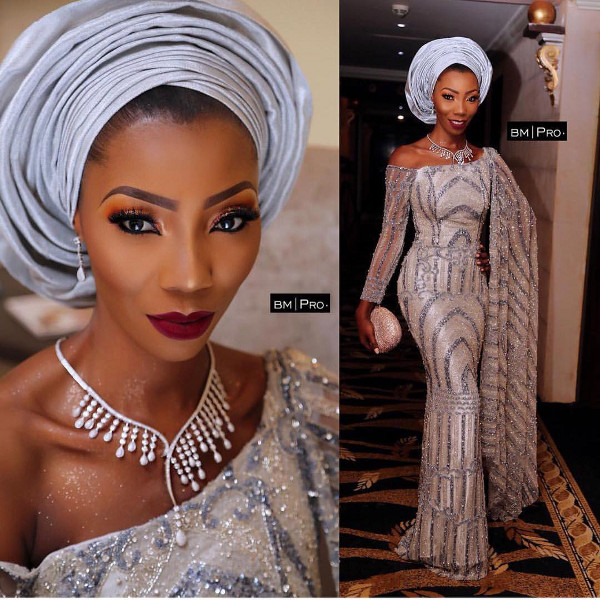 We witnessed Sola and Olumide's Angels in Paris themed wedding reception. Their wedding, #TheSOLExperience17, was planned by #LWNGVendor 2706 Events. Everything came together nicely, from their beautiful wedding logo to the stunning decor by Diamond Ink Event Designs; it created the perfect atmosphere.
Still on weddings that caught our attention, the yoga couple. Not much to say about this one but watch the video by Klala Films below;
Ebonylife TV revealed that one of the most talked about Nollywood movies ever hits the cinemas on the 15th of December 2017. The Wedding Party 2 featuring our favourite lovebirds, Banky Wellington and Adesua Etomi as well as a host of other amazing actors and actresses such as Sola Sobowale, Ali Baba and more. We absolutely cannot wait!! Watch the trailer below;
Another Igbinedion wedding and as expected, it was luxurious. With TrendyBE Events as the wedding planners, we weren't expecting anything less. Watch highlights below;
Teal seemed to be the aso ebi colour of the week last week. From #Alfreds2017 to #TheSOLExperience17, here's a quick look at all the teal goodness we saw.
Then, we saw this very controversial question on Twitter by @MaliseTweets regarding weight loss and being asked to be a bridesmaid. We definitely know what our response would be if we were ever asked this question. See the tweet below;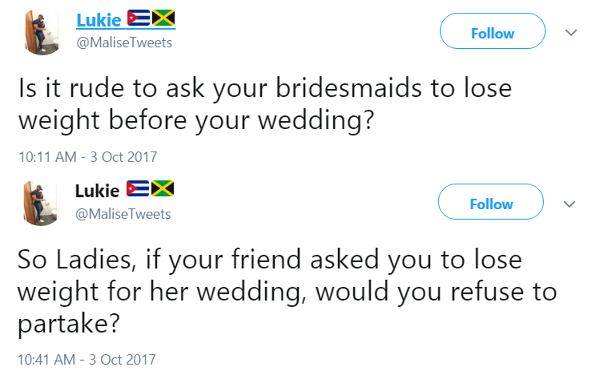 Who said it's a taboo to wear white to a wedding. Well, brides have no problems with it; they're rocking the colour white with their ladies. See all the brides and bridesmaids dresses in white; from #Teedot2017 to #Alfreds2017
Fashion blogger and influencer, Rhonkefella served us some bridal inspiration from South Asia. Check on it
We found another female best man. We love, love, love and she looked on point in Mai Atafo. If you missed our post on the Female Best Man a.k.a The Best Woman, catch up HERE.
Beyonce, JayZ and Blue Ivy (a.k.a. The Carters) stopped by at #LawandJess' wedding. It would have been lovely to see the twins too but anyhooo, cute group photo.
We saw this ankara and aso oke fabric and thought it was cute. Better yet, we also found that #LWNGVendor, Kanoel Fabrics stocks a similar design.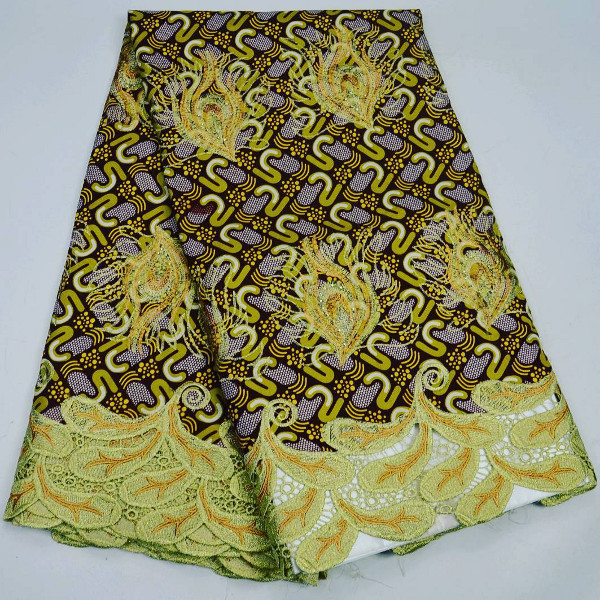 That's it for this week. See you next week for more wedding news weekly updates.