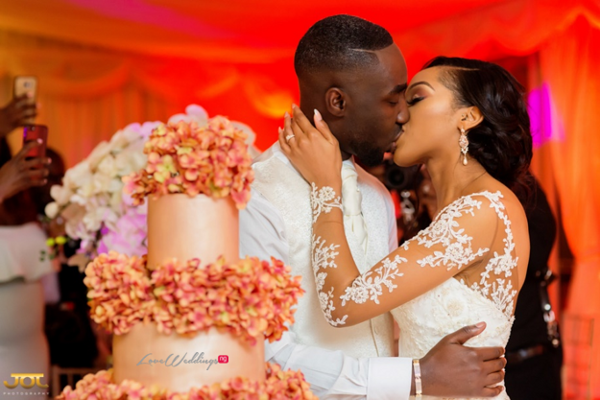 Bema and Cherelle Adjei-Ampofo got married in September 2017; the couple attended the same church when they were both 6 years old. Years later, Bema's grandfather's prophesy came to pass. Read their story and view pictures from their truly Ghanaian wedding on LoveWeddingsNG.
Our story
Bema and Cherelle both attended the same church from when they were both around the age of 6 years old; Bema's dad was a Pastor in the church and Cherelle's parents were very good friends of the residing Bishop. Often, after service, Bema's Grandma would greet Cherelle and her parents saying "Eiii, Cherelle you are growing beautifully! One day you will marry my Grandson!" The family would laugh and continue in conversation as though this was just a passing comment. Little did they know that one day, the two families would indeed be united as one!

Although raised in the same church, Bema and Cherelle did not talk much. One day, Bema sent a joke via text to all the youth in the church and Cherelle was the one to respond. This began a never ending conversation between the two and ignited something special between them.

Bema and Cherelle dated for nine years, filled with many highs as well as some challenging lows however with God and the strength of their love, the two persevered and made their relationship work.

On Cherelle's 25th birthday, Bema organised a surprise dinner with their nearest and dearest friends and proposed at the top of the shard. Cherelle said yes and they went on to hold their traditional marriage in November 2015 with the aim to having their white wedding in the summer of 2017.

Sadly, in December 2016, Bema lost his father which was a very challenging time for the family. The couple therefore decided to postpone their wedding until further notice while the family tried to cope with such a big loss.

Serving a God who works in mysterious ways, the couple soon found out they were pregnant which meant the white wedding has to be postponed even further. They gave birth to a baby boy in June 2017 who was then named after his late grandad.

Finally, in September 2017, the couple held their white wedding in Chelmsford, Essex at the beautiful Hylands House with close family and friends by their side.
Vendors
Photography: JOT Photography
Videography: Alexx Adjei
Makeup: The Queen Hadassah | Praise Law MUA
Hair: AVOS Hair | Adonai Hair
Bride's Gown: Yemi Kosibah 
Evening dress: Sarah Boadu
Bridesmaid dresses: Miss Harybee
Suits: Formal Tailor
Bouquet: Cami2pf
Catering: Koal Pot Catering
Decor: Designer Chaircovers to go
Audio & Visual: VNV Live
DJ: DJ RNT
MC: Mr Tandoh MC
Coordinators: MT Events Management
Cake: Julie Danq