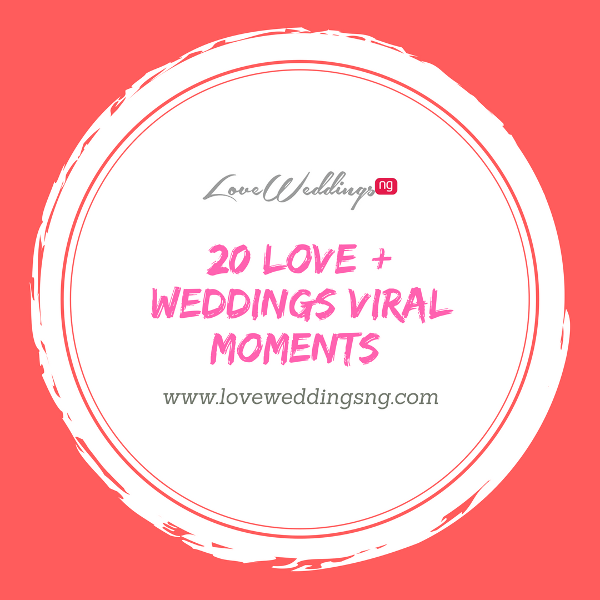 From celebrities like Adesua Etomi & Banky Wellington, Prince Harry & Meghan Markle announcing news of their engagement; celebrity weddings like #BAAD17, Agbani Darego, Serena Williams & Alexis Ohanian's weddings to out of the box pre-wedding shoot ideas and wedding vows like 'Unveil Me Later', performances that left us wowed and more, we present the wedding or love related moments that went viral in 2017.
Enjoy!
1. Adesua Etomi & Banky Wellington were #BAAD17 – They were #BAAD for hiding this juicy secret from all of us for so long. Nigeria and social media went into a state of love overdrive the moment R&B singer Banky Wellington and Nollywood actress, Adesua Etomi announced in May that they got engaged secretly in February in Cape Town. It was only a matter of seconds before the memes, hashtags and more started rolling in.

We followed the #BAAD17 journey right from the moment they announced they were engaged to the family introduction and traditional wedding in Lagos, all the way to their destination white wedding in Cape Town, catch up here if you missed it.
2. Ebuka's Agbada by Ugo Monye stood out for all the right reasons; so much that it inspired a lot of memes and inspirational posts about how one client can make your business blow. Since Ebuka wore this agbada by Ugo Monye, we've seen more celebs like Richard Mofe Damijo and more wear outfits by the designer.

3. PreWedding Shoots That Went Viral: We saw a piece of what living with and falling in love with a baker looks like. This photo by Vantage Photography of the founder of Decadent Treats and her groom went viral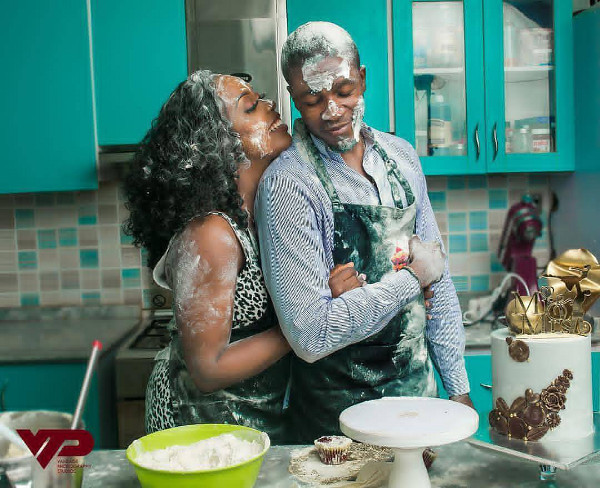 This pre-wedding photo of a mechanic in Anambra state, Ngbuka Obsidian and his fiancee went viral. It was different and certainly caught our attention.

4. Prince Harry & Meghan Markle: We knew they were dating but no one was really sure how this love story would end; we're so so happy to hear another royal wedding is upon us. We cannot wait for Prince Harry and Meghan Markle's wedding in May 2018. From the moment they announced they were engaged to their stunning pre-wedding photos by Alexi Lubomirski
5. Rustic Wooden Cake by Dainty Affairs: It's not everyday that a wedding cake trends. We saw this cake before we even knew who baked it or who was getting married. Nigerian bride, Sade from #SadePlusJude had a rustic themed wedding and she wanted a wedding cake that looked like a wooden tree and #LWNGVendor, Dainty Affairs slayed the brief
6. The Bouquet Toss Prank: These bridesmaids played a fast one on their friend. Watch it below;


7. Mum's on the Dance Floor: The mothers of the day from #KayMide2017 definitely took dance classes. Such a lovely thing to see mothers of the bride and groom jamming on the dance floor like this. The event was planned by London based wedding planners & coordinators, SD Weddings Mgt.

8. When the Bride's Glam Squad finish work: MC, Seun Ajayi never espeeereed it. He took off his bride, Damilola's veil in layers and was too excited to see his babe. The bride's makeup was done by #LWNGVendor, Beauty and the Beholder Makeovers and her dress was designed by Mai Atafo.

9. Future Husband? Yes/No: This! This! This!… Basically, this babe decided it was time to unveil her future husband to her Insta fam. His response ……

Moral of the story: Check you're both on the same page before you put am for Live Video so that you will not be receive JAMB question like Twitter user, @fzed_ did

10. Pay before you congratulate: Because 2018 is the year that we will all blow, this business idea should not be adopted at more Nigerian weddings so that the couple can recoup the cost of their very expensive wedding and maybe buy a house that they can settle into. What do you think?

A post shared by LoveweddingsNG✅ (@loveweddingsng) on Aug 19, 2017 at 10:23pm PDT
Bonus: Because you read all the way till the end, we've added some extra viral moments for you
Serena Williams & Alexis Ohanian's wedding: From their uber cute love story to their stunning wedding photos from their star-studded wedding ceremony, we knew we had a lot to look forward to the moment they announced they were engaged.
Unveil me later: This video by Bridge Weddings from Onos and Alaina's wedding went viral all for one reason. The bride said, while reading her vows to her groom 'I can't wait for you to unveil me later'.

A Wrestler's Performance for his Bride: We saved the best for last. This groom put on a show for his bride and videographer, Scobo shot it captured the moment.

If there are any viral moments you think we've missed, let us know in the comment section below. Remember, Part 2 tomorrow.
Credits: Instagram