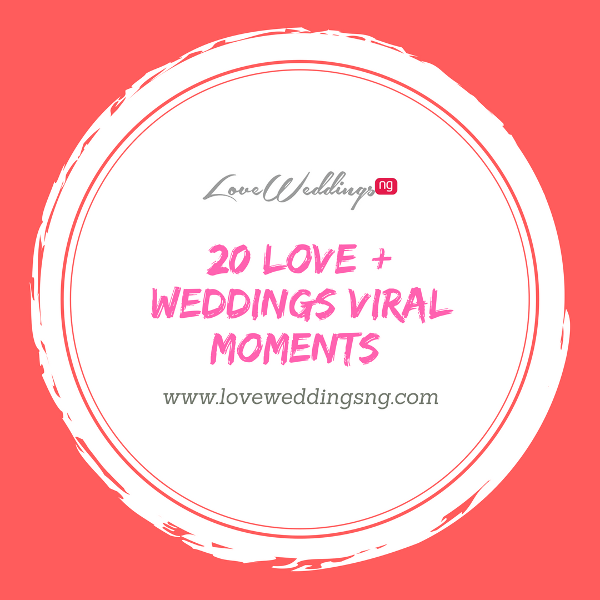 Yesterday, we shared the first part of our top 20 wedding or love related moments that went viral in 2017. If you missed the post yesterday, catch up here. Today, we kick off from number 11.
Enjoy!
11. For Richer, For Richer because ain't nobody got time to be prophesying poverty. This bride took no chances. Even though the vows were quite emotional, she switched it up when the officiating minister asked her to repeat 'For richer, for poorer'

12. Oh No He Didn't: Did this groom get what he bargained for or what? Hahahahah, this was arguably one of the most shared and most talked about wedding clips in 2017.

13. Keyshia Ka'oir & Gucci Mane's all white themed wedding reportedly cost about $2 million and got 2.2 million views on BET. From their grande wedding cake to the luxurious wedding gowns and wedding gifts the couple gave each other; the internet and particularly social media had a reason to keep up with #TheManeUnion
14. Murphy and Lucinda proved that it's never too late to find love. Love will find you regardless of your age, distance, height, weight, etc. The 70 year old groom, Murphy said 'I Do' to his 69 year old bride, Lucinda on the 29th of July, 2017 in Alabama. Right from the moment they got engaged up until the wedding, they became a viral sensation and even set up a joint instagram account for their family, friends and followers to keep up with their journey.
15. #BenzisBaeChallenge: Mercedes Benz decided to launch a social media campaign – the #DateNightChallenge. We don't even understand because people started taking pictures with other car brands such as Toyota, BMW, etc. Anyway, one picture stood out from all the others and it's this one of a man with his Benz on Lekki-Ikoyi link bridge, which we tagged the Bridge of Love.

16. A Chance meeting at Elegushi Beach 6 Years ago and an awkward conversation 6 years ago gave birth to this lovely couple, who got married in 2017. So cute!

17. Primary School Sweethearts Say 'I Do': Ayode & Blessing were classmates in primary school. In 2017, they began their journey to Forever.

18. Husband Sharing Church: Only in Naija.

19. Agbani Darego's Surprise Wedding: Miss World 2001 and supermodel, Agbani Darego shocked everyone when she shared that she is now Mrs Danjuma. The beauty queen got married in Morocco in an intimate event planned by luxury wedding planners, Prive Events.

20. Lekki Flood Bride: This video of a bride trying to get into the car during the Lagos Floods in Lekki went viral. We really hope it didn't ruin the day for her and her groom.

Bonus
Underwater love:

Too shy to kiss: This bride definitely is not a fan of PDA (Public Display of Affection)

6 guests turned up at a wedding wearing the exact same dress: Ladies get upset when they turn up at a wedding or event and spot someone else wearing the same outfit as them. So imagine what happened when you turn up at this wedding when Australian wedding guests rocked up in the exact same (tautology use – intentional) outfit from the same store.
So there you have it! Our top 20 + extra jara viral love and wedding related moments from 2017.
Let us know which one is your fav!